Raising your vibrational frequency can be as simple as engaging in high-vibrational activities, conversations with positive people, relationships of unconditional love, thinking positive thoughts, listening to uplifting music, and consuming high vibrational foods.
"If you want to find the secrets of the universe, think in terms of energy, frequency, and vibration." - Nikola Telsa
Jump to:
How Energy Affects Us
The world is made up of energy. Every one and every thing (including words and thoughts) holds a vibrational frequency. You may have experienced this in varying encounters with exceptionally negative or draining people or situations.
After such experiences, you may feel low or drained or even succumb to negative emotions. The same applies to situations of a higher vibration. You may feel uplifted, envigorated, inspired, and filled with positive vibrations and feelings.
Life is filled with varying experiences which carry different frequencies. Fluctuations in your own vibrational frequency are completely normal and a part of life. No one feels and exudes positive energy 100% of the time. The goal is to maintain balance during challenging low frequency times, ride the waves of the moment, and elevate the vibrational frequency when you can.
Our physical and mental health is directly related to the vibrational energy in which we most often engage. This includes conversations, relationships, thoughts, music, movies, books, and habits we engage in. This also includes the food and drink we choose to eat.
How to Raise Your Vibration
There are many ways you can raise your energetic vibration. Engaging in a regular spiritual practice of prayer and meditation is an incredibly powerful way to do so. Setting intentions and attainable goals while using positive affirmations and visualization is another.
Combining these with forward movement is another.
A mentor of mine once said, Clear Intentions + Committed Action = Positive Results.
This is the universal law of attraction. Like attracts like. Like a camera, what you focus on gets bigger.
When you are thinking of a yellow car, suddenly, everywhere you go you see yellow cars! The reticular activating system is part of the brain that enables this and the Law of Attraction. When we program our brains for what we want, we experience more of it!
One of my favorite verses in the bible encourages this perfectly, and for good reason!
"Finally, brothers and sisters, whatever is true, whatever is noble, whatever is right, whatever is pure, whatever is lovely, whatever is admirable—if anything is excellent or praiseworthy—think about such things." Philippians 4:8
And of course, another one of my favorite quotes from Albert Einstein.
"Everything is energy and that's all there is to it. Match the frequency of the reality you want and you cannot help but get that reality. It cannot be any other way. This is not philosophy. This is physics."
Of course, this makes perfect sense. When you surround yourself with chaotic energies, drama, stress, and negativity, and consume low vibrational foods, your life force energy gets depleted.
It becomes challenging to maintain a high frequency in continuously negative environments. After a while, your mental, emotional, and physical health takes a toll.
This is why it is not only important to spend time with people, places, and things that match the frequency that you desire, but also the foods you eat make quite a difference!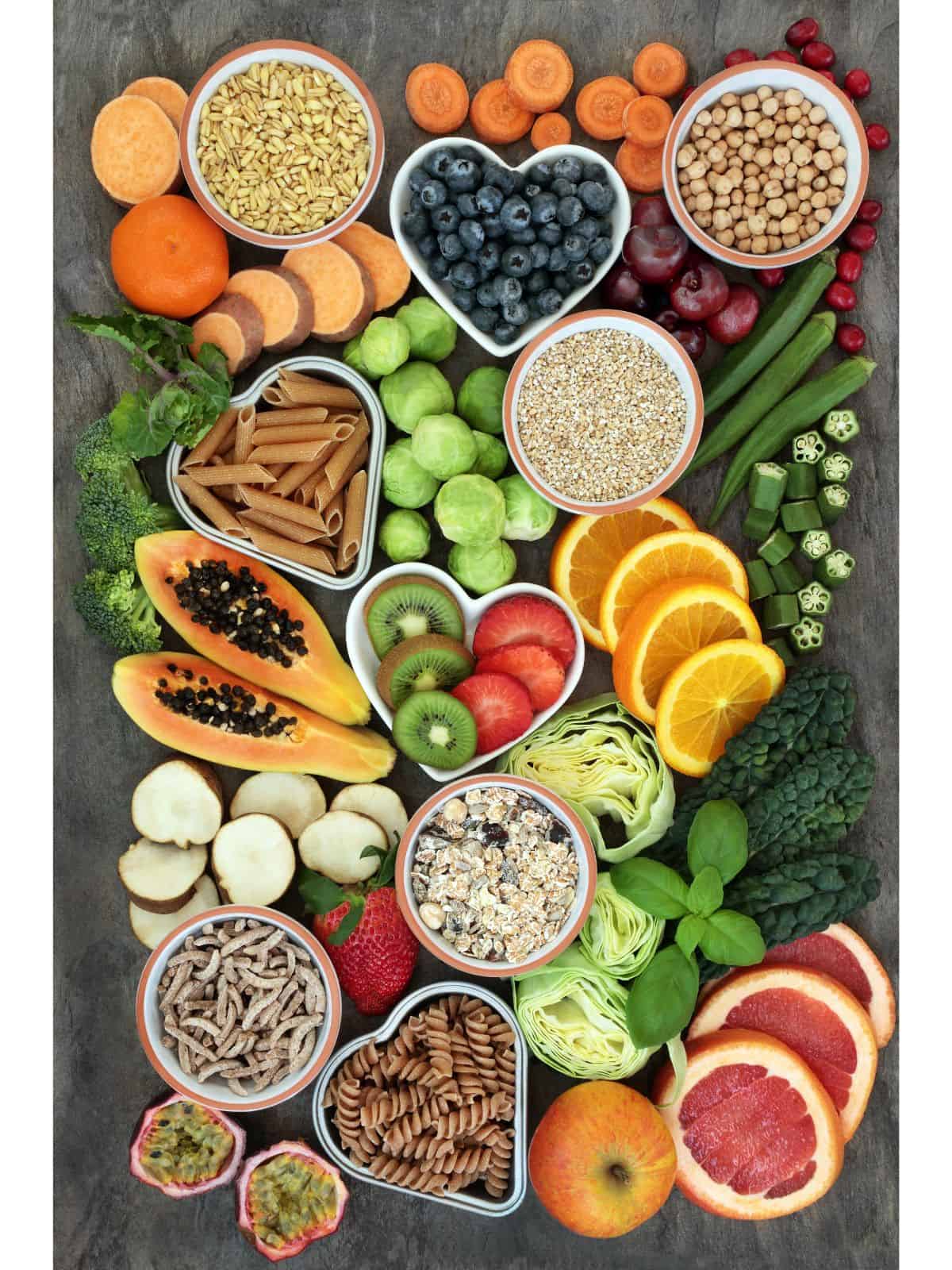 The Vibration of Food
The foods we consume have a significant impact on the human body. Everything from the immune system to the nervous system, the foods we eat make a difference.
Energy levels, mood, blood sugar, cholesterol levels, and weight loss are a few of the factors that are directly related to the quality of food we eat.
When things are out of balance in the body we feel it and it shows up as illnesses, ailments, and symptoms. These symptoms have a perpetuating effect on our overall energetic frequency in everyday life. When we don't feel good, our energy and morale are low.
The best way to get to feel better is by eliminating the low vibration foods and instead choosing healthy foods that have a higher frequency.
Lower-frequency foods are highly processed junk food, microwaved food, food with added sugar, Genetically Modified Organisms (GMO food), farmed fish, conventional produce, meat that was raised improperly, fried food, conventional oils, trans fats, alcohol, and carbonated drinks.
High-vibration foods are typically organic foods and like fresh vegetables, leafy greens, fresh fruits, fresh herbs, raw nuts, plant-based foods, and ancient grains. Higher-frequency foods can also be organic free-range chicken and grass-fed beef.
The Vibration of Animal Products
The quality of life of the animal and how it passed on makes a massive difference in the frequency that it holds. The emotions and stress of the animal during its life and death can translate at the cellular level.
Remember we are not only affected by what we eat but also by what we eat eats.
The most care that goes into raising and cultivating the food that we eat has a direct translation to the energy it carries over. In fact, every part of the process from farm to table has an energetic impact on our food and on us.
Unfortunately, many food manufacturers do not take as much care and consideration into these factors in the name of saving time and money. So many consider it safest to avoid meat.
If you choose to eat meat, it is always best to go with local organic farmers and ranchers who raise humanely and with love and care for the animal, the consumers, and the planet. Every energy that we put out, reverberates back to us!
Here is a list of high vibration foods that we love.
Ginger
Fresh organic ginger is one of the best things to include in a high vibrational diet. Ginger is one of the best anti-inflammatory root vegetables.
This spicy root not only adds delicious flavor but also aids in digestion, reduces nausea, and eliminates pain. Add it to a stir fry or in a cold-pressed juice or smoothie for good energy.
Garlic
Organic garlic is a staple for many recipes to add spice and flavor. It also is renowned for its potent anti-bacterial and antioxidant benefits. Garlic contains the chemical compound allicin which acts as not only a natural antibiotic but also improves heart health and immune function.
Crushing or chewing the fresh garlic helps to release the natural compounds that benefit health! It is spicy, but it's worth it!
Turmeric
Turmeric is also one of the healthiest root vegetables and is used as a spice in many Indian dishes. It is a tiny orange vegetable that grows in the ground.
Turmeric contains curcumin which has powerful anti-inflammatory and antioxidant properties which help reduce pain, protect against cancer, boost the mood, and more!
Be sure to take it with a healthy fat and black pepper. Curcumin is a fat-soluble nutrient similar to vitamins A, D, E, and K. The Bioperine in pepper improves absorption by 2000%
Moringa
Moringa leaves come from a plant known as the drumstick tree native to India. The leaves are dried and made into a powder or tea.
It has a very spicy pungent flavor. You can also purchase it in capsule form if the flavor is too intense! Moringa improves digestion, energy, and mood while reducing inflammation. It has an impressive vitamin and mineral profile as well.
You can often find moringa in health food stores or online.
Thyme
Fresh thyme is used in many recipes for its sweet and peppery flavor. It also contains antioxidant, anti-inflammatory, anti-fungal, and antiseptic properties! It is often included in many herbal tinctures for its benefits on the immune system, brain health, and even alopecia.
Mint
Mint is another fresh herb used in culinary dishes and many products for its uniquely fresh flavor and scent.
It improves digestion, cold symptoms, relieves inflammation and freshens breath while containing several vitamins and minerals. You can often find mint and other fresh herbs in the produce section in grocery stores.
Basil
Fresh basil is famously used for a uniquely delicious flavor in recipes. Its antioxidant, vitamin, and mineral profile also helps to detoxify the body, improve digestion and skin health, and prevent degenerative diseases like cancer.
Cilantro
Cilantro is a fresh herb with a spicy kick used in many Mexican dishes. Not only does it affect flavor, but it also is high in phytonutrients, and has the powerful ability to detox the body from heavy metal toxicity!
Kale
Organic kale comes in curly, green, black, and purple varieties. Each variety offers a unique set of nutrients. Leafy green vegetables like kale contain impressive amounts of vitamins, minerals, phytonutrients, and antioxidants.
These vegetables are crucial to optimal health. Kale is great for a healthful salad, green juice, or smoothie.
Spinach
Similar to Kale, Spinach is packed with vitamins and nutrients that help improve eye, skin, bone, and immune health.
The antioxidants help to keep free radicals at bay. It also aids in weight loss, balancing blood sugar levels, and detoxifying the body.
All leafy greens contain vitamin k and iron which are essential nutrients the body needs.
Arugula
Arugula is another leafy green with a slightly bitter taste. The bitter taste is due to the glucosinolates in it that help to prevent many cancers and fight against free radicals.
It is also rich in folate and potassium which help the heart and immune system function properly.
All leafy greens contain chlorophyll, which helps the liver detoxify the body. This is one of the many reasons leafy greens are an essential part of a high vibrational diet.
Watercress
Watercress is a leafy green that is sold in health food stores. It is often sold as "living" which is still in the soil.
Keeping it this way and eating immediately in a salad or juice holds its highest vibrational frequency as long as possible.
Watercress is an incredible natural anti-depressant, anti-inflammatory, and anti-cancer agent. It improves blood pressure, eyesight, thyroid function, and more.
Wheatgrass
Wheatgrass also comes "living" in the produce department of your local health food store. It is typically juiced and requires a specific juicer that is capable of extracting the many nutrients within the grass into a potent juice.
Wheatgrass is typically sold in juice and smoothie shops as a "wheatgrass shot." It contains enzymes that aid in digestion and the absorption of nutrients. It contains 17 amino acids, 8 of which the body cannot produce on its own.
Many consider wheatgrass a complete multivitamin and take a shot each morning in place of a supplement!
Maca
Maca root is a Peruvian herb and adaptogen. It contains a high level of vitamins and nutrients like iron, potassium, iodine, calcium, magnesium, and several amino acids and antioxidants.
Maca promotes hormone balance, increases energy, improves mood, and helps the body cope with stress. It often comes in powder or capsule form in the health food section of the store. Learn more in our post entitled, Maca vs Tongkat Ali.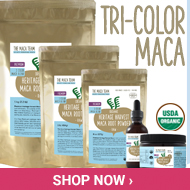 Barley Grass
Barley grass is common in juices, supplements, and powders for its help in detoxifying the body, improving heart health, and balancing blood sugar while aiding in weight loss. Similarly to wheatgrass, it is rich in vitamins, minerals, and amino acids.
Chia Seeds
Chia seeds are incredible tiny superfoods that can hold 12 times their weight in water. When hydrated (sprouted) it can be used in drinks, smoothies, desserts, and even as an egg replacement in a vegan recipe. These high-vibrational foods are high in protein and omega-3 fatty acids. Learn about more super seeds in our post, Hemp vs Chia vs Flax.
Matcha
Matcha is a Japanese green tea powder carefully cultivated in shade-grown tea plants. They are gently ground into a fine powder and made into tea.
It contains high levels of EGCG antioxidant which improves heart, brain, and skin health. It also contains a naturally sweet amino acid L-theanine which aids in a calm laser-sharp focus and sustained energy throughout the day without the crash of coffee or sugar.
Alfalfa Sprouts
Alfalfa sprouts and other sprouts aid contain impressive levels of vitamins, minerals, and antioxidants. An easy way to incorporate these incredible superfoods is to add them to a salad or sandwich.
The freshly sprouted alfalfa seeds contain the highest levels of these nutrients as they are first sprouted and have not been subjected to oxidation or the elements as more mature plants are. This preserves the highest vibrational frequency and health benefits.
Kefir
Kefir is concentrated and fermented milk. It can be made from dairy or plant-based milk. It is rich in nutrients and beneficial bacteria that help to improve the microflora of the gut. Having a balanced gut is one of the most beneficial things we can do for whole body health.
Medicinal Mushrooms
Mushrooms have been used for centuries for medicinal and energetic healing. Some incredibly powerful mushrooms include Chaga, Lion's Mane, Reishi, and Cordyceps.
Each contains its own vibrational frequency and health benefit. From immune support, relaxation, mental focus, and energy, medicinal mushrooms improve the vibration of a healthy body.
Saurkraut
Saurkraut is fermented cabbage. The fermentation process accentuates the high vibrational level of the cabbage. It adds beneficial bacteria and increases the nutrient content of the cabbage. It also aids further in digestion with essential fiber.
Pineapple
Pineapple is a naturally sweet fruit that contains enzymes, vitamins, and nutrients that are anti-inflammatory. Bromelain is a potent anti-inflammatory that is found in pineapple and is especially abundant in its core.
To get the most from your pineapple, juice its core too! It also works as a natural cough suppressant!
Collard Greens
Collard greens are packed with chlorophyll, vitamins A, B, C, and K, iron, magnesium, potassium, pantothenic acid, and more.
If you are cooking collard greens, be sure to not overcook them in order to preserve as many of the nutrients and high frequencies as possible.
Sweet Potatoes
Sweet potatoes are a delicious starchy root vegetable packed with nutrients. They pair perfectly with many dishes and raise the vibration of any meal.
Improving vision, and gut health. brain function and more. These potatoes are worthy to add to the list!
Avocados
Known as the healthy fat, avocados are filled with omega 3-fatty acids, vitamins, minerals, and more.
They add another layer of delicious nutrition to a salad or sandwich or even by themselves. Avocados are a great snack, as they even help you to stay full between meals.
Carrots
Carrots are sweet root vegetables known for their rich vitamin A content. They improve digestion, eyesight, heart health, and brain health, and regulate blood sugar levels. Carrots are packed with vitamins, minerals, and antioxidants.
Beets
Another potent root vegetable is beets. With their deep red color and unmistakable flavor, beets are packed with nutrition. Nitric oxide in beets aids in the oxygenation of the cells and muscle recovery after a workout.
The vitamins, minerals, antioxidant, and anti-inflammatory properties in beets promote pain relief and improve energy and mood.
Tart Cherries
Tart cherries are a specific type of cherry that contains extra antioxidants and anti-inflammatory properties.
They have many health benefits including helping the body to flush gout-causing uric acid from the body.
They also promote natural melatonin production which aids in relaxation and improved sleep quality.
Blue Green Algae
Blue-green algae found in marine reefs contain very high levels of minerals, vitamins, proteins, amino acids, phytonutrients, and more. It helps to improve blood pressure, increases energy and metabolism, improves mood, and so much more.
Blue-green algae (aka spirulina) definitely deserve a spot in your high-vibrational food list. It is often sold in health food stores in powder or supplement form.
Celery
Organic celery is a hydrating vegetable that is also rich in minerals, vitamins, and sodium cluster salts.
These special nutrients make it an incredibly healthy addition to a high-vibrational lifestyle. Celery gives the most benefit when juiced and drank on an empty stomach first thing in the morning.
When included in recipes it also provides a good amount of dietary fiber.
Pumpkin Seeds
Organic and sprouted pumpkin seeds are full of vitamins nutrients proteins and amino acids. They help improve digestion and immune health while also fighting off viruses, bacteria, and even parasites.
Quinoa
Organic quinoa is an ancient grain superfood that works best when soaked and sprouted. Quinoa has a good amount of protein, fiber, vitamins, and minerals.
It makes a deliciously healthy replacement for white rice. Try red or multigrain quinoa for a variety of phytonutrient benefits! Check out this helpful guide to learn more about the benefits of sprouted quinoa and how to sprout it! Then give our Pesto Chicken Quinoa Bowl or Buffalo Turkey Quinoa Bowl a try!
Medjool Dates
Dates are an incredible superfood high in fiber, vitamins, and minerals. It is a delicious sweet treat and a healthy low-glycemic alternative to sugar and syrup in many recipes. They also work well as a mid-afternoon pick-me-up!
Manuka Honey
Manuka honey is a potent antibacterial honey from New Zealand with a multitude of benefits and uses. It can help heal burns, soothe sore throats, and speed wound healing. Check out this guide for choosing the right honey for your needs. Also, consider this article on the antibacterial benefits of buckwheat honey vs manuka honey.
More Healthy Foods
There are a variety of healthy foods with a high frequency and many more to list. In fact, we could write an entire encyclopedia filled with the incredibly healing foods this earth provides.
Incorporating these foods into your diet is a crucial part of raising your frequency and improving your life.
What we take in, we give out, and vice-versa. We are all connected and as we continue to make a collective effort to raise the vibration of ourselves, the entire universe will benefit in turn.
What foods help you to feel the best? We would be honored if you shared with us in the comments below!
If you don't see your favorite food on this list, be sure to add it in the comments also.
Many blessings,
Natalie