Ready to elevate your smoothie game? Savor the flavors of our tropical smoothie detox island green recipe—a refreshing blend of tropical fruits and dark leafy greens that promises both taste and wellness. After multiple kitchen experiments, we've mastered the perfect balance. We even swapped out lemon juice for coconut water, adding a unique twist that became an instant hit with our kids.
This favorite smoothie is not just delicious; it's also crafted with organic, nutrient-dense ingredients for top-notch quality. Our family's secret? Adding hemp seeds or chia seeds for that extra nutritional boost. Compared to the offerings at Tropical Smoothie Café, our homemade version delivers the same bright flavors at a fraction of the price.
Before you grab your high speed blender, a quick heads-up: If you're dealing with any health concerns or taking medications, consult a healthcare professional before adding new nutritious ingredients to your diet.
So, why is this detox island green smoothie our go-to nutrient-packed beverage? It effortlessly combines natural ingredients and offers an easy way to enrich your healthy diet. Experience a tropical getaway in a glass, all while minimizing fruit juices and added sugar.
Looking for another green juice copycat recipe? Try our version of First Watch's Kale Tonic!
Want more nutritious drink recipes? Consider our Turmeric Lemon, Mucoid Plaque Cleanse Recipe, or learn how to make your own Kefir!
Before getting started, we always encourage a simple practice called setting mindful intentions. This step encourages you to get clear on your goals and helps to program the subconscious mind to align with you. This can be as simple as a statement or affirmation: My intention is to feel energized and have vibrant glowing skin.
To learn more about setting intentions, check out our free guide to setting intentions and writing affirmations.
Now let's talk ingredients!
Jump to:
Ingredients
Lacinato Kale Leaves: A main ingredient for that vibrant green color, lacinato kale is a superfood rich in antioxidants that help combat oxidative stress. Always opt for organic to avoid unnecessary pesticides and maximize health benefits.
Baby Spinach: This leafy green supports weight loss, fights free radicals, and boosts immunity, making it a crucial component in our tropical green detox smoothie. Fresh spinach is easily available in most grocery stores, and organic is best! Both leafy greens are rich in vitamin k which is essential for blood clotting!
Banana: A ripe banana adds natural sweetness, probiotics, and dietary fiber, which aids in digestion. Since bananas have thick skin, organic is optional but always welcomed.
Lemon (Juiced): A freshly juiced lemon trumps lemon juice concentrate in nutritional value and taste. Its high vitamin C content is great for the immune system and its high water content hydrates your body.
Mango: This tropical flavor bomb is rich in vitamins and minerals that elevate energy levels and reduce the risk of chronic diseases. Organic is the way to go for maximum benefits.
Pineapple: Fresh pineapple adds a zesty punch and anti-inflammatory benefits. Bromelain is the responsible enzyme. Don't gorget to use the core of the pineapple, as it has the highest concentration of this beneficial compound! Given its thick, removable skin, you can opt for conventionally grown pineapples.
Ginger: Fresh ginger adds a spicy kick and offers anti-inflammatory properties and digestive perks. We recommend organic for the best nutritional value.
​Purified or Spring Water: Adjust liquid amout to your needs to help blend efficiently. May also use coconut water.
Ice (Optional): Ice cubes are an optional but perfect way to make your smoothie more frosty and refreshing, especially if you're using fresh fruit. For a thicker consistency, consider frozen fruit.
Whether you go for fresh fruit or frozen, both options work well in this recipe. Frozen fruit may offer a thicker, more frosty consistency, which some people prefer.
See recipe card for quantities.
Instructions
1. After washing, chopping, and peeling all produce, add kale, spinach, ginger, lemon juice, and water to your high-speed blender and blend until more room is available in the blender.
​2. Add banana, pineapple, mango and blend a bit longer until smooth. Add more spinach if desired.
3. Scrape down the sides of the blender to make sure all chunks have been efficiently blended. Add more water or ice now, if desired.
4. If you want to add hydrated chia seeds, hemp seeds, or any additional ingredients, do so now and blend again until smooth, Enjoy!
Hint: Using frozen bananas instead of ice is a great way to ensure a cold and frosty treat! We freeze our bananas when they become overripe and they work wonderfully in smoothies!
Substitutions and Variations
Looking to shake things up a bit with your tropical green smoothie? No problem! You can easily swap regular water for coconut water to hydrate while keeping that tropical vibe.
Not a fan of certain ingredients? Feel free to omit or replace them to suit your taste.
If you're into non-dairy options, consider coconut milk or almond milk as creamy alternatives.
Want a citrusy kick? Orange juice or lime juice can make a delightful swap for lemon.
Craving more protein? Toss in some protein powder to make this healthy smoothie a complete meal.
If you like it sweeter, a dash of maple syrup can do the trick.
Need more tropical flair? Pineapple juice can elevate the tropical smoothie recipe even further, blending beautifully with other green fruits and vegetables.
For those keen on additional detox support, herbs like cilantro or parsley, or even a clove of garlic, can assist in heavy metal detoxification.
Remember, this fruit smoothie is all about flexibility—make it your own, but keep it nutritious!
Equipment
​
High-Speed Blender
​
Vitamix E310 Explorian Blen...
Shop on Amazon
Spatula
​
Kitchen Mama Silicone Spatu...
Shop on Amazon
Chef's Knife
​
HENCKELS Statement Razor-Sh...
Shop on Amazon
Cutting Board
​
GREENER CHEF 18 Inch Extra ...
Shop on Amazon
Paring Knife
​
HENCKELS Forged Accent Razo...
Shop on Amazon
Citrus Juicer
OXO Good Grips 2-in-1 Citru...
Shop on Amazon
​
Storage
Wondering what to do with leftover smoothies? You've got options! For short-term storage, pour the extra tropical green smoothie into a glass mason jar, seal it tight, and store it in the fridge.
Your smoothie should stay fresh for up to 48 hours, though it's always best to consume it as soon as possible for optimal nutritional value.
Thinking of freezing it? Absolutely, you can! To safely freeze your smoothie, pour it into an airtight container, leaving some room at the top for expansion.
You can store the frozen smoothie for up to a month. When you're ready to enjoy it, just thaw in the fridge for a few hours or overnight.
Top tip
Always add frozen ingredients last to ensure efficient blending.
FAQ
What is in Tropical Smoothie Detox Island Green?
Tropical Smoothie Cafe's Detox Island Green Smoothie has kale, spinach, pineapple, mango, banana, and ginger.
Is detox island green smoothie healthy?
With two types of dark leafy greens, tropical fruits packed with antioxidants, and anti-inflammatory ginger, this smoothie is one of the most nutrient-dense options available at tropical smoothie cafe.
More on Superfoods
Want to learn more about superfoods and how they fit well into smoothies? Check these out:
More Recipes
Recipe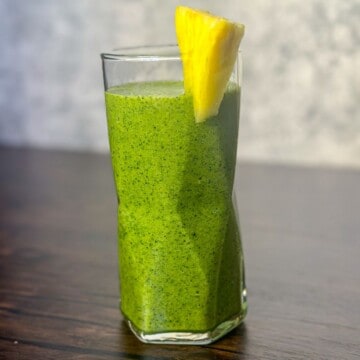 Detox Island Green Tropical Smoothie CopyCat Recipe
Get ready to sip your way to wellness with this Detox Island Green Tropical Smoothie! Brimming with nutrient-rich greens and exotic fruits, this smoothie is a perfect blend of taste and nutrition that is even better than the restaurant. Make it today and experience paradise in a glass!
Instructions
Start by cleaning, chopping, and peeling your ingredients. Add the kale, spinach, ginger, lemon juice, and spring water to your high-speed blender. Blend until space frees up in the blender.

Incorporate the banana, pineapple, and mango. Continue blending until the mixture becomes smooth. Feel free to toss in more spinach at this stage if you like.

Make sure to scrape the blender's sides to ensure all pieces are well-blended. Add extra water or ice at this point if needed.

If you're interested in adding extras like hydrated chia seeds or hemp seeds, add them now. Blend once more until the texture is smooth. Enjoy!
Notes
Add frozen ingredients last. Add pure maple syrup to further sweeten, or pure monk fruit to sweeten without added calories. Keep in mind, that mango and pineapple have naturally occurring sugars!
Nutrition
Calories:
126
kcal
Carbohydrates:
31
g
Protein:
2
g
Fat:
1
g
Saturated Fat:
0.2
g
Polyunsaturated Fat:
0.2
g
Monounsaturated Fat:
0.1
g
Sodium:
32
mg
Potassium:
517
mg
Fiber:
4
g
Sugar:
22
g
Vitamin A:
3569
IU
Vitamin C:
48
mg
Calcium:
80
mg
Iron:
1
mg
Food safety
Clean and dry fruits and vegetables thoroughly before using.
Spray white vinegar from a spray bottle onto produce and sit for one minute. Vinegar acts as an antibacterial and antifungal. Alternatively, you can use water with a few drops of grapefruit seed extract. Rinse thoroughly.