Looking to discover how to make a Pineapple Surf Smoothie that's a dead ringer for the Smoothie King classic? You're in the right place! Our Smoothie King copycat recipe will quickly become your favorite smoothie, ideal for a quick breakfast or a refreshing treat on a hot summer day—actually, it's good year-round!
Here at Mindfully Healthy Living, we prioritize healthy foods and holistic living. That's why our version boasts organic and natural ingredients like pure maple and a perfect blend of frozen fruit and fresh fruit to nail that creamy texture.
We switch up the game by replacing the common kiwi apple juice blend with a fresh kiwi and organic apple juice. Say goodbye to turbinado sugar; we sweeten this delicious smoothie with pure maple syrup for a natural antioxidant boost.
But there's more! Unlike the original that uses whey protein, our strawberry pineapple smoothie opts for a clean, plant-based vanilla protein powder, making it family-friendly and even toddler-approved.
With its tangy flavors, this tropical drink has been a hit in our home. We've had a blast experimenting with variations, and we're confident you will too! (see variations section below!)
If you enjoy copycat Smoothie King smoothies like this one, be sure to check out our Detox Island Green Copycat Recipe from Tropical Smoothie, or even our First Watch Kale Tonic Juice Recipe for more healthy smoothie and juice ideas.
These tasty treats are the perfect choice for breakfast or a mid-day pick-me-up. Its also a great way to make protein shakes taste even better while improving their nutritional value with added dietary fiber and antioxidants.
Before diving into this delectable recipe, we recommend setting intentions for a deeper mind-body connection, aiding in achieving your health goals. Interested in learning how? Take a look at our free guide on setting intentions and using affirmations for manifesting amazing results.
Get ready to blend up something extraordinary; this is not just another healthy smoothie—it's a lifestyle choice!
Stay tuned for more deliciousness and wellness tips. Happy blending!
Jump to:
Ingredients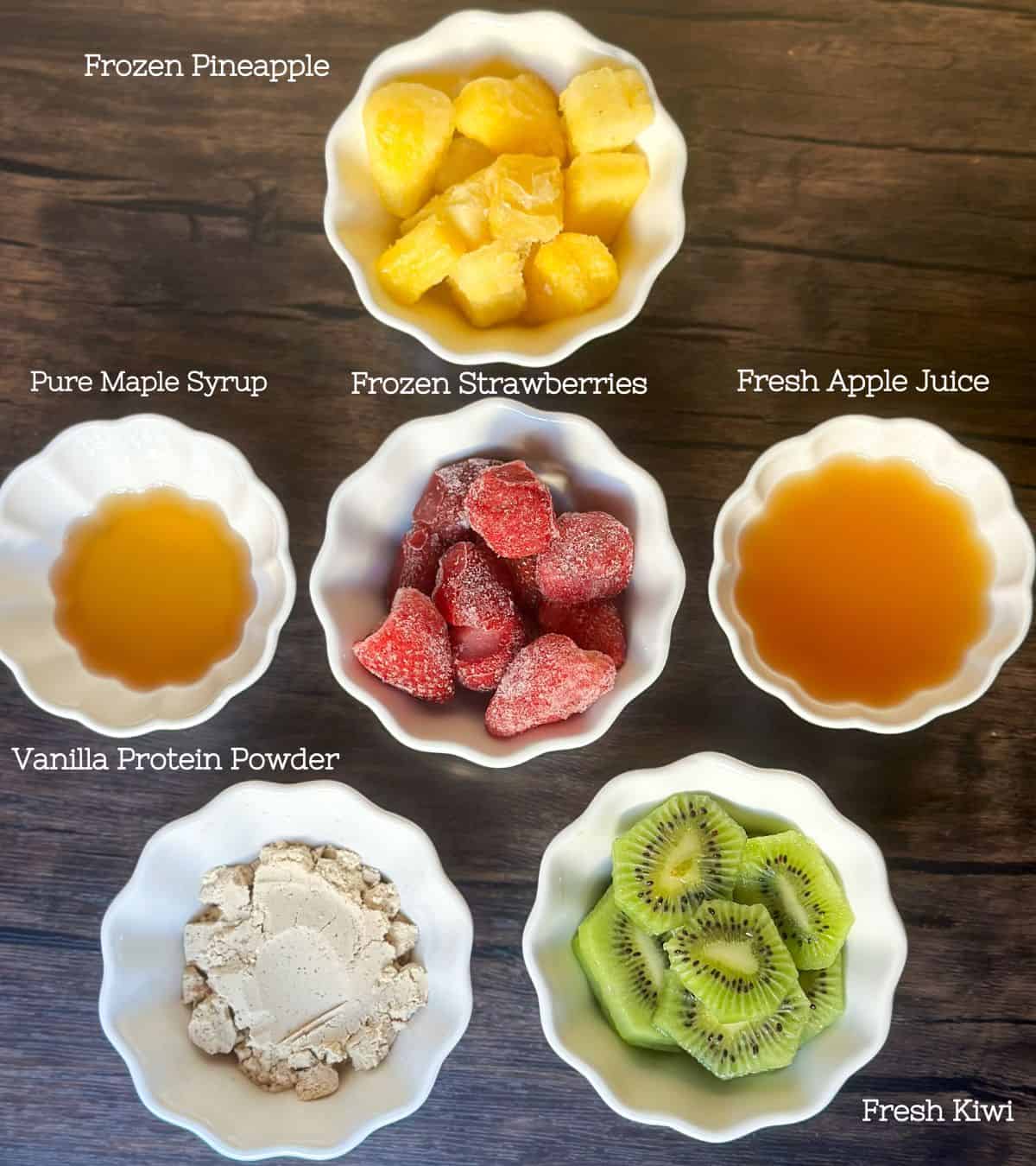 Frozen Strawberries
Opt for organic strawberries as berries have thin skin and may absorb some of the pesticides sprayed on them. Frozen can be replaced with fresh strawberries.
Frozen Pineapple
Organic frozen pineapple chunks are key for replicating Smoothie King's Pineapple Surf. Fresh pineapple is also a viable option. Pineapple adds a delicious unique flavor and is packed with Vitamin C. Using "real pineapple" as opposed to canned is best for nutritional value, plus your taste buds will thank you!
Naked Shake Vanilla Protein Powder (or any vanilla protein powder)
This serves as a cleaner, plant-based alternative to the standard dairy whey blend, boosting protein content while aligning with clean-eating standards.
Fresh Kiwi
Kiwi is rich in Vitamin C and elevates the smoothie's tropical flavors. It adds a natural touch of sweetness without extra sugar.
Cold-Pressed Apple Juice
If buying from a store, make sure it's cold-pressed and not from concentrate. It enhances the flavor and sweetness while adding essential vitamins.
Pure Maple Syrup
A dash of pure maple syrup offers a natural sweetness and antioxidants, rounding out the smoothie's flavor profile.
Quality matters when recreating favorites like Smoothie King's Pineapple Surf. Always opt for organic fruits and high-quality natural products for the best flavors and health benefits. Happy blending!
See recipe card for quantities.
Instructions
Add all fruit and apple juice and blend
Add the scoop of vanilla protein powder and maple syrup
Scrape down the sides and blend thoroughly
Blend in additional ice if desired. And enjoy!
Hint: Feel free to taste and adjust flavors before serving, if desired. A little extra maple syrup for sweetness or a splash more apple juice can make all the difference. Tailor it to your taste buds and enjoy!
Substitutions and Variations
The possibilities for customizing this smoothie are endless.
For a nutritional boost, consider adding different vegetables. Spinach or kale can turn it into a green smoothie packed with nutrients and antioxidants. If you don't have fresh leafy greens, consider barley grass powder for a supergreen boost.
Thinking about a unique twist? Beets make for a vibrant beet smoothie, loaded with health benefits.
Add some more exotic fruits like prickly pear, guava, papaya, starfruit, or dragon fruit!
For apple juice alternatives, you've got options like almond milk, coconut milk, orange juice, pineapple juice, and coconut water. Each brings a different character to the smoothie.
If you're after a creamier smoothie, Greek yogurt or kefir could replace some of the liquid. Almond butter and peanut butter are also delicious options for added richness.
In the sweetener department, agave syrup or raw honey offers another easy way to add sweetness, or for less total carbs from sugar, try pure monk fruit or stevia.
Feel like swapping out fruits? A ripe banana can be a yummy addition or substitution, offering a new texture and level of sweetness.
And if you're looking to incorporate more dietary fiber and omega-3s, consider adding chia seeds or hemp seeds to the blend.
Mix and match these options to find your perfect smoothie blend. The sky's the limit!
Equipment
High-Speed Blender: Essential for achieving a smooth, lump-free texture.
Vitamix, Pearl Grey, Series...
Shop on Amazon
Measuring Cups: For accurate portions of fruits and liquids.
Stainless Steel Measuring C...
Shop on Amazon
Measuring Spoons: Handy for adding just the right amount of sweetener or protein powder.
Spring Chef Magnetic Measur...
Shop on Amazon
Spatula: Useful for scraping down the sides of the blender to ensure all ingredients are well-incorporated.
Silicone Spatula Set of 5,H...
Shop on Amazon
Glass or Reusable Straw: For eco-friendly sipping.
Piteno® 16-Pack Reusable G...
Shop on Amazon
Cutting Board and Knife: For slicing fresh fruits like kiwi if you're not using pre-cut options.
ROYAL CRAFT WOOD Cutting Bo...
Shop on Amazon
WÜSTHOF Classic 8" Chef's ...
Shop on Amazon
Having the right equipment will help you create a perfect smoothie, quickly and effortlessly. Enjoy blending!
Storage
Wondering what to do with leftover smoothie? You've got options. Pour the extra into a freezer zip-top bag and store it in the freezer for a quick and easy future treat.
Just make sure to squeeze out as much air as possible before sealing to maintain freshness. To enjoy, simply let it thaw for a bit or blend it again to restore its original creamy texture.
Top tip
For the ultimate creamy texture and rich flavor, use frozen fruits instead of adding ice. This ensures your smoothie won't get watered down while staying icy cold. It's a game-changer for achieving that perfect, Smoothie King-copycat consistency!
FAQ
What is in the pineapple surf?
Pineapple Surf smoothie by Smoothie King has pineapple, strawberry, vanilla protein blend (whey), turbandino sugar, and a kiwi apple juice blend. In our copycat recipe, we switch the protein for a dairy-free plant based protein and switch out the sugar for a natural sweetener (maple).
Is pineapple smoothie good for you?
Yes, a pineapple smoothie can be a healthy choice, packed with vitamin C, dietary fiber, and antioxidants. Our clean version maximizes these benefits with organic ingredients.
How much sugar is in a pineapple surf smoothie?
Our Clean Copycat Pineapple Surf Smoothie contains about 18 grams of sugar, mainly from fruits and a touch of maple syrup. The restaurant version can contain up to 50 grams of sugar, depending on size and add-ins.
What is the hidden sugar in smoothies?
The hidden sugar in smoothies often comes from flavored yogurts, added sugars, or juice concentrates. Always check ingredient lists and opt for natural sweeteners.
Is it better to juice or blend a pineapple?
Both juicing and blending pineapples have their merits, but blending retains the dietary fiber for a more balanced nutritional profile. Including the pineapple core in your smoothie gives you a boost of bromelain, an anti-inflammatory enzyme.
More recipes
Looking for other recipes? Try these:
More Holistic Nutrition Info
Recipe
Clean Copycat Pineapple Surf Smoothie King Recipe
Savor the island vibes with our Clean Copycat Pineapple Surf Smoothie King Recipe. This nutritious gem brings you a tropical symphony of fresh kiwi, frozen pineapple, and strawberries, all perfectly complemented by clean vanilla protein powder and pure maple syrup. Experience a delicious smoothie that's both satisfying and good for you.Ingredients
Instructions
Combine frozen strawberries, frozen pineapple, sliced kiwi, and apple juice in the blender.

Add 1 scoop of Vanilla Protein Powder and maple syrup.

Blend all ingredients until smooth.

If desired, blend in additional ice and serve.
Notes
Feel free to taste and adjust flavors before serving, if desired.
Organic is best!
Nutrition
Calories:
194
kcal
Carbohydrates:
42
g
Protein:
11
g
Fat:
1
g
Saturated Fat:
0.4
g
Polyunsaturated Fat:
0.2
g
Monounsaturated Fat:
0.04
g
Sodium:
64
mg
Potassium:
420
mg
Fiber:
3
g
Sugar:
33
g
Vitamin A:
93
IU
Vitamin C:
96
mg
Calcium:
65
mg
Iron:
2
mg
Food safety
When making this smoothie, it's essential to adhere to basic food safety guidelines:
Make sure all fruits are washed thoroughly, even if you plan to peel them.
Always check the expiration date on your protein powder and other packaged ingredients.
Consume the smoothie immediately, or store it in a clean, airtight container in the fridge for up to 24 hours.
Avoid using utensils or containers that have been in contact with raw meat or eggs to prevent cross-contamination.
By following these straightforward steps, you can savor your nutritious and delicious smoothie with peace of mind.
See more guidelines at USDA.gov.
Final Thoughts
We hope you adore this Clean Copycat Pineapple Surf Smoothie King Recipe as much as we do! It's the perfect tropical drink for a hot summer day or as a quick breakfast option year-round. If you've tried this delicious smoothie or any of our other copycat smoothie recipes, we'd love to hear from you. Share your thoughts in the comments below, and don't forget to subscribe for more unique flavor combinations and healthy foods that nourish your body and soul.
Be well,
Natalie