Natural sweeteners are rising in popularity as healthy sugar replacements. Our keto sweetener guide will help you understand the differences and health benefits of Monk Fruit vs Swerve vs Stevia. If you would like to find a healthy and natural sugar replacement that also avoids the use of artificial sweeteners, this guide is sure to help you out!
Sugar intake is on the rise and has become a worldwide health crisis. Sugar aggravates many health issues including inflammation, type 2 Diabetes, heart disease, obesity, tooth decay, cancer, and more. These issues have created a desire for alternative sweeteners that help create some of your favorite dessert recipes, take the bitterness out of your favorite tea or coffee, and satisfy the occasional sweet tooth.
There are natural sweeteners that still contain calories and naturally occurring sugars like honey, coconut sugar, maple syrup, and date syrup. These natural sweeteners have incredible health benefits. However, some people would prefer to reduce calories, carbohydrates, and blood glucose levels. In this instance, natural sugar-free sweeteners are ideal!
​Low Carb Sweeteners
​The desire to match the sweetness of sugar without the carbohydrates, calories, or blood sugar spikes of regular sugar has caused an increase in sugar-free sweetener products. Whether you are on a low-carb or ketogenic diet, working on managing your blood sugar levels, working on weight loss, or simply want to improve your health and energy, switching to a low-carb sweetener can help.
Unfortunately, many of these zero-calorie sweeteners are made in a lab using artificial ingredients or even sugar alcohols. Studies have recently shown artificial sweeteners to contribute to systemic inflammation and digestive issues in those who consume artificial sweeteners regularly.
Luckily, there are healthy and natural sugar substitutes that can match the sweetness level of white sugar without the negative effects of artificial sweeteners. In this article, we will explain the differences between three popular sugar alternatives monk fruit vs swerve vs stevia, and how to choose the healthiest one for your goals.
Hint: Some natural sweeteners are cut with sugar alcohols. We will cover the pros and cons of this and explain how to check to see if your product is the sweetener that you are hoping it is! In our personal experience, reading and understanding nutrition labels and ingredients is an important part of living a healthy life.
Notes
As a Certified Holistic Nutrition Specialist, I provide information and suggestions that can be helpful in choosing the right path to health and wellness. This is not intended to be a substitute for medical advice. Always consult with a healthcare provider before making any major changes to your diet.
​
Monk Fruit
Monk fruit sweetener, also known as Siraitia grosvenorii or Luo Han Guo, is a small melon-like fruit native to southern China. It has been used in traditional Chinese medicine for centuries and is known for its intensely sweet taste. The fruit gets its name from Buddhist monks who were said to have cultivated it centuries ago.
The sweetness of monk fruit comes from natural compounds called mogrosides, specifically mogroside V, which is the main active ingredient responsible for its sweetness. These compounds are much sweeter than sugar but contain minimal calories. In fact, monk fruit extract is estimated to be around 150 to 200 times sweeter than table sugar (sucrose). It only takes a minuscule amount to match the sweetness of sugar. In my experience, just a pinch in your coffee or tea will sweeten it perfectly!
Pure Monk fruit extract is commonly used as a natural sweetener and sugar substitute, particularly in foods and beverages marketed as low-calorie or suitable for individuals with diabetes or on a keto diet. It provides sweetness without significantly impacting blood sugar levels, making it a desirable alternative for people who need to monitor their carbohydrate intake.
Additionally, monk fruit extract possesses antioxidant properties due to its mogrosides content. Some studies suggest anti-inflammatory effects and preliminary research indicates possible anti-cancer properties.
One advantage of monk fruit extract is that it doesn't have the bitter aftertaste often associated with other artificial sweeteners. It comes in various forms, such as powdered extract or liquid, and is often incorporated into other sweetener blends. These blends typically include erythritol (sugar alcohol).
To reap the most benefits of monk fruit sweetener, be sure to find a pure monk fruit product. Check the ingredient label to ensure the only ingredient is monk fruit.
Stevia
Stevia is a natural sweetener derived from the leaves of the Stevia plant (stevia rebaudiana), native to South America. The sweetness of stevia comes from its natural compounds called steviol glycosides, with the most abundant and commonly used one being stevioside. These compounds provide a sweet taste with zero calories, making stevia an appealing alternative to sugar.
Stevia has gained popularity as a sugar substitute due to its intense sweetness. In fact, stevia extract is estimated to be around 200 to 400 times sweeter than table sugar but contains no calories and zero net carbs. Like monk fruit extract, stevia can be used as a low-calorie sweetener for individuals looking to reduce their sugar intake or manage their weight.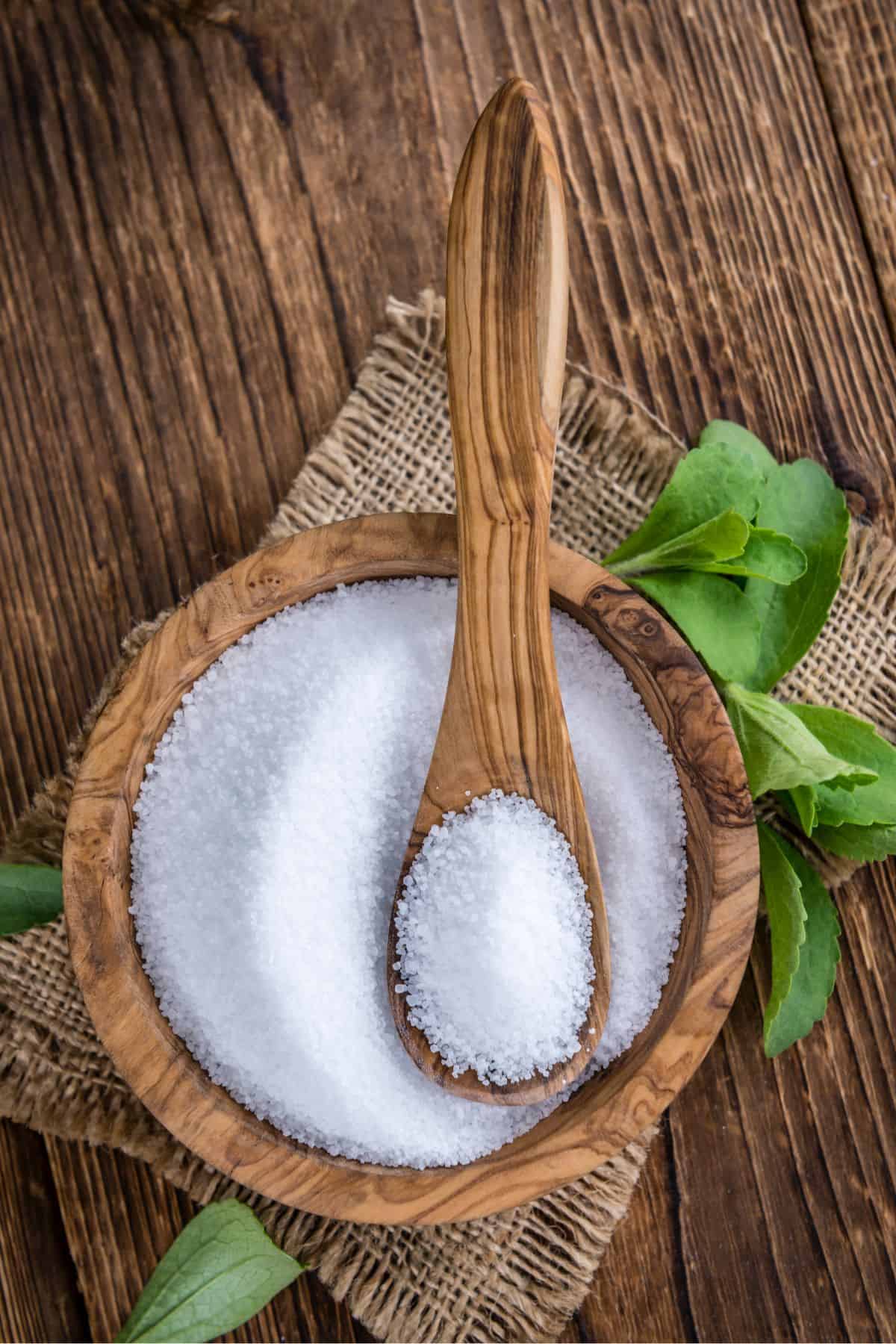 One of the advantages of stevia is that it has a minimal impact on blood sugar levels and a lower glycemic index. It is generally considered a good option for people with diabetes or those following a low-carb diet, as it does not raise blood sugar levels when consumed.
Stevia is available in various forms, including powdered extract, liquid concentrate, and granulated forms. It can be used to sweeten beverages, baked goods, ice cream, and other foods.
Some products also combine stevia with other sweeteners or bulking agents to improve its texture and performance in recipes. This is where the benefits of stevia can become tricky.
It's important to note that the taste of stevia can vary depending on the specific product and brand. Some people may perceive a slight aftertaste, which can vary from person to person.
Like monk fruit, stevia sweeteners are healthiest when pure and not blended with additional ingredients. You may notice these products will say they are a stevia blend. Again, always ensure the ingredients label has only one ingredient: Stevia.
What is Swerve?
Swerve is a brand name for an erythritol-based sweetener. Erythritol is a sugar alcohol that occurs naturally in some fruits and fermented foods. Swerve, however, is a specific blend of erythritol and other ingredients designed to mimic the taste and texture of sugar.
​Swerve is marketed as a zero-calorie sweetener because erythritol itself has a minimal impact on blood glucose and provides very few calories compared to regular sugar. It is also considered tooth-friendly since it does not contribute to tooth decay.
The company that produces Swerve states the product contains non-GMO erythritol, oligosaccharides, and natural flavors.
Oligosaccharides are prebiotic fibers derived from starchy root vegetables or grains. They can have a small number of calories but are not digested or metabolized by the body, so they are often subtracted from the total carbohydrate count when calculating net carbs.
Swerve is available in granulated and powdered forms, making it convenient for use in a variety of recipes, such as baking, cooking, and beverages. It can be used as a one-to-one replacement for sugar in most recipes. Like real sugar or any other sweetener, minor adjustments can be made to achieve the desired taste.
As with any sugar substitute, individual preferences and taste buds may vary. Some people may perceive a cooling sensation or a slight aftertaste.
A disadvantage to Swerve as a "natural" sugar substitute is that it contains undisclosed "natural flavors". Often times these ingredients you find on levels may not actually be natural. Additionally, the use of erythritol can cause undesirable reactions in some individuals.
Remember to consult with a healthcare professional for personalized advice on sugar substitutes or dietary changes, especially if you have specific health concerns or conditions.
Concerns With Erythritol
​Erythritol is generally considered safe for consumption by the U.S. Food and Drug Administration (FDA) and the European Food Safety Authority (EFSA). However, like many sugar alcohols, there are potential concerns associated with erythritol to be aware of. Some people may experience digestive issues such as bloating, gas, stomach upset, or diarrhea when consuming large amounts of erythritol. This is due to its incomplete absorption in the small intestine. (Not to mention, many of the artificial food additives are "generally recognized as safe" which may not be great for healthy lifestyle goals.
Compared to other sugar alcohols, erythritol tends to be better tolerated. Excessive consumption of erythritol can have a laxative effect. It draws water into the intestines and potentially causes loose stools or diarrhea.
Some sensitive individuals have also reported intolerance symptoms like heart palpitations and other nervous system side effects.
While rare, allergic reactions to erythritol can occur, and individuals experiencing any allergic symptoms should seek medical attention.
As with any food or ingredient, individual tolerance may vary, and it's advisable to consult with a healthcare professional or registered dietitian for personalized advice especially if you have specific health concerns, conditions, or allergies.
Moderation is important when using erythritol or any sugar substitute. Also, maintaining a balanced diet with whole, unprocessed foods is key to a healthy lifestyle.
The sourcing of erythritol can be a concern, particularly in terms of production methods, additives, and sourcing of raw materials.
Choosing the Quality Products
It is important to check for non-GMO or organic options if desired and review the ingredient list for any additives. Choosing reputable brands that adhere to high-quality manufacturing standards and certifications can provide assurance of a reliable and pure product. Researching brands and reaching out to manufacturers for more information can help make informed decisions about ingredient sourcing.
Please note that specific brand information and current industry practices are subject to change. It's recommended to conduct your own research and consult with healthcare professionals for personalized advice on sourcing monk fruit, stevia, pure erythritol, or any other dietary choices.
Conversion Chart for Recipes
​Converting sugar to pure monk fruit or stevia can be a bit tricky since their sweetness levels differ from sugar. However, here's a general conversion chart that can be used as a starting point:
1 cup of sugar ≈ ½ to ¾ teaspoon of pure monk fruit extract (powder or liquid)
1 cup of sugar ≈ ½ to 1 teaspoon of pure stevia extract (powder or liquid)
Keep in mind that these conversions are approximate and can vary based on personal preference and the specific brand or concentration of the monk fruit or stevia extract you are using. We recommend starting with a smaller amount. Taste the recipe, and adjust accordingly to achieve the desired level of sweetness.
As mentioned above, Swerve and other erythritol-based products are designed to evenly replace sugar cup for cup.
Additionally, monk fruit, Swerve, and stevia can have slightly different flavor profiles compared to sugar. It may take some experimentation to find the right balance and taste that suits your preferences.
​Conclusion
​When considering keto sweeteners for a natural and holistic approach to health, options such as Monk Fruit, Swerve, and Stevia can be viable alternatives to traditional sugar.
Monk fruit and Stevia are natural sweeteners with health benefits. These benefits include being low in calories and having a minimal impact on blood sugar levels. Swerve, an erythritol-based sweetener, offers a sugar-like taste without calories.
Choosing the right sweetener ultimately depends on personal preference, taste, and individual tolerance.
Some people may prefer the intense sweetness of Monk Fruit, while others may prefer the flavor of Stevia. Swerve can provide a texture and taste similar to sugar. It is important to consider potential side effects such as digestive issues, cooling effects, allergic reactions, and intolerances associated.
If you are looking for something more natural, consider organic pure stevia or pure monk fruit. And remember, very little goes a LONG WAY! The products are very small in size but last quite a long time. Just a pinch is all it takes!
For those on a ketogenic diet check out some of our keto recipes: Keto BBQ Chicken Casserole, Keto Sour Cream Chicken Enchilada Casserole, Keto Buffalo Chicken Broccoli Casserole, Wild-Caught Keto Parmesan Pollock, and more!
When incorporating these sweeteners into a ketogenic diet or any dietary changes, it is advisable to consult with healthcare professionals or registered dietitians for personalized advice. They can provide guidance based on individual health conditions, preferences, and goals.
Try Bulletproof Coffee. Learn more about how to make it here.
Eating healthy unprocessed whole foods makes a difference in the lives of many. We are here to encourage you on your mindfully healthy living journey. Have you switched to a natural sugar-free sweetener like Monk Fruit, Swerve, or Stevia? What was your experience? Please share with us in the comments below!