When it comes to prioritizing our health, the simplest choices often hold the greatest rewards. Among these choices, the act of drinking water stands as an essential pillar of well-being. As a holistic nutrition specialist, I have explored various sources of water and their effects on the human body, and I have come to realize that the health benefits of drinking spring water are truly exceptional. It is not just a matter of hydration; spring water possesses a unique composition that sets it apart from other sources, offering a plethora of natural elements and essential minerals that can profoundly impact our overall health and vitality.
In this article, we will embark on a journey into the captivating realm of spring water and delve into the remarkable ways it can transform our bodies from within. We will uncover the origins of spring water and trace its path as it emerges from deep beneath the Earth's surface, allowing it to absorb an array of minerals and trace elements along the way. This enriches spring water with a composition that is distinct and nourishing, offering benefits that extend far beyond quenching our thirst.
Imagine sipping water that not only hydrates but also provides your body with a remarkable array of minerals such as calcium, magnesium, potassium, and silica. These essential minerals work harmoniously to support our bodily functions, promoting optimal health and vitality. As a holistic nutrition coach, I firmly believe that our bodies thrive when they are nourished by the gifts of nature, and spring water epitomizes this philosophy.
It is a pure and pristine elixir, untainted by the toxins and pollutants that often plague other water sources, making it an ideal choice for those seeking a holistic approach to wellness.
Throughout this article, we will uncover the incredible health benefits that come with drinking spring water. From enhanced detoxification and improved digestion to strengthened immunity and revitalized skin, the impact of this natural elixir will leave you awe-inspired. We will explore how spring water supports our holistic approach to nutrition, aiding in nutrient absorption, promoting energy balance, and even contributing to weight management.
Join me on this enlightening journey as we celebrate the remarkable qualities and key benefits of natural spring water and unlock its potential to restore, revitalize, and rejuvenate our bodies and minds. By taking a sip from the wellspring of health, we can harness the power of nature's gift and discover the extraordinary benefits that lie within each drop of this pure and potent elixir.
Note: The information provided in this article is based on the perspective of a holistic nutrition specialist and does not substitute professional medical advice. Drinking mineral water from natural springs is meant to be a beneficial addition to a healthy lifestyle and clean diet.
Jump to:
​
Spring Water's Composition
Spring water is more than just a refreshing beverage—it is a liquid treasure trove brimming with a rich tapestry of beneficial minerals and trace elements. As it meanders through layers of rock and soil, spring water undergoes a natural filtration process, absorbing vital nutrients that contribute to its unique composition.
One of the standout features of spring water is its high mineral content.
Calcium, for instance, is crucial for maintaining strong bones and teeth, while also playing a role in muscle function and nerve transmission. Magnesium, another prominent mineral found in spring water, supports hundreds of biochemical reactions in the body, including energy production, muscle relaxation, and nerve function.
Potassium, yet another mineral abundantly present in spring water, is essential for maintaining proper fluid balance, regulating blood pressure, and supporting heart health and other vital organs function properly.
Additionally, silica, a trace mineral found in varying amounts in spring water, promotes healthy skin, hair, and nails, while contributing to the strength and flexibility of connective tissues.
By choosing spring water as our primary source of hydration, we not only quench our thirst but also provide our bodies with a natural infusion of these essential minerals and trace elements. These nutrients work synergistically to support our overall well-being, helping to optimize bodily functions and promote vitality.
In fact, many people today have unexplained symptoms that are often linked to mineral deficiencies.
Moreover, spring water's mineral composition offers unique advantages over other water sources. Unlike tap water, which may undergo chemical treatment and contain contaminants like heavy metals, spring water retains its purity, having emerged directly from an underground source. Its natural filtration process allows it to remain free from additives, pollutants, and harmful substances, ensuring that we receive water in its purest form.
The level of minerals helps spring water to be naturally alkaline water that supports a healthy body and mind.
Holistic Benefits
From a holistic perspective, incorporating spring water into our daily lives can have a transformative impact on our well-being. Let's explore some of the remarkable benefits that drinking spring water can provide:
Enhanced Detoxification: Spring water's purity and mineral content support the body's natural detoxification processes, aiding in the elimination of toxins and waste. Proper hydration is essential for optimal kidney function and efficient removal of waste products from the body.
Improved Digestion: Adequate hydration is crucial for maintaining a healthy digestive system. Drinking spring water can help support smooth digestion, nutrient absorption, and optimal bowel movements, contributing to overall digestive health. For more info on gut health click here.
Blood Pressure Management: The natural minerals in spring water help to lower and prevent high blood pressure which is a contributing factor to heart disease. Blood pressure management is crucial to overall health and well-being.
Strengthened Immunity: The mineral-rich nature of spring water, coupled with its purity, can bolster our immune systems defense mechanisms. Proper hydration supports the optimal functioning of immune cells and facilitates the transport of nutrients to cells throughout the body. Check out our immune-boosting herbs article.
Helps Fight Cancer: Minerals play a crucial role in maintaining proper pH balance in the body, helping to regulate acidity levels. By supporting a balanced pH, minerals create an environment that is less conducive to cancer growth, as cancer cells thrive in an acidic environment. Check out our Anti-Cancer Diet here. Pair it with freshly squeezed lemon juice for a daily boost of energy and metabolism.
Revitalized Skin: Spring water's silica content can promote healthy skin by supporting collagen production and maintaining skin elasticity. Staying hydrated with spring water can contribute to a more youthful and radiant complexion.
Support for Nutrient Absorption: The minerals present in spring water, such as calcium and magnesium, aid in the absorption of essential nutrients from our diet. This can maximize the benefits we derive from the foods we consume, enhancing our overall nutritional status.
Energy Balance and Weight Management: Drinking spring water can support a healthy metabolism and energy balance. Staying hydrated can help curb cravings, promote satiety, and support optimal energy levels, thereby assisting in weight loss and management efforts.
Supports a Healthy Pregnancy: Pregnant women need extra minerals to support their growing baby. Many pregnant and breastfeeding moms notice dry hair and brittle teeth after pregnancy. This is typically due to mineral deficiencies.
Minerals play a crucial role in the development of babies in and out of the womb! Drinking mineral-rich water helps support these vital times in a mom and baby's life.
Healthy Bones and Teeth: Drinking spring water, which is rich in calcium, can contribute to the maintenance of healthy bones and teeth, providing the essential mineral necessary for their strength and integrity. By incorporating spring water into our hydration routine, we can support long-term bone health and promote a confident smile.
Muscle Recovery: Spring water, with its natural mineral content and hydration properties, can play a vital role in muscle recovery after physical exertion. It helps replenish the body's fluids, restore electrolyte balance, deliver essential minerals such as magnesium, improve blood flow, and provide optimal hydration for muscle tissue. These factors contribute to proper muscle contraction, reduce the risk of muscle soreness, and promote faster recovery overall. For more info on anti-inflammatory foods for pain relief, click here.

As we can see, spring water offers a holistic approach to hydration, nourishment, and overall good health and well-being. By embracing this natural elixir, we invite the inherent wisdom of nature to enhance our health journey. In the next section, we will further explore how spring water can integrate seamlessly into our daily routines, helping us optimize our nutrition and cultivate a balanced lifestyle.
Practical Tips For Daily Use
Now that we understand the incredible health benefits of drinking spring water, let's explore some practical ways to incorporate it into our daily routine. By making conscious choices and adopting healthy habits, we can optimize our hydration and harness the full potential of this natural elixir. Here are some tips to help you get started:
Choose Quality Sources: When selecting spring water, opt for reputable brands or, if possible, local springs that ensure the water's purity and quality. Look for products that are tested and certified to meet the highest standards of safety and hygiene and are from a legitimate natural spring water source.
Make Spring Water Accessible: Keep a reusable water bottle filled with spring water handy throughout the day. Having it within reach will serve as a reminder to stay hydrated and make it more convenient to drink water regularly.
Start Your Day with a Glass: Upon waking up, drink a glass of spring water to kick-start your hydration for the day. This simple habit can help rehydrate your body after hours of sleep and set a positive tone for the day ahead. Add lemon for a detoxifying boost!
Hydrate Mindfully: Develop a mindful approach to drinking spring water. Take your time to savor each sip, allowing your body to fully absorb and benefit from the water's nourishing properties. Focus on the experience and express gratitude for the gift of clean, natural water.
Set Hydration Reminders: In our busy lives, it's easy to forget to drink enough water. Set reminders on your phone or use apps specifically designed for hydration tracking to prompt you to drink at regular intervals. This will help you maintain consistent hydration throughout the day.
Infuse with Natural Flavors: If you find plain water unappealing, infuse your spring water with slices of fresh fruits, herbs, or a splash of citrus juice. This adds a burst of flavor without compromising the natural benefits of the spring water, making it more enjoyable to drink.
Create Rituals: Incorporate spring water into your daily rituals. Whether it's taking a moment to appreciate the natural beauty of a nearby spring, enjoying a cup of herbal tea made with spring water, or using spring water to prepare meals, infusing these rituals with the presence of spring water adds an extra touch of mindfulness and connection with nature.
Track Your Intake: Keep a hydration journal or use a hydration tracking app to monitor your water intake. By tracking how much spring water you consume daily, you can ensure you are meeting your hydration goals and adjust your habits if necessary.
Remember, the key is to develop a consistent and mindful approach to hydration with spring water. By making it a conscious part of your daily routine, you can reap incredible health benefits and support your overall well-being.
Finding Spring Water Locations
​If you're eager to experience the wonders of spring water firsthand, the United States offers a diverse array of locations where you can find natural springs. These pristine destinations allow you to tap into the pure essence of nature's gift. Here are some resources and tips to help you locate springwater locations across the country:
Online Spring Water Directories: Several online directories provide valuable information on spring water sources. Websites like FindaSpring.org offer user-generated listings and reviews, making it easier to find natural springs near your area or during your travels. These platforms often include details about the water's mineral composition, accessibility, and user experiences.
National and State Parks: National and state parks are known for their breathtaking landscapes and often boast natural springs within their boundaries. Research the parks in your region or those you plan to visit to discover if they offer opportunities for accessing and enjoying spring water.
Local Knowledge and Community Networks: Engage with local communities, hiking groups, or naturalist organizations in your area. They may have valuable insights and firsthand knowledge about nearby spring water locations that are less well-known or not listed in online directories. Local enthusiasts can provide insider tips and guidance on finding these hidden gems.
Natural Springs Resorts and Retreats: Consider visiting natural springs resorts or retreat centers that provide access to natural spring water. These destinations often offer amenities and activities centered around the therapeutic benefits of mineral-rich spring water, creating an immersive and rejuvenating experience.
Remember to respect the environment and follow any rules or guidelines specific to each spring location. Prioritize safety and be aware of potential risks associated with accessing natural springs, such as uneven terrain or variable water conditions.
Exploring spring water locations in the United States allows you to connect with nature, experience the purity of natural springs, and embrace the incredible health benefits they offer. Soothe your senses and quench your thirst with the pristine elixir of spring water, immersing yourself in the wonders of the natural world.
Disclaimer: Before visiting any spring water location, it is advisable to do thorough research, ensure water safety, and adhere to any local regulations or guidelines.
Spring Water vs Purified Water
​While spring water holds a special place for its natural origin and mineral-rich composition, it's essential to understand how it compares to other types of water commonly available. Let's take a closer look at purified water, distilled water, and tap water, and explore their distinctions from spring water.
Purified Water: Purified water refers to water that has undergone a filtration process to remove impurities and contaminants. This process may include methods like reverse osmosis, activated carbon filtration, or distillation. While purified water offers a clean and safe drinking option, it may lack the natural minerals and elements present in spring water. The mineral content in purified water can vary depending on the specific purification methods employed.
Distilled Water: Distilled water is produced through a process of vaporization and subsequent condensation. The distillation process involves boiling water, capturing the steam, and then condensing it back into liquid form, leaving behind impurities. Distilled water is free from most minerals and impurities, including natural elements found in spring water. While it can be suitable for certain applications, drinking distilled water as the sole source of hydration may lack the beneficial minerals necessary for optimal health.
Tap Water: Tap water is supplied through municipal water systems and undergoes various treatment processes to ensure its safety. These treatments typically include filtration, disinfection, and the addition of chemicals to control bacteria and remove contaminants. However, tap water can vary significantly in terms of quality depending on its source and the local treatment processes. While tap water generally meets safety standards, it may contain traces of pollutants and additives, such as chlorine, fluoride, and heavy metals.
When comparing these types of water to spring water, the key distinction lies in their source and mineral content. Spring water is sourced directly from underground springs, where it naturally absorbs minerals and elements from the surrounding environment. This natural filtration process enriches spring water with beneficial minerals like calcium, magnesium, and potassium.
Spring water's mineral composition can contribute to overall health and well-being, supporting functions such as muscle contraction, nerve transmission, and proper hydration. In contrast, purified water, distilled water, and tap water typically have reduced or varying mineral content, which may not offer the same level of natural benefits as spring water.
However, it is important to note that the choice of water depends on individual circumstances and preferences. Purified water and tap water can be suitable options when the quality and safety standards are met, especially in regions where spring water is not readily available or accessible.
In conclusion, while purified water, distilled water, and tap water serve their purposes in different contexts, they may not provide the same naturally occurring minerals and elements found in spring water. If the goal is to embrace the holistic benefits of mineral-rich water, considering spring water as part of your hydration routine can be a step towards nourishing your body with the essence of nature's wisdom.
​Alternatives to Spring Water
​While spring water offers unique benefits, there are alternatives available for those who don't have access to natural springs or prefer different options. One such alternative is purified water, which can be enhanced with trace mineral drops to compensate for potential mineral deficiencies. Let's delve into this alternative and understand how trace mineral drops can be a valuable addition to purified water, particularly for reverse osmosis (RO) or similar filtration systems.
Purified Water as an Alternative: Purified water, as mentioned earlier, undergoes filtration processes to remove impurities and contaminants, resulting in a clean and safe drinking water option. While it may lack the natural minerals present in spring water, purified water can still be a suitable choice for hydration.
Enhancing Purified Water with Trace Mineral Drops: To address the potential mineral deficiencies in purified water, trace mineral drops can be an effective solution. These drops contain a concentrated blend of essential minerals, typically sourced from natural mineral deposits. By adding trace mineral drops to purified water, especially RO water or similar filtration systems, you can reintroduce beneficial minerals back into the water, emulating the mineral composition of spring water.
Trace mineral drops typically include minerals like magnesium, calcium, potassium, and zinc, which play vital roles in various bodily functions. These minerals support muscle function, nerve transmission, electrolyte balance, and overall health and well-being. Adding trace mineral drops to purified water allows you to customize the mineral content to better align with the benefits associated with spring water.
Considerations for Using Trace Mineral Drops: When using trace mineral drops, it is crucial to follow the instructions provided by the manufacturer to ensure proper dosage and usage. Start with the recommended amount and adjust as needed, keeping in mind individual preferences and any specific health considerations.
Additionally, it's important to note that the quality of the purified water used as the base is still essential. Ensure that the water has undergone reliable purification methods, such as RO filtration, to remove contaminants effectively before adding the trace mineral drops.
By combining purified water with trace mineral drops, you can create a customized and mineral-rich alternative that can approximate the benefits of spring water. This approach allows you to enjoy the convenience and safety of purified water while still incorporating essential minerals into your hydration routine.
In conclusion, while spring water holds its unique advantages, utilizing trace mineral drops in purified water, particularly for RO or similar filtration systems, can offer an alternative solution. It allows you to enhance the mineral content of purified water, bringing it closer to the natural composition found in spring water. Remember to prioritize the quality of the purified water and consult with a healthcare professional or holistic nutrition specialist for personalized advice.
​Limit Plastic Water Bottle Use
While staying hydrated is crucial for our health, it is equally important to consider the impact of our choices on the environment and our own well-being. Plastic water bottles, despite their convenience, pose concerns related to chemical contamination. Understanding the potential risks associated with plastic bottles can encourage us to seek alternative options and adopt more sustainable practices. Let's explore the importance of limiting plastic water bottle use and the hazards of chemical contamination.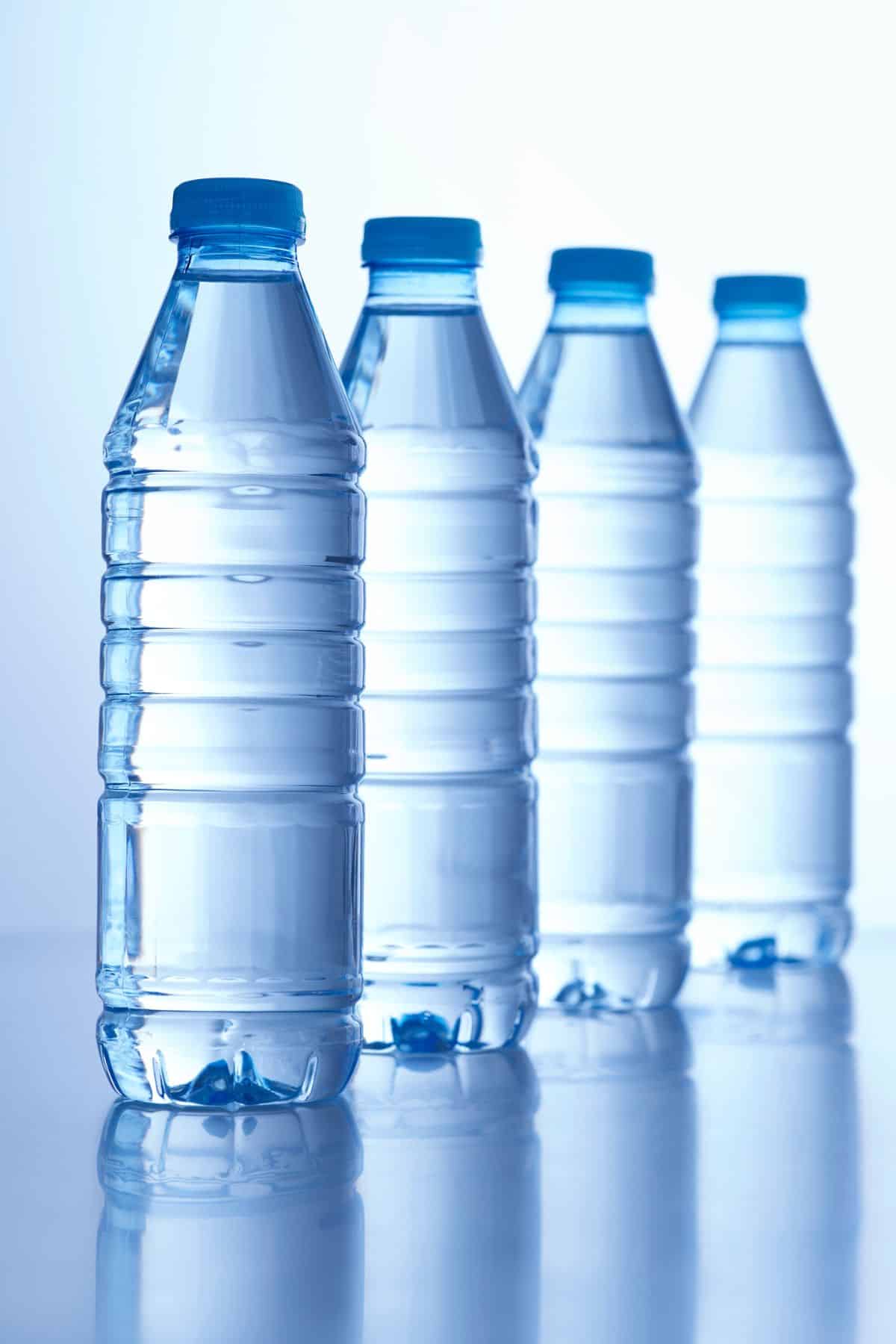 Chemical Contamination from Plastic Bottles: Plastic water bottles are typically made from polyethylene terephthalate (PET) or other plastic materials that can leach harmful chemicals into the water they contain. Over time and under certain conditions, these chemicals can migrate from the bottle into the water, potentially affecting our health when consumed. This is especially true as heat during transport or storage accelerates the plastic chemicals leeching into your water!
One significant concern is the leaching of a chemical compound called bisphenol A (BPA) from plastic bottles. BPA is known as an endocrine disruptor, meaning it can interfere with hormone function in the body. Studies have linked BPA exposure to various health issues, including hormonal imbalances, reproductive problems, and an increased risk of certain cancers.
Additionally, other chemicals used in the manufacturing of plastic bottles, such as phthalates, can also leach into the water. Phthalates are potential endocrine disruptors and have been associated with adverse health effects, particularly in vulnerable populations such as infants and pregnant women.
Environmental Impact of Plastic Bottles: The excessive use of plastic water bottles contributes to the global plastic waste crisis. Plastic pollution poses a severe threat to ecosystems, marine life, and the overall health of our planet. The production, transportation, and disposal of plastic bottles contribute to carbon emissions, depletion of natural resources, and the accumulation of non-biodegradable waste.
Embracing Sustainable Alternatives: To mitigate the risks associated with plastic water bottles, it is crucial to explore sustainable alternatives. Here are a few options to consider:
Reusable Water Bottles: Invest in a high-quality reusable water bottle made from materials such as stainless steel, glass, or BPA-free plastic. These bottles are durable, safe, and can be refilled countless times, reducing the need for single-use plastic bottles.
Filtration Systems: Install a home water filtration system to ensure clean and safe drinking water. These systems can effectively remove contaminants while preserving essential minerals, providing a reliable and eco-friendly source of drinking water.
Refill Stations: Take advantage of public water refill stations or establishments that offer water refilling services. Many cities and organizations are installing refill stations to provide free or low-cost access to clean drinking water.
Spring Water Dispensers: Explore local natural springs or community-based spring water supply dispensers that allow you to access fresh spring water in a sustainable and reusable manner.
By adopting these alternatives and reducing plastic bottle usage, we can protect our health, contribute to environmental conservation efforts, and promote a more sustainable future.
In summary, limiting plastic water bottle use is of paramount importance to address concerns related to chemical contamination and environmental impact. By opting for reusable water bottles, filtration systems, refill stations, or accessing natural spring water in sustainable ways, we can make a positive impact on both our personal well-being and the health of our planet.
Natural Hot Springs
​Along with natural spring water being an incredibly refreshing drink, there are also natural hot springs that contain additional benefits to human health. Amidst the hustle and bustle of modern life, there is something enchanting and rejuvenating about immersing oneself in the healing waters of natural hot springs. These geothermal wonders offer a unique and soothing experience, combining the tranquility of nature with the therapeutic properties of mineral-rich water. Let's explore the allure and benefits of natural hot springs.
Geothermal Therapy: Natural hot springs are formed when geothermally heated groundwater rises to the surface, creating pockets of warm or hot water. The geothermal heat warms the water and infuses it with rich mineral content, creating a unique blend of elements that can provide numerous health benefits.
Mineral-Rich Waters: One of the most captivating aspects of natural hot springs is their mineral composition. As the water flows through underground rock formations, it absorbs minerals such as calcium, magnesium, silica, and sulfur. These minerals can have therapeutic effects on the body, promoting relaxation, relieving muscle tension, and nourishing the skin.
Relaxation and Stress Relief: The combination of warm water, serene surroundings, and the natural beauty of hot springs creates an environment that is ideal for relaxation and stress relief. Soaking in mineral-rich waters can help alleviate muscle soreness, reduce stress levels, and induce a sense of calm and tranquility.
Improved Circulation and Detoxification: The warmth of hot springs can dilate blood vessels, increasing blood circulation and oxygen flow throughout the body. This improved circulation can aid in the removal of toxins from tissues and promote overall detoxification.
Skin Rejuvenation: The mineral content in hot springs, particularly silica, can contribute to healthier, more radiant skin. Silica helps maintain the skin's elasticity, promoting a youthful appearance and supporting the healing of various skin conditions.
Joint and Muscle Relief: Hot springs' warm water can provide relief for joint and muscle discomfort. The buoyancy of the water reduces pressure on joints, allowing for gentle movement and easing the strain on muscles. The mineral content can also contribute to the relaxation of muscles and alleviate stiffness.
Mind-Body Connection: The combination of the therapeutic properties of hot springs and the serene natural environment offers an opportunity to reconnect with nature and foster a deeper mind-body connection. The soothing waters can promote mindfulness, reduce anxiety, and enhance overall well-being.
Natural hot springs offer a serene escape, allowing us to immerse ourselves in the healing embrace of mineral-rich waters. Whether enjoying the warm embrace of a secluded mountain spring or indulging in a hot springs resort, these natural wonders provide a restorative experience for both body and soul.
Disclaimer: It is important to exercise caution and follow guidelines when visiting natural hot springs, as water temperatures and conditions can vary. If you have any underlying health conditions or concerns, consult with a healthcare professional before immersing in hot spring waters.
Natural hot springs provide a therapeutic retreat where we can unwind, relax, and reap the benefits of mineral-rich waters. As we immerse ourselves in these natural wonders, we discover the power of nature's healing touch and embrace the serenity they offer.
Conclusion
​Incorporating spring water into our lives is a simple yet powerful step towards holistic wellness. Its mineral-rich composition and purity offer remarkable benefits for our health and vitality. Have you tried spring water and experienced its positive impact on your life and health? We would love to hear your story.
Subscribe to our newsletter for more holistic wellness information and join our community of individuals embracing the wisdom of nature to optimize their well-being. Let's continue this journey together toward a healthier and more vibrant life.
​Have a healthy day!
Natalie