Welcome to our holistic nutrition blog, where we explore the power of natural ingredients in supporting our overall well-being. In this article, we will delve into the realm of liver health and introduce you to an invigorating and revitalizing elixir – the Energizing Turmeric Lemon Juice Liver Cleanse.
Jump to:
As a holistic nutrition specialist, I firmly believe in the nourishing properties of food and herbs, and their ability to enhance our body's innate detoxification processes. Our liver, the superhero of our body, tirelessly filters out toxins and plays a crucial role in maintaining our health.
By incorporating the vibrant flavors of lemon and the potent benefits of turmeric, this recipe offers a delightful and refreshing way to provide support and nourishment to our liver.
Get ready to unlock a renewed sense of vitality as we embark on this journey together, exploring the rejuvenating effects of this incredible elixir and discovering the diverse array of liver-cleansing foods and herbs nature has bestowed upon us. Let's revitalize our bodies, nurture our livers, and embrace a path to vibrant well-being.
When I started learning about healing foods, I was on a mission to heal from chronic pain and inflammation. That is when I discovered turmeric root. It is a magical herb that works wonders for chronic and acute pain as well as boosting mood, and immune system function, preventing blood clots, and yes- improving liver function. When used right, it is a natural replacement for NSAIDs without the nasty side effects.
Lemon pairs well with turmeric and also has incredible health benefits. Fresh lemon juice alone has astringent properties that help boost metabolism and stimulate bile production. Bile is produced in the liver and is crucial for digestion and detoxification. Finally, Cayenne pepper is energizing and heats the metabolism to give this drink the fire it needs to get the job done.
So if you'd like to give your liver, metabolism, and detoxifying systems a boost- you are in the right place!
Disclaimer: The information provided in this article is for educational purposes only and should not be considered a substitute for professional medical advice, diagnosis, or treatment. Always seek the guidance of a qualified functional medical doctor or healthcare professional before making any changes to your diet, lifestyle, or medical regimen. Each individual's health and medical needs are unique, and what may work for one person may not be suitable for another. Consulting with a qualified professional will ensure personalized guidance and appropriate recommendations based on your specific circumstances and health history.

Importance of Liver Health
Maintaining optimal liver health is crucial for our overall well-being, as this incredible organ plays a vital role in numerous bodily functions. Liver damage, whether caused by factors like fatty liver disease or excessive alcohol consumption, can have severe consequences for our health.
A healthy liver is essential for efficient weight loss, as it aids in the breakdown and elimination of fats. It also plays a key role in supporting a healthy digestive system by producing bile, necessary for nutrient absorption and waste elimination.
Moreover, the liver acts as a detoxification powerhouse, filtering harmful toxins and metabolizing substances that could otherwise be detrimental to our health. By keeping the liver gallbladder and liver enzymes in check, we can ensure the smooth functioning of our body's detoxification process.
To prevent liver problems and liver failure, it is vital to adopt a lifestyle that supports liver health, including maintaining a balanced diet, minimizing alcohol consumption, and avoiding exposure to harmful toxins. By caring for our liver, we safeguard the well-being of our liver cells and promote overall vitality.
Helpful Food and Herbs for Liver Health
​When it comes to supporting liver health, incorporating certain healthy foods and herbs into your diet can provide valuable nourishment and support for this vital organ. Here are some helpful options to consider:
Beetroot Juice: Packed with antioxidants and compounds like betaine, beetroot juice supports liver detoxification and helps protect liver cells from damage.
Dandelion Root and Greens: Dandelion root and greens are known for their liver-cleansing properties. They stimulate bile production, aid digestion, and support liver detoxification processes.
Lemon Water Detox: Starting your day with a glass of warm lemon water on an empty stomach can help stimulate bile flow and support the liver's natural detoxification processes. It is a healthy drink that can be a powerful first step in getting your detoxifying pathways clear on the path to overall health and wellness. For an extra boost, try adding spring water and warming gently on the stove.
Milk Thistle: Milk thistle is a powerful herb renowned for its liver-protective properties. It aids in detoxification, promotes liver cell regeneration, and protects against oxidative stress.
Apple Cider Vinegar: Incorporating apple cider vinegar into your diet may help improve liver function by supporting digestion, detoxification, and maintaining a healthy pH balance. It also helps maintain a healthy metabolism by balancing blood sugar levels.
Grapefruit Juice: Rich in antioxidants and vitamin C, grapefruit juice supports the liver's detoxification pathways and enhances the production of liver detoxifying enzymes.
Turmeric: Known for its anti-inflammatory properties, turmeric helps protect the liver from damage, aids in detoxification, and supports overall liver health.
Garlic: Garlic contains sulfur compounds that activate liver enzymes responsible for detoxification. It also has anti-inflammatory and immune-boosting properties.
Green Tea: Packed with catechins and antioxidants, green tea supports liver health by reducing inflammation, promoting detoxification, and protecting against liver diseases. Learn here about good vs bad quality matcha green tea and all of its benefits.
Cruciferous Vegetables: Foods like broccoli, cabbage, and Brussels sprouts contain compounds that support liver detoxification enzymes, aiding in the elimination of toxins.
Leafy Greens: Leafy greens such as spinach, kale, and Swiss chard are rich in chlorophyll, antioxidants, and fiber, making them ideal for liver health. They assist in the elimination of toxins and support the liver's detoxification process. Including leafy greens in your diet can also help protect liver cells and reduce inflammation, contributing to optimal liver function.
Barley Grass: Barley grass is a nutrient-dense superfood that contains chlorophyll, enzymes, vitamins, and minerals. It aids in detoxification from harmful substances, supports liver health, and helps maintain healthy liver enzyme levels.
Wheatgrass: Wheatgrass is another potent liver-cleansing ingredient. It contains chlorophyll, antioxidants, and various nutrients that promote detoxification, strengthen liver function, and help remove harmful toxins like heavy metals from the body.
Setting Intentions
​Before we get started learning about the ingredients in this Turmeric Lemon Juice Liver Cleanse Recipe, let's take the time to focus and set some solid intentions. Setting intentions before activities is a powerful practice that allows us to cultivate mindfulness and purpose.
By consciously directing our thoughts and energy towards a specific outcome, such as infusing positive energy into a recipe, we enhance our connection with the food we prepare and consume.
This intention-setting process can elevate the overall experience, bringing a sense of gratitude, joy, and nourishment to the act of cooking and eating, thereby enhancing our well-being on multiple levels. To learn more about setting effective intentions check out this article.
Ingredients
Turmeric Powder or Fresh Turmeric Juice: Turmeric contains curcumin, a powerful antioxidant and anti-inflammatory compound that supports liver health by aiding in detoxification and reducing inflammation in the liver. Studies have shown the benefits of using turmeric for non-alcoholic fatty liver disease to help lower liver enzymes.
Freshly Squeezed Lemon Juice: Lemon juice is rich in vitamin C and antioxidants, which help stimulate bile production and assist the liver in the detoxification process.
Pinch of Cayenne Pepper: Cayenne pepper contains capsaicin, which has antioxidant and anti-inflammatory properties. It can help improve circulation, support digestion, and enhance the metabolism of toxins in the liver.
Raw Honey or Maple Syrup (optional): Adding a small amount of raw honey or maple syrup provides a touch of sweetness to the cleanse recipe. However, it's important to use them sparingly, as excessive sugar consumption can negatively impact liver health.
Fresh Warm Water (optional): Warm water is often used in the liver cleanse recipe to aid in digestion and hydration. It helps to dilute the ingredients and promote the flushing of toxins from the liver.
Pinch of Black Pepper: This is essential to the absorption of the curcumin in the turmeric powder. It increases its bioavailability by 2000%!
By incorporating these ingredients into the liver cleanse recipe, you are providing a powerful combination of antioxidants, anti-inflammatory compounds, and supportive nutrients that can enhance liver function, promote detoxification, and protect liver cells from damage. Remember to adjust the quantities of each ingredient to suit your taste preferences and individual needs.
Instructions
​
In a glass or container, combine 1 teaspoon of turmeric powder, the juice of one lemon, a pinch of cayenne pepper, a pinch of black pepper, and an optional teaspoon or two of raw honey or maple syrup for sweetness.
Stir the ingredients well until thoroughly combined.
Add warm or room-temperature water to the mixture to aid digestion and enhance the cleansing experience.
Drink the mixture on an empty stomach in the morning, waiting at least 30 minutes before consuming any other food or beverages.
Remember to adjust the quantities of each ingredient to suit your taste preferences, and consult with a healthcare professional before making any significant changes to your diet or if you have any underlying health conditions. Enjoy the liver cleanse elixir as part of a balanced and healthy lifestyle.
Recipe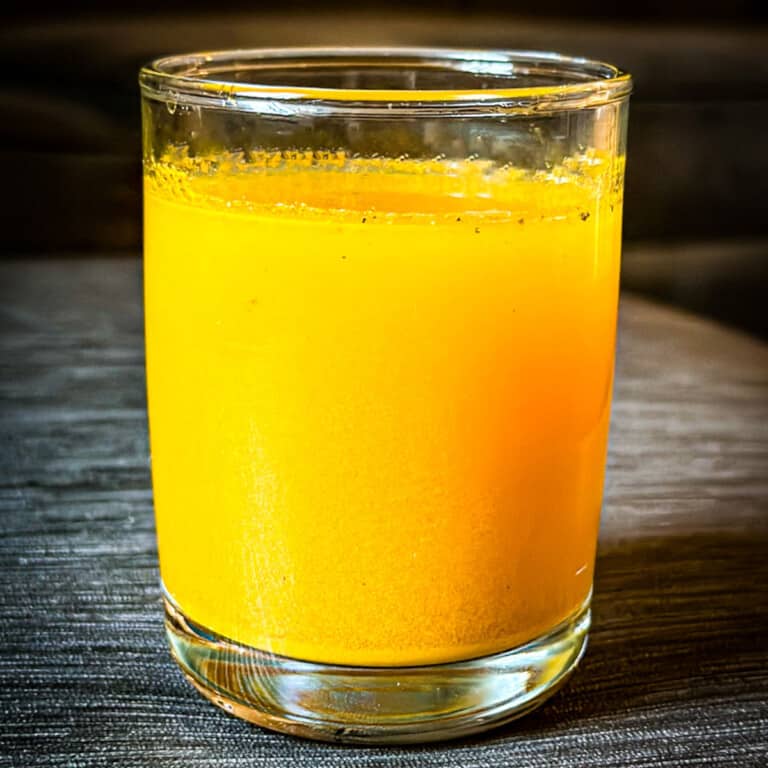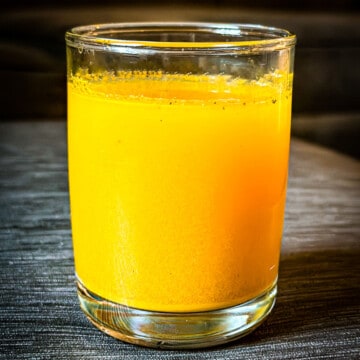 Energizing Turmeric Lemon Juice Liver Cleanse Recipe
Revitalize your mornings with this refreshing and invigorating lemon juice liver cleanse recipe. Packed with the goodness of turmeric, cayenne pepper, and a pinch of black pepper, this elixir provides a vibrant kickstart to your day. Detoxify your body, boost your metabolism, and indulge in the tantalizing flavors that will leave you feeling energized and ready to take on the world!
Equipment
Glass

spoon

Measuring Spoons
Ingredients
1

fresh lemon

1

teaspoon

turmeric powder

⅛

teaspoon

cayenne pepper

adjust according to your tolerance

A pinch of black pepper

1

cup

warm water

filtered or distilled

2

teaspoon

raw honey

optional
Instructions
Squeeze the juice from the fresh lemon into a glass.

Add the turmeric powder, cayenne pepper, and a pinch of black pepper to the lemon juice.

Pour the warm water into the glass.

If desired, you can add a small amount of honey or maple syrup to sweeten the mixture.

Stir well until all the ingredients are thoroughly combined.

Drink the mixture first thing in the morning on an empty stomach.

Wait at least 30 minutes before consuming any other food or beverages.
Pro Tip:
Swallow a tablespoon of unrefined virgin coconut oil after your drink to further boost the bioavailability of the curcumin in the turmeric!
Substitutions and Variations
​
For those looking to explore different options or accommodate specific dietary needs, here are some possible substitutions and variations for the liver cleanse recipe:
Sweeteners: Instead of raw honey or maple syrup, you can use alternative natural sweeteners such as date syrup, agave nectar, monk fruit sweetener, or stevia. Adjust the amount based on your desired level of sweetness. If you prefer, omit the sweetener altogether. I like this lemon drink without any sweeteners!
Turmeric Form: If you don't have powdered turmeric available, you can substitute it with fresh turmeric root. Juice the fresh turmeric root and use it in the recipe as a replacement.
Add fresh or powdered ginger: adding ginger, especially when using a juicer, can add a spicy and anti-inflammatory boost! Just run the lemon, peeled turmeric root, and peeled ginger root through the juicer and add the cayenne last. About a ½-1 inch each root and 2-3 lemons should make a ton! Storing it in a mason jar in the fridge and taking a swig each morning is what I love to do for a super boost each day!
Spice Level: The pinch of cayenne pepper adds a slight kick to the recipe. Feel free to adjust the amount according to your spice preference or omit it altogether if you prefer a milder flavor profile.
Remember to be mindful of any personal allergies or dietary restrictions when making substitutions. Enjoy experimenting with these variations to find the combination that best suits your taste and individual needs.
Equipment
For this recipe, all you will need is:
A glass
A spoon or whisk
Measuring Spoons
Handheld lemon juicer
If you are juicing, you will also need:
A vegetable peeler
A juicer (masticating or centrifugal will both work)
Storage
​When it comes to storing the lemon juice liver cleanse recipe, it's best to prepare and consume it fresh for maximum potency and flavor. The beneficial compounds in lemon juice, such as vitamin C and antioxidants, can gradually degrade over time, especially when exposed to light and air. To ensure the highest quality, it is recommended to make the recipe just before consuming it.
However, if you need to store the mixture for a short period, it's best to refrigerate it in an airtight container for no more than 24 hours. If you use a masticating juicer, it may last up to 72 hours. Remember to give it a good stir before drinking to ensure the ingredients are well-mixed. For the best results and freshness, it's always recommended to prepare the lemon juice liver cleanse recipe just before consumption.
Final Thoughts
​
​Incorporating a lemon juice liver cleanse recipe into your routine can be a refreshing and invigorating way to support your liver health. We hope that this recipe and the information shared have inspired you to explore the benefits of natural ingredients and their potential impact on your overall well-being. We encourage you to give it a try and listen to your body as you embark on this journey.
If you have any experiences or insights to share about the liver cleanse or any other health-related topics, we invite you to join the conversation and share your story. Your unique experiences can inspire and support others on their own path to vibrant health. Hit the subscribe button to follow along for more mindfully healthy living recipes and information. And follow us on social!
Cheers to a revitalized liver and thriving well-being!
Natalie
ps check out our web story here!