Discover the ultimate guide to Cashew Milk vs Almond Milk: a comprehensive look at their nutritional value, unique benefits, and how to easily make your own homemade nut milk in under 5 minutes! Whether you're lactose intolerant, searching for a dairy-free alternative, or simply curious about plant-based milks, this article has you covered.
The variety of plant milks in the grocery store can be overwhelming. We're here to simplify that choice. I was amazed in holistic nutrition school to find how easy and delicious making my own nut milk can be.
Through experimenting with various flavors and sweeteners, making homemade nut milk has become a family favorite, offering a wonderful departure from traditional cow's milk, filled with healthy fats and free from store-bought additives.
So, if you're keen to explore these fantastic non-dairy milk alternatives, read on! Whether you are looking for an alternative to dairy milk due to lactose intolerance or a dairy allergy, a vegan option, reducing additives, or simply for the purposes of lower calories, nut milks have a variety of uses and benefits.
In this article, we'll delve into the importance of using raw nuts, soaking times, and the benefits that make these types of milk stand out from the rest. Let's make your journey to a vibrant, healthy lifestyle even more delicious!
Jump to:
This article is intended for informational purposes only and should not be considered as medical advice. It's written from the perspective and experiences of a holistic nutrition specialist who advocates for the use of natural and clean-living ingredients. Always consult with a healthcare provider for any medical concerns or before starting a new health regimen.
Nutritional Comparison of Cashew vs Almond Milk
Navigating the plethora of dairy-free milk options can be challenging. Cashew and almond milks stand as nutritional powerhouses among nut-based milks, but each offers unique health benefits. Let's delve into the specifics—from essential vitamins and minerals to protein and fat content.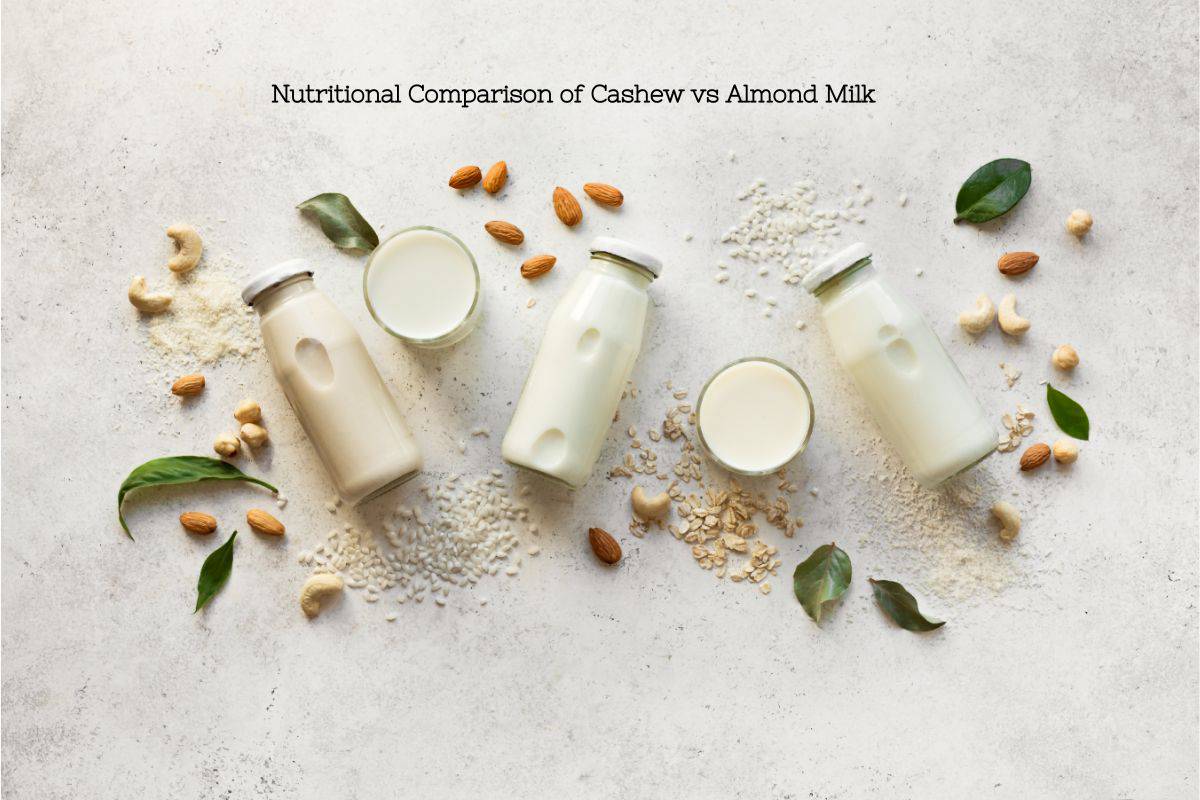 Vitamins and Minerals
The ever-popular almond milk is naturally abundant in vitamin E, excellent for skin health and immune support. It also contains riboflavin and vitamin B 12, which aid in energy metabolism, as well as monounsaturated fats beneficial for heart health. When it comes to calcium, almond milk naturally carries a modest amount, enhancing bone strength.
Cashew milk shines in other areas. It's a good source of iron, essential for oxygen transport in the blood, and magnesium, which promotes muscle relaxation and strong bones. These minerals make cashew milk a valuable player in maintaining overall wellness.
Unique Nutrients and Superfood Properties
What elevates these kinds of milk to superfood status is their unique nutrient profiles, especially when raw and homemade. Almond milk contains antioxidants like quercetin and kaempferol, which support heart and brain health. Cashew milk isn't far behind, offering copper and zinc, minerals crucial for immune function and cellular repair.
Protein and Healthy Fats
Protein content varies, with almond milk slightly less, offering around 1-2 grams of protein per cup of unsweetened almond milk.
Unsweetened cashew milk usually has 4-5 grams protein along with its blend of healthy fats that support cardiovascular wellness and reduce the risk of heart disease.
The Raw and Homemade Advantage
Making these milks at home maximizes their nutritional benefits, allowing you to avoid the additives common in store-bought versions. Raw, homemade versions of nut milk preserve the integrity of their nutrients and offer the full spectrum of their superfood properties.
In summary, both almond and cashew milks bring unique nutritional benefits to the table. Whether you're prioritizing vitamins, specific antioxidants, or essential minerals, these nut-based milks can be a healthful addition to your diet, enhancing your journey toward vibrant well-being.
Caloric Comparison
When it comes to caloric content, almond, and cashew milks are relatively low, making them suitable for weight-conscious consumers. One cup of unsweetened almond milk typically contains around 30-50 calories. A cup of unsweetened cashew milk is similar, ranging between 25-50 calories. This makes both options excellent for those monitoring their caloric intake.
Fat Content
Both nut milks offer healthy fats, but the distribution varies. One cup of almond milk usually has around 2.5 grams of fat, primarily monounsaturated and polyunsaturated fats that are good for heart health. A cup of cashew milk carries slightly more, often between 2.5 to 4 grams of fat, which also includes heart-healthy unsaturated fats.
Nutrition Facts
Here's a table comparing the nutritional facts of unsweetened almond milk and cashew milk per one-cup serving:
| Nutrition Facts | Almond Milk | Cashew Milk |
| --- | --- | --- |
| Calories | 30-50 | 25-50 |
| Grams of Fat | 2.5 | 2-4 |
| Protein (grams) | 1-2 | 4-5 |
| Vitamin E | High | Moderate |
| Vitamin B (Riboflavin, B12) | Moderate | High |
| Iron | Low | Moderate-High |
| Magnesium | Low | High |
| Dietary Fiber | <1g | <1g |
| Monounsaturated Fats | Moderate | Moderate |
| Polyunsaturated Fats | Moderate | Low |
| Calcium | Moderate | Low |
This chart was generated using AI technology.
This table provides a quick, easy-to-scan overview of the key nutritional information for each milk type. From grams of fat to dietary fiber, vitamins, and minerals, you can see how each milk uniquely contributes to a healthy lifestyle.
Comparing Flavor and Texture
Regarding flavor and texture, almond and cashew milks offer distinct experiences that cater to different palates. Almond milk is known for its nutty flavor and slightly watery texture. It's often described as crisp and refreshing, making it a versatile addition to a range of recipes and beverages.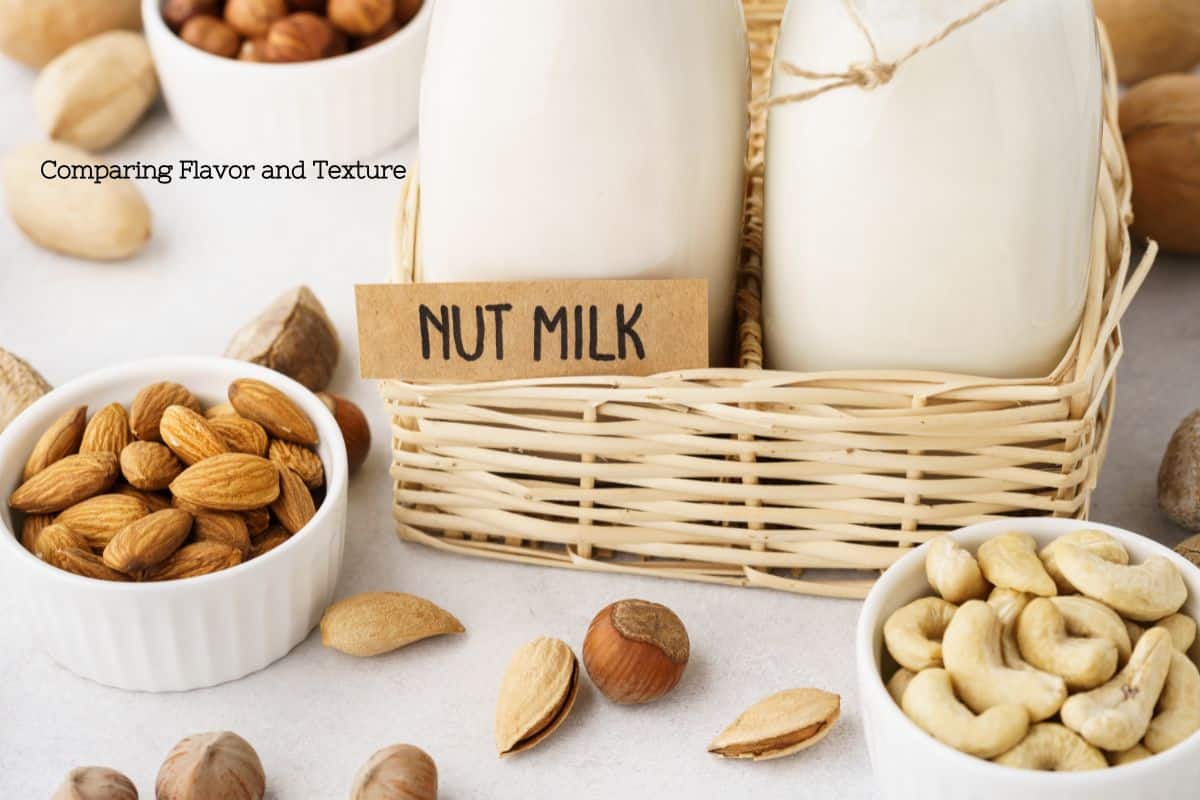 Cashew milk, on the other hand, boasts a creamy texture and a naturally sweet flavor. Its velvety mouthfeel makes it a popular choice for smoothies, coffee, and even desserts.
Ultimately, the best pick for you may come down to personal preference. Whether you're drawn to the nutty undertones of almond milk or the creamy, sweet richness of cashew milk, both options offer delightful tastes and textures to enhance your culinary creations.
Homemade vs Store-Bought Nut Milks
In the world of holistic nutrition, there's often a gradient of choices: good, better, and best. Let's take a closer look at homemade versus store-bought nut milks to help guide your decisions.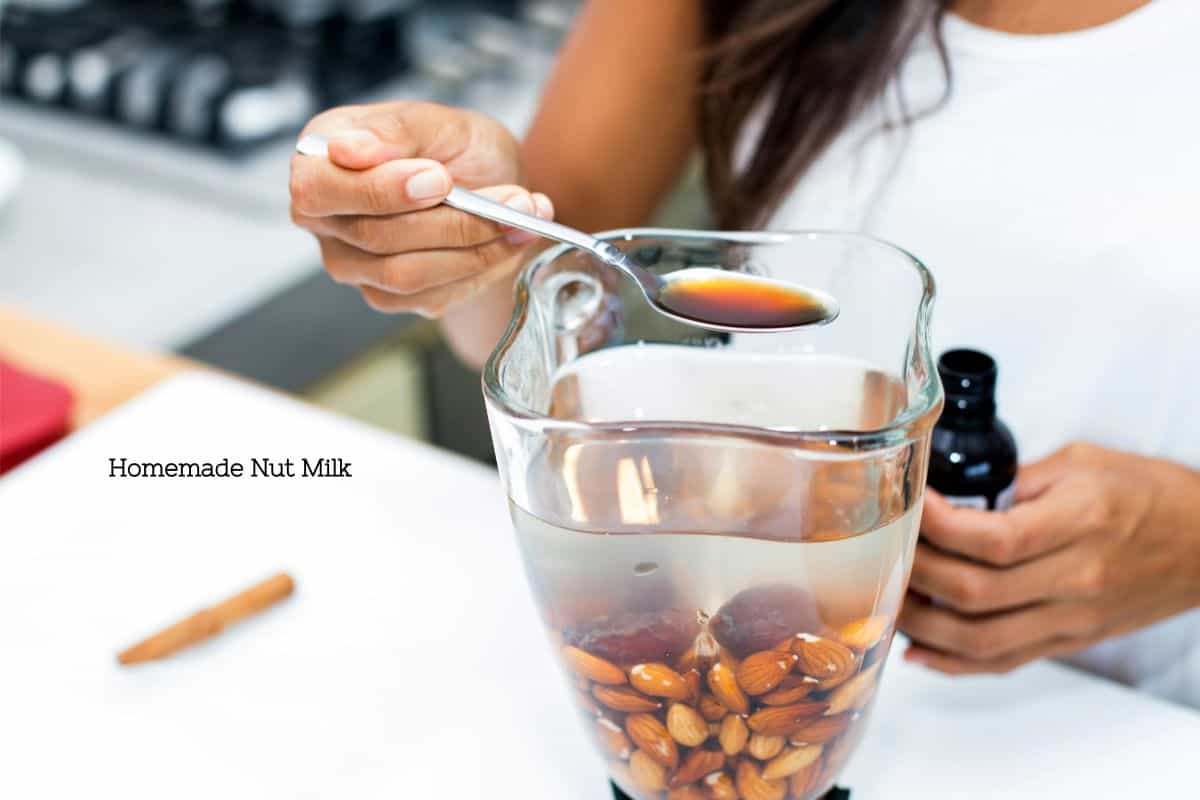 The Best Way: Homemade
Undoubtedly, homemade nut milks rank as the best option. They let you control the ingredient list, allowing for less sugar, no preservatives, and optimal nutritional value. The homemade route ensures you can soak your nuts—important for unlocking nutritional benefits and easing digestion, a topic we'll delve into in our next section.
The Better Option: Mindful Brand Selection
If you're buying off the shelf, different brands offer varying levels of quality. Almond and Cashew milk brands and differ in their production process, ethical concerns, and carbon footprint. Always check the ingredient list and opt for minimal whole ingredients and unsweetened versions to avoid added processed sugars.
(You can always sweeten at home, in a pinch that is what we do! Our kids love sweet flavors so we add pure monk fruit for sweetness without the sugar spike. Or we add pure maple syrup or date syrup.) Other labels to look for are fair trade and organic labels to minimize environmental impact.
MALK Organic Vanilla Almond...
Shop on Amazon
The Good Option: Organic Store-Bought
Organic store-bought varieties are a good option but often include additives like calcium carbonate, locust bean gum, natural flavor additives (what is that?!) and high amounts of added sugars. While these aren't as harmful as ultra-processed options, they might not align with your nutritional needs and can dilute or diminish the milk's natural benefits.
Califia Farms - Organic Uns...
Shop on Amazon
Ingredient Concerns and Production Process
Another important point is that store-bought milks undergo pasteurization, which may degrade some nutrients and antioxidants. Additionally, most commercial brands don't soak their nuts, which are beleived to potentially affect nutritional content and digestibility.
Navigating the Aisle
In today's market of popular plant-based milks, reading labels can be overwhelming. Ingredients like added sugar content and preservatives should be scrutinized.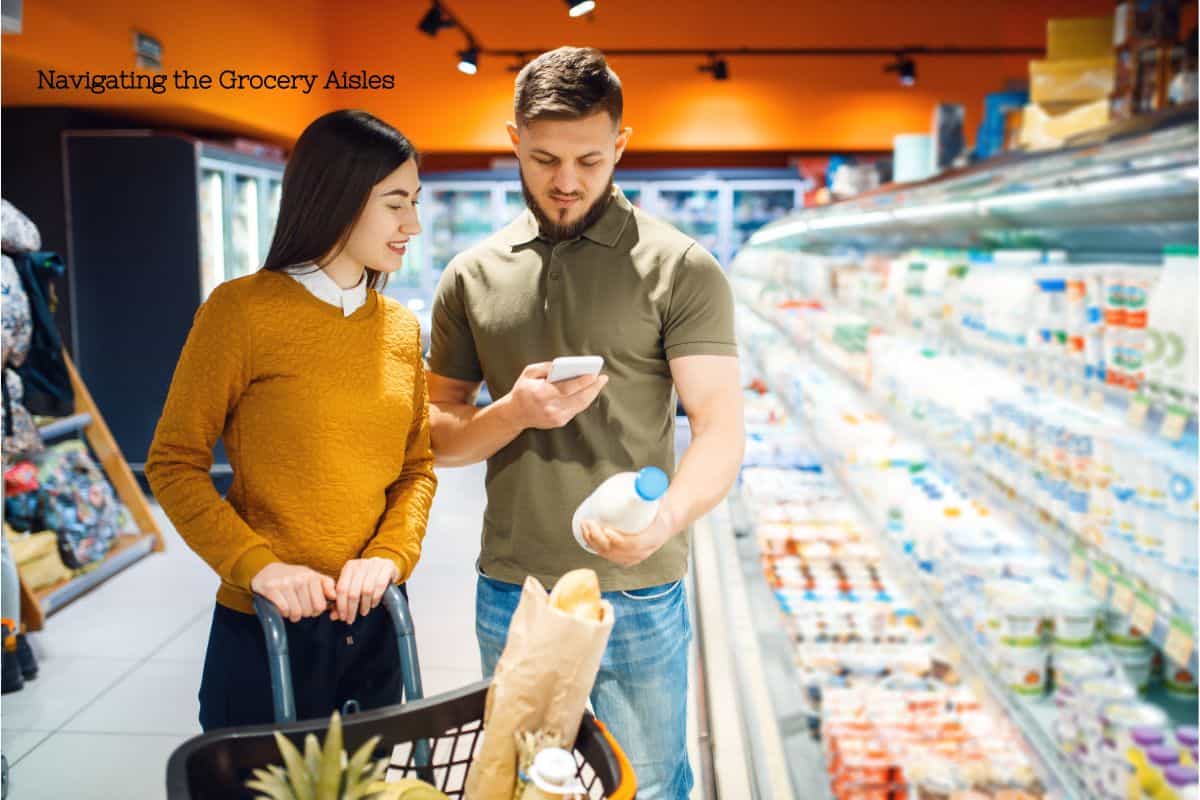 Sometimes, settling for the "good" choice is what fits best with your current lifestyle, and that's okay. Wellness is a journey, especially in a world filled with processed options and confusing labels. It's simply important that we are headed in the right direction on our unique journey to provide the best we can for the health of our families. We're all in this together!
As we share our insights and experiences, we hope to simplify this journey for you and many others. Whether you're a DIY enthusiast or opt for store-bought varieties, there's room to grow and choices to make that align with a healthier lifestyle. Keep an eye out for our next section on the benefits of soaking nuts and seeds, and why it's a crucial step in your plant-based milk journey.

Benefits of Soaking Nuts
Soaking nuts, seeds, legumes, and grains serves multiple purposes. One of the primary reasons is the reduction of phytates and anti-nutrients that can block nutrient absorption and cause digestive distress. For those venturing into homemade almond milk, cashew milk, or any plant-based beverage, soaking also softens the nuts, making them easier to blend.
Soaking Durations: Almonds vs Cashews
Almonds generally require a longer soaking time—usually around 8-12 hours. This helps to eliminate more phytates and makes them softer for blending.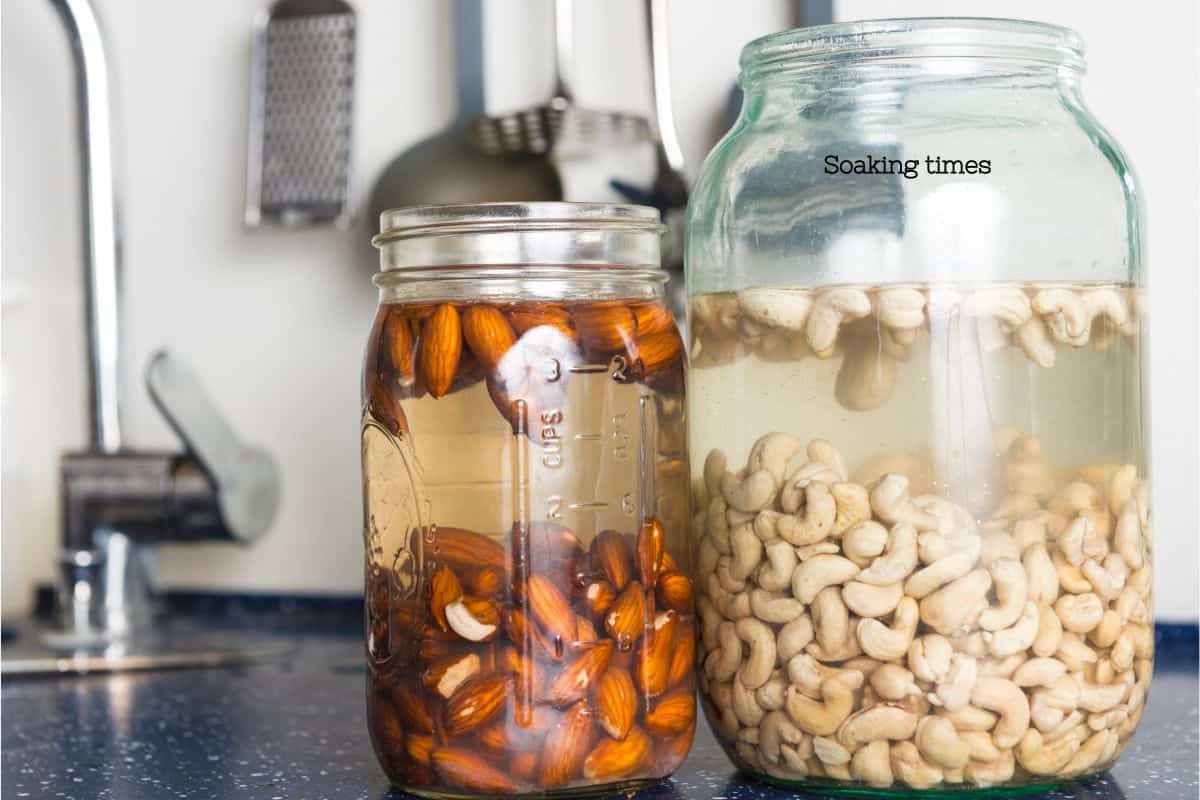 Cashews, on the other hand, require much less time; a quick 2-4 hour soak is usually sufficient. The softer nature of cashews means less soaking is necessary, making homemade cashew milk a quicker option.
Nut Milk Soaking Time Chart
| Type of Milk | Recommended Soaking Time |
| --- | --- |
| Almond Milk | 8-12 hours |
| Cashew Milk | 2-4 hours |
| Oat Milk | 20-30 minutes |
| Hazelnut Milk | 6-8 hours |
| Soy Milk | 8-12 hours |
| Rice Milk | No soaking required |
| Coconut Milk | No soaking required |
| Hemp Milk | 1-3 hours |
Whether you're making oat milk, hazelnut milk, rice milk, or any other great alternatives, this chart gives you a quick reference for how long to soak your chosen ingredient.
Each type of milk offers its own set of soaking guidelines to best unlock nutrients and flavors.
As you explore the world of plant-based milks, remembering these soak times will greatly aid in crafting a homemade option that not only tastes great but also aligns with your health goals. Armed with this knowledge, you're well on your way to making your plant-based beverage journey a nutritious one.

Make Your Own Nut Milk
Starting Off Right: Raw is Best
Now that we understand the importance of soaking your nuts, let's dive into making nut milk. Always begin with raw nuts—never roasted or salted. Raw nuts retain more nutritional benefits and offer a cleaner flavor profile without added processes affecting the texture.
NOW Foods, Almonds, Raw and...
Shop on Amazon
The Power of a High-Speed Blender
To get the smoothest, creamiest plant-based milk, a high-speed blender is key. It efficiently blends the soaked nuts, unlocking all their nutritional goodness.
Vitamix, Red 7500 Blender, ...
Shop on Amazon
Why Use a Nut Milk Bag?
A nut milk bag is crucial for separating the nut pulp from the liquid, ensuring you're left with smooth, creamy milk.
Pro Quality Nut Milk Bag - ...
Shop on Amazon
Ingredients
Raw cashews, soaked (or any other raw nut)
water
Natural sweeteners like maple syrup or dates (optional)
Flavorings like cinnamon, vanilla, or nutmeg (optional)
A pinch of sea salt (optional)
Instructions
After soaking your raw nuts according to the chart, rinse them thoroughly.
Add the rinsed nuts and half of the water to the high-speed blender. Blend until smooth.
Blend other half of water and if you desire add flavors or sweeteners, include them now. Blend until smooth. Taste and adjust flavors.
If there are still chunks, pour the mixture through a nut milk bag into a large bowl. Squeeze the nut milk bag to get every last drop of creamy goodness. Some high quality blenders will not require straining! If there is a lot of pulp, you can run the pulp back through the blender with more water.
That's it! In just 5 minutes, after soaking is done, you'll have homemade cashew milk.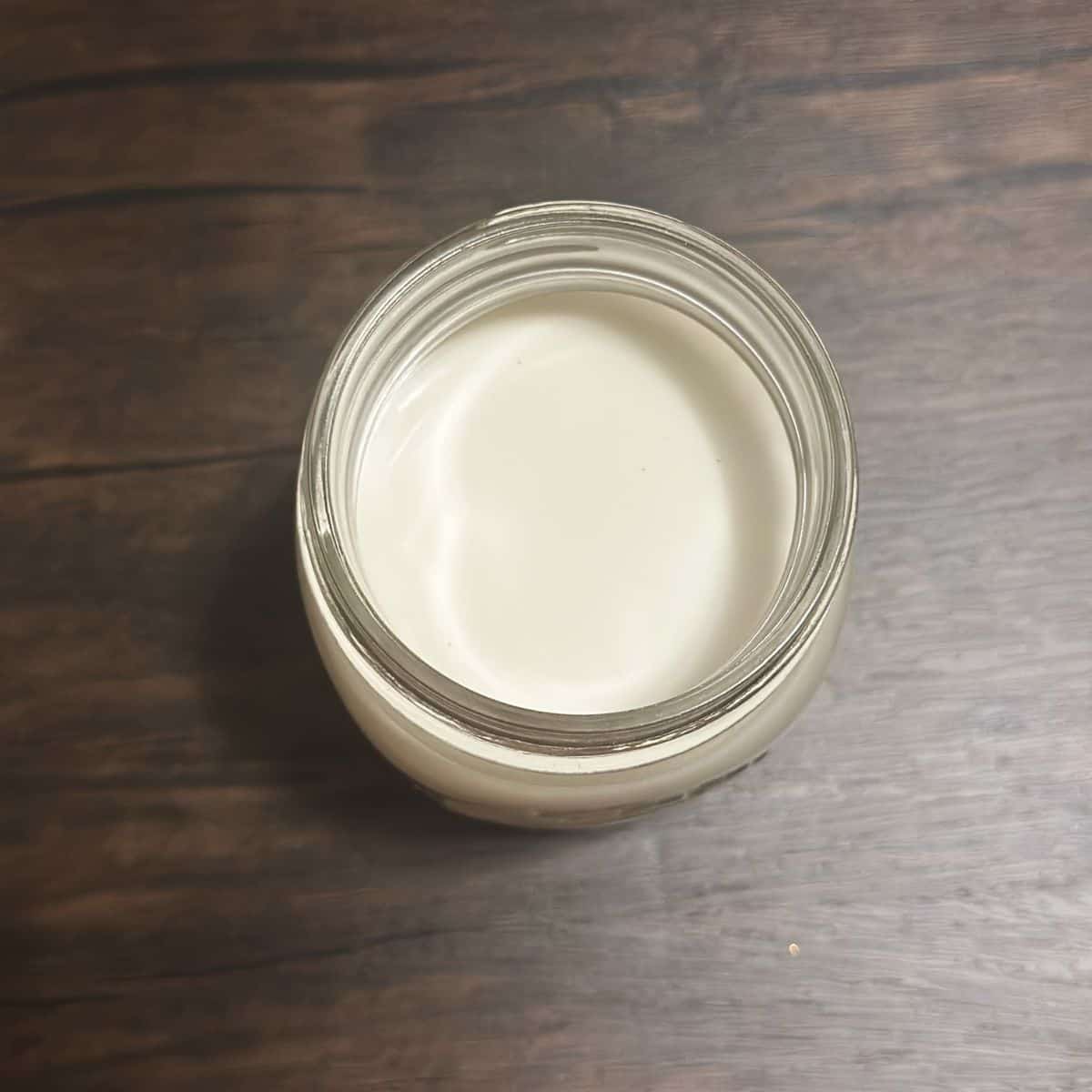 Top Tip
Use the left over pulp for smoothies! Save in an airtight container in the refrigerator for your next blend!
Storage
Pour your freshly made nut milk into an airtight container and store it in the refrigerator. It usually lasts 4-5 days.
Substitutions and Variations
Feeling adventurous? Swap out cashews for almonds, oats, or any other nut from the soaking chart. Adjust soak times and explore various flavors to match the type of milk you're making.
With these simple steps, you're well-equipped to make your own delicious and nutritious plant-based milks. Stay tuned for a printable recipe card that'll make this process even easier for you!
Uses
Use this cashew milk or your nut milk of choice in any recipe that calls for milk like Tuscan chicken bowl or Lemon ricotta pasta, use it in sauces like homemade alfredo sauce, desserts like vegan chocolate pudding, in smoothies, or of course, our famous homemade kefir! The possibilites are vast and quite delicious!
FAQ
Which is better, cashew or almond milk?
Neither is definitively better; it's mostly about personal preference and nutritional needs. Cashew milk is creamier and higher in iron and magnesium, while almond milk is richer in vitamin E and generally lower in calories.


Is cashew milk high in sugar?
Homemade cashew milk doesn't contain added sugars unless you choose to add a sweetener. Store-bought versions can contain added sugar, so always check the ingredient list if you're concerned.


Is it OK to drink cashew milk every day?
Yes, drinking cashew milk daily can be a nutritious choice, provided you're not allergic to cashews. As with any food, moderation and variety are key to a balanced diet.


What are the pros and cons of cashew milk?
Pros: Cashew milk is rich in essential vitamins and minerals like iron and magnesium, and it's also dairy-free, making it great for those with lactose intolerance. Cons: It's generally lower in protein compared to cow's milk and some other nut milks, and it can be higher in calories if you're watching your intake.
Recipe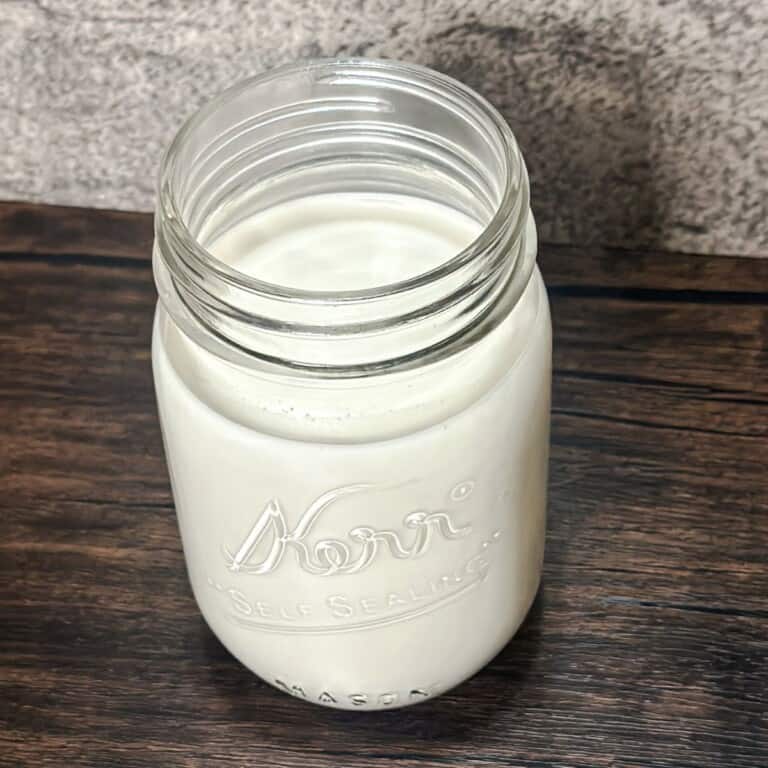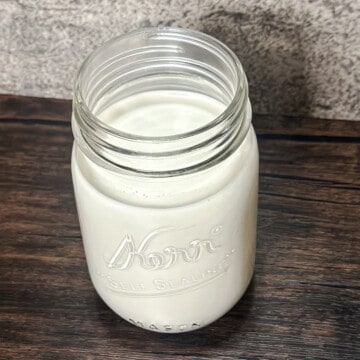 Creamy 5-Minute Cashew Milk
Unveil the magic of homemade cashew milk with this Quick and creamy 5-minute Cashew Milk recipe! With customizable flavors and simple steps, this nutritious alternative to store-bought versions is a must-try in any health-conscious kitchen.
Equipment
Airtight Container for Storage
Instructions
Place soaked and rinsed cashews into your high-speed blender.

Add 2 cups of filtered water. Blend until creamy and smooth.

Optionally incorporate sweeteners and flavorings while adding the additional 2 cups of water.

Continue to blend until you achieve a smooth mixture. Taste and adjust flavors.

Strain the blended mixture through a nut milk bag into a bowl.

Transfer your finished milk into an airtight container for storage.
Notes
Always start with raw, soaked nuts for maximum nutrition and flavor.
Store in the fridge for up to 4-5 days in an airtight container.
After straining, you can add the pulp back into the blender with extra water to see if you can get more out of it. Strain again and either discard the pulp or save it for a recipe (maybe a smoothie?)
Nutrition
Calories:
195
kcal
Carbohydrates:
13
g
Protein:
6
g
Fat:
14
g
Saturated Fat:
3
g
Polyunsaturated Fat:
3
g
Monounsaturated Fat:
8
g
Sodium:
16
mg
Potassium:
226
mg
Fiber:
1
g
Sugar:
5
g
Vitamin A:
0.4
IU
Vitamin C:
0.2
mg
Calcium:
26
mg
Iron:
2
mg
Conclusion
We hope you found this comparison between cashew milk and almond milk informative and helpful! Which nut milk do you prefer and why? Share your thoughts in the comments below. If you found value in this article, we'd love for you to share it with your friends and family. Don't forget to sign up for our newsletter to receive more tips, recipes, and insights for a vibrant, healthy lifestyle.
Be well,
Natalie