Food is an incredibly powerful force in our everyday lives. It gives us life, vitality, and sustenance. Eating is an important part of life! We receive the nutrients that we need for energy and strength as well as what our bodies need to fight off toxins, viruses, bacteria, and illnesses-including cancer. Anti-Cancer Diet and Meal Plans including foods and herbs that fight cancer have become increasingly popular in recent years. Unfortunately, this is especially so as the prevalence of cancer diagnosis and chronic diseases are on the rise.
As a holistic nutrition coach, I believe that there is no coincidence between the fact that grocery store shelves are filled with convenience and processed foods laden with chemicals, and the rise in chronic disease diagnoses.
The world is beginning to awaken to the reality that the quality of foods we eat has a direct impact on the health of our body, our energy levels, our digestive tract, maintaining a healthy weight, the strength of our immune system, and its ability to fight off chronic inflammation and illness.  
Studies have shown that chronic inflammation is the leading cause of diseases and illness and increases cancer risk. Studies have also shown that eating an anti-inflammatory plant-based diet and/or a ketogenic diet that avoids sugar and incorporates colorful fruits and vegetables and other cancer fighting foods is extremely helpful in providing the body with what it needs to restore health for cancer patients during and after treatments like chemo and radiation therapy. A healthy diet of plant-based foods rich in phytonutrients helps to fight cancer whatever treatment route you take. It can also reduce the side effects of traditional cancer treatment while supporting the body's overall goal of restoring good health and most importantly, becoming cancer free.
This article is designed for informational purposes only. As a Holistic Nutrition Specialist, I follow trends in nutritional studies and intend to share information to help one become an active participant in their own unique health journey. Always remember, before making any changes to your healthcare routine, be sure to discuss them with a qualified physician.
Jump to:
Natural Cancer Prevention and Treatments
​Herbal and Botanical Medicines: Various herbs and botanical substances have been studied for their potential anti-cancer properties. Examples include mistletoe extract (Iscador), Essiac tea, and Graviola (soursop). These substances are revered for their immune-stimulating or anti-cancer effects.
Traditional Chinese Medicine (TCM): TCM, an ancient medical system, incorporates herbal remedies, acupuncture, dietary therapy, and mind-body practices. Herbal formulas are specific to the individual's constitution and the stage of cancer may be prescribed. Acupuncture is used to balance the body's energy, or qi. TCM is often used as a complementary therapy to support overall health and manage cancer-related symptoms.
Mind-Body Medicine: Techniques such as meditation, yoga, tai chi, Reiki, and guided imagery are often used in conjunction with conventional cancer treatments. These practices aim to promote relaxation, reduce stress, improve overall well-being, and enhance the body's self-healing abilities. (If you are interested in a distant reiki session, contact Natalie on our Facebook page.)
Homeopathy: Homeopathic remedies are highly diluted substances that stimulate the body's innate healing response. In the context of cancer, individualized remedies are prescribed based on the specific symptoms and constitutional characteristics of the person.
Nutritional Therapies: Nutritional approaches in cancer treatment may involve dietary modifications, supplementation, and personalized nutrition plans. For instance, some naturopathic practitioners may recommend specific diets like the ketogenic diet or alkaline diets, which are believed to create an unfavorable environment for cancer cells.
Ozone Therapies: Ozone therapy involves the administration of ozone, a molecule composed of three oxygen atoms, into the body. It can be done through various methods, such as ozone autohemotherapy (where blood is drawn, mixed with ozone, and then reinfused), ozone insufflation, or ozone saunas. Ozone therapies are believed to stimulate the immune system and have anti-cancer effects. It should be used under the guidance of a qualified healthcare professional.
Budwig Diet: The Budwig diet is a nutritional approach developed by Dr. Johanna Budwig. It emphasizes a combination of cottage cheese (or quark) and flaxseed oil, along with a focus on organic fruits, vegetables, and whole grains. The diet promotes the consumption of foods rich in essential fatty acids and emphasizes the avoidance of processed foods, refined sugars, and hydrogenated oils. The Budwig diet is popular among some alternative cancer therapies.
Gerson Therapy: Gerson therapy is a comprehensive nutritional approach that includes a strict organic vegetarian diet, raw juices, coffee enemas, and various dietary supplements. It aims to detoxify the body, enhance the immune system, and provide essential nutrients. The therapy has been used as an alternative cancer treatment. The Gerson therapy protocol is complex and requires strict adherence under the guidance of trained healthcare professionals.
High-Dose Vitamin C IV Therapies: High-dose vitamin C IV therapy involves the intravenous administration of high doses of vitamin C. It has been studied for its anti-cancer effects by selectively generating hydrogen peroxide in cancer cells, leading to oxidative stress and cell death. High-dose vitamin C IV therapy is often used as a complementary therapy alongside conventional treatments and should be administered by qualified healthcare professionals.
It's crucial to emphasize that these natural approaches should not replace medical advice and should be discussed with a healthcare professional and integrated into an individualized treatment plan.
Every body is different and should be considered as such. Each plan of action for your treatment and healthcare requires comprehensive consideration of your unique personal needs.
Oftentimes, these and other therapies are interwoven into a treatment plan for optimal personal results. It may help you to do your own research and find what resonates with you. Bring the information to your doctor and healthcare team for review as to what they do and do not recommend for your specific situation.
Practicing Forgiveness and How it Relates to Cancer
​Practicing forgiveness can be a powerful tool for emotional healing and overall well-being, which can positively impact individuals affected by cancer.
While scientific research on the direct link between forgiveness and cancer outcomes is ongoing, experts in psycho-oncology recognize the potential benefits of forgiveness in reducing stress, enhancing resilience, and promoting a positive outlook on life.
By embracing forgiveness, individuals can create space for emotional healing, let go of negative emotions, and cultivate a sense of inner peace, all of which can contribute to a greater sense of well-being on their cancer journey.
The book, Your Body Speaks Your Mind by Deb Shapiro talks about how unexpressed emotions get stored in the body and manifest as physical dis-ease. Taking the time to be gentle with yourself and heal these painful emotions can have an incredibly powerful effect on your body's ability to heal itself.
Remember, forgiveness is a personal journey, and exploring forgiveness as part of a comprehensive approach to cancer care, including medical treatments and emotional support, can bring about positive changes and a renewed sense of hope and healing.
​
Avoiding Carcinogenic Ingredients in Products and Foods
One of the first and most important steps to healing and preventing cancer is to get rid of the products and foods that can contribute to it.
Carcinogens are substances that have the potential to cause cancer. Not all exposures will cause cancer, but many carcinogens can contribute to it.
Many factors contribute to the development of cancer, including genetic predisposition, lifestyle choices, and environmental exposures. That being said, here are some examples of household and beauty products, as well as food ingredients, that have been associated with an increased risk of cancer:
Household and Beauty Products
Asbestos: Found in some older building materials, insulation, and certain cosmetic products. Be sure to take care before doing any work on your home. Have the building materials tested for asbestos and take necessary precautions.
Asbestos is linked to a specific type of cancer called mesothelioma. For more support and resources on recovery from mesothelioma and other types of cancer please visit Asbestos.com.
Formaldehyde: Used in some household cleaning products, cosmetics, and furniture. It is best and important to opt for all-natural cleaning products, cosmetics, and personal products such as lotions and more.
You can run a product through an app like Think Dirty app to see how healthy the ingredients in it are. Remember, we absorb nutrients into our bloodstream through our skin as well as we do through our digestive system!
Benzene: Found in some solvents, cleaning products, and tobacco smoke. Always check ingredients and use the cleanest version of cleaners possible! For information and help with quitting smoking and flushing nicotine from the body, check out our post.
Phthalates: Commonly used in personal care products, such as fragrances, lotions, and nail polish. It is very important to avoid toxic ingredients in traditional cleansers, body wash, air fresheners, deodorants, and more.
Toluene: Found in some nail polishes, hair dyes, and cosmetic products.
Triclosan: An antimicrobial agent used in some soaps, toothpaste, and other personal care products. For an incredible company that has the highest ingredient standards, consider Wellnesse. They have the best toothpaste I have ever tried. They also have shampoo and conditioner, deodorant, hand sanitizer, body bar, and more!
EMF Radiation: In a world where technology is king, we have to be extra mindful about our electronic exposure. Avoiding microwave use, limiting cell phone and Bluetooth use, and moving your WiFi router to a room that you are not sleeping in (or better yet, turning it off while sleeping!) are all ways to help minimize exposure.
Food ingredients:
Nitrites and nitrates: Avoid processed meats, such as bacon, sausage, and hot dogs. This may be surprising, but meat at the deli is notorious for this.
Some studies even suggest that deli meat is even worse than smoking when it comes to cancer!
Be sure to use uncured meats, if you choose to incorporate meat into your diet. As mentioned above, it is best to have a plant-based diet with high-quality organic and uncured meats in very small amounts.
Trans fats: Found in some fried and processed foods, baked goods, and margarine. Very unstable oils heated to high temperatures can turn rancid which creates high amounts of free radicals and often turns into trans fats.
It is best to use healthy fats that are stable for cooking, like avocado oil, unrefined coconut oil, or ghee (clarified butter). Extra virgin olive oil can be used if it is not heated above low-medium heat. It is also incredibly important to read ingredient labels on dressings, bread, and even peanut butter.
If you choose to buy bread and peanut butter, it is crucial to buy organic in order to avoid the hydrogenated oils that accompany many processed foods.
Acrylamide: Formed when certain starchy foods, like potatoes and grains, are cooked at high temperatures. It is advisable to avoid these foods, but if you choose to incorporate whole grains, be sure to choose ancient grains that have been soaked and sprouted to remove starches and phytic acid.
Artificial sweeteners: Some studies suggest a link between certain artificial sweeteners and cancer. Sugar should be avoided, as cancer feeds on sugar as well as in acidic environments.
Artificial sweetener is carcinogenic so avoid Splenda, Saccharin, Aspartame, and Sweet n Low. Anything that says sugar-free should be investigated. Be sure the sweetener is Stevia or Monk Fruit only.
These are the two natural sweeteners that do not spike blood sugar. Check out this article explaining them more.
When buying stevia or monk fruit, be sure there are no additional ingredients, especially erythritol. it is a sugar alcohol linked to digestive upset.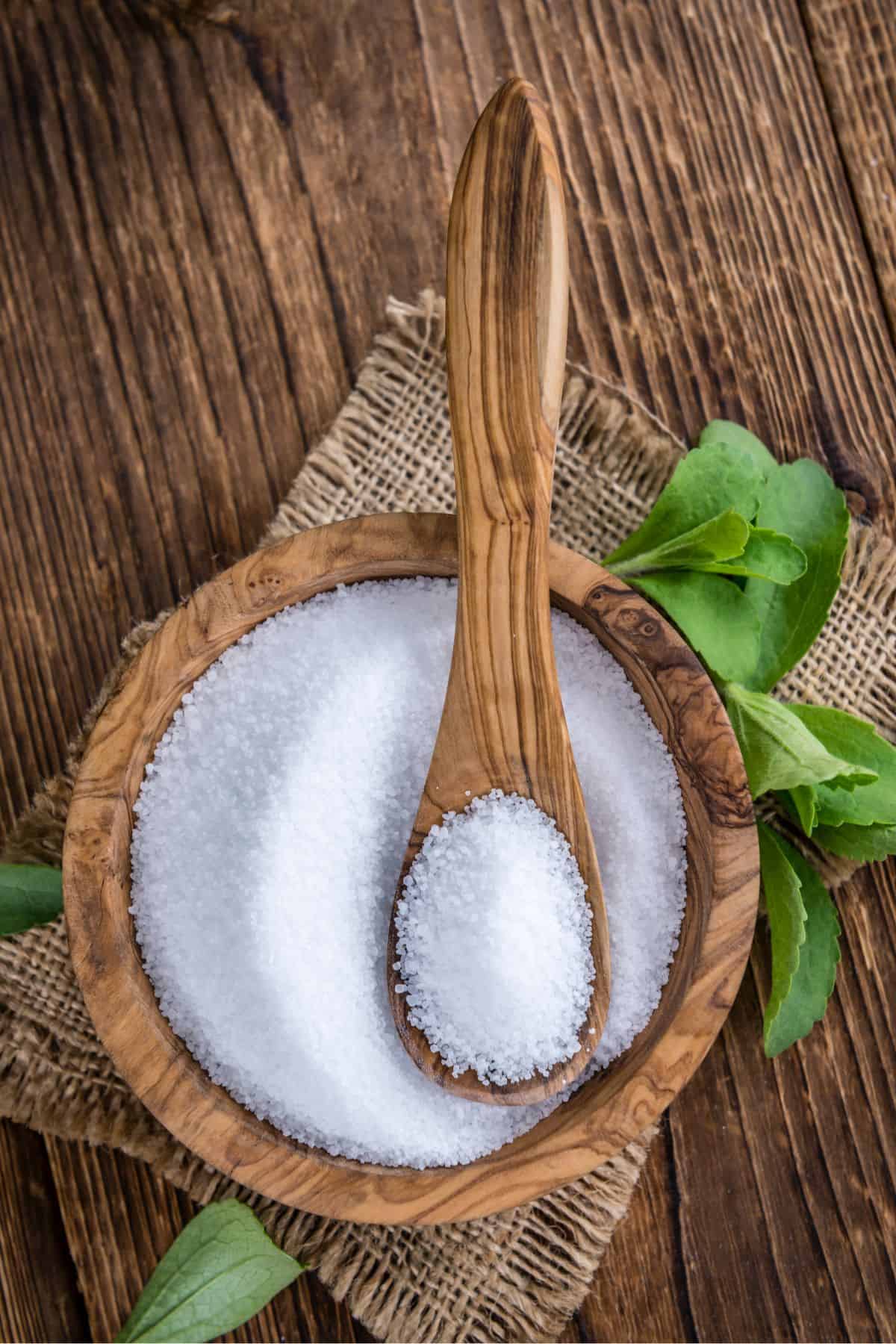 Aflatoxins: Naturally occurring toxins produced by certain molds that can contaminate crops, such as peanuts, coffee, and corn.
It is advisable to avoid peanuts, conventional coffee, and corn, especially if it is not organically grown and tested for mycotoxins. Check out this article on choosing low-acid coffee that also tests for mold.
Processed Sugar: In addition to spiking blood sugar levels, sugar also feeds cancer cells, especially processed sugar.
The American Cancer Society recommends against red meat and processed meats as well as avoiding sugar which includes sugar-sweetened beverages, refined grains like white bread, white flour, and white rice, as well as alcohol.
Like these refined carbohydrate foods alcohol turns into sugar when it's broken down in the body and should be avoided, especially during cancer treatments.
Ongoing cancer research helps to further our understanding of potential risks associated with these substances.
It's always a good idea to stay informed about the products you use and consume, read labels, and follow guidelines provided by regulatory agencies.
Proper nutrition and wellness include avoiding specific foods and products that are carcinogenic, trigger inflammation, and disrupt the healthy balance of our body and environment.
Healthy Foods to Incorporate
​Adopting a healthy and balanced diet is an essential component of overall well-being and may support the body's ability to heal. Here are some nutrient-rich foods that are often recommended as part of a healthy anti-cancer diet: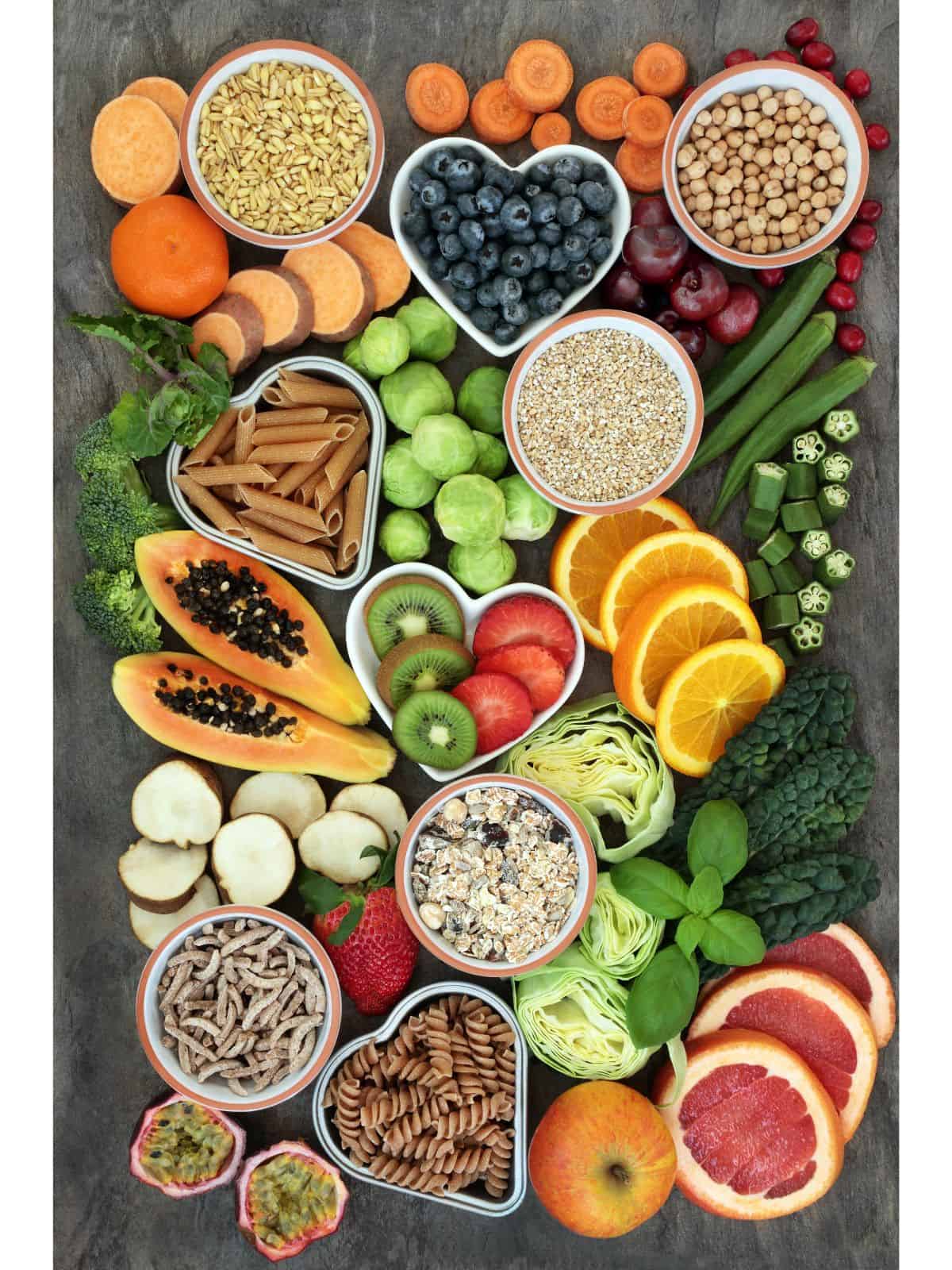 Organic Fruits and Vegetables: These are rich in vitamins, minerals, antioxidants, and dietary fiber. Include a variety of colorful fruits and vegetables such as berries, leafy greens (watercress, arugula, kale, spinach), cruciferous vegetables (broccoli, cauliflower, kale), carrots, tomatoes, and citrus fruits.
Making cold-pressed juice is an incredible way to get these nutrients straight to your cells. Check out this website for more information on the benefits of juicing!
Organic Cruciferous Vegetables: Vegetables like broccoli, cauliflower, Brussels sprouts, cabbage, and kale contain compounds that have been associated with anti-cancer properties. These compounds include sulforaphane, indole-3-carbinol, and glucosinolates.
Organic Berries: Berries such as blueberries, strawberries, raspberries, and blackberries are packed with antioxidants and phytochemicals, which have been linked to anti-cancer effects.
Organic and Sprouted Whole Grains: If you choose to incorporate grains, choose organic ancient and sprouted whole grains like quinoa, amaranth, kamut, millet, sorghum, farro, and teff.
Ancient grains are powerhouses of nutrients including fiber, vitamins, minerals, and antioxidants.
Legumes: If you choose to incorporate legumes, be sure to choose organic and sprouted.
There are a variety to choose from such as lentils, beans, chickpeas, and peas. They are excellent sources of plant-based protein, fiber, and phytochemicals.
Healthy Fats: Include sources of healthy fats like avocados, nuts (almonds, walnuts), seeds (flaxseeds, chia seeds), black seed oil, and fatty fish (salmon, mackerel), which provide omega-3 fatty acids, antioxidants, and other beneficial compounds.
Green Tea: Green tea is rich in polyphenols and catechins, which have been studied for their potential anti-cancer properties.
Enjoy it as a beverage or incorporate it into recipes. Check out our articles on green teas such as Hojicha, Matcha, and Sencha.
Turmeric: Turmeric contains a compound called curcumin, which has been shown to have potential anti-inflammatory and anti-cancer effects. Consider adding turmeric to curries, soups, or smoothies.
Tart Cherries also have incredible anti-inflammatory benefits and help you to relax at night!
Organic Garlic and Onions: Garlic and onions contain sulfur compounds that have antibiotic and anti-cancer properties. Include them in various dishes to add flavor and potential health benefits. It is crucial to buy organic garlic!
Mushrooms: Certain mushrooms like shiitake, maitake, reishi, and turkey tail mushrooms contain compounds that have been studied for their anti-cancer effects. They can be included in soups, stir-fries, or consumed as supplements.
Remember that it's important to incorporate these foods into a well-rounded, balanced diet rather than relying solely on specific foods.
Additionally, it's always a good idea to consult with a healthcare professional, particularly a registered dietitian or oncology nutritionist, to develop an individualized nutrition plan based on your specific needs and treatment.
Importance of Hydration
​Staying properly hydrated is crucial for everyone, especially those battling cancer. It supports overall health and well-being. Adequate hydration plays a role in various bodily functions, including digestion, circulation, temperature regulation, and waste elimination. Choosing high-quality water sources like spring water and highly alkaline water may also aid in optimal health.
Drinking plenty of water is particularly important for managing the side effects of treatments like chemotherapy and radiation therapy. It can help alleviate symptoms such as nausea, vomiting, diarrhea, and mouth sores. Hydration also supports kidney function by ensuring proper filtration and waste elimination.
Proper hydration aids in the body's natural detoxification processes and helps flush out toxins and waste products. Fatigue, a common symptom of cancer and its treatments, can be mitigated by maintaining adequate hydration levels. Hydration is also essential for maintaining healthy skin, as cancer treatments can sometimes cause dryness and skin irritations.
It is recommended to maintain an adequate fluid intake throughout the day, primarily through water consumption. Other fluids like herbal teas, broths, and clear soups can also contribute to hydration.
However, individual hydration needs may vary depending on factors such as treatment type, overall health, and physical activity level.
Consulting with healthcare professionals, including an oncologist or a registered dietitian, is advisable for personalized recommendations regarding fluid intake during cancer treatment. By prioritizing hydration, one can support their overall well-being and help manage the effects of cancer and its treatments more effectively.
Herbs and Supplements That Boost Your Immune System and Fight Cancer
​Resveratrol: Found in grapes, berries, and red wine, resveratrol is a compound with antioxidant and anti-inflammatory properties. It has shown potential in inhibiting cancer cell growth and reducing inflammation.
Black Seed Oil: Also known as black cumin seed oil, it contains thymoquinone, a compound with anticancer properties. Some studies suggest it may help inhibit the growth of cancer cells and enhance the effectiveness of conventional cancer treatments, especially for pancreatic cancer.
Vitamin B17 (Amygdalin): Vitamin B17 is often associated with apricot kernels. However, its use as an anti-cancer supplement is controversial, and the available evidence is limited. Many believe it has helped them prevent the growth of cancer. More research is needed.
Vitamin B6: Vitamin B6 is important for overall health and immune function. Studies suggest that it may have a role in reducing the risk of certain cancers.
Selenium: Selenium is an essential mineral with antioxidant properties. Some studies suggest that selenium supplementation may reduce the risk of certain cancers, particularly prostate cancer. However, excessive selenium intake can be harmful, so it's important to consult with a healthcare professional for proper dosage and monitoring.
Ginseng: Ginseng is an herbal supplement that has been traditionally used in traditional medicine. Some studies suggest that ginseng may have potential anticancer effects, including inhibiting tumor growth and enhancing the immune system. However, more research is needed to confirm its benefits and establish optimal dosages.
Magnesium: Magnesium is an essential mineral that plays a role in various bodily functions. Adequate magnesium levels are important for overall health. Some studies suggest that magnesium intake may be associated with a reduced risk of certain cancers, but more research is needed to determine the specific effects.
Milk Thistle: Milk thistle contains a flavonoid called silymarin, which has antioxidant and anti-inflammatory properties. It has been studied for its potential benefits in liver health and protection against liver cancer.
Astragalus: Astragalus is an herb used in traditional Chinese medicine. It has been studied for its potential immunomodulatory effects and its ability to enhance the body's immune response, which may be beneficial in supporting cancer treatment.
Vitamin D: Adequate levels of vitamin D are important for overall health, including immune function. Some studies suggest that maintaining optimal vitamin D levels may play a role in reducing the risk of certain cancers.
Barley Grass: Barley grass is believed to be beneficial for cancer due to its high content of antioxidants, vitamins, minerals, and chlorophyll, which may help combat oxidative stress, boost the immune system, and support overall health.
CBD: CBD (cannabidiol) is thought to have potential benefits for cancer due to its ability to interact with the body's endocannabinoid system, potentially reducing inflammation, managing pain, alleviating chemotherapy-induced side effects, and promoting overall well-being.

It's crucial to approach supplements with caution and consult with a healthcare professional before starting any new supplements, especially if you have cancer or are undergoing cancer treatments. They can help assess your individual situation, provide guidance on potential risks and benefits, and ensure that supplements do not interfere with your treatment plan.
Sample 3-Day Meal Plan
​Day 1
​
Breakfast:
Start the day with a glass of water with fresh lemon juice to support alkalinity.
Enjoy a cup of green tea alongside breakfast.
Overnight oats made with rolled oats, coconut milk, chia seeds, and a sprinkle of monk fruit as a natural sweetener.
Top the oats with fresh berries, sliced almonds, and a drizzle of raw honey (optional).
Snack:
Lunch:
Wild-caught salmon fillet grilled or baked and served with a side of steamed broccoli and quinoa.
A mixed green salad with organic mixed greens, cucumber, cherry tomatoes, avocado, and a simple lemon-turmeric dressing made with lemon juice, turmeric, extra virgin olive oil, salt, and pepper.
A cup of Essiac tea for additional herbal support.
Snack:
Freshly cut vegetables like carrot sticks, celery, and bell pepper are served with homemade hummus made from organic chickpeas, garlic, lemon juice, and olive oil.
Dinner:
Roasted organic chicken breast served with a side of roasted sweet potatoes and sautéed organic kale with garlic and lemon.
A mixed salad with organic spinach, cherry tomatoes, sliced almonds, and a light vinaigrette dressing made with extra virgin olive oil, lemon juice, and a touch of monk fruit sweetener.
Dessert (optional):
Before Bed:
A cup of turmeric tea for its anti-inflammatory properties.
Day 2
​
Breakfast:
Start the day with a glass of water with fresh lemon juice. (Consider the energizing turmeric lemon cleanser.)
Prepare a plant-based smoothie using almond milk, a handful of organic spinach, a frozen banana, a tablespoon of organic almond butter, a scoop of organic plant-based protein powder, and a sprinkle of monk fruit sweetener.
Enjoy a cup of green tea alongside breakfast.
Snack:
Wheatgrass shot for a nutrient boost and potential detoxification support.
Lunch:
A large salad with mixed organic greens, cherry tomatoes, sliced cucumber, shredded carrots, and sliced avocado. Top it with a light dressing made from lemon juice, extra virgin olive oil, a touch of maple syrup or monk fruit sweetener, and a sprinkle of turmeric.
A cup of Essiac tea for additional herbal support.
Snack:
Prepare a refreshing green smoothie using almond milk, a handful of kale or spinach, frozen mango chunks, a tablespoon of chia seeds, a squeeze of fresh lemon juice, and a touch of monk fruit sweetener if desired.
Dinner:
Before Bed:
A cup of Essiac tea to wind down the day and support overall well-being.
Day 3
​
Breakfast:
Start the day with a glass of water with fresh lemon juice.
Prepare a berry and greens smoothie using almond milk, a handful of organic mixed berries (such as blueberries and raspberries), a handful of spinach, a tablespoon of chia seeds, and a touch of monk fruit sweetener if desired.
Enjoy a cup of green tea alongside breakfast.
Snack:
Wheatgrass shot for a nutrient boost and potential detoxification support.
Lunch:
Chickpea salad wrap: Mash chickpeas with avocado, lemon juice, diced red onion, diced cucumber, and chopped fresh herbs (such as parsley or cilantro). Season with salt, pepper, and a sprinkle of turmeric. Wrap the mixture in a whole-grain tortilla with sliced tomatoes and lettuce.
A cup of Essiac tea for additional herbal support.
Snack:
Dinner:
Steamed broccoli or roasted Brussels sprouts as a side.
Enjoy a cup of herbal turmeric tea after dinner.
Before Bed:
A cup of Essiac tea to wind down the day and support overall well-being.
​
It is crucial to choose organic foods wherever possible. Making your own salad dressings is ideal to get the most nutrient-dense foods while avoiding chemical ingredients in most processed sauces and foods.
Remember, feel free to adjust portion sizes and ingredients based on your individual needs and preferences. It's always a good idea to consult with a registered dietitian or healthcare professional for personalized dietary advice, especially when dealing with specific health conditions.
Note for Those Who Suffer from Nausea and Weight Loss
​If you are losing too much weight from nausea or lack of appetite as a side effect of treatment, you may be encouraged to drink supplemental shakes like Ensure. Ensure is packed with awful ingredients that can cause even more health problems.
Consider making your own superfood smoothies and shakes or using a company like Kate Farms. They have higher quality ingredients than Ensure and Pediasure and formulas that work for both adults and children. Their formulas can even be used for those who use a feeding tube. Talk to your doctor about the right prescription for your needs. Sometimes insurance will even cover it!
For more support and educational resources, check out The Mesothelioma Center's article regarding mesothelioma nutrition during cancer treatment and recovery.
Free Anti-Cancer Foods Checklist Printable
https://mindfullyhealthyliving.com/wp-content/uploads/2023/06/Anti-Cancer-Foods-Checklist.pdf
Conclusion
​This blog post is just scratching the surface when it comes to ways that food can heal chronic illnesses like cancer. There is an incredible amount of research and multiple different avenues that can be taken to restore your body to health. It is important to fuel your body with an anti-cancer diet of fresh nutrient-dense foods and avoid sugar, processed foods, pesticides, and chemicals that contribute to cancer disease risk. You will have good days and tough days throughout the process. Be easy on yourself. Move your body. Drink plenty of water. Pray and Meditate. Forgive yourself and others. Love yourself throughout the process. You got this!
Have you tried any special diets or integrative treatments? Share with us in the comments below!