Indulge in a delectable low-carb delight with our Easy Keto Chicken Alfredo Spaghetti Squash Recipe! This scrumptious dish features organic grilled or oven-baked tender chicken breasts paired with luscious Primal Kitchen Alfredo Sauce, all atop a bed of perfectly cooked spaghetti squash. It is the ultimate comfort food! Get ready to savor the rich flavors and wholesome goodness of this keto-friendly masterpiece that will leave you and the whole family wanting more!
Jump to:
Whether you are switching to a low-carb or ketogenic diet and lifestyle or simply trying to eat less carbs and more whole foods, this recipe is a great start.
 In fact, it was one of our family's first creations! You do not have to give up all of your favorite comfort food recipes.
When eating a clean keto diet or recipes, sometimes it just takes a few simple healthy whole-food swaps to make your old favorite recipes your new favorite recipes! Chicken Alfredo is definitely something we weren't ready to give up.
When learning to eat a diet without processed foods, we learned to read the ingredients on the back of our favorite foods and found that many of our go-to jars of sauce had tons of added sugars, preservatives, and unhealthy oils that were likely contributing to fatigue, inflammation, and more.
So, we sought to find a low-carb creamy Alfredo sauce that had the best ingredients.
After trying a few, we found Primal Kitchen and it did not disappoint! You can also make your own homemade alfredo sauce! But in a pinch, it's nice to have a go-to brand that checks all the boxes and tastes good too!
After learning about healthy pasta alternatives, we decided to mix our new favorite sauce with one.
There are a few! You can use low carb veggies like cauliflower or broccoli, spiralized zucchini noodles, or spaghetti squash. They make a great alternative in pasta dishes.
Wait- what is spaghetti squash?! It is a squash that comes looking like a big round yellow melon.
But when it is cooked, the squash scoops out looking like tiny spaghetti noodles! Amazing. And it tastes just like squash.
Pair that with chicken, clean alfredo sauce, and your favorite green veggies, and you have a healthy and complete meal.
You won't regret it.
We've had this in our family's regular dinner rotation for a while now. We hope you love it as much as we do. It is the perfect keto dinner solution for a busy weeknight. Check out a different recipe like Keto Fajita Chicken Casserole or more of our favorite keto dinner recipes and tips here.
We also have a free keto starter guide and meal plan that you won't want to miss!
Setting Intentions
Setting intentions before meals is a powerful practice that allows us to mindfully connect with our food and nourish both our bodies and minds.
By taking a moment to set positive intentions, we infuse our meals with love and gratitude, transforming eating into a mindful experience. 
Healthy intentions can range from expressing gratitude for the nourishment before us to savoring each bite with an appreciation for the flavors and nutrients it provides.
 Embracing intentions that foster mindful eating, such as chewing slowly and being present at the table, can cultivate a deeper connection with our food and overall well-being.
Let us embark on a journey of mindful nourishment, where our intentions become the foundation of a wholesome and balanced approach to eating. To learn more about setting intentions, read our article on effective intentions and affirmations.
Ingredients
​Let's head to the grocery store for the best quality ingredients for this delicious keto chicken alfredo meal.
Skinless Chicken Breast- Organic and Free Range is always best. You can also use chicken thighs, rotisserie chicken, or even turkey breast.
Spaghetti Squash- Spaghetti squash is an incredible vegetable that has noodle-like strands as its flesh. It tastes delicious too. You won't even miss your old carbs.
Keto Alfredo Sauce- Primal Kitchen has a good line of minimally processed products with clean ingredients. The dairy-free Alfredo Sauce is slightly different in color and flavor but still creamy and tastes delicious. If you prefer a dairy product, there are a few brands that are better than the rest.
It can be challenging to find a pre-made Alfredo sauce! It is truly best to make your own. But for a busy weeknight, Primal Kitchen is a trustworthy brand! It is made using pumpkin seed butter and avocado oil! If you try another brand, be sure to read the ingredients!
Avocado Oil- You can also use extra virgin olive oil, but please be mindful of the temperature! Avocado oil's smoke point is much higher than olive oil. Read our article on avocado oil here.
Italian Seasoning- This adds a delicious flavor to the dish
Onion Powder
Garlic Powder
Pink Himalayan Salt
Black Pepper
See the recipe card for quantities.
Instructions
Cook seasoned chicken and then shred it.
2. While the chicken is grilling cook the spaghetti squash (see Spaghetti Squash Instructions below)
3. Add the cooked chicken and creamy sauce to a large skillet on medium heat for a couple of minutes to let the flavors meld.
4. After the spaghetti squash has cooled a bit, scoop the spaghetti squash from the skins and place a portion on each plate. Top with sauce and chicken. Serve with your favorite green vegetable. Garnish with fresh parsley. Enjoy!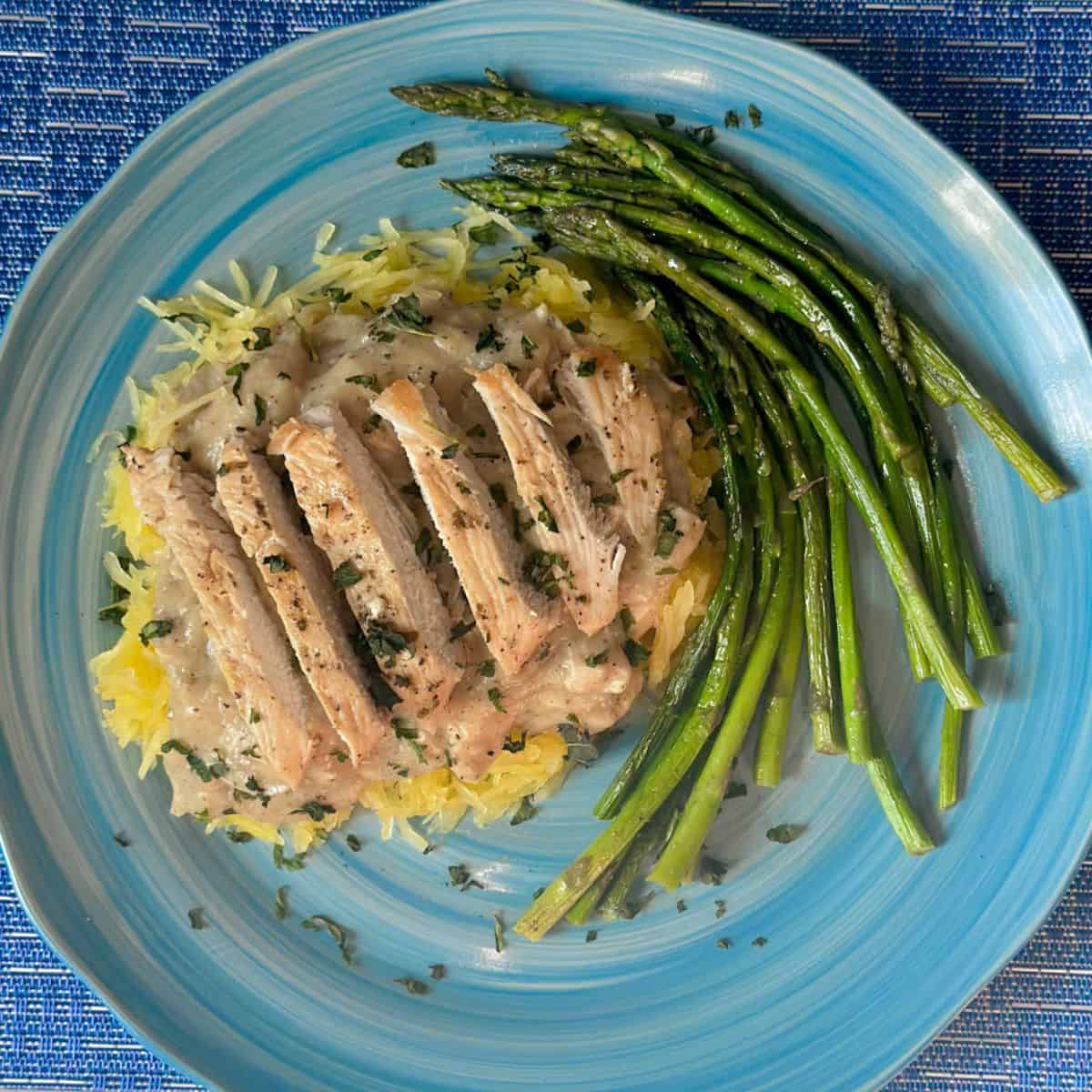 Top Tip
After scooping the cooked spaghetti squash from its shell, pour it into a bowl. Using kitchen scissors, snip the spaghetti squash into shorter strands if you prefer. It makes for a more consistently sized bite!
Cooking Spaghetti Squash
(Photo of a cut squash with seeds scooped out of it, before being cooked.)
If using the oven: Cut the raw spaghetti squash into halves, lengthwise, and scoop out the seeds. Brush avocado oil, ghee, or extra virgin olive oil lightly onto the flesh and season with garlic and onion powder and Italian seasoning. place face down on a parchment paper-lined baking sheet. Roast for 30-40 minutes at 400F or until the squash gives when you press on it. (Be careful and use a heating pad, as it's going to be HOT!) Remove from heat and let it cool.
If using an instant pot: Cut the spaghetti squash in half, lengthwise, and scoop out the seeds. Put one cup of clean water in the bottom of the pot. Add the trivet and place both halves of the spaghetti squash inside, making sure that the lid can be closed securely on top. If the squash is too big, only do one half at a time.
If you have a very small squash only do 6 minutes. For a medium-sized or large squash, set the IP to manual pressure for 7 minutes. It will take about 10-15 minutes to come to pressure before the 7 minutes begins. Once the timer goes off, immediately release the pressure and carefully remove the squash to set aside and cool. It may be helpful to use tongs and an oven mitt!
After about 10 minutes, hopefully, the squash will have cooled enough to scoop. You can use a fork or a spoon to scoop it out. We like to use a large metal spoon for this.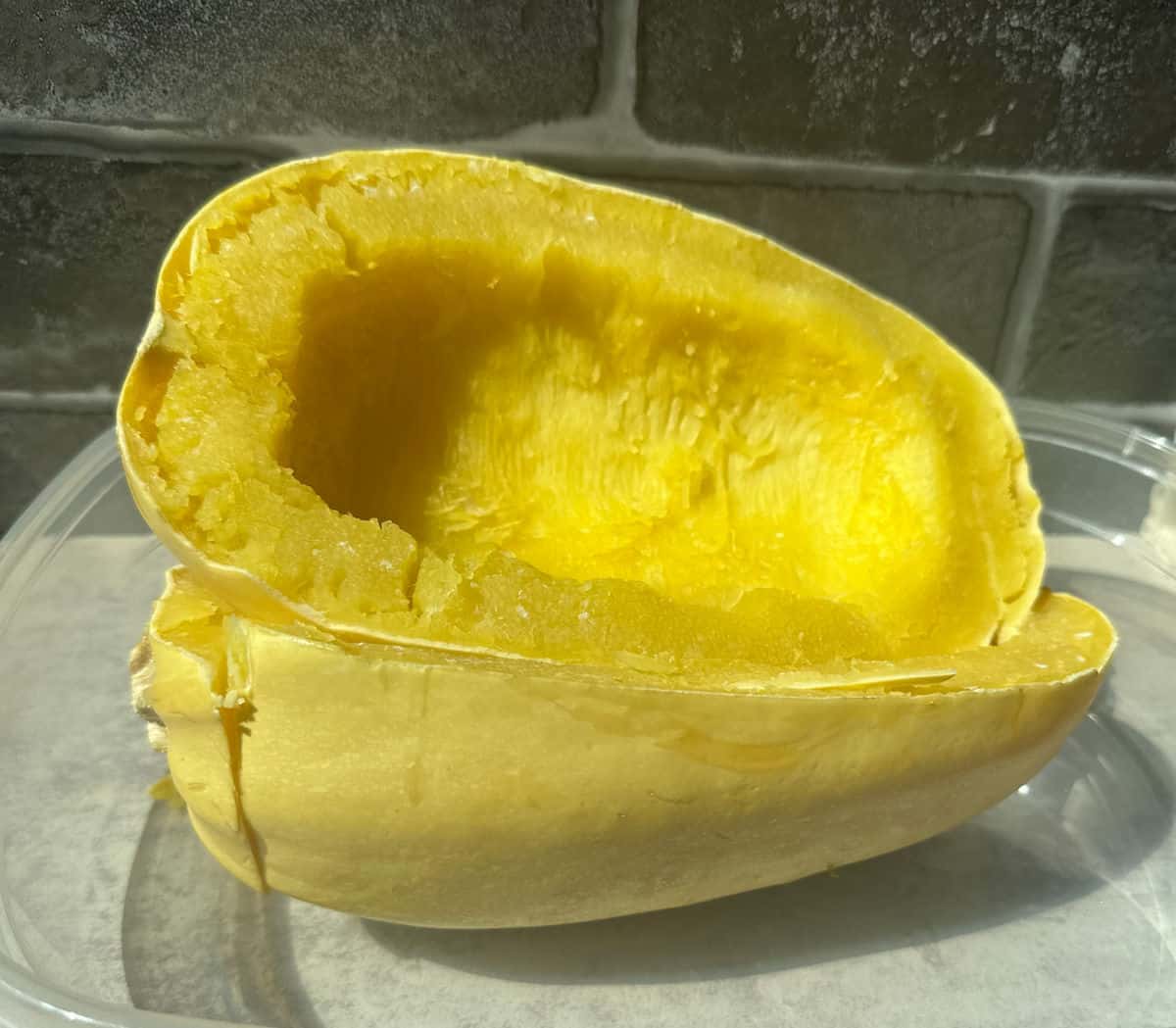 (Photo of two halves of spaghetti squash after being cooked.)
Starting at the edge, place the tip of a spoon in between the skin and the flesh of the squash all the way around it until the edges are separated from the flesh.
Scrape it all out into a large bowl. Using clean kitchen scissors, snip randomly through the squash to separate the chunks of squash and then fluff it with a fork. Serve and Enjoy!
Other Keto Articles
Pairing
Chicken Alfredo goes well with a simple green salad and/or any of your favorite green vegetables. We like to use sauteed asparagus, roasted brussel sprouts, steamed broccoli florets, or green beans.
Substitutions and Variations
If you'd like to make a low carb chicken alfredo casserole from this recipe, simply scoop all of the cooked ingredients into a casserole dish, add fresh broccoli florets, or mix in a handful of leafy green vegetables like spinach, and add your favorite cheese on top of the casserole. Parmesan cheese or mozzarella work well for turning this recipe into a keto alfredo chicken bake.
For a quicker meal, buy a pre-cooked rotisserie chicken and pull the chicken from it. Add the shredded chicken to the sauce in place of the strips or chunks from cooked chicken breast.
You can also easily substitute chicken thighs for chicken breast for a slightly different flavor!
For a vegan meal, consider substituting the chicken with tempeh or jackfruit! In fact, you can just simply omit the meat and use spaghetti squash and the creamy keto alfredo sauce with your favorite green vegetables mixed in or on the side!
Try a different sauce! There are a few different clean creamy Alfredo sauce brands out there. We also like the flavor of Newman's Own Alfredo sauce.
Storage
Store leftovers in an airtight container in the fridge for up to 4 days. Leftover chicken should be consumed within that time frame. We like to store the spaghetti squash and the chicken and sauce mixture in separate containers, but mixing them is up to you! Reheating it all mixed together works best on the stovetop!
Equipment
Instant Pot
Chef's Knife
Large Spoon
Cooking Spoon
Large Skillet
Cutting Board
Meat Thermometer
Large Mixing Bowl (to scoop the squash into, optional)
Recipe
Recipe
Easy Keto Chicken Alfredo Spaghetti Squash Recipe
Indulge in the creamy delights of Easy Keto Chicken Alfredo Spaghetti Squash, where tender spaghetti squash embraces seasoned chicken and luscious dairy-free Alfredo sauce, creating a low-carb, flavor-packed masterpiece that will leave the entire family wanting more. A delightful, guilt-free twist on a classic favorite!
Instructions
Cook the Spaghetti Squash in the Instant Pot:
Cut the spaghetti squash in half lengthwise and remove the seeds.

½ medium spaghetti squash

Pour 1 cup of water into the Instant Pot and place the trivet inside.

Place the spaghetti squash halves on the trivet, cut-side up.

½ medium spaghetti squash

Close the Instant Pot lid and set the valve to "Sealing" position.

½ medium spaghetti squash

Select "Manual" or "Pressure Cook" mode and set the timer for 7 minutes on high pressure.

½ medium spaghetti squash

Once the cooking cycle is complete, perform a quick pressure release by carefully turning the valve to "Venting" to release the pressure immediately. Open the lid when the pressure has fully released.

½ medium spaghetti squash
Cook the Chicken:
Season the chicken breasts with salt, pepper, and Italian seasoning on both sides.
For pan-frying:
Heat a skillet over medium-high heat, add 1 tablespoon of avocado oil, and cook the chicken breasts for about 4-5 minutes per side until cooked through and no longer pink in the center.

1 teaspoon Italian seasoning,

2 tablespoons avocado oil,

Salt and pepper
For baking:
Preheat the oven to 400°F. Place the seasoned chicken breasts on a baking sheet lined with parchment paper and bake for 20-25 minutes or until cooked through.
For grilling:
Preheat the grill to medium-high heat and grill the seasoned chicken breasts for about 5-6 minutes per side until fully cooked.
Prepare the Alfredo Sauce and Chicken:
While the spaghetti squash and chicken are cooking, heat the Primal Kitchen Dairy-Free Keto Alfredo Sauce in a saucepan over low heat.

Cut or shred the cooked chicken into bite-sized pieces.

Add the chopped chicken into the Alfredo sauce while it is heating on the stove, allowing the flavors to meld together.
Assemble the Dish:
Once the spaghetti squash is cooked, use a fork to scrape the flesh gently, creating "spaghetti-like" strands. Transfer the spaghetti squash strands to a large serving bowl.

½ medium spaghetti squash
Serve:
Pour the Alfredo sauce with chicken over the spaghetti squash in the serving bowl. Fluff with a fork. Serve about a fist sized serving of spaghetti squash and top with the sauce and chicken mixture.

16 oz Keto Alfredo Sauce,

2 chicken breasts

Garnish with freshly chopped parsley.

Enjoy!
Notes
Note: Feel free to adjust the seasoning and sauce quantity according to your taste preference. This recipe provides flexibility in cooking the chicken using different methods to suit your cooking style.
Nutrition
Calories:
325
kcal
Carbohydrates:
17
g
Protein:
14
g
Fat:
23
g
Saturated Fat:
9
g
Polyunsaturated Fat:
5
g
Monounsaturated Fat:
8
g
Cholesterol:
88
mg
Sodium:
695
mg
Potassium:
381
mg
Fiber:
3
g
Sugar:
7
g
Vitamin A:
254
IU
Vitamin C:
5
mg
Calcium:
53
mg
Iron:
1
mg
FAQ
How many carbs are in keto chicken alfredo?
There is 17g of carbs per serving in this delicious keto chicken alfredo spaghetti squash meal!
How many carbs are in keto alfredo sauce?
Primal Kitchen Alfredo Sauce has 4 g of total carbohydrates per ½ cup serving.
How hard is spaghetti squash to cut?
Spaghetti squash can be challenging to cut until you get the hang of it. Using a very sharp chef's knife, stab 1-2 inch deep cuts in a line around the squash where you intend to cut it. Make the cuts about an inch apart. Once finished, it should be easier to cut along the line into two halves. Keep in mind, that the middle of the squash is relatively hollow except for a pit of seeds that you will need to scoop out.
How long does spaghetti squash last?
A raw, uncut spaghetti should last in a dry pantry for 3-4 weeks. After a while, its seeds will start to sprout on the inside. That is ok as long as it does not smell rancid and is still firm to the touch.
Check out our web story here!
Food Safety
Cook to a minimum temperature of 165 °F (74 °C)
Do not use the same utensils on cooked food, that previously touched raw meat
Wash hands after touching raw meat
Don't leave food sitting out at room temperature for extended periods
Never leave cooking food unattended
Use oils with a high smoking point to avoid harmful compounds
Always have good ventilation when using a gas stove