Savor the rich flavors of our Cajun Salmon Alfredo Recipe, where flaky salmon meets a creamy Cajun sauce, all nestled atop tender spaghetti squash. This low-carb twist on a pasta dish delivers all the comfort food vibes without the carbs.
Born out of a quest for low-carb dinner ideas brimming with nutrients, our journey led us to reinvent the beloved creamy Alfredo sauce- with a kick. We sought to make our favorite foods with clean ingredients and this delicious recipe is the result.
Our inspiration sprang from cozy spaghetti squash dinners and our passion for Cajun spices. When we discovered the delicious versatility of spaghetti squash in place of cooked pasta for a healthy gluten-free option, we fell in love.
For this recipe, we took what we loved from our favorite quick and easy dinner recipes like chicken alfredo, blackened cajun salmon, spicy cajun shrimp bowl, cajun smothered chicken, and zesty cajun shrimp tacos. After refining the balance of spices and perfecting our homemade alfredo sauce, we crafted this creamy Cajun salmon "pasta" recipe.
It's a simple step towards a healthier twist on indulgence.
Before diving into this salmon dish, we recommend setting healthy intentions. Approaching meal creation and consumption with mindfulness can heighten the nourishment you receive. For those eager to deepen this practice, visit us to explore our free guide to manifesting with intentions and affirmations. You'll find that every bite of this creamy Cajun Salmon Alfredo with Spaghetti Squash is not just a meal, but an experience crafted with care.
Jump to:
Ingredients
For the Cajun Alfredo Sauce:
Ghee: Ghee, clarified butter, lends a rich nutty flavor. Choose organic, grass-fed ghee for its high smoke point and beneficial fatty acids.
Garlic: A staple for its aromatic flavor, garlic also boasts health benefits. Organic garlic cloves are preferred for their potent antioxidants.
Greek Yogurt: Greek yogurt introduces a creamy texture and a protein boost. Opt for full-fat, organic varieties.
Almond Milk (or Cashew Milk): This nut milk is a great lactose-free base for the creamy sauce. Ensure it's unsweetened and minimally processed for the best quality.
Sharp Cheddar Cheese: We use organic raw sharp cheddar for its robust flavor and nutrient profile. Organic ensures no unnecessary additives.
Freshly Grated Parmesan: Freshly grated parmesan cheese is key for a rich, salty bite in our creamy Cajun Alfredo sauce, adding flavor and calcium.
Organic Chicken Broth: Chicken broth adds depth to the sauce. Organic broth suggests no synthetic additives, making it a cleaner option.
Sea Salt and Fresh Ground Pepper: Sea salt and black pepper not only season the dish but also contain minerals and may aid in digestion.
Italian Seasoning: This blend of herbs complements the creamy sauce with its classic European flair. Organic herbs ensure purity and taste.
Cajun Seasoning: The heart of the dish, Cajun seasoning brings heat and soul. Look for blends with authentic, natural spices.
Onion Powder: Onion powder offers a concentrated burst of flavor. Organic ensures it's free from additives.
Coconut Flour: A gluten-free thickening agent, coconut flour makes our sauce hearty. It's a fibrous alternative to traditional flours.
Baby Spinach: These tender leaves contain vitamins and a subtle earthy taste. Organic baby spinach is free from pesticides and full of flavor.
For the Salmon:
Sockeye Salmon: Wild-caught sockeye salmon is essential for its rich flavor and high content of omega-3 fatty acids.
Avocado Oil: With a high smoke point and heart-healthy fats, avocado oil is ideal for cooking salmon filets.
Cajun Seasoning: Used again to create consistency in flavor, this seasoning makes the salmon the star of the dish.
Lemon Juice: Fresh lemon juice brightens the dish and adds a boost of vitamin C. Always opt for fresh lemons to squeeze your own juice.
For the Spaghetti Squash:
Spaghetti Squash: This is a fabulous gluten-free pasta alternative, low in calories and high in dietary fiber.
Sea Salt: Enhances the natural flavor of the squash while adding trace minerals.
Cracked Black Pepper: Adds a subtle spice and pairs well with the creamy Cajun Alfredo sauce.
water: Just a cup of water is needed to steam the squash and help the instant pot come to pressure, making it tender and perfect for twirling.
With each chosen ingredient, we've prioritized the cleanest and most nutrient-dense options. This recipe is not only a feast for the taste buds but also aligns with a mindful, health-focused lifestyle. Enjoy creating this salmon recipe with the peace of mind that comes from nourishing your body with whole, unprocessed foods.
Instructions
Making the Cajun Alfredo Sauce
Sauce Start: On low heat, let ghee, minced garlic, and a dash of onion powder mingle in a saucepan, cooking for a minute to release their aromas. Blend in coconut flour gradually to form a paste for the base of your sauce.
Creamy Base: Turn the heat up to medium-low and gradually introduce Greek yogurt and almond milk, stirring constantly to achieve a silky, even texture.
Cheese and Season: Delicately lace in the sharp cheddar and Parmesan, along with the chicken broth, until your mixture reaches a lusciously creamy alfredo consistency. Infuse the sauce with Italian and Cajun seasoning, then give it a few minutes to let the flavors marry.
Finish with Greens: As you stir, incorporate baby spinach into the sauce, continuing until it's just wilted.
Preparing the Spaghetti Squash
Squash Prep: Halve your spaghetti squash, scoop out the seeds, and place it atop a trivet in your Instant Pot with a cup of water underneath. Seal the pot, select high pressure, and set the timer for 7 minutes. Quick-release the steam once done and let the squash cool.
Noodle Creation: After cooling, transform the squash into noodles by scooping them into a bowl. Trim the noodles with scissors to tidy up their length.
Cooking the Salmon
Salmon Sear: Over medium high heat, get your large skillet sizzling hot before laying down the salmon fillets skin side first. Slick them with oil, add lemon, and season salmon with a tablespoon Cajun seasoning. Allow them to cook undisturbed for 4-5 minutes, so they're nearly done.
Flip and Finish: Drop to medium heat, give the fillets a gentle flip, and let them finish cooking—aim for an internal temperature of 140°F, which should take about 2-3 minutes. Then take them off the heat.
Salmon Prep: Once cooled, either flake the salmon with a fork or cut it into slices, ready to top your dish.
To Serve
Gather the spaghetti squash on plates, smother it with the homemade creamy Cajun Alfredo sauce, and crown it with your beautifully seasoned salmon. Each forkful promises a burst of flavor and the best flavor from wholesome ingredients. Enjoy your dinner with the satisfaction of clean and nutrient-packed eating!
Hint: When cooking salmon, starting with the fish at room temperature ensures even cooking. Allow your salmon fillets to rest outside the refrigerator for about 15 minutes before they hit the pan. As they cook, you can gently wipe the white goo (albumin) with a paper towel. (Although it is safe to eat!)
Remember, salmon continues to cook even after it's removed from the heat, so to avoid overcooking, transfer it from the pan to a plate the moment it's done. By following these steps, you'll ensure your salmon is flaky, tender, and full of flavor every time!
Substitutions and Variations
Spice lovers, rejoice! For an extra kick, amp up your dish with additional Cajun seasoning or a sprinkle of cayenne pepper.
If you crave a richer cream sauce, swap almond or cashew milk with coconut milk or heavy cream for an even more luxurious texture.
Prefer a classic pasta experience? Replace spaghetti squash with your choice of pasta. We recommend an organic ancient grains brand for wholesomeness, or try Banza's chickpea pasta for a protein boost. Cook your pasta to al dente perfection following the package directions.
For those who favor the traditional, unsalted butter makes a fine stand-in for ghee, infusing your sauce with a familiar, buttery indulgence.
To add sweetness and crunch to your cream sauce, toss in diced red bell pepper or sautéed red pepper and onions.
Freshen up each serving with a garnish of fresh parsley, providing a bright, herbal note that complements the richness of the dish.
For our vegetarian friends, omit the salmon and consider a medley of sautéed veggies like bell peppers and mushrooms.
Vegans, you're not left out—replace dairy with plant-based alternatives and explore tofu or tempeh for a satisfying, protein-rich substitute. For that cheesy flavor simply use nutritional yeast with coconut milk.
This recipe welcomes your personal touch, so mix, match, and make it your own!
Equipment
Instant Pot (for spaghetti squash)
Instant Pot Duo 7-in-1 Elec...
Shop on Amazon
Large skillet (for salmon)
Caraway Nonstick Ceramic Sa...
Shop on Amazon
Large saucepan (for Alfredo sauce)
Caraway Nonstick Ceramic Sa...
Shop on Amazon
Cutting board (for preparing squash and salmon)
GREENER CHEF 30 Inch 3XL Ex...
Shop on Amazon
Chef's knife (for cutting squash and salmon)
WÜSTHOF 8" Gourmet Chef's ...
Shop on Amazon
Measuring cups and spoons (for ingredients)
WÜSTHOF 8" Gourmet Chef's ...
Shop on Amazon
Wooden spoon or spatula (for stirring sauce)
Folkulture Wooden Spoons fo...
Shop on Amazon
Whisk (for combining sauce ingredients)
Walfos Silicone Whisk, Stai...
Shop on Amazon
Fish turner (for flipping salmon)
KSENDALO Fish Spatula for N...
Shop on Amazon
Citrus juicer (optional, for lemon juice)
OXO Good Grips 2-in-1 Citru...
Shop on Amazon
Kitchen scissors (for cutting spaghetti squash strands)
Professional Cheese Grater ...
Shop on Amazon
Cheese grater (for fresh cheeses)
KitchenAid All Purpose Kitc...
Shop on Amazon
Large Bowl (for mixing and holding ingredients)
DOWAN Large Mixing Bowls, C...
Shop on Amazon
Tongs (for serving spaghetti squash)
DOWAN Large Mixing Bowls, C...
Shop on Amazon
Storage
To keep your Cajun Salmon Alfredo with Spaghetti Squash tasting fresh, proper storage is key. If you have leftovers, wait for the dish to cool to room temperature before transferring it to storage.
Refrigeration: Spoon any leftovers into an airtight container to maintain freshness. Your creamy Cajun creation will stay delicious in the fridge for up to 3 days. When you're ready to enjoy it again, reheat gently to preserve the dish's flavors and textures.
Freezing: While you can freeze the spaghetti squash and Cajun Alfredo sauce separately, we recommend enjoying the salmon fresh. If you must freeze, do so in a separate airtight container. Note that the creamy sauce may separate when thawed, but a quick whisk while reheating should bring it back together.
Remember to label your containers with the date, so you know how long you've stored it. Enjoy your meals safely!
Top Tip
Watch for the salmon's doneness closely—once it's just opaque, promptly remove it from the heat. This avoids overcooking, ensuring your salmon remains succulent and pairs exquisitely with the creamy Alfredo sauce. Enjoy the best flavor and texture in every bite!
FAQ
Is salmon low in carbohydrates? 
Yes, salmon is naturally low in carbohydrates, making it an excellent choice for low-carb diets. It's packed with protein and essential omega-3 fatty acids, contributing to a nutritious meal without the carbs.
Does Alfredo sauce have a lot of carbs? 
Traditional Alfredo sauce can be high in carbs due to the use of flour and heavy cream. However, there are many variations, like our Creamy Cajun Alfredo Sauce, that use low-carb thickeners and dairy substitutes to reduce the carbohydrate content.
Why is my spaghetti squash so hard to cut?
Spaghetti squash can be tough to slice through because of its hard exterior shell. To make it easier, make several small slices in a row, lengthwise around where you want to cut it. It can break open easier along the line. I also use the weight of the squash to help break it open faster (be so careful!). You can also cook the squash whole, and cut it afterward. (Don't forget to scoop the seeds out, too!)
Is spaghetti squash really healthy for you?
Absolutely, spaghetti squash is a healthful food that's low in calories and carbs yet high in fiber, vitamins, and minerals. It's a fantastic alternative to traditional pasta for those looking to increase their vegetable intake and maintain a balanced diet.
Recipe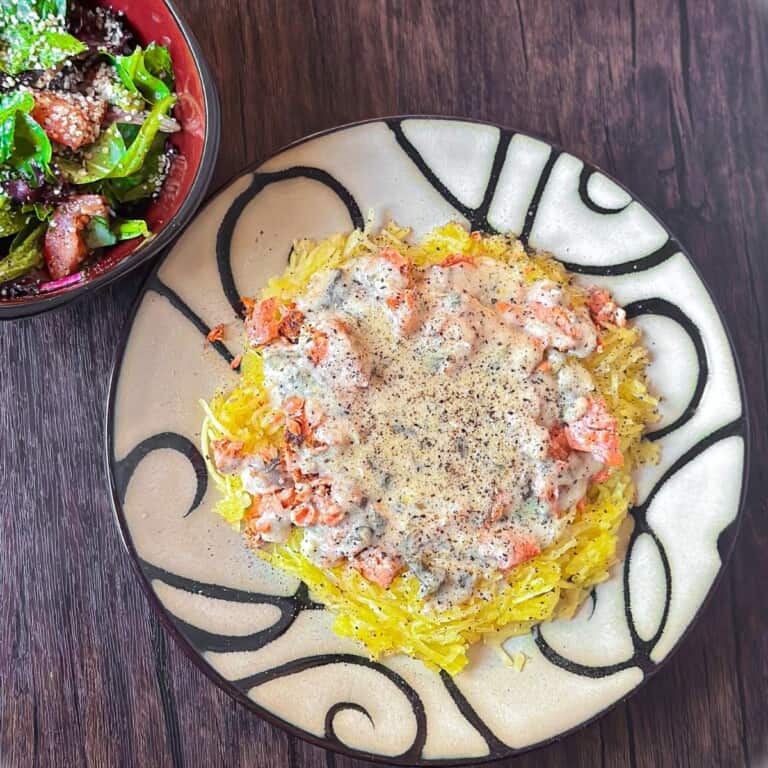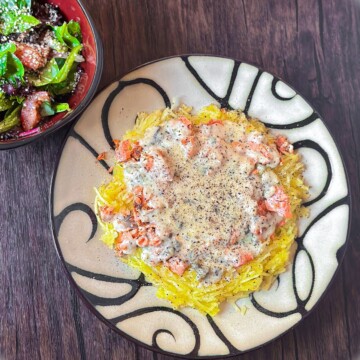 Creamy Cajun Salmon Alfredo over Spaghetti Squash
Indulge in the harmony of spice and creaminess with our homemade Cajun Salmon Alfredo atop Spaghetti Squash. Every forkful is a celebration of natural, clean ingredients, meticulously blended to create a sauce that's rich in flavor yet light on your conscience. This dish is a testament to the art of crafting a guilt-free feast that doesn't compromise on taste—a true testament to mindful, vibrant eating.
Ingredients
For the Cajun Alfredo Sauce:
For the Spaghetti Squash:
Instructions
For the Cajun Alfredo sauce: approx 25 min total
Heat a large saucepan on low heat with ghee, garlic, and onion powder for one minute. Slowly stir in flour until it forms a paste.

Slightly raise the temp to medium low and Stir in yogurt and milk slowly a little at a time to ensure the sauce gets to an even creamy consistency.

Gradually sprinkle both cheeses and broth until it creates a creamy consistency. Season with salt pepper Italian seasoning and Cajun seasoning. Stir for a few more moments as flavors meld together. Add additional cheese or flour to adjust consistency as needed. While stirring, add spinach and continue stirring until spinach is wilted.
For the spaghetti squash: (Approx 15-20 total with time to come to pressure)
Cut spaghetti squash in half and remove the seeds. Place one cup of water in the bottom of instant pot and set both halves of squash in a trivet. Cover and set to high pressure for 7 minutes. Release steam immediately and let cool.

Once cooled, scoop spaghetti squash noodles from the skin into a large bowl. Cut strands with kitchen scissors for more even strands.
For the salmon (Approx 9 min)
While spaghetti squash and sauce is cooking, heat oil to medium-high in a large skillet. Be sure the pan is very hot before adding salmon.

Add salmon fillets skin side down. Brush oil onto the fillets, add a drizzle of lemon to each and season evenly with Cajun spices. Let cook without moving for 5-6 minutes, depending on thickness, or until salmon is cooked ¾ of the way up.

Reduce the pan temp to medium. Using a fish turner, carefully flip the salmon to cook the rest of the way on the other side for approximately 2-3 minutes or until internal temp is 140F. Remove from heat and set aside.

Carefully slice or shred salmon and set aside.
Notes
Start the Alfredo sauce first, and while it simmers, prepare the salmon.
Use separate timers for each component: Instant Pot timer for squash, and kitchen timers for salmon and sauce.
Allow salmon to come to room temperature before cooking to ensure even cooking.
Serve immediately for the best experience.
Note on cook times: the cook times should overlap for each process happening at the same time.
Nutrition
Calories:
647
kcal
Carbohydrates:
20
g
Protein:
43
g
Fat:
45
g
Saturated Fat:
21
g
Polyunsaturated Fat:
5
g
Monounsaturated Fat:
14
g
Cholesterol:
132
mg
Sodium:
1333
mg
Potassium:
768
mg
Fiber:
6
g
Sugar:
6
g
Vitamin A:
3132
IU
Vitamin C:
7
mg
Calcium:
945
mg
Iron:
3
mg
More Recipes
More Holistic Nutrition Info
Pairing
Pair with a green vegetable like steamed broccoli, green beans, asparagus, or a simple green salad!
Food Safety
Ensuring your Cajun Salmon Alfredo is not only delicious but also safe to eat involves following key food safety guidelines:
Salmon Handling: Always start with fresh, well-refrigerated salmon. If using frozen salmon, thaw it in the fridge, not at room temperature, to prevent bacterial growth.
Preparation Surface: Clean your cutting boards, utensils, and countertops thoroughly before and after handling raw salmon to avoid cross-contamination.
Cooking Temperature: Cook salmon to the safe internal temperature of 145°F, as recommended by food safety experts. Use a meat thermometer to check.
Storage: Cool leftovers promptly and store them in an airtight container in the refrigerator. Consume cooked salmon within 3 days.
Reheating: When reheating your Alfredo, bring the sauce to a simmer, and the salmon to 145°F again to ensure any potential bacteria are destroyed.
By keeping these simple steps for food safety in mind, you'll ensure your meal is not only scrumptious but also safe for everyone enjoying it.
Final Thoughts
We'd love to hear how your Creamy Cajun Salmon Alfredo with Spaghetti Squash turns out! Share your experiences in the comments below and let's spread the joy of healthy eating. If this dish delights your taste buds, pass the recipe along to friends and family.
For more nourishing recipes and tips for vibrant living, make sure to subscribe. Your journey to well-being is just as important to us as it is to you.
Be well,
Natalie