Introducing the First Watch Kale Tonic - a delicious and healthy green juice recipe is a perfect balance of tangy and sweet taste. This superfood recipe was inspired by one of my favorites, First Watch Restaurant.
Jump to:
At First Watch, our family loves their commitment to clean and healthy ingredients, making it our go-to spot in multiple states.
Plus, it helps that the food is quite delicious. If you haven't already, be sure to try my other favorite menu items: avocado toast or the healthy turkey omlette. YUM!
Whenever we visit, one of my must-order items is the infamous Kale Tonic.
 It's the perfect way to kickstart the day with a nutritious drink packed with leafy greens and the goodness of fuji apples. 
This well-known superfood infusion complements our quest for a healthy diet, boosts the immune system and improves energy levels throughout the day.
Its also perfect for kids, ensuring they get enough vegetables in their morning routine (without even tasting like it!) 
Our toddlers love it! Total mom win!
What's in This Article
In this article, we'll show you how to recreate this refreshing tonic recipe using a juicer, but don't worry if you don't have one.
We'll also share a simple method using a high-speed blender. It's incredibly easy, and we'll guide you through every step.
For those looking to maximize nutritional value, we recommend using a slow masticating juicer like the Omega MM900HDS.
However, if you have a centrifugal juicer or a high speed blender, they will do the trick too. 
With the blender method, you'll just need to strain the juice through a fine mesh strainer or a milk bag to achieve that perfect consistency.
But that's not all! As you explore this recipe, you'll also discover the benefits of cold-pressed juice, and we'll introduce you to the concept of high vibrational foods. (Click the links to check out the articles!)
These insights will not only enhance your understanding of healthy living but also motivate you to delve deeper into the world of nutritious choices as a part of a healthy lifestyle.
So, whether you're searching for the best breakfast options, or simply aiming to incorporate more vegetable juices into your diet, the First Watch Kale Tonic Juice recipe has you covered.
Get ready to indulge in the goodness of simple ingredients and embark on a journey toward a healthier, more vibrant you. Let's dive in!
Setting Intentions
​
Setting intentions before preparing this kale juice recipe or any food, offers valuable benefits:
Mindful Focus: Picture yourself preparing food with the intention to be fully present. As you chop, blend, or mix, you're in the moment, making it a meditative experience.
Personalized Goals: When making a nourishing juice, your intention might be to create comfort and boost immunity, adding meaning to your food preparation.
Positive Energy: Envision your creation bringing joy to your loved ones. This positivity can enhance the taste and mood at the table.
Ingredient Connection: Set an intention to appreciate the freshness and natural goodness of the veggies, deepening your connection.
Stress Reduction: Set an intention for a calm food preparation experience, providing a peaceful break from daily stress.
Healthier Choices: Crafting a smoothie? Intend to create a healthy blend, guiding you to select nutritious ingredients aligning with your goals.
Fulfillment: Achieving your food preparation intention, like a delicious dish, brings satisfaction and fulfillment to your culinary journey.
By setting specific intentions, preparing food becomes more mindful and rewarding. Learn more about the fundamentals of setting intentions check out our free intentions and affirmations guide!
Get ready to head to the store for a quick trip with these very simple ingredients.
Ingredients
First Watch's Kale Tonic has just a few key ingredients. The quality of the ingredients is crucial in order to gain the most from your nutrient-dense drink. 
Kale: Fresh kale leaves are the star ingredient in this drink. You can grab any type of kale you would like: lacinato kale (dinosaur kale), curly kale, or purple kale. The darker the color, the greater the health benefits of kale.
It is important to always buy organic for leafy greens, especially if you are juicing it. You do not want concentrated pesticide juice. Yuck!
The phytonutrients are what gives kale and other green vegetables the rich antioxidants and phytonutrients.
Lutein, zeaxanthin, and carotene are three of the most potent phytochemicals that contribute to kale's high nutritional value. They are pertinent in any diet, especially those looking to fight or prevent chronic diseases, including cancer.
Learn more about anti-cancer diet foods with our free guide and meal plan.
Kale is also rich in essential vitamins like vitamin k and vitamin c. Raw kale is an excellent anti-inflammatory and detoxifying superfood that is great for overall health. This list goes on and on!
Cucumber: Always get organic cucumbers, too. Cucumber is one of the cruciferous vegetables. It is also anti-inflammatory and are a great source of vitamins and minerals. Cucumber also are rich in vitamins c, b, and k, as well as potassium, copper, phosphorus, zinc, and magnesium.
These essential nutrients contribute to cucumbers hydrating abilities as they help replenish electrolytes in the body.
You can get regular cucumbers or english cucumbers, simply remember to opt for organic on this one too!
Fuji Apples: Apples are one of our kids' favorite fruits. It is a challenge to keep them in the house before 400 requests to eat them all, haha.
Fuji appes give this tonic a sweet and tart flavor. It masks the bitterness of kale perfectly and gives the tonic its unique First Watch taste. If you use gala apples instead, you will have a slighlty sweeter and more mild flavor. If you use a green apple, it will likely be more tangy.
Always buy organic apples. Be sure to check to see if it has the apeel coating. We recommend apples that do not have the apeel coating. Unfortunately, the label doesnt always have the info.
It will feel slightly waxy and slick. Organic apples with no coating will have just the skin and wont likely be shiny at all.
Here is a list of stores that sell apeel. And here is a list of stores that do not sell apeel. If we find that we've accidentally purchased these products, we simply remove the skins and hope for the best!
Back to the apples! Apples are rich in vitamin c, flavanoids, and polyphenols. These antioxidants help protect the body from oxidative stress from free radicals. They contain natural sugars called fructose, so if you are on a keto diet, you may want to limit or eliminate the apples in this recipe.
Lemon: Lemon juice is the finishing touch that ties the fruit and vegetable juices together for a delightful hint on tanginess in the aftertaste.
Simply remove the peel and add it in. Lemons help to alkalinize the body. They also help to boost the immune system and stimulate bile production in the liver. 
Try our turmeric and lemon juice liver tonic recipe here!
See recipe card for quantities.
Instructions
1. After washing and drying the produce, peel the lemon and chop the cucumber, apples, and lemon into smaller pieces, approx 1 inch thick. This is to ensure they fit into the juicer. 
2. Assemble the juicer and plug it in. Turn it on and begin feeding the kale leaves in one at a time, followed by the lemon.  Since lemon is a softer fruit, the juice from the lemon helps push the leafy greens through the filter better. 
3. Once the lemon is done, feed the apple pieces through, followed by the cucumber. 
4. Let it run for a few short moments longer so all of the juice is thoroughly extracted before turning the juicer off. Unplug it and stir the juice and pour it into a glass to serve. Add ice cubes, if desired. Enjoy!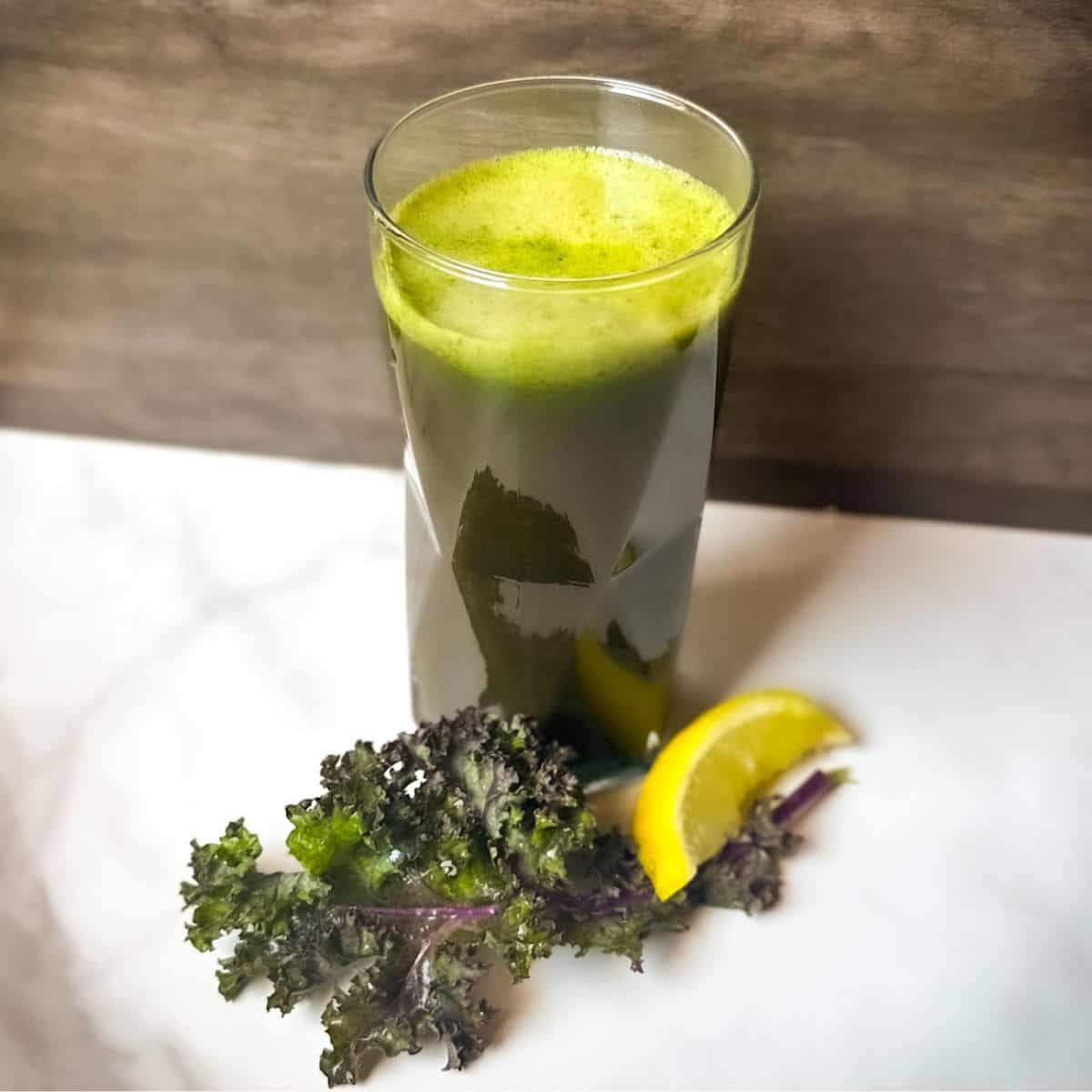 Tips: If there is foam this is completely normal. You can scoop it off the top if you prefer.
It is normal to have separation. Just give it a stir and drink up!
Chewing your juice is also very beneficial. Hear me out!
Making the chewing motion triggers your salivary glands, which is the very first step in our body's digestive process.
If you drink too fast, you bypass the important digestive enzymes present in your saliva!
Substitutions and Variations
​Adding or changing ingredients will make it different than the original First Watch recipe. That being said, have fun with it and add a few things to increase the flavor and nutritional value!
There are a lot of different ways to enjoy a green juice or smoothie.
One of my favorite things to add to juice recipes is a small piece of ginger root. Simply remove the skin and throw it in, letting the juicer work its magic. 
Ginger is incredibly anti-inflammatory and adds a lovely spice to any drink.
Celery is also an excellent addition that does not change the flavor profile too much. Celery is wonderful for overall health, especially the digestive system.
It is extremely hydrating and will add to the bulk of your juice output. Just throw in a celery stalk and reap the benefits!
If you arent a fan of lemons, you can swap it out for lime juice.
If you are on a keto diet, consider omitting the apples. They contain high levels of fructose which can derail ketosis. If you need a sweetener, consider adding pure monk fruit.
If you want to enjoy this a different way, consider leaving it in blended form. This recipe makes a lovely green smoothie that tastes just as wonderful.
Equipment
Juicer​
or
​High Speed Blender
​and
Mesh Strainer
Cutting Board
​
Chef's Knife
Storage
For best results, consume fresh juice immediately, or within 24 hours. If using a masticating juicer, you can store a glass of this juice in a mason jar for up to 72 hours.
If you are storing more, use individual mason jars or a larger airtight container.
As juice ages and is oxidized, the nutrients rapidly break down and lessen over time. This is why it is best to consume immediately.
Top tip
When cleaning your product, use white vinegar or apple cider vinegar and water 1:1 ratio in a spray bottle.
Spray it on your produce and let it sit for one minute before rinsing off.
If needed, use a soft brush to scrub it. Vinegar helps to kill any bacteria present and it is very inexpensive compared to premade vegetable washes!
FAQ
Is kale tonic from First Watch Healthy?
Kale Tonic's ingredients are packed full of beneficial ingredients which makes it a perfect addition to a healthy diet and lifestyle. You may notice increased energy levels, improved immune system function, less pain and inflammation, and more. Kale Tonic is an excellent addition to any weight loss or healthy lifestyle journey. Making it at home, you can do even more with it and ensure you get the best quality ingredients.
What is in a Kale Tonic at First Watch?
Kale tonic includes raw kale leaves, an English cucumber, Fuji apples, and lemon juice.
How many calories are in a First Watch Kale Tonic?
There are approximately 130 calories in a 10-12oz glass of Kale Tonic.
How many carbs are in a First Watch Kale Tonic?
There are approximately 23 grams of carbs and 8 grams of sugar in Kale Tonic.
Is it OK to drink a kale smoothie every day?
Absolutely! In fact, it is incredibly beneficial. Regular consumption of green juice or smoothies helps to build up a level of their beneficial nutrients in your body. The body will utilize these nutrients to improve your overall health and bodily functions as well as strengthening your immune system and clearing your detox pathways.
Related info
Looking for more info on superfoods? Try these:
Healthy Recipes
Check out these clean eating recipes:
Recipe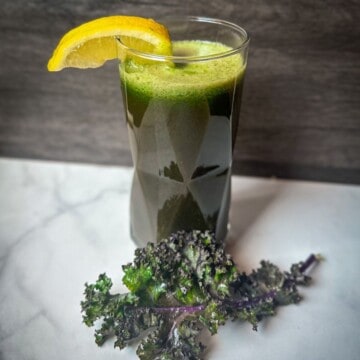 First Watch Kale Tonic Juice (Copycat Recipe)
Energize your mornings with our First Watch Kale Tonic Juice! This vibrant blend of leafy greens and fuji apples is your ticket to a healthy, supercharged start to the day.
Instructions
Wash all produce thoroughly. Chop the cucumber, apples, and lemon into 1-inch thick pieces that will fit in your juicer.

Put your juicer together, if necessary, and plug it in. Turn it on, per instructions for your specific juicer brand. Make sure the pitcher is in the right place to receive the juice. Feed each kale leaf through one at a time, followed by lemon pieces.

Once the lemon is done juicing, feed the apple pieces through and then the cucumber pieces.

Make sure all of the pieces have been processed through the feed and turn the machine off. Stir the juice gently and serve in individual glasses. Add ice cubes if desired. Enjoy!
Notes
You may need to use the plunger to push the fruit and vegetables down in the chute. Be sure to read the instructions on your particulate juicer or blender before use.
Nutrition
Serving:
10
oz
Calories:
132
kcal
Carbohydrates:
23
g
Protein:
9
g
Fat:
4
g
Saturated Fat:
1
g
Polyunsaturated Fat:
2
g
Monounsaturated Fat:
0.3
g
Sodium:
127
mg
Potassium:
1267
mg
Fiber:
0.1
g
Sugar:
8
g
Vitamin A:
23094
IU
Vitamin C:
233
mg
Calcium:
629
mg
Iron:
5
mg
Food safety
Wash fruits and vegetables thoroughly. We love to use vinegar and water.
Be sure to wash surfaces before and after cutting fruit and vegetables to avoid contamination.
Refrigerate unused juice in an airtight container.
See more guidelines at USDA.gov.
Do you love First Watch's Kale Tonic? Let us know what you think in the comments below! What recipe should we copycat next?
Have a healthy week!
Natalie