Are you torn between seeded grapes vs seedless grapes during your grocery haul? You're not alone. Many people wonder which type of grape packs more health benefits and aligns with holistic nutrition principles.
In this comprehensive guide, we'll dive deep into the nutritional values of regular grapes, and seedless varieties to determine which option is better for you. Along the way, we'll also explore grape seeds and grape seed extract, various types of grapes, and the overall subject of seedless fruits vs. seeded fruits.
Join us as we unveil the process, significance, and potential health impact of your grape choices and why natural, unaltered foods are key to a vibrant lifestyle. Stay tuned to unlock the grape debate!
Growing up, I understood the allure of seedless fruits as pulling the inedible seeds out of fruits like watermelons, cherries, and the like could be challenging, especially for little ones.
However, as I began to study nutrition, I learned how valuable may fruits with seeds in them are, like grapes.
This article is for informational purposes only. As a certified holistic nutrition specialist and coach, I share information and perspectives from a holistic and natural-minded space. Before making any changes to your diet or lifestyle, be sure to consult with a qualified healthcare provider.
​
Jump to:
What are Grapes?
Grapes are small, round fruits growing in compact clusters on the grape plant, a type of vigorous vine that offers a multitude of grape types. This popular fruit comes in various colors, including green grapes and red grapes, and each has its own set of nutritional benefits and taste profiles. While green grapes often have a mild flavor and juicy texture, red grapes can be rich and robust.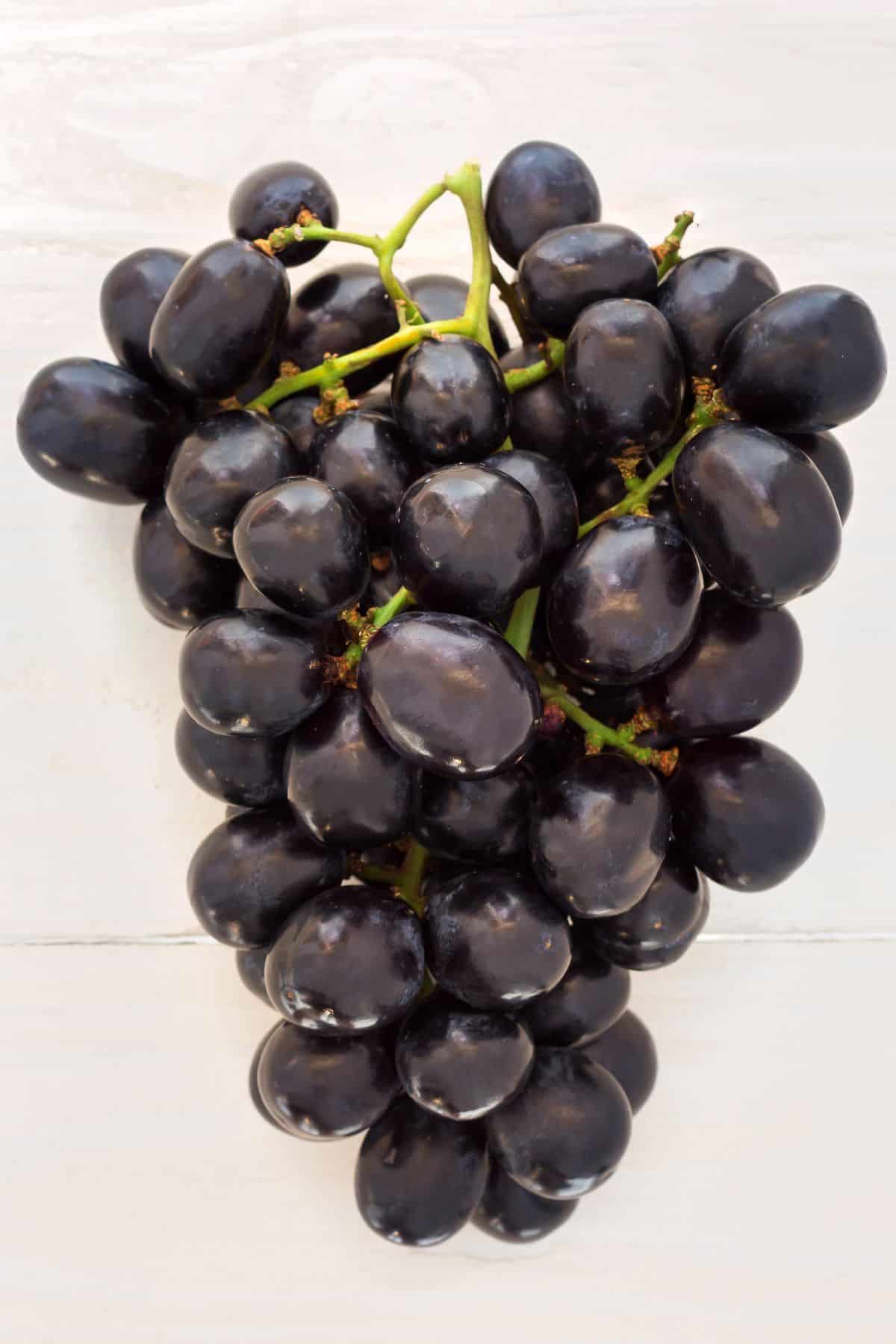 The grape world is diverse, with grape cultivars ranging from the popular Thompson Seedless, a green seedless variety, to the ever-reliable hybrid Concord grapes often used in jellies and juices.
In recent years, new varieties have emerged, such as Cotton Candy Grapes, which offer a sweet, carnival-like taste.
These new varieties are hybrid fruits that join the already rich list of table grapes available in fresh produce sections.
However, not all grapes are for snacking; wine grapes are cultivated specifically for wine-making, with each variety contributing its unique flavors and properties.
And let's not forget about wild grapes, which grow naturally and usually feature medium-sized clusters with hard seeds, making them distinctly different from their cultivated cousins.
Young vines may offer different nutritional content compared to more mature, vigorous vines. So, whether you're picking a red seedless grape or exploring other seedless grape varieties like the Thompson Seedless, understanding what you're consuming is crucial.
As you navigate the fresh produce aisle, pondering between the mild flavor of green grapes, the richness of red, or even the novelty of Cotton Candy and Concord grapes, remember each grape type provides its own health benefits and aligns differently with holistic nutrition.
This comprehensive guide aims to help you make informed choices that suit your lifestyle and health goals, offering a detailed look into the world of grapes—from seeded grapes to new varieties and everything in between.
The Rise of Seedless Varieties
The seedless grape variety has seen a meteoric rise in popularity, especially in the commercial fruit market. One of the key drivers is the elevated sugar content found in these grapes, which makes them more palatable to the average consumer. But how did seedless grapevines become so widespread, and what are the potential benefits or drawbacks?
In some cases, seedless grapes arise from a genetic error, where the seeds stop developing at an early stage. This "natural mutation" can be capitalized upon by growers, who then propagate these plants to produce seedless offspring, often coupling them with seedless parents to ensure the desirable traits are passed on.
Seedlessness in grapes isn't entirely a natural phenomenon; it's often the result of specific cultivation techniques or genetic modification. While the presence of seeds is natural in many varieties of table grapes, growers have developed different ways to produce grapes with underdeveloped seeds, also known as a vestigial seed.
One such method involves using gibberellic acid, a plant hormone that promotes large clusters and minimizes seed trace size.
One might wonder if using plant hormones can affect human hormones. More studies are needed to determine this. In fact, recent studies are showing that plant hormones can be pro-inflammatory in humans.
This is a concern because inflammation is at the root of many chronic diseases including heart disease, cancer, and auto-immune diseases.
There are some grapes that are seedless that have been found to be cold-resistant and fungal-resistant. This is occurring mostly from a method using embryo rescue.
Embryo rescue is a technique used in seedless grape cultivation where the immature embryo is extracted from the weak immature plant embryos and cultured in a lab to produce a viable plant. While this method allows for the propagation of seedless varieties, it raises concerns about genetic uniformity and potential vulnerability to pests and diseases.
In my opinion, excessive altering of natural methods rides a fine line between what may be healthy to consume or not. However, more studies are needed in order to fully understand the impact on human health.
Why the Focus on Seedless?
Well, beyond the high sugar content, seedless grapes are often less susceptible to fungal diseases and are cold resistant, which helps prevent crops from wasting from winter damage, offering another layer of potential benefits.
Additionally, another benefit lies in the obvious absence of hard or small seeds makes them easier to consume and integrate into various recipes.
However, it's essential to weigh these advantages against the absence of some nutritional elements naturally present in seeded grapes.
For instance, whole grape seeds are known to contain healthy fats and other nutrients that might be missing in seedless varieties.
The popularity of seedless grape varieties has undeniably changed the landscape of commercial fruit production. Their convenient, seed-free nature has made them a staple in households across the globe.
However, it's crucial to be informed about how these grapes are produced and the trade-offs involved, especially if you adhere to a lifestyle focused on natural and holistic nutrition.
Through this exploration, you'll gain a deeper understanding of the rise of seedless grape varieties, their cultivation techniques, and their place in the broader context of holistic health and nutrition.
Nutrition and Benefits of Grapes and Grape Seeds
Vitamins and Minerals
Grapes are a treasure trove of essential vitamins like Vitamin C and K, vital for immune function and blood clotting. They're also rich in minerals such as potassium and magnesium, which play a significant role in regulating blood flow and heart health.
Resveratrol: The Heart-Healthy Compound
Resveratrol is a key compound predominantly found in red grapes. It offers a positive effect on cardiovascular diseases and mitigates oxidative stress, reducing the risk of developing chronic disease.
Flavonoids, Phenolic Acids, and More: The Antioxidant Spectrum
Grapes are abundant in antioxidants like flavonoids, phenolic acids, anthocyanins, and stilbenes. These compounds combat oxidative stress, contributing to your overall well-being.
These powerful antioxidants also contribute to cardiovascular health, providing an extra layer of protection against diseases.
Grape Seeds: An Overlooked Nutritional Gem
Grape seeds shouldn't be disregarded. They contain proanthocyanidins known for their blood-thinning properties, improving blood flow and potentially reducing clot risks. Grape seeds also offer healthy fats and can be taken as a dietary supplement through grape seed extract.
Grape seed extract is typically acquired from the seeds of wine grapes. (Do not take if you are taking blood-thinning medications and always consult a doctor before use.)
Grape seed extract has gained popularity as a dietary supplement, containing a concentrated amount of proanthocyanidins and stilbenes. These components have strong antioxidant properties and have been linked to reducing symptoms of various cardiovascular diseases.
Terry Naturally Clinical OP...
Shop on Amazon
Holistic Health: Integrating Grapes into Your Nutrition Plan
Both grapes and their seeds offer a multitude of health benefits, making them valuable additions to any holistic nutrition plan. From enhancing cardiovascular health to fighting off oxidative stress, grapes provide a wide array of health advantages.
By diving deep into the nutritional profile of grapes and grape seeds, this guide aims to provide a comprehensive understanding of their role in promoting holistic health. Whether consumed as whole fruit, in extract form, or as resveratrol supplements, grapes offer various health benefits that align seamlessly with a holistic approach to nutrition.
Seedless vs Seeded Fruits
The appeal of seedless fruits, such as grapes and watermelons, is that they offer a seamless, smooth fruit texture, perfect for convenient and hassle-free eating.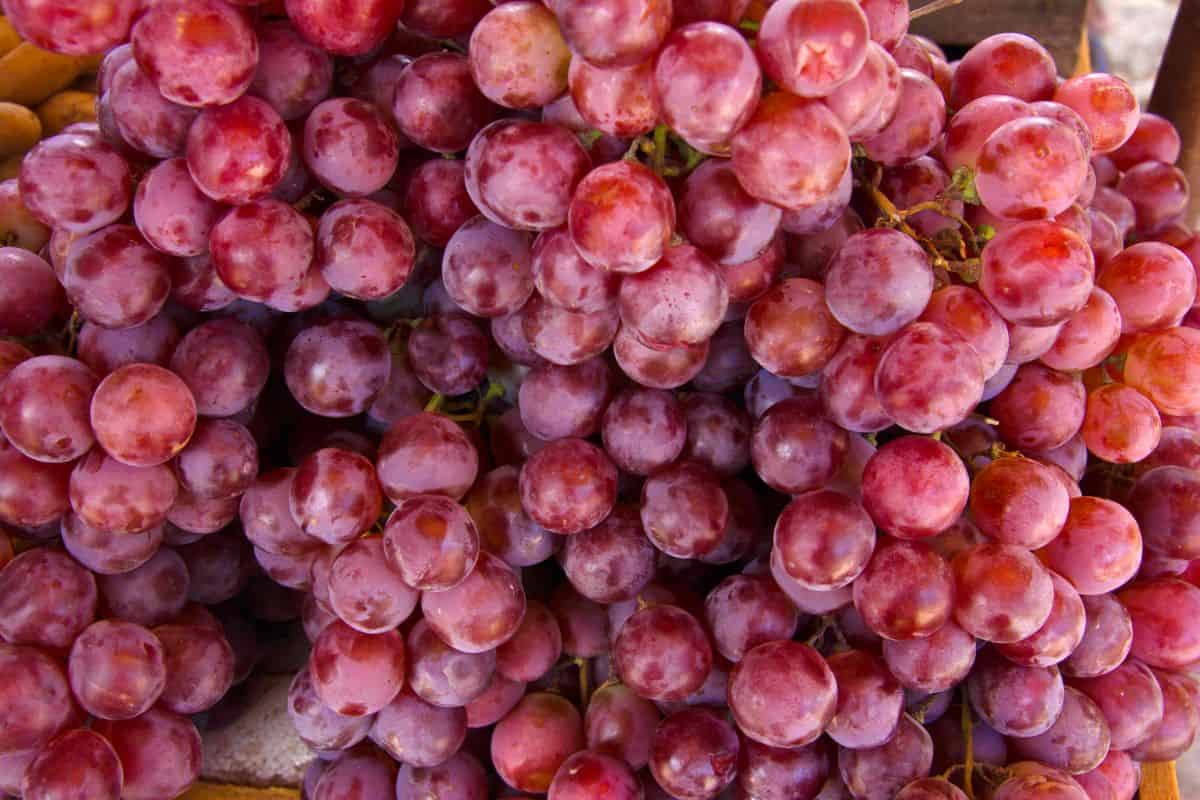 How Seedless Fruits Come to Be
Plant growth regulators or genetic modifications are commonly used to halt seed development, resulting in seedless cultivars like watermelons with only minimal seed remnants.
Taste Factors: Smooth Texture, Less Bitterness
Seedless varieties generally provide a consistent, juicy texture and avoid the bitter taste that can come from hard seeds in some fruits.
Ethical and Environmental Questions
The use of genetic modifications and chemical plant growth regulators in seedless fruit cultivation can raise sustainability and ethical concerns, particularly for those on a holistic health journey who prefer more naturally formed foods. The plant hormone regulators have been shown to be inflammatory in humans which may contribute to health concerns.
What Nutrients You Might Miss
Seedless fruits may lack the broader nutrient profile offered by their seeded counterparts, including beneficial elements like healthy fats and antioxidants.
How to Choose: Tips and Recommendations for Holistic Health
Check the Source
Always look at where the fruit is coming from. Opt for locally-sourced or organic fruits when possible to ensure fewer chemical interventions and a more natural growing process.
Read Labels Carefully
Pay attention to labels that might indicate whether a fruit has been genetically modified or treated with plant growth regulators, especially if you prefer naturally formed foods.
Other than learning the SKU numbers on produce, it may not be easy to tell if the foods have been modified as it is not required to be listed. Opting for organic, seeded fruits or growing your own fruit and vegetables in home gardens is the safest bet to ensure purity.
Seasonal Choices
Seasonal fruits not only tend to taste better but are also typically grown under more natural conditions. Check what's in season to make a holistically healthy choice.
Nutrient Profile
Consider the nutrient content of your choices. If you're leaning towards seedless for convenience, remember that you might miss out on some health benefits like antioxidants and healthy fats found in seeds, and potentially subject yourself unwittingly to processing and alterations that may not be healthy.
Ethical Considerations
If you're on a holistic health journey, you may also want to consider the environmental and ethical impact of your fruit choices. Look for fair-trade options or fruits that use sustainable farming practices.
Ask the Experts
Don't hesitate to consult with farmers or produce experts about the best options available, especially if you have specific health goals or ethical considerations in mind.
By keeping these tips and recommendations in mind, you can make well-rounded choices that align with your holistic health values, whether you're considering seedless watermelons, apple varieties, or any other type of fruit.
FAQ
Are seeded grapes healthier than seedless?
Seeded grapes are typically naturally occuring and packed with vitamins, nutrients, antioxidants, and healthy fats. Seedless grapes are mostly altered in order to make them sweeter and more desirable to the consumer. Some of the methods used to alter the plant hormones in order to minimize seeds in an otherwise naturally seeded fruit. This causes questions to arise as to how these hormones affect the human body. Furthermore, the seeds are packed with healthy fats and antioxidants, which can be nutritionally beneficial to the consumer.
Why do people prefer seeded grapes?
Grape lovers who prefer a sweet and sour balance, seeded grapes have more of that unique flavor than the seedless. Seedless grapes tend to be sweeter. The seeds in the grapes alot pack an incredible nutritional punch with antioxidants that have multiple health boosting properties.
Are seeded grapes sweeter?
While seeded grapes have a richer and more flavorful profile, seedless grapes tend to be sweeter and larger.
Conclusion
Choosing between seeded and seedless fruits is more than just a matter of taste or convenience; it's a decision that can impact your holistic health journey.
Whether you're considering the nutrient profile, ethical concerns, or just the plain joy of eating, each type of fruit offers its unique pros and cons.
We'd love to hear your thoughts on this seeded vs seedless grapes debate. Do you have a preference? What factors influence your choice? Please share your insights in the comments section below.
If you found this article helpful, we invite you to share it with your family and friends. Don't forget to sign up for our newsletter for the latest in holistic wellness tips, recipes, and more.
Be well,
Natalie