When it comes to seafood, halibut and salmon are two of the best choices available. These fish not only offer a delightful taste but also provide a plethora of health benefits. As seafood lovers, it's important to understand the differences between these two popular options. In this comprehensive article, we will explore the nutritional value, taste profiles, cooking methods, and the various benefits of incorporating these fish and how halibut vs salmon compare. Let's dive in and discover the wonders of these amazing fish.
Fish is a favorite in our household. Not only for the remarkable nutritional boost of lean protein and healthy fats but because they taste delicious (and all of our kids love seafood!) In terms of nutrition, you can add a fish oil supplement for your omega-3 needs or add 1-2 servings of fish per week for an anti-inflammatory boost.
Jump to:
Why We Love Fish
Fish is incredible for your brain, skin, heart health, and more! Halibut and Salmon are two of the tastiest fish around. Our family loves the famous Alaska salmon, also known as Sockeye Salmon, Halibut, Mahi Mahi, Cod, Albacore Tuna, Flounder, Pollock, Shrimp, and more. We make fresh fish filets, fish tacos, tuna salad, and many more delicious seafood dishes. We grill, bake, fry, and sear our fish.
There are so many ways to enjoy each different kind of fish. Two of the best fish to choose from for your next Fish Friday are Salmon and Halibut. Be sure to remember that in order to maintain the anti-inflammatory superfood benefits of these fish, always choose wild-caught fish. We will cover the benefits, cooking methods, taste and texture differences, and how to buy the best fish in this article. We even have some recipes to try! Check it out!
What is Halibut?
​Halibut is a type of flatfish that belongs to the family of right-eye flounders (Pleuronectidae). This saltwater fish is known for its distinctive diamond-shaped body, which is flat and asymmetrical.
Halibut is a large fish that is found in both the North Atlantic and Northern Pacific Ocean and is highly valued for its mild flavor and firm, flaky texture. It is considered one of the biggest fish, especially of the flatfish variety. Some individuals reach impressive sizes of over 8 feet in length and weigh several hundred pounds.
Halibut is a popular fish among seafood lovers and is prized for its versatility in various culinary preparations.
Alaskan Halibut vs Atlantic Halibut
​Alaskan halibut and Atlantic halibut have distinct differences. Alaskan halibut is sourced from the North Pacific Ocean, while Atlantic halibut is found in the North Atlantic Ocean. Halibut from Alaska tends to be larger in size, reaching impressive lengths and weights, whereas Atlantic halibut is generally a smaller fish.
Alaska halibut is more readily available in seafood markets and restaurants, known for its premium quality and sought-after flavor.
Atlantic halibut, however, is less common due to population decline and overfishing. In terms of flavor and texture, both varieties offer a delicate, slightly sweet taste with a firm texture.
What is Salmon?
​Salmon is a type of fish that belongs to the family Salmonidae and is well-known for its vibrant pink flesh and distinct flavor. It is native to the Northern Hemisphere and is found in both freshwater and saltwater environments, depending on the species. Salmon are anadromous fish, which means they are born in freshwater, migrate to the ocean to mature, and return to freshwater to reproduce.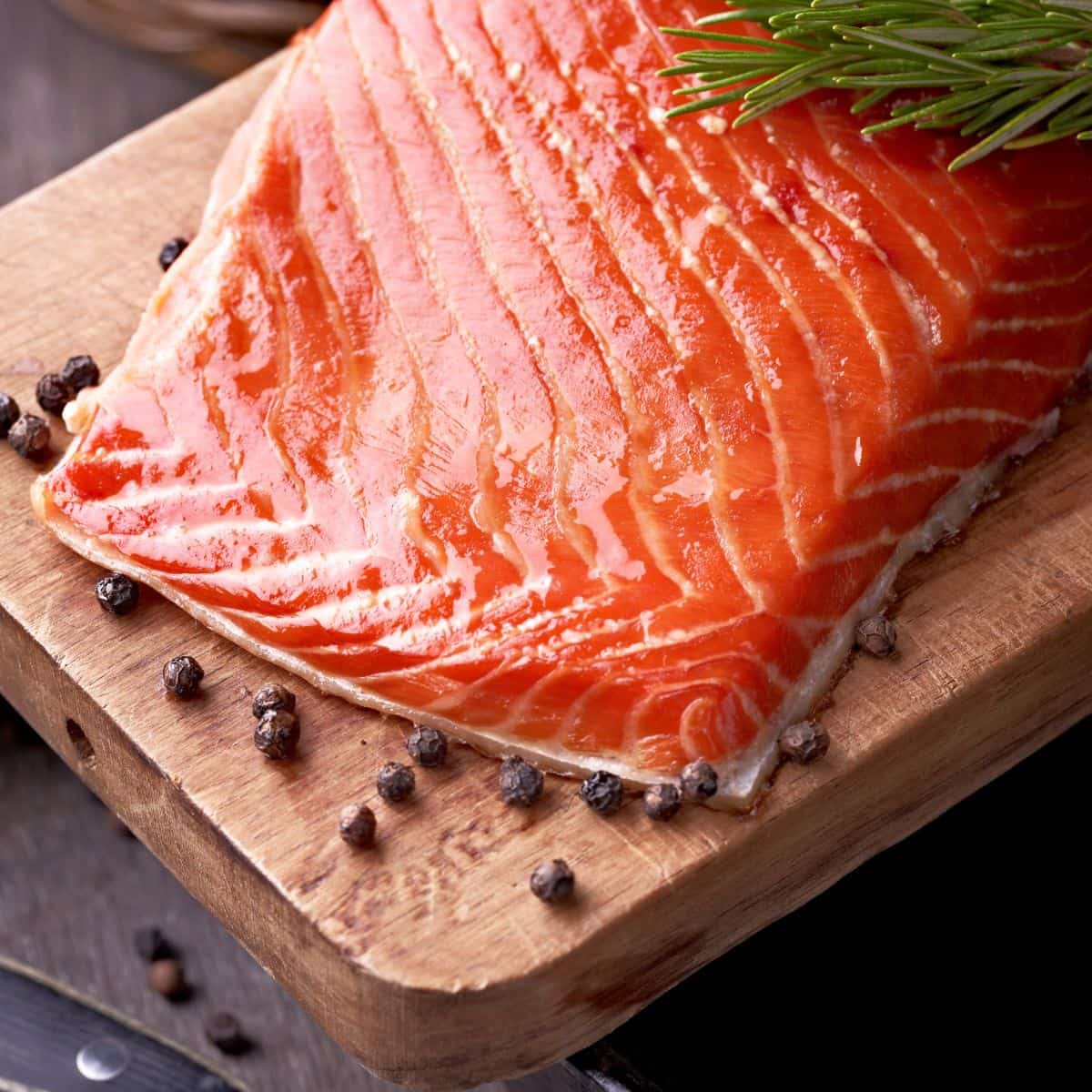 There are several different species of salmon, including the Atlantic salmon and various Pacific salmon species such as Chinook (also known as king salmon), Sockeye (also known as red salmon), Coho (also known as silver salmon), Pink, and Chum salmon. Each species has its own unique characteristics, but they generally share a rich, oily flesh that contributes to their distinctive flavor.
Sockeye is one of the most popular salmon species and is most commonly found in the Gulf of Alaska.
Salmon is highly regarded for its exceptional nutritional profile. It is an excellent source of high-quality protein, vitamins, and minerals. Additionally, salmon is renowned for its abundance of omega-3 fatty acids, particularly EPA (eicosapentaenoic acid) and DHA (docosahexaenoic acid), which are beneficial for heart health, brain function, and overall well-being.
Due to its delicious taste and nutritional benefits, salmon is widely enjoyed and is a popular choice among seafood enthusiasts. It can be prepared using various cooking methods, including grilling, baking, broiling, poaching, or even consumed raw in sushi and sashimi dishes.
It's important to note that when purchasing salmon, opting for wild-caught varieties is often recommended for their superior taste and nutritional value. Additionally, sustainable fishing practices are crucial to ensure the long-term viability of salmon populations and protect the marine ecosystems they inhabit.
Halibut and Salmon Differences
​Halibut and salmon have distinct differences in terms of appearance, flavor, texture, habitat, and nutritional profiles. Halibut features a flat diamond-shaped body with both eyes on one side, while salmon has a streamlined body and vibrant coloration.
In terms of taste, halibut offers a mild, delicate flavor with a slight sweetness and a firm, lean texture. On the other hand, salmon has a rich, distinctive taste that can range from mild to robust, along with a moist and oily texture.
Halibut primarily inhabits the North Atlantic and North Pacific Oceans, while salmon has a broader distribution in both the North Atlantic and North Pacific.
Halibut is often found in sandy or muddy ocean bottoms, while salmon spends part of its life in freshwater rivers and streams before migrating to the ocean.
From a nutritional perspective, halibut is a lean fish and a good source of protein, vitamin B12, vitamin D, selenium, and potassium.
Salmon is renowned for its high omega-3 fatty acid content, particularly EPA and DHA, along with protein, vitamin D, vitamin B12, selenium, and potassium.
In terms of culinary uses, halibut's firm texture makes it suitable for grilling, baking, broiling, or pan-searing, while salmon is incredibly versatile and can be prepared through grilling, baking, poaching, or enjoyed raw in sushi and sashimi dishes.
These differences make halibut and salmon unique choices for seafood enthusiasts. Whether you prefer the mild and lean qualities of halibut or the rich and oily characteristics of salmon, both fish offer distinct flavors, textures, and nutritional benefits.
Taste and Texture Comparisons
Halibut, especially Pacific halibut, boasts a mild flavor that appeals to many palates. Its flesh is firm and dense, making it an excellent choice for those who prefer a substantial texture in their fish dishes.
Salmon, available in various species such as pink salmon, sockeye salmon, and Atlantic salmon, offers a distinctive taste that is rich, flavorful, and slightly buttery. Its texture is moist and tender, making it a favorite among seafood enthusiasts.
Nutritional Facts:
Halibut's Nutritional Profile
Pacific halibut is a nutrient-dense fish that provides an array of essential vitamins and minerals. It is a great source of high-quality protein, omega-3 fatty acids, vitamin B, potassium, and magnesium. Halibut is also low in calories and contains minimal saturated fat.
Salmon's Nutritional Profile
​Salmon is renowned as one of the healthiest fish choices available. It is rich in omega-3 fatty acids, particularly EPA and DHA, which are essential for brain health and reducing the risk of cardiovascular diseases. Salmon is also a great source of protein, vitamin B, potassium, and selenium.
Comparing Vitamin B Content
​Both halibut and salmon are excellent sources of vitamin B, which plays a vital role in energy production, brain function, and cell metabolism. Vitamin B12, in particular, is abundant in these fish, making them a valuable addition to a well-rounded diet.
Potassium Content
Potassium is an essential mineral that supports various bodily functions, including heart health and muscle contractions. Both halibut and salmon provide a good source of potassium, contributing to a balanced diet and a healthy cardiovascular system.
Omega-3 Fats
Salmon is particularly renowned for its high levels of omega-3 fatty acids. These healthy fats have been associated with numerous health benefits, including reducing inflammation, improving brain function, and supporting heart health.
Here's a table comparing the nutrition facts for halibut and salmon:
| Nutrient | Halibut (100g) | Salmon (100g) |
| --- | --- | --- |
| Calories | 91 | 206 |
| Protein | 18.7g | 22g |
| Fat | 1.9g | 13g |
| Omega-3 Fatty Acids | 0.4g | 2.6g |
| Vitamin D | 12.6 IU | 524 IU |
| Vitamin B12 | 2.8 mcg | 2.4 mcg |
| Selenium | 31.3 mcg | 40.5 mcg |
| Potassium | 490 mg | 363 mg |
| Iron | 0.5 mg | 0.5 mg |
| Calcium | 6 mg | 13 mg |
| Magnesium | 34 mg | 26 mg |
Please note that these values are approximate and can vary depending on the specific species and cooking methods used.
Health Benefits:
Cardiovascular Health:
The omega-3 fatty acids found in both halibut and salmon have been widely recognized for their positive impact on cardiovascular health. These fats help reduce inflammation, lower blood pressure, and decrease the risk of heart disease and stroke.
Brain Function and Nervous System Support:
Omega-3 fatty acids, especially DHA, play a crucial role in brain health and the proper functioning of the nervous system. Regular consumption of halibut and salmon can contribute to improved cognitive function, memory, and mood regulation.
Weight Loss and Management:
Both halibut and salmon are excellent sources of lean protein, which is essential for maintaining muscle mass, supporting satiety, and promoting weight loss. Including these fish in a balanced diet can aid in achieving and maintaining a healthy weight.
Other Nutritional Benefits of Halibut and Salmon:
In addition to their protein, omega-3 fats, and vitamin B content, halibut and salmon provide a range of other essential nutrients. These include selenium, a powerful antioxidant that supports the immune system, and magnesium, which is crucial for bone health and energy production.
Cooking Versatility
Halibut: Halibut's firm texture makes it suitable for various cooking methods. Halibut cooks well grilled, baked, broiled, or pan-seared to perfection. Halibut's mild flavor pairs well with a variety of seasonings, herbs, and sauces, allowing for culinary creativity.
Salmon: Salmon's versatile nature lends itself to a wide array of cooking techniques. It can be grilled, baked, poached, or even enjoyed raw in sushi and sashimi preparations. Its rich flavor pairs well with citrus-based marinades, dill-infused sauces, or simple seasoning with salt and pepper.
Availability and Cost Considerations
The availability and cost of halibut and salmon can vary depending on factors such as location, seasonality, and market demand. It's advisable to check with your local grocery store or fish market to find the most up-to-date information on availability and pricing.
Halibut vs Salmon Cost Comparisons
Halibut is generally considered a higher-priced fish due to its popularity and limited availability. On the other hand, salmon tends to be more widely available, making it a more budget-friendly option. It's worth noting that prices can fluctuate based on the specific species, location, and whether it's wild-caught or farmed.
Mercury Levels and Sustainability
​Mercury is a naturally occurring element that can be found in varying amounts in certain fish species. While both halibut and salmon are generally considered low in mercury, it's essential to be mindful of consumption guidelines, especially for pregnant women and young children.
Sustainable Fishing Practices and Environmental Considerations
When choosing fish, considering sustainability is crucial to preserve marine ecosystems. The Monterey Bay Aquarium's Seafood Watch and the Environmental Defense Fund provide valuable resources to help consumers make informed choices regarding sustainable seafood options.
Wild-Caught vs Farmed Fish
​It is important to buy wild-caught halibut and salmon for several reasons.
Nutritional Value: Wild-caught fish, including halibut and salmon, tend to have a higher nutritional value compared to their farmed counterparts. Wild-caught fish often have a more diverse diet, which contributes to a broader range of nutrients in their flesh. They also tend to have higher levels of omega-3 fatty acids, which are beneficial for heart health, brain function, and reducing inflammation.
Environmental Impact: Wild-caught fishing, when practiced sustainably, has a lower environmental impact compared to fish farming. Wild fish populations are an integral part of marine ecosystems, and sustainable fishing practices help maintain the delicate balance of these ecosystems. Overfishing and improper fish farming practices, on the other hand, can harm the environment, contribute to pollution, and deplete natural fish populations.
Contaminants and Chemicals: Farmed fish, including some varieties of farmed salmon, can be exposed to antibiotics, pesticides, and other chemicals used in fish farming. These substances can accumulate in the flesh of farmed fish and may pose health risks when consumed in large quantities. Wild-caught fish, on the other hand, are less likely to be exposed to such contaminants.
Omega-3 to Omega-6 Ratio: Wild-caught fish, such as salmon, have a more balanced ratio of omega-3 to omega-6 fatty acids. Omega-3 fatty acids have anti-inflammatory properties, while omega-6 fatty acids, when consumed in excess, can promote inflammation. Farm-raised fish are often fed diets that are higher in omega-6 fatty acids, which can disrupt the natural balance of these essential fatty acids.
Dangers of Farmed Fish
Disease and Parasites: In crowded fish farm conditions, diseases can spread more easily, leading to the use of antibiotics and other medications to control infections. Parasites such as sea lice can also thrive in fish farm environments and can pose risks to both farmed and wild fish populations.
Environmental Pollution: Fish farms generate waste, including uneaten feed and fish excrement, which can lead to pollution in surrounding waters. Excessive nutrient release can contribute to algal blooms, oxygen depletion, and harm other marine organisms.
Genetic Modification: Some farmed fish may be genetically modified to enhance growth rates or other desirable traits. The long-term impacts of consuming genetically modified fish are still a subject of ongoing research and debate.
Buying wild-caught halibut and salmon supports sustainable fishing practices, ensures higher nutritional value, and reduces the potential risks associated with contaminants and chemicals often found in farmed fish. It also promotes the preservation of natural fish populations and helps protect the marine environment.
Making the Best Choice
Choosing between halibut and salmon ultimately depends on various factors. Consider your nutritional needs, preferences in taste and texture, environmental impact, cost, and any dietary restrictions when making your decision. They both offer incredible amounts of nutrition and taste delicious. Consulting with a nutritionist or healthcare professional can provide personalized guidance based on your specific needs.
We love to incorporate various fish on rotation, in our family. For cost reasons, we will choose the more expensive varieties once in a while or for a special occasion.
Tips for Choosing the Best Halibut and Salmon:
To ensure the best quality and freshness, consider the following tips:
Look for wild-caught halibut and salmon, as they generally have higher nutritional value.
Check for reputable certifications such as Marine Stewardship Council (MSC) or Alaska Seafood.
Purchase from trusted sources, such as local fish markets or reliable grocery stores that are known for their fresh seafood.
Conclusion
​The comparison between halibut and salmon reveals two exceptional fish with distinct characteristics. Halibut impresses with its mild flavor, firm texture, and versatility in various cooking methods. On the other hand, salmon delights with its rich taste, tender texture, and abundant omega-3 fatty acids. Both fish offer unique nutritional benefits, making them valuable additions to a healthy diet.
Whether you prefer the delicate and lean qualities of halibut or the bold and nutritious profile of salmon, incorporating these seafood options into your meals can elevate your culinary experiences and support your well-being.
So, which fish will you choose for your next seafood feast? Share your thoughts and favorite recipes in the comments below!