Curious about how often should you drink soursop tea? You're not alone. This traditional medicine, made from the leaves of soursop plants, has gained tremendous attention in recent years. Known for its potent anti-inflammatory properties, immune system support, and potential benefits in cancer treatment, soursop leaf tea is much more than just a refreshing beverage. In fact, there are a whole host of other benefits!
To get straight to the answer- typically people drink a cup of soursop tea at least once a day, but up to 3 cups, depending on your needs and personal tolerance.
As a holistic nutrition specialist, I'm here to delve into the ideal frequency for sipping this nutritional powerhouse, and how it can align with a healthy diet. Whether you're targeting weight loss or striving to regulate blood sugar levels, this medicinal tea has a spectrum of uses that can complement your wellness journey.
So, let's break down the science-backed benefits of soursop (aka Graviola tea) and soursop extract to provide you with a comprehensive guide that goes above and beyond what's commonly available online.
Disclaimer: The information provided in this article is not intended to replace medical advice. Consult your healthcare provider before making any changes to your personal healthcare regimen.
​
Jump to:
What is Soursop?
Soursop, with the scientific name Annona muricata, is a fruit-bearing tree native to South America and Southeast Asia. It's a cornerstone in herbal medicines, particularly famous for its leaves, which are the primary source for soursop leaf extracts and Graviola tea.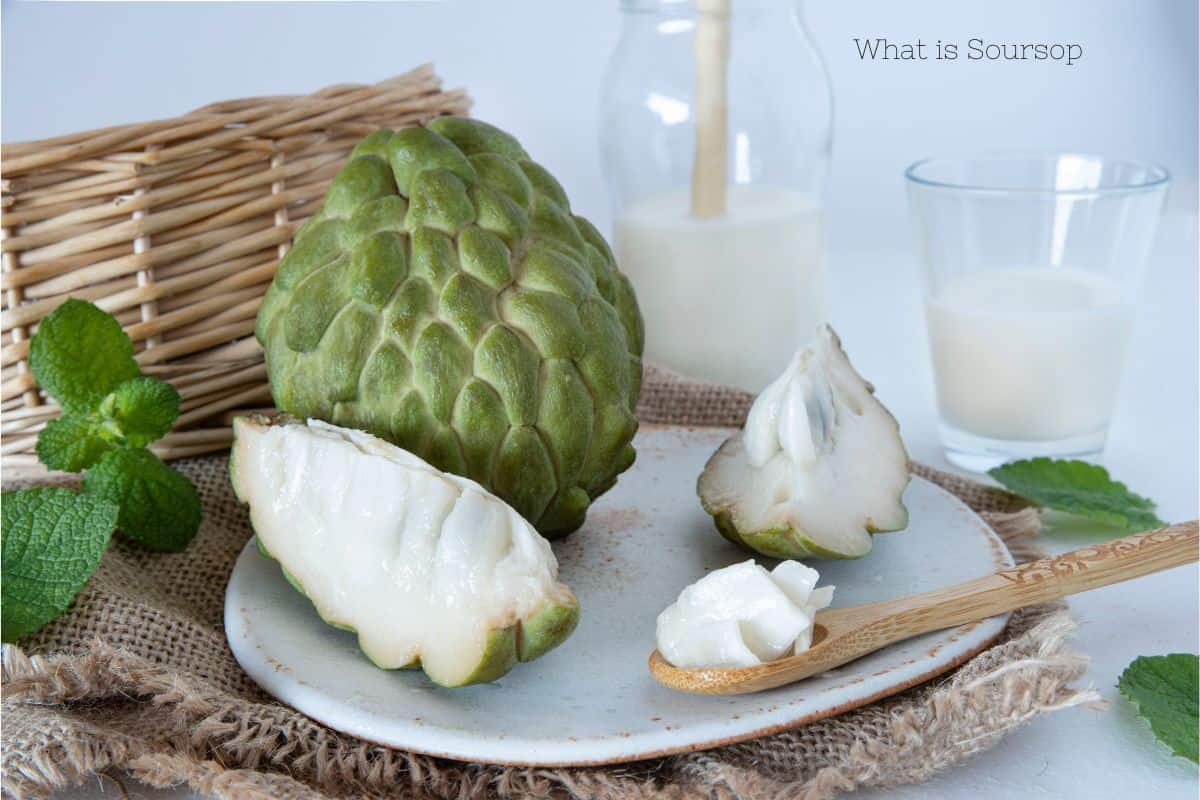 Unlike traditional green tea or black tea, soursop tea is derived from the leaves of the soursop plant and is rich in active ingredients that contribute to its wide array of nutritional benefits.
Compared to other herbal teas, soursop stands out not just for its unique taste but also for its potent health-enhancing properties. The Graviola tree, as it's commonly known in various cultures, offers more than just delicious fruit; it provides herbal solutions that have been trusted for generations.
Whether you're an aficionado of herbal tea or new to the wellness scene, learning about natural remedies like soursop is an amazing resource to have on hand for its potential health benefits.
Originating from the tropical regions of the Americas and other continents, this miraculous plant has transcended borders to become a global staple in natural health.
In essence, soursop provides a treasure trove of antioxidant properties that not only elevate its standing among herbal medicines and alternative treatments but also position it as a versatile addition to a nutritionally balanced diet and lifestyle.
Let's delve into the science-backed benefits of soursop tea and how it's taking the wellness industry by storm.
Benefits of Soursop
Soursop is more than just a trendy herbal supplement; its vast array of health benefits has been corroborated by numerous research studies, making it a natural remedy for a range of health conditions.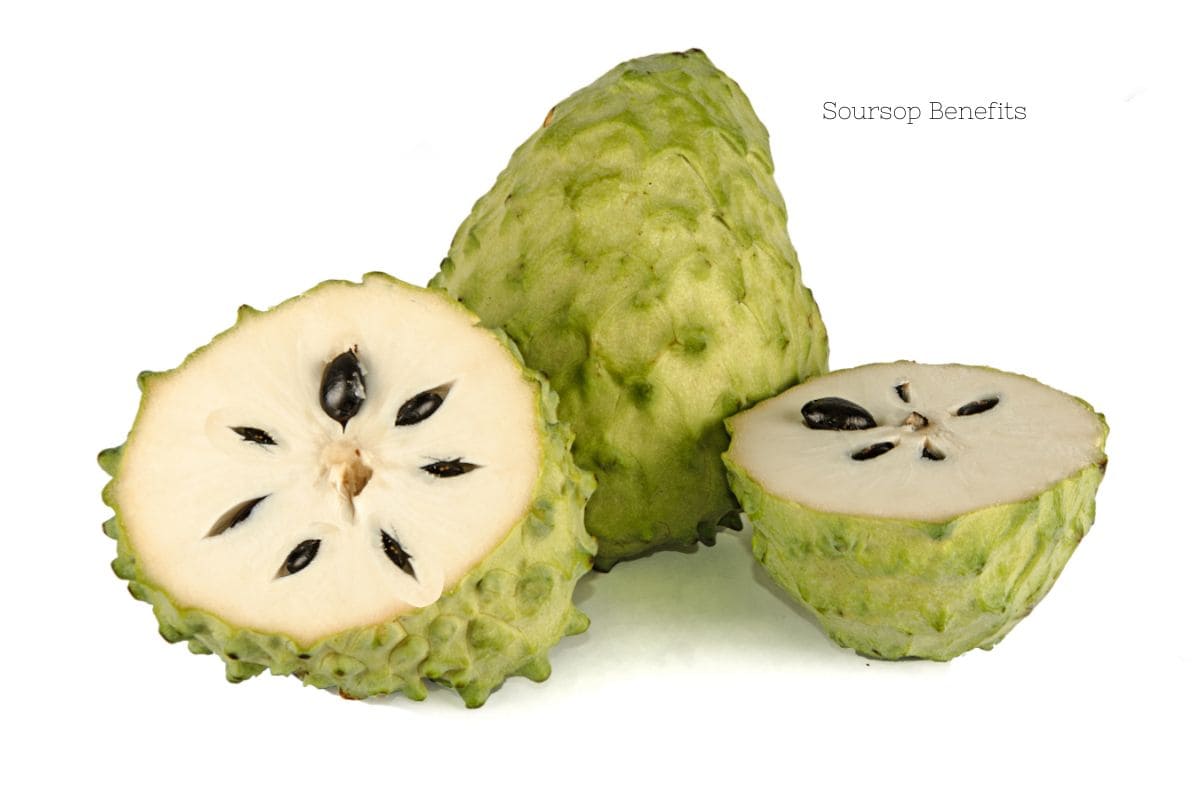 One of the standout features of soursop leaves is their rich content of annonaceous acetogenins, active compounds known for their potent anticancer properties.
Recent studies, including those from reputable organizations like the Memorial Sloan Kettering Cancer Center, suggest that these compounds may be effective against various types of cancer, including colorectal cancer, prostate cancer, pancreatic cancer, and one study particularly which shrinks breast cancer cells.
But the benefits and potency of soursop leaves don't stop at cancer treatment. These miraculous leaves have been shown to boost the immune system, aiding in the body's fight against free radicals and parasitic infections.
High levels of Vitamin C in soursop also contribute to overall health and serve as an ally against common ailments like colds and flu.
When it comes to heart health, soursop offers promising benefits as well. The leaves of the soursop fruit tree have been traditionally used to manage high blood pressure and reduce LDL (bad cholesterol) thus reducing the risk of heart disease.
Additionally, improved blood circulation is another noteworthy benefit from the relaxation of blood vessels, especially relevant to those battling cardiovascular issues.
Weight loss is another area where Soursop shines. In studies conducted on obese mice, soursop leaf extracts were found to effectively reduce body weight, validating its role in weight management.
The impact on blood glucose levels also makes Soursop a beneficial addition for those looking to control diabetes.
The plant also shows promise in benefiting inflammatory conditions like rheumatoid arthritis. It has also been studied for its effect on the herpes simplex virus. While further studies are needed to confirm its efficacy in the United States and globally, the existing body of work is optimistic.
In summary, whether it's through graviola extract or a steaming cup of soursop tea, the incorporation of soursop into your daily routine could offer a holistic approach to tackling a range of health issues, from cancer and heart disease to weight loss and blood glucose management.
Be sure to always discuss any changes or additions to your care with a qualified healthcare professional, especially if you are taking medications or under care for specific medical conditions.
​
Soursop Tea Nutritional Facts
Below is a table that outlines the nutritional content of soursop tea per 8-ounce cup. Please note that the values may vary depending on factors such as brand, quality, and brewing time.
| Nutrient | Amount (Approx.) | % Daily Value (Approx.) |
| --- | --- | --- |
| Calories | 10 | - |
| Total Fat | 0g | 0% |
| Saturated Fat | 0g | 0% |
| Cholesterol | 0mg | 0% |
| Sodium | 5mg | <1% |
| Total Carbohydrates | 2g | <1% |
| Dietary Fiber | 0g | 0% |
| Sugars | 1g | - |
| Protein | 0g | 0% |
| Vitamin A | 0IU | 0% |
| Vitamin C | 10mg | 11% |
| Calcium | 10mg | 1% |
| Iron | 0mg | 0% |
| Polyphenols | 200-300mg | - |
| Annonaceous Acetogenins | Varies | - |
How Often to Drink Soursop Tea (And For How Long)
If you're curious about incorporating soursop tea into your wellness routine, it's wise to start slow. Begin with one cup per day in the morning, and take note of how your body reacts. A good practice is to keep a wellness journal on your feelings and any noticeable effects.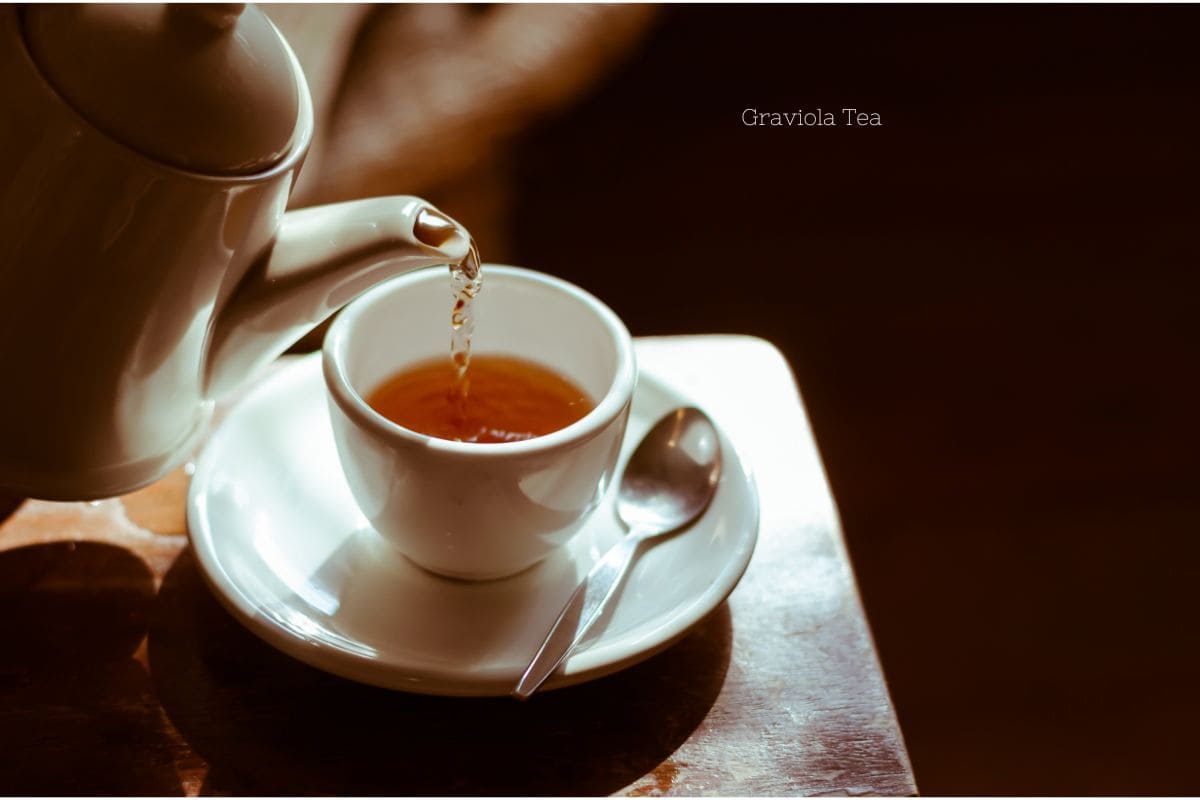 After a couple of weeks, if you find the tea agrees with you, consider increasing it to two cups per day. Wait another week or so, continuing to journal your experiences, before making any further changes. Every 30 days, it is also advisable to take a weeklong break and then resume again, if desired.
Research indicates that for the short term up to 3 times per day, soursop tea is generally well-tolerated. However, individual responses can vary, and continued research is needed for definitive on dosage recommendations.
Therefore, it's important to listen to your body and consult a healthcare professional for personalized guidance.
Another important point is to ensure you're sourcing your soursop leaves or tea from reputable sources to avoid contaminants.
Given the potential side effects, especially with long-term use, it's advisable to use soursop tea for short periods and to always consult with a healthcare provider for tailored advice, particularly if you're considering it as a complementary treatment for serious health conditions.
Side Effects and Precautions
As we have discovered, soursop offers an array of health benefits, but it's essential to be aware of its potential side effects, especially with long-term use.
Studies have indicated that consuming large amounts of soursop tea or soursop juice can lead to adverse effects, including movement disorders and symptoms similar to Parkinson's disease.
This is particularly crucial for individuals who already have movement disorders or are at risk for Parkinson's disease.
Human studies on the toxic effects of soursop are limited but growing. However, it's clear that moderation is key. Excessive intake of soursop supplements may result in other adverse effects, reinforcing the need for caution and proper guidance.
This is especially so since herbal supplements are only loosely regulated.
Given the potential for side effects and the seriousness of certain health conditions like cancer and diabetes, it's crucial to consult healthcare professionals before integrating soursop into your regimen.
If you're considering using this plant as a complementary or alternative treatment, we recommend speaking to a functional medical doctor or a licensed naturopathic medicine doctor. They can provide tailored advice and monitor for any potential adverse effects.
For those interested in harnessing the benefits of soursop, it is best intended for short-term use and should be administered under the care of a qualified healthcare provider, particularly when it comes to serious conditions.
Disclaimer: The information provided in this section is not intended to replace medical advice. Consult a healthcare professional before making any changes to your personal healthcare regimen.
Ways to Consume Soursop
Diversifying how you incorporate soursop into your wellness routine can make the experience both enjoyable and beneficial. Here are some popular methods:
Soursop Tea: A classic, steep the leaves in hot water for a soothing cup. Ideal for daily consumption in moderate amounts.
Soursop Juice: Made from fruit pulp, it's a refreshing beverage that can also be used in smoothies.
Soursop Extract: Available as tinctures or capsules, these can be a more concentrated way to reap the plant's benefits.
Graviola Leaf Extract Liqui...
Shop on Amazon
Fresh Fruit: Eat it raw or add it to salads and desserts for a tropical twist.
Giant Soursop Seeds Annona ...
Shop on Amazon
Topical Application: Soursop leaf extracts are sometimes found in skincare products for their anti-viral and anti-inflammatory properties.
Best Nature's Cosmetics Vir...
Shop on Amazon
Soursop Smoothies: Blend the fruit with other superfoods for a nutrient-packed meal on the go.
Cooking: The leaves and fruit can be used in various culinary dishes, although heat may reduce some nutritional benefits.
Powdered Form: Soursop powder can be added to food and drinks for an easy nutrient boost.
FreshlyDried Pure Soursop (...
Shop on Amazon
Remember, consult a healthcare professional before introducing soursop into your regimen, especially in concentrated forms like extracts or supplements.
Is it OK to drink soursop tea daily?
In most cases, soursop tea is wel tolerated and generally beneficially. However, caution should be taken if you are pregnant, nursing, taking certain medications, have Parkinson's disease, or low blood pressure. Due to the potency of this herbal tes and potential for toxicity, it is advisable to take a weeklong break every 4 weeks or so.
Can you drink too much soursop tea?
Studies have shown the answer is yes. It is possible to consume too much soursop tea, fruit, or extract. After consulting with a doctor, take it easy and start slow. Drinking one cup a day in the morning, take note of how you feel. after several days, consider adding a second cup. Be sure to take regular breaks. When consuming too much soursop for too long, some people have developed neurological symptoms.
Is soursop a laxative?
Soursop may have gentle laxative effects, especially the fruit. It has been helpful for some who suffer from both constipation and diarrhea.
Conclusion
We hope this comprehensive guide has answered your burning question: "How often should you drink soursop tea?" We'd love to hear about your own experiences and insights on this fascinating herbal remedy.
We'd love it if you would share your journey and experiences in the comments below. If you found this information valuable, don't forget to subscribe for more tips on living a vibrant, healthy lifestyle. Your support helps us continue to bring you top-notch, research-based content on natural health and wellness.
Be well,
Natalie