Sprouted quinoa vs. regular quinoa: What sets them apart? When it comes to this versatile and nutritious grain, sprouted quinoa offers enhanced nutritional value and improved digestibility compared to regular quinoa. The sprouting process activates enzymes, increases nutrient availability, and brings about changes in taste and texture. In this article, we'll delve into the fascinating differences between sprouted quinoa and regular quinoa, highlighting the benefits of incorporating sprouted quinoa into your diet.
When I learned about the benefits of quinoa, I began finding ways to incorporate it into my diet. My family loves quinoa! It really is so versatile and beneficial. As a health coach, I highly recommend quinoa as a healthy grain alternative. Moreover, it is essential for me to share the necessity of soaking and sprouting quinoa (Along with most nuts, seeds, legumes, and grains). This crucial process ensures you are removing the phytic acid, an anti-nutrient and enzyme inhibitor, and getting all of the incredible benefits that quinoa has to offer.
This article is designed for informational purposes only. As a Holistic Nutrition Specialist, I follow trends in nutritional studies and intend to share information to help one become an active participant in their own unique health journey. Always remember, before making any changes to your healthcare routine, be sure to discuss them with a qualified physician.
Jump to:
What is Quinoa?
Quinoa (pronounced keen-wah) is a versatile, gluten-free grain-like seed that originates from the Andean region of South America. It has been cultivated for thousands of years and was considered a sacred crop by the ancient Incas. Interestingly, quinoa belongs to the Chenopodium family, which also includes spinach, beets, and Swiss chard.
One of the remarkable aspects of quinoa is its adaptability in various culinary preparations. It has a mild, slightly nutty flavor and a light, fluffy texture when cooked. Quinoa can be used as a versatile alternative to grains like rice or couscous. It can be incorporated into salads, soups, stir-fries, and even used as a filling for stuffed vegetables. Check out one of our favorite quinoa recipes, Pesto Chicken Quinoa Bowl and Buffalo Ground Turkey Quinoa Bowl.
Quinoa flour and flakes are also available for baking and as a gluten-free option for porridge or breakfast cereals.
In recent years, quinoa has gained immense popularity due to its numerous health benefits and versatility in the kitchen. It is considered a superfood and has become a staple ingredient for those seeking nutritious, plant-based foods. Whether you're looking to boost your protein intake, enhance your overall nutritional profile, or simply enjoy a delicious and wholesome grain substitute, quinoa is an excellent choice to incorporate into your diet.
Quinoa is found in health food stores and grocery stores in the aisle with other traditional grains.
Health Benefits of Quinoa
Quinoa is highly regarded for its exceptional nutritional profile. There have been promising studies done on the health benefits of quinoa. It is a protein-rich food, with all of the 9 essential amino acids. Amino acids are the building blocks of proteins. This makes quinoa a valuable food for vegetarians, vegans, and individuals looking to increase their protein intake.
Additionally, quinoa is a rich source of antioxidants, dietary fiber, vitamins (such as vitamin B complex and vitamin E), and minerals (including magnesium, iron, phosphorus, and zinc).
One of the remarkable aspects of quinoa is its impressive nutrient profile. It is a good source of antioxidants such as quercetin and kaempferol. Antioxidants help protect the body against oxidative stress and reduce the risk of chronic diseases.
Quinoa is also a good source of dietary fiber, providing digestive support and promoting regular bowel movements.
Furthermore, quinoa is packed with essential minerals like magnesium, phosphorus, manganese, and zinc. These minerals play a crucial role in supporting bone health, energy metabolism, antioxidant defense, and immune function.
Moreover, quinoa is known for its low glycemic index, which means it has a minimal impact on blood sugar levels. This makes it an excellent option for individuals aiming to regulate their blood sugar levels, including those with diabetes. Because it is gluten-free, it makes a great addition for those with gluten sensitivities and celiac disease.
In terms of heart health, the fiber content in quinoa aids in reducing cholesterol levels, while its magnesium content supports healthy blood pressure levels.
Antioxidants found in quinoa contribute to reducing inflammation, which is beneficial for cardiovascular health.
The combination of high protein and fiber content in quinoa also supports weight management by promoting satiety, reducing hunger cravings, and helping maintain a healthy weight.
Health Benefits of Sprouted Quinoa
Sprouted quinoa is simply quinoa seeds that have been soaked (germinated or sprouted). During this germination process, the quinoa undergoes a series of biochemical changes that enhance its nutrient content and make it easier for our bodies to digest. Here are more extensive scientific information and studies related to the importance of removing saponins from quinoa.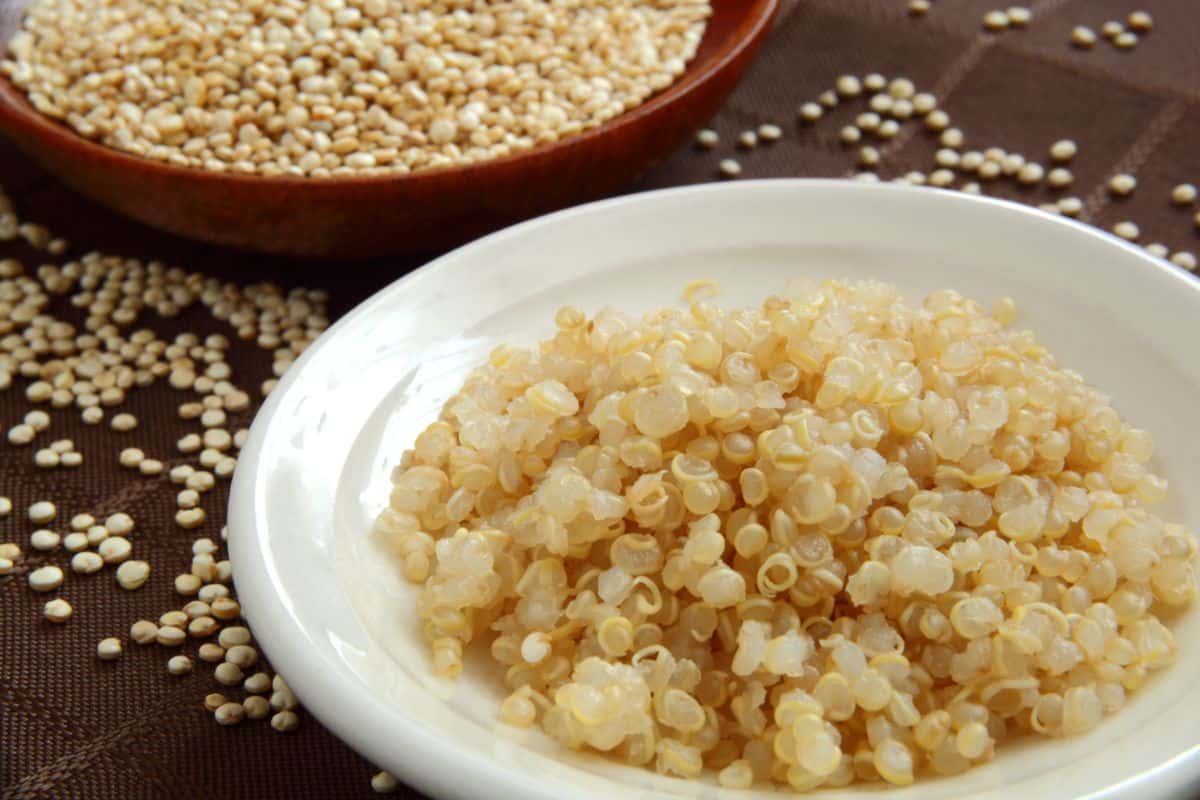 The sprouting process involves soaking the quinoa seeds, allowing them to sprout and then gently drying them (if you are not going to cook them right away). Here are the top benefits of consuming sprouted grains like quinoa:
Improved Nutrient Bioavailability: Sprouting quinoa increases its nutrient bioavailability. The process of soaking grains breaks down and lowers the level of phytic acid. This anti-nutrient can interfere with the absorption of vitamins and minerals like iron, calcium, and zinc. By sprouting quinoa, you can enhance your body's ability to absorb these essential nutrients, ensuring that you get the maximum benefit from your meals.
Increased Enzyme Activity: Enzymes are vital for proper digestion and nutrient absorption. Sprouting quinoa activates enzymes, making it easier for your body to break down and absorb nutrients. This can improve overall digestion and alleviate digestive issues such as bloating and gas.
Enhanced Protein Content: Quinoa is already recognized as a complete protein source, containing all nine essential amino acids. However, sprouting quinoa further increases its protein content. Sprouting activates enzymes that convert stored proteins into easily digestible amino acids, making sprouted quinoa an excellent option for those following a plant-based or vegetarian diet.
Improved Digestibility: One common issue with consuming quinoa is its natural coating of saponins, which can cause digestive discomfort for some individuals. The sprouting process reduces the saponin content, making sprouted quinoa gentler on the digestive system and easier to digest. This is especially beneficial for those with sensitive stomachs or digestive disorders.
Increased Antioxidant Activity: Sprouting enhances the antioxidant activity of quinoa. Antioxidants help protect our cells from damage caused by harmful free radicals, reducing the risk of chronic diseases and promoting overall well-being. By sprouting quinoa, you can boost its antioxidant content, providing your body with additional protection against oxidative stress.
Rich in Vitamins and Minerals: Sprouted quinoa is a powerhouse of vitamins and minerals. It is a good source of vitamin B complex, including folate, thiamine, and riboflavin, which are essential for energy production and brain health. It also contains minerals like magnesium, phosphorus, and manganese, which support bone health, energy metabolism, and antioxidant defense.
How to Sprout Quinoa
Sprouting quinoa is a simple process that can be done at home. Here's a step-by-step guide to sprouting quinoa:
Start with Organic Quinoa: Choose high-quality organic quinoa for sprouting. Organic quinoa is free from pesticides and chemicals, ensuring that you get the purest and most nutritious sprouts.
Rinse Quinoa: Place the desired amount of quinoa in a fine-mesh strainer and rinse it thoroughly under room temperature water. Rinsing helps remove any residual saponins and dirt from the quinoa.
Soak Quinoa: Transfer the rinsed quinoa to a large bowl and add water in a 1:2 ratio (one part quinoa to two parts water). Be sure to use filtered water. Let the quinoa soak for 6-8 hours or overnight. Soaking softens the quinoa seeds and initiates the sprouting process. If you do not have 6-8 hours, a minimum of 1-3 hours will be adequate.
Drain and Rinse: After soaking, drain the water from the quinoa using a fine-mesh strainer. Rinse the quinoa under cold water to remove any remaining saponins or debris.
Sprouting: Transfer the rinsed quinoa to a sprouting jar or a container with a mesh lid. Cover the container with a breathable cloth to allow airflow while preventing debris from entering. You can also just simply cover a bowl with a paper towel. Place the jar/container in a cool, dark place away from direct sunlight. I usually like to keep it on the countertop out of the way in the kitchen.
Rinse and Drain: Rinse the quinoa with water every 8 to 12 hours, gently swirling it to ensure even moisture distribution. Drain any excess water after each rinse. Repeat this process for 1 to 2 days, or until small sprouts start to appear. Ensure that the sprouts do not dry out or become too wet during this process.
Dry the Sprouts: Once the sprouts have reached the desired length (usually around ¼ to ½ inch), it's time to dry them. Spread the sprouts on a clean kitchen towel or a dehydrator tray and gently pat them dry. Allow them to air dry for a few hours or use a dehydrator at a low temperature until they are dry to the touch. Tip: If you are going to cook them right away after soaking, you won't need to dry them. Simply transfer the fresh quinoa sprouts into your cooking pot and adjust the amount of cooking liquid used, depending on how long the quinoa soaked. See the chart below for my conversion recommendations based on my extensive trial-and-error experience.
Store and Enjoy: If you aren't using the quinoa in a recipe right away, store the dried sprouted quinoa in an airtight container in a cool, dry place. The quinoa can be stored for several weeks and can be used in various recipes such as salads, stir-fries, and soups, or as a topping for yogurt or smoothie bowls. Check out our Pesto Chicken Quinoa Bowl.
Cooking Quinoa+tips for shorter times: Here are the cooking times and liquid needed to add to the pot to cook in depending on how long you were able to soak your quinoa. As mentioned above, the ideal amount of time to soak is 6-8 hours. However, it is still great to soak for 1-3 hours if that is all the time you have! If you want to speed the process along, consider using warm water and a splash of apple cider vinegar to help break down the phytic acid a little quicker.
Cooking Liquid to Soaking Time Ratios:
​
Rinse only: 3 cups liquid: 2 cups quinoa
If soaked for 1 hour: 2 cups liquid: 2 cups quinoa
Soaked for 3 hours: 1.5 cups liquid: 2 cups quinoa
Soaking overnight or longer: minimum of 1 cup liquid no matter how much quinoa!
Hint: the foam you notice is the phytic acid soaking off! Be sure the rinse the foam and bubbles away to the best of your ability. Try to let the water run clear as possible. A small amount of foam leftover is acceptable.
Different Types of Quinoa
Quinoa comes in several different varieties, each with its own unique characteristics. The most common types of quinoa are white quinoa, red quinoa, and black quinoa. While the soaking process remains similar for all types of quinoa, there may be slight variations in soaking times depending on the variety.
White Quinoa: White quinoa is the most widely available and commonly used variety. It has a mild, nutty flavor and a fluffy texture when cooked. White quinoa typically requires soaking for about 6 to 8 hours or overnight to soften the seeds and initiate the sprouting process.
Red Quinoa: Red quinoa has a slightly earthier flavor compared to white quinoa. It retains its shape better during cooking and has a slightly chewier texture. The soaking time for red quinoa is similar to that of white quinoa, usually around 6 to 8 hours or overnight.
Black Quinoa: Black quinoa has a slightly sweeter and earthier flavor profile. It has a firmer texture and holds its shape well after cooking. Black quinoa typically requires a slightly longer soaking time compared to white or red quinoa. Soaking black quinoa for about 8 to 10 hours or overnight should be sufficient.
Soaking Notes
It's important to note that while soaking times may vary slightly based on the quinoa variety, the main objective of soaking is to soften the seeds and initiate the sprouting process. Soaking also helps remove the bitter outer coating of the quinoa called saponins, which can affect the taste if not properly rinsed.
Regardless of the quinoa variety, it's essential to rinse the soaked quinoa thoroughly before sprouting to remove any remaining saponins or debris. After rinsing, the sprouting process remains the same, where the quinoa is transferred to a sprouting jar or container, rinsed every 8 to 12 hours, and allowed to sprout for 1 to 2 days until small sprouts appear.
In summary, while there may be slight variations in soaking times for different types of quinoa, the main soaking process remains similar. It is important to adjust the soaking time based on the specific variety to ensure optimal sprouting and desired texture when cooked.
Conclusion
​By sprouting quinoa, you can unlock a whole new level of nutritional benefits. The sprouting process enhances nutrient bioavailability, increases enzyme activity, improves digestibility, boosts protein content, enhances antioxidant activity, and provides a rich array of vitamins and minerals.
Sprouting quinoa at home is a straightforward process that can be done with just a few simple steps. Incorporate sprouted quinoa into your meals to reap its amazing health benefits and add variety to your diet.
Start experimenting with this nutritious superfood today and enjoy the delightful flavors and enhanced nutrition it offers. Sprouted quinoa is a true powerhouse for your overall well-being.
Have you tried sprouting quinoa? Tell us your experiences in the comments below!
Happy soaking!
Natalie