You are going to love eating healthy with this nutritious Pesto Chicken Quinoa Bowl! This mouthwatering and flavorful bowl can be served hot or cold and features shredded chicken, green onions, tomatoes, spinach, feta, and basil pesto mixed in with sprouted fluffy quinoa and topped with feta.
Jump to:
It is perfect for busy weeknights any time of year. We especially love this quick light meal during summer's sunny season.
Simply soak your quinoa for a couple of hours, rinse, and cook! After soaking, dinner is served in less than 30 minutes. Here's to another delectable and nutrient-dense dinner to add to the weeknight rotation!
When I discovered protein-packed quinoa as a healthy alternative to rice and pasta, I had to give it a try. It was love at first bite. Seriously, if you haven't tasted quinoa yet, you have to give it a try.
Since learning how to soak and properly prepare this nutritious superfood, I began incorporating it into many recipes. Our chicken pesto quinoa bowl is an easy weeknight meal that the whole family will love! Check out another Quinoa Power Bowl, Buffalo Turkey Quinoa Bowl.
Setting Intentions
We highly recommend taking a moment to set healthy intentions to amplify the healing benefits of each meal. Intentions can be as simple as one or two words felt with intense emotion and gratitude or a more specific statement that is aimed at accelerating a goal. Your intentions can be personal or broad for the whole family, or both! Learn more about the benefits of setting intentions here.
Some examples are:
My intention is to have a balanced and healthy gut. My digestion works effortlessly well when I feed my body clean and nutritious foods.
The nutrients I consume are absorbed effortlessly, and I feel the benefits in my daily life.
My blood sugar is in perfect range. I feel fantastic every time I eat!
Feel free to adapt any of the suggestions to use in whatever way you need. Your subconscious is listening to everything you say, think, and feel. Enjoy the process and program accordingly!
Now, let's head to the grocery store and grab our healthy ingredients!
Ingredients
Organic Chicken- Boneless skinless chicken breasts work best, filleted! Chicken thighs will also work, for a richer flavor profile. You can also buy a pre-made rotisserie chicken to save time!
Organic Garlic powder
Organic Onion powder
Tri-colored quinoa- Quinoa is a nutrient-dense pseudo-grain that is packed with protein and has fewer carbs and starches than rice. It is excellent for digestion too! In fact, it contains all 9 essential amino acids, making it a complete protein!
Organic Broth- (can use chicken broth or vegetable broth)- Broth really makes the flavor of quinoa pop. If you don't have quinoa, do not fret! You can use multi-grain rice instead!
Lemon juice
Baby spinach- Organic is best!
Green onions- Organic is best!
Grape tomatoes- Organic is best!
Basil pesto- When buying jarred pesto, be sure to check the ingredients- it will likely be a bit more expensive than the store brand, but incredibly important to get the least processed product available. Your body will thank you! If you'd like, you can also use homemade pesto. Often pesto ingredients contain nuts like pine nuts and even walnuts. If you have a nut allergy, be sure to search for a nut-free basil pesto dressing.
Avocado oil- A nutritious and stable cooking oil. You can also use extra virgin olive oil in a pinch.
Basil flakes- Lightly freeze-dried is what we like to use. You may also use fresh basil sliced or chopped.
Feta Cheese- This one is also important to check the ingredients. Use all-natural ingredients and avoid products with chemicals that increase shelf stability because they increase inflammation!
See the recipe card for quantities.
Soaking the Quinoa
Soaking and sprouting grains, legumes, nuts, and seeds is an essential step that is beneficial for many reasons. These foods typically have a layer of phytic acid that protects them from environmental factors.
Phytic acid is known as an anti-nutrient and blocks the absorption of essential nutrients. It may also cause digestive upset. The simple remedy to remove the phytic acid and maximize benefits from your grains, nuts, legumes, and seeds is to simply rinse, soak, and/or sprout to activate nutrients and disable anti-nutrients.
Each food has a slightly different recommendation for soaking. Quinoa is a pseudo-grain that benefits greatly from sprouting and soaking. If you do not have time to soak, be sure to rinse at least. For more in-depth information on the benefits of soaking check out these scientific studies.
Hint: The amount of water used to cook will vary depending on how long the quinoa has been soaked. The ideal soaking time is 6-8 hours.
If you need to soak for longer than 12 hours be sure to strain and rinse the quinoa and replace it with fresh water for additional time if needed/desired. Add a splash of apple cider vinegar and warm purified water for optimal results. Drain and rinse quinoa in a fine mesh strainer. Check out this helpful guide to learn more about the benefits of sprouting quinoa!
Bonus Chart
Here are the cooking times and liquid needed to add to the pot to cook in depending on how long you were able to soak your quinoa.
Cooking liquid to soaking time ratios:
​
Rinse only: 3 cups liquid: 2 cups quinoa
If soaked for 1 hour: 2 cups liquid: 2cups quinoa
Soaked for 3 hours: 1.5 cups liquid: 2 cups quinoa
Soaking overnight or longer: minimum of 1 cup liquid no matter how much quinoa!
Hint: the foam is the phytic acid soaking off! Be sure the rinse the foam and bubbles away to the best of your ability. Try to let the water run clear as possible.
Instructions
Cook quinoa on the stove or in the instant pot.
2. Fluff quinoa with a fork add oil and ¼ cup of clean water to the bottom of the pan to avoid burning the quinoa. The water will evaporate with cooking. Add baby spinach handfuls at a time while stirring until it wilts.
3. Add tomatoes and green onions and stir for a minute. Remove from heat.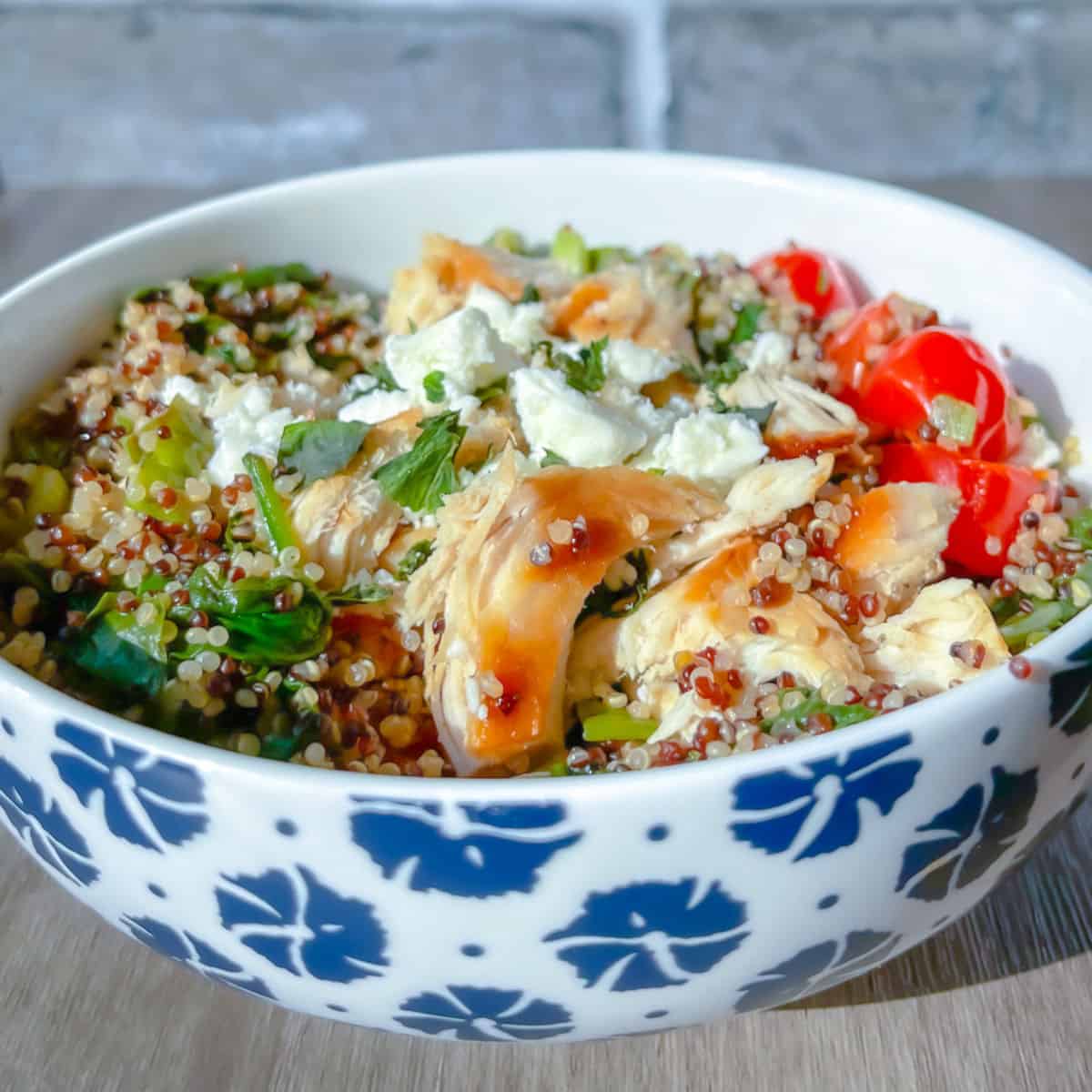 5. Add lemon juice and pesto to the quinoa.
Mix in cut chicken, crumbed feta, and Basil flakes.
*can be served hot or cold! Enjoy!
4.Cook seasoned chicken on the stove.
Cool and cut into bite-sized pieces or shred.
Substitutions and Variations
​
Brown Rice or Wild Rice can be easily swapped in place of quinoa.
White quinoa, red quinoa, and black quinoa are used in the tri-color varieties. You can swap one for the other if that works better for you.
For a grain-free alternative, consider spiralized zucchini as an alternative to quinoa!
For a vegan/vegetarian dish, simply omit chicken and/or feta cheese. Quinoa has a sufficient amount of protein in itself!
If you cannot find grape tomatoes, cherry tomatoes work as well as diced Roma tomatoes!
You can also add roasted vegetables like red pepper for extra flavor and nutrients.
Feta can also be swapped with parmesan cheese if you want to try a different flavor.
We also love to add hot sauce or red pepper flakes for a slight kick of heat!
Equipment
Large Bowl for soaking quinoa
Cooking spoon
Chefs knife
Cutting board
Skillet
Pot with lid for cooking quinoa (or Instant Pot)
Measuring cups and spoons
Mesh strainer for rinsing quinoa
Meat thermometer
Storage
Store quinoa bowl in an air-tight container for 3-4 days in the refrigerator. It can also be stored in the freezer in an air-tight freezer-safe container for up to 6 months. If freezing, store in individual meal prep containers for easy thawing, if possible.
Top tip
Do not overcook the chicken. Use a meat thermometer to ensure the proper heating temperature is reached. Once it is reached, remove and dice or shred once it has cooled enough to do so.
FAQ
How many calories are in a chicken quinoa bowl?
There are approximately 300-400 calories in a chicken quinoa bowl per serving, depending on your toppings and serving size.
Is quinoa too high in calories?
A cup of cooked quinoa has approximately 220 calories. But, don't let that fool you! These are nutrient-dense calories. This means that each of these calories are not empty calories, but are used by the body for energy and fuel. Quinoa is packed with vitamins, minerals, fiber, and protein.
Is quinoa more calories than rice?
No. A cup of cooked white rice has about 40 more calories and 10-20 times more carbs than a cup of cooked quinoa. Additionally, white rice is devoid of nutrients, unlike quinoa. Quinoa is a superfood with nutrients to help your body while white rice is likely to spike your sugar levels and leave you feeling sluggish.
Related
Looking for other recipes like this? Try these:
Pairing
This quinoa power bowl goes well by itself! If you'd like, steam up a side of green beans or fresh veggies on the side.
Recipe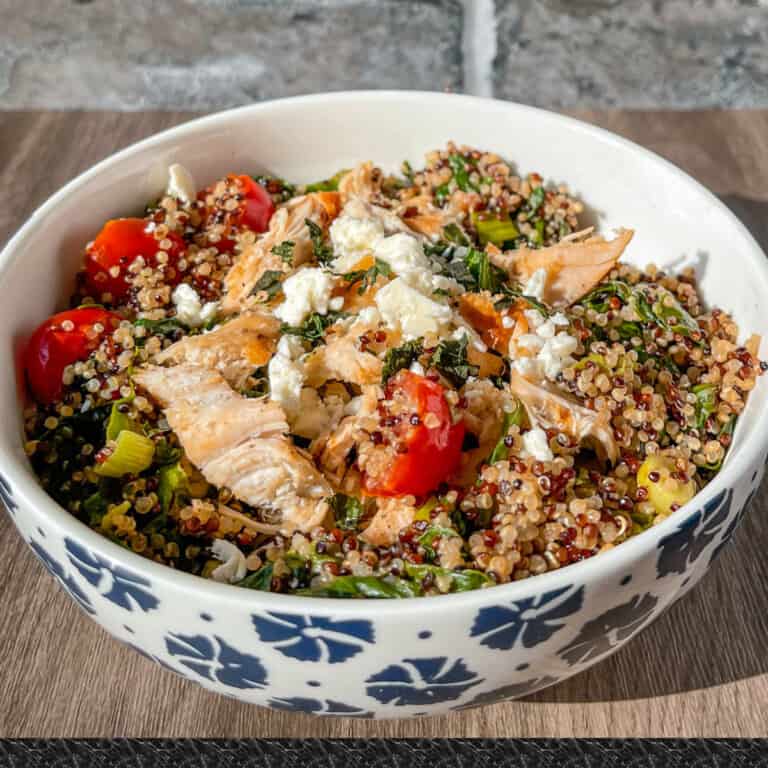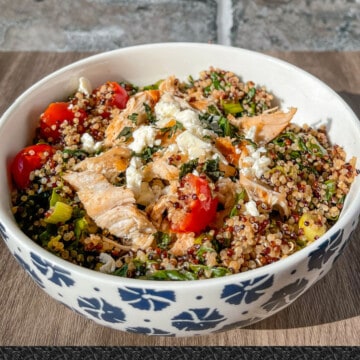 Pesto Chicken Quinoa Bowl with Easy Sprouted Quinoa
Enjoy a mouthwatering Pesto Chicken Quinoa Bowl! Tender chicken infused with pesto, paired with easy sprouted quinoa. A healthy and flavorful delight in every bite.
Instructions
Put broth or water in a skillet with a pinch of salt and bring to a boil. Add soaked and rinsed quinoa and stir. Reduce heat to medium-low and cover for 8 minutes or until liquid is absorbed

**If using an instant pot, set manual pressure to one minute. Let natural release. Always use a minimum of one cup of liquid for the pressure cooker to work properly.

Fluff quinoa with a fork or spoon. Add ½ tb oil and stir to combine. Add a ¼ cup of clean water to the bottom of the pan to avoid burning the quinoa. The water will evaporate with cooking. Add handfuls of raw baby spinach at a time while stirring until it wilts, it takes a couple of minutes.

Add tomatoes and green onions and stir for one minute. Remove from heat.

Meanwhile, heat ½ tb oil on a skillet on medium-high heat and add butterflied chicken. Season with salt, pepper, garlic, and onion powders on both sides. Cook on each side for 6 min until reaching an internal temp of 165F. Remove from heat and place on cutting board, let cool for 5min. Once cooled, slice, dice in bite-sized pieces, or shred chicken to desired consistency.

Place quinoa in a large bowl. Add lemon juice and pesto. *(hint: shake the jar of pesto before opening it because the oil settles at the top!)

Add cut chicken, crumbed feta, and Basil flakes. Mix as desired.

*can be served hot or cold! Enjoy!
Nutrition
Calories:
498
kcal
Carbohydrates:
43
g
Protein:
35
g
Fat:
20
g
Saturated Fat:
3
g
Polyunsaturated Fat:
3
g
Monounsaturated Fat:
3
g
Cholesterol:
76
mg
Sodium:
583
mg
Potassium:
995
mg
Fiber:
6
g
Sugar:
3
g
Vitamin A:
2512
IU
Vitamin C:
14
mg
Calcium:
137
mg
Iron:
5
mg
Check out our Pesto Chicken Bowl web story here!
Food safety
Cook to a minimum temperature of 165 °F (74 °C)
Do not use the same utensils on cooked food, that previously touched raw meat
Wash hands after touching raw meat
Don't leave food sitting out at room temperature for extended periods
Never leave cooking food unattended
Use oils with a high smoking point to avoid harmful compounds