When using the right ingredients, the health benefits of split pea soup are many. This hearty soup has an impressive vitamin and essential mineral profile, an excellent source of protein, and a high fiber content. Our instant pot split pea soup is the perfect addition to a healthy diet.
Jump to:
Health Benefits
Every year we look forward to cooking our healthy split pea soup after a delicious holiday dinner celebration that features ham. The leftover ham hock contains a hidden nutritional powerhouse when cooked along with the soup. The ham bone contains marrow and collagen, a gel-like substance that comes from the connective tissue in and around the joints.
The nutritional value of this collagen boosts the immune system, improves skin, bone, and joint health; helps prevent cardiovascular disease, irritable bowel syndrome, inflammatory bowel disease, and other diseases of the digestive tract, and so much more.
Collagen has a protective property that heals the lining of the gut wall which prevents leaky-gut syndrome.
Hint: If you do not have a ham bone to include in your recipe, just add diced ham (uncured) and organic bone broth! Bone broth can replace chicken broth or vegetable broth in any recipe you make for the added nutritional boost!
Aside from the amazing benefits of bone broth, green split peas have many benefits in themselves. They are high in vitamin k, which is essential for blood clot formation. They are also rich in potassium which is a mineral well known for its ability to prevent and lower high blood pressure.
Furthermore, split peas are packed with protein and are an excellent source of fiber. The high soluble fiber content helps to improve digestive health, regulate blood sugar levels, and balance blood cholesterol levels by reducing the absorption of LDL (bad cholesterol) into the body.
Split Pea Soup is one of our favorite delicious and highly nutritious soup recipes packed with whole foods: split green peas, vegetables, and bone broth for a healthy meal your body will thank you for.
Before we get into the details of our favorite healthy ingredients for split pea soup, let's take a moment to set some healthy intentions!
Intentions
Setting intentions is a fundamental part of any day or process.
Take in 3 nice deep slow breaths to clear your mind and energy. Feel your feet firmly planted in the ground. This simple step helps to ground and center you.
Consider what your intention is for this meal.
Maybe your goal is weight loss, to improve cardiovascular health, lower cholesterol, or increase your daily intake of fiber or protein. Intentions can include anything you like, how you want to have a wonderful evening, enjoying delicious warm soup on a winter evening.
Setting intentions for your meal infuses them with the energy that you desire and programs your subconscious to conspire in your favor. When we set clear intentions, our cells, and our food receive an extra boost; knowing exactly what to do and why we are doing it.
Examples of intentions:
*My intention is to create a healthy and delicious meal that everyone enjoys. Preparing the food is fun and the cleanup is easy! I enjoy cooking for my family.
*I feel fantastic when I eat food that heals my body.
*My digestive health improves every day. I can feel the difference when I choose foods that heal my gut.
*My blood sugar stays in the perfect range. I am thankful for my ever-improving health.
*My intention is to have a relaxing evening and feel good. I will feel even better in the morning after a refreshing sleep tonight!
Whatever your intention, be sure to set and affirm with love and gratitude. Enjoy the process! If you want to learn more about setting intentions and using affirmations, check out this article here.
Now grab your shopping list and get ready to head to the grocery store!
Ingredients
Leftover Ham Bone (or 1lb Diced Ham): The leftover ham bone will have chunks of ham still on it and fall over during the cooking process. If you do not have a ham bone, use uncured diced ham instead! It tasted just as delicious!
Ham has a delicious flavor added to the split pea soup, but if you prefer, you can make this recipe a vegan split pea soup and omit the bone and meat altogether! See the substitutions/variations section below for more info.
Bone Broth or Vegetable Broth: If using diced ham, we recommend using organic bone broth as the liquid for the soup. Whatever broth you use, opt for an organic brand or ingredients to make your own without preservatives or other unnatural ingredients.
Be sure to check the ingredients label! Check out our recipe here for more information on reading ingredient labels.
Bone broth is filled with health benefits that improve gut health, heart health, skin health, joint health, immune health, and more! The amino acid and mineral content in bone broth is much more bioavailable and easy to absorb than other sources.
If you'd like to learn more about the benefits of bone broth, check out Dr. Axe's article here.
Green or Yellow Split Peas: Most packages of split peas are green with a few yellow split peas mixed in. You can also use all yellow split peas for this recipe if you'd like. Green and yellow peas have similar nutrient profiles with slightly varying tastes.
Green peas tend to be slightly sweeter in flavor. Whichever color of peas you choose, they will be packed with vitamins, minerals, protein, and fiber for a healthy staple in your hearty soup.
Sweet Onions: Sweet onions have many antioxidants, nutrients, and anti-inflammatory properties. They also help control blood sugar levels and digestion in some people. Onions may be a surprising source of c and b vitamins.
Some people are sensitive to onions and if this is you, feel free to omit them from the recipe!
Fresh Organic Garlic: It is important to always choose organic garlic and most conventional garlic is grown in unsanitary conditions and bleached with chemicals that degrade the wonderful benefits of this naturally healing food.
Garlic is anti-bacterial, antiviral, anti-fungal, and more. It has amazing effects on cardiovascular health and fights inflammation.
Garlic has a delicious flavor that it adds to any dish that calls for it. And if you really love garlic, I always encourage you to add just a little bit more, to taste as its health benefits are monumental.
Ghee: Ghee is another cardioprotective ingredient in this healthy soup. Ghee is clarified butter and one of the best and most stable oils to cook with.
Ghee is safe to eat for those with lactose intolerance as the clarifying process also removes casein and lactose, which are the proteins that create irritation in sensitive individuals.
Ghee is also rich in Omega 3 fatty acids which improve brain and heart health and is an important anti-inflammatory.
Organic Carrots: Carrots are a tasty source of fiber, beta carotene (precursor for vitamin A), minerals, and antioxidants. Specifically, luteolin is an antioxidant in carrots which is amazing for many things including brain health.
Organic Celery: Celery is anti-inflammatory and packed with vitamins, minerals, fiber, flavonoids, and polyphenols that benefit many systems and essential processes for the body.
It is a great source of a, c, k, and b vitamins as well as magnesium, potassium, and calcium. Celery's high electrolyte content helps to prevent dehydration and bloating as well.
Bay Leaves: Bay leaves add a subtle slightly sweet and minty flavor to the soup. Another very important benefit of bay leaves with lentils is it aids in digestion.
The presence of bay leaves helps to break down the gas-producing properties of beans and other lentils which helps prevent bloating and improves digestion! win-win!
The benefits of split pea soup are extensive. These lists are just the tip of the iceberg. Have fun exploring more about the wonderful power of healthy and whole foods!
See the recipe card for quantities.
Instructions
Please note: The process steps are for the instant pot and use bone broth and diced ham. Feel free to adapt any ingredients or processes as you desire. See the substitutions/variations section for ways to adapt your recipe to your needs and desires!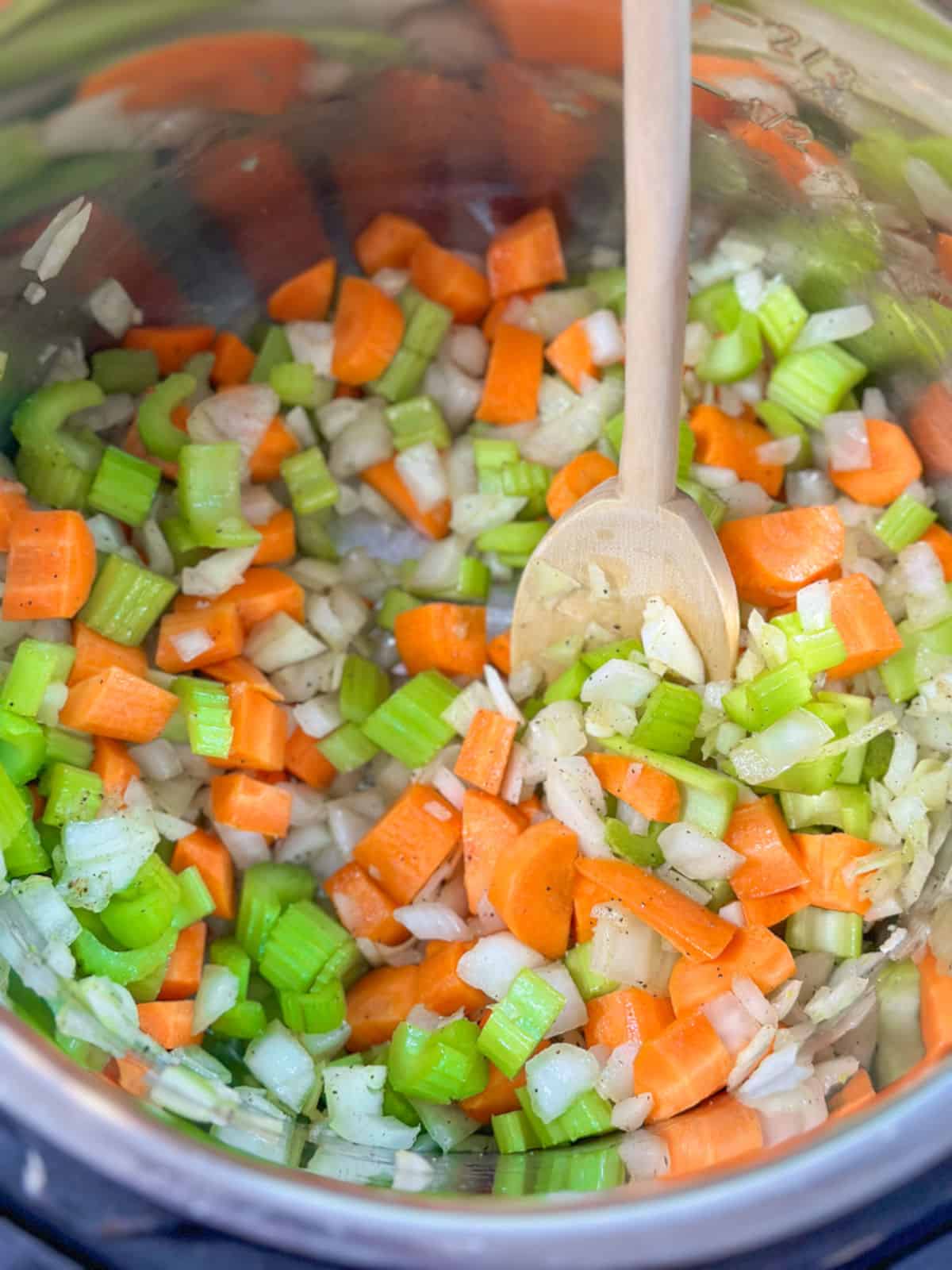 Saute onions garlic carrots and celery.
2. Turn the pressure cooker setting to Manual High Pressure for 10 minutes.
Add split peas, bone broth, diced ham, and 2 bay leaves, and cover. Let naturally release for 15 minutes
Enjoy!
Hint: The soup will thicken as it cools. Don't forget to remove the bay leaves!
Substitutions and Variations
The slow cooker method is very simple; place all ingredients in a slow cooker(crock pot) after greasing the bottom with ghee. Turn on the low setting for 4-5 hours or high for 3 hours.
If using a ham bone simply drop the ham bone into the soup and cook as you would otherwise. Before serving be sure to remove the ham bone and cut off the additional meat left on the bone and put it back into the soup
For a vegan split pea soup omit the ham and bone broth and replace it with vegetable broth. Feel free to add bits of tempeh or jackfruit in its place for texture, as desired.
Add a variety of vegetables if you want a more diverse flavor and nutrient profile: bell peppers, kale, spinach, corn, leek, or potato.. the possibilities are endless!
Equipment
Instant Pot
Ladle
Chef's Knife
Cutting Board
Strainer
Vegetable Peeler
Wooden Spoon
Serving Bowl and Spoons
Storage
Store leftover split pea soup in an airtight container in the fridge for up to 4 days. Keep in mind, that the soup's consistency will solidify. To reheat, simply place it in a pot on the stove on medium heat. Add a bit of water to help it melt back down and not stick to the pan.
This soup can also be frozen for 4-6 months maximum.
FAQ
Are split peas good for the liver?
Split peas have a variety of vitamins and nutrients that support the liver as well as many other functions in the body.
What is healthier green or yellow split peas?
Both green and yellow have similar nutrient profiles. Different colors of foods provide different phytonutrients that provide unique benefits.
Do split peas spike blood sugar?
The high protein and fiber content helps to regulate and balance blood sugar. Split peas have a low glycemic index (GI 32) which means they are a safe food for many with type 2 diabetes or other metabolic system sensitivities.
Do split peas cause weight gain?
Split pea soup is very filling as it expands and is high in protein and fiber. This makes the soup eater fill up fast and essentially, eat less. For this reason, filling foods like split pea soup are often recommended for weight loss.
Related
Looking for other healthy instant pot recipes like this? Try our Instant Pot Chicken Taco Soup
Pairing
We love to make a grilled cheese sandwich to pair with our healthy split pea soup. Use sprouted ancient grains, organic cheese, and ghee in place of butter. Yum!
Recipe
Health Benefits of Split Pea Soup + Easy Instant Pot Recipe
Warm, comforting, and easy to make, this healthy instant pot split pea soup is the perfect solution for busy weeknight dinners! This one pot meal is made with simple ingredients, is nutrient-dense, and is ready in under an hour!
Instructions
Turn Instant Pot to saute mode for 1-2 minutes. Add ghee, minced garlic, and onions. Stir with a wooden spoon.

Add diced carrots and celery for an additional minute. Turn Instant Pot off.

Turn the pressure cooker setting to Manual High Pressure for 10 minutes.

Add rinsed split peas, bone broth, diced ham, and 2 bay leaves, and cover. It will take approximately 20 minutes to come to pressure. Let naturally release for 15 minutes before releasing the rest of the pressure manually from the steam release valve.
Notes
Please note: The process steps are for the instant pot and use bone broth and diced ham. Feel free to adapt any ingredients or processes as you desire. See the substitutions/variations section for ways to adapt your recipe to your needs and desires!
Nutrition
Calories:
450
kcal
Carbohydrates:
56
g
Protein:
38
g
Fat:
9
g
Saturated Fat:
3
g
Polyunsaturated Fat:
1
g
Monounsaturated Fat:
3
g
Cholesterol:
51
mg
Sodium:
761
mg
Potassium:
1131
mg
Fiber:
23
g
Sugar:
9
g
Vitamin A:
4018
IU
Vitamin C:
18
mg
Calcium:
69
mg
Iron:
4
mg
Food safety
Cook to a minimum temperature of 165 °F (74 °C)
Don't leave food sitting out at room temperature for extended periods
Use oils with a high smoking point to avoid harmful compounds
Always have good ventilation when using a gas stove