What is the difference between a bay leaf vs curry leaf? This question popped into my head one day as I was organizing my spice rack. At first glance, the leaves seemed almost interchangeable, but now, with years of cooking and experimenting, I understand their distinct flavors, unique culinary uses, and impressive health benefits.
Each has a similarly oval shape and is used in cooking for aroma and flavor, yet they come from a different region and have a slightly different flavor.
Oftentimes, they are mistaken for one another and can be used interchangeably in a variety of dishes. So, without further ado, let's unravel the mysteries of these two aromatic leaves, their origins, culinary uses, unique flavors, differences between dried and fresh leaves, and their potential health benefits!
This article is for informational purposes only and is not intended as medical advice.
Jump to:
The Origins of Bay Leaf
The bay leaf, scientifically known as Laurus nobilis, has a rich history that is deeply rooted in the Mediterranean region. This aromatic leaf comes from the bay laurel tree that thrives in a tropical and warm climate and has been an integral part of European cuisine for centuries.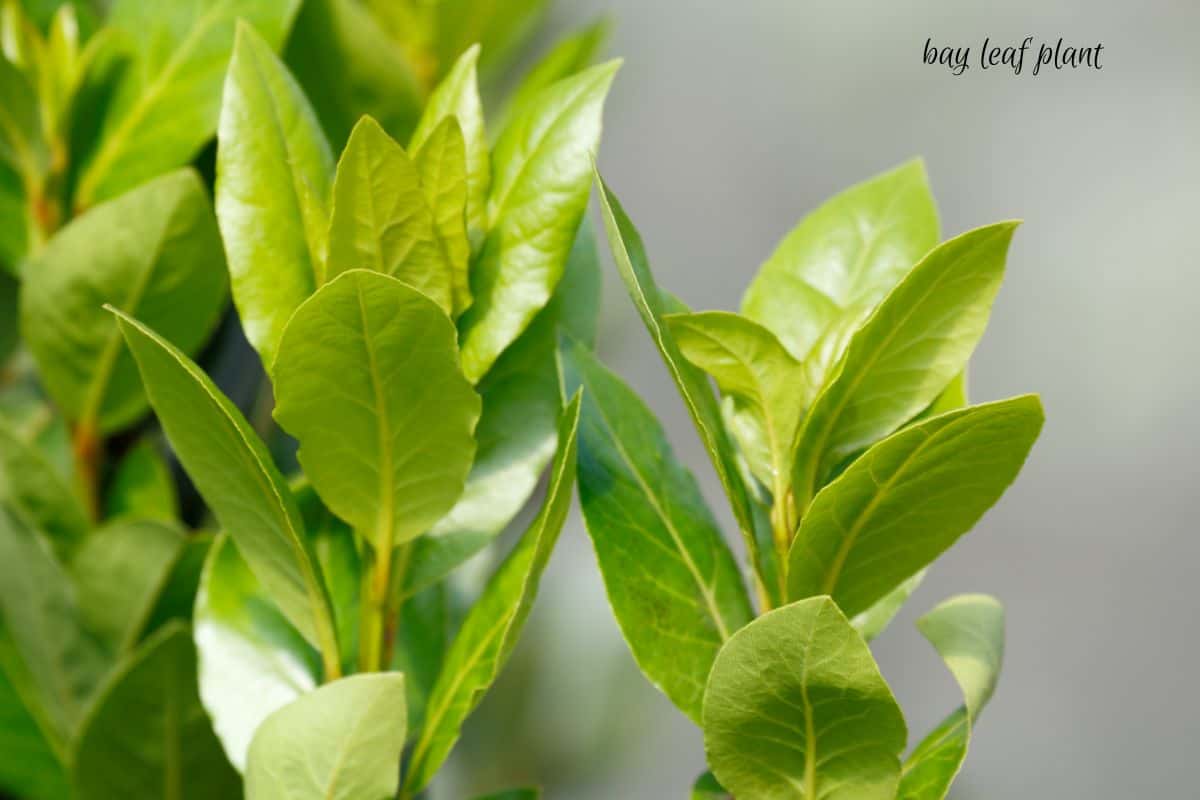 Geographic Spread
Though the bay tree is native to the Mediterranean, the bay leaf itself has transcended geographical boundaries. In Indian cooking, a variant known as Indian bay leaves or Tej Patta (Cinnamomum tamala) has found its way into various dishes, offering a similar but distinct aroma and flavor.
This variant is from the Cassia plant, which is the same as the most common form of cinnamon. Consequently, it has a closely similar scent and flavor to cinnamon and clove.
Similarly to the Indian bay leaves, in other parts of the world, bay leaves go by a variety of names. For example, in Malaysia and Indonesia, they are referred to as daun salam leaves. (Syzygium polyanthum). Daun Salam has a less intense yet more pungent aroma.
This variation has been studies for not only its uses for flavor in foods, but also for ability to kill certain bacterias and cancer cells. Despite the different names and slight variations in appearance and flavor, the core essence of the leaf remains the same.
Physical Features
The bay leaf is generally oval-shaped, with a robust, leathery texture. While the most common type is the Mediterranean bay leaf from the bay laurel tree, the Indian bay leaf tends to be longer and possesses a different flavor profile.
Flavor and Aroma
From Italian pasta sauces to Indian biryanis, the bay leaf is a versatile ingredient that adds depth and complexity to a wide array of dishes. Its presence in both European and Asian cuisines signifies its universal appeal. It has a slightly lemony aroma and citrusy taste that also ranges from slightly sweet to
​
In summary, the bay leaf, with its roots in the Mediterranean region, has traveled the globe, adapting itself to various culinary landscapes while maintaining its unique characteristics. Its oval shape, leathery texture, and distinct aroma make it an indispensable addition to kitchens worldwide.

Culinary Uses for Bay Leaves
When it comes to elevating your favorite recipes, adding a bay leaf can make all the difference. These aromatic leaves impart an unparalleled depth of flavor to a variety of dishes, making them a staple in kitchens around the world.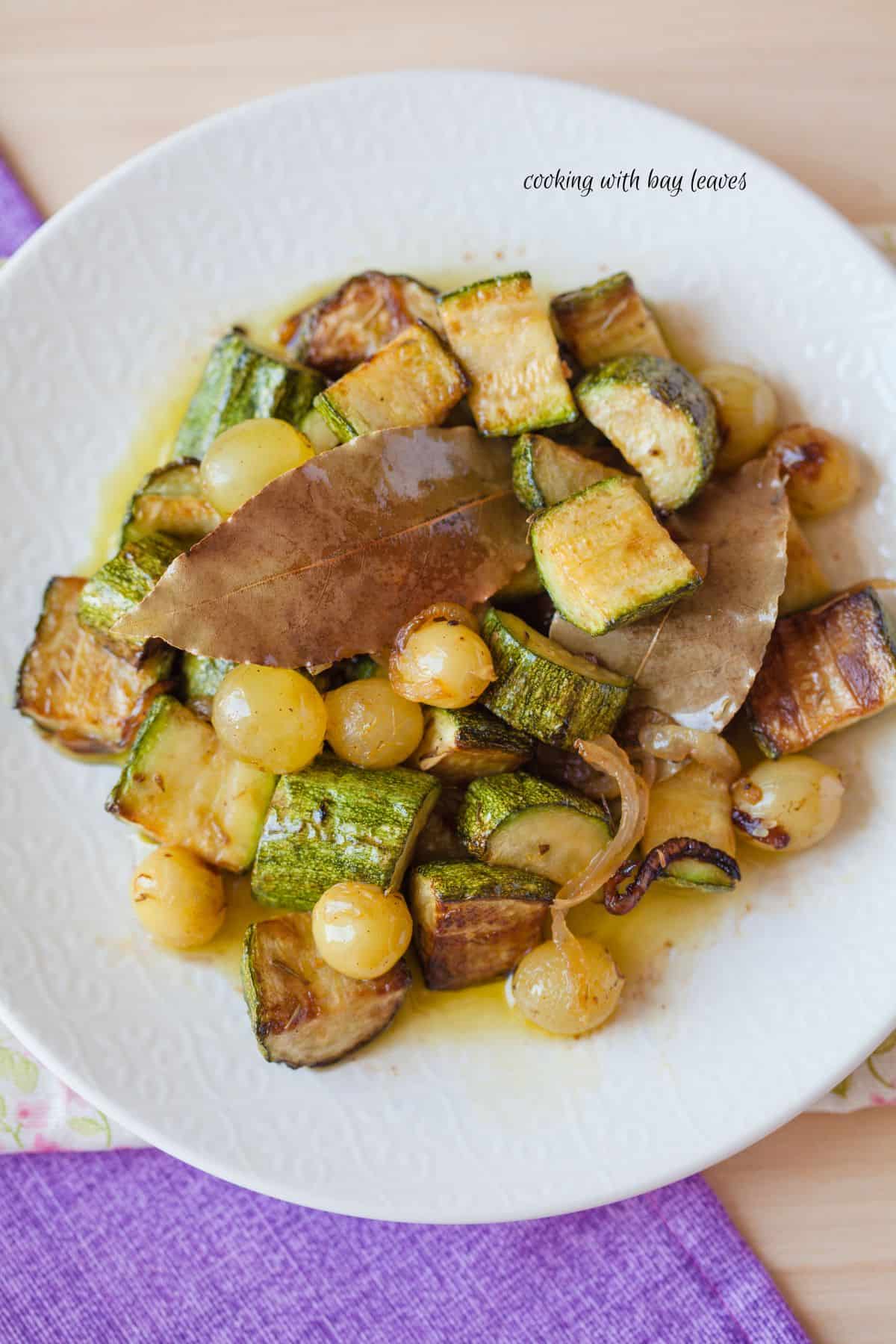 Fresh vs Dried Leaves
Both fresh bay leaves and dried leaves have their unique merits. Fresh bay leaves offer a milder flavor with citrus notes, perfect for lighter dishes like fresh salads or fish, particularly in Mediterranean cuisine.
Dried bay leaves, on the other hand, provide a more concentrated aroma and are excellent in dishes that require long cooking times.
Flavor Impact
The presence of a bay leaf can profoundly impact the flavor of the dish. Whether you're preparing a hearty stew or a complex curry, the inclusion of this simple leaf adds a unique flavor that is hard to replicate with any other herb. (But is still possible, albeit with slightly different flavour accents).
Broadening Culinary Horizons
Beyond the traditional uses in soups and stews, bay leaves can bring out unique flavors in beans, legumes, and even rice dishes. Their slightly pungent aroma and distinct taste lend a complex yet balanced character to various meals.
A Digestive Aid
Here's a bonus point for health-conscious cooks: Adding a bay leaf to beans, legumes, and other high-fiber foods can not only enhance the flavor but also potentially aid digestion.
Studies suggest that bay leaves contain enzymes that help break down nutrients, making them more easily digestible. This dual role as a flavor enhancer and digestive aid makes the bay leaf a must-have in any kitchen.
Final Tips
The next time you're looking to add a little oomph to your dish, don't forget the humble bay leaf. Its versatility, depth of flavor, and potential health benefits make it a key ingredient for anyone who loves good food and better health.
Do not forget to remove the bay leaf after cooking. It is not typically edible and can be a choking hazard in soup for the unsuspecting consumer.
Eat Well Dried Bay Leaves B...
Shop on Amazon
Burning Bay Leaves
Burning bay leaves is a practice rooted in various cultures, primarily for its aromatic and potentially therapeutic benefits. It's more than just a culinary staple; it's a tool for wellness. A popular belief in many indigenous cultures is that it improves meditative and psychic visions.
When burned, bay leaves release a complex, pungent aroma that is both comforting and invigorating. This aromatic experience can transform your living space into a haven of tranquility.
Potential Health Benefits
Beyond its delightful scent, burning bay laurel leaves have been suggested to offer health advantages. Some studies indicate that the fumes may have mild anti-anxiety effects and could even help improve respiratory conditions, although more research is needed to substantiate these claims.
How to Burn Bay Leaves
To get started, you'll need some dried leaves and a fire-safe container. Light the tip of a bay leaf and place it in the container, allowing the smoke to permeate the air. Make sure to do this in a well-ventilated area and keep flammable items away.
A Word of Caution
While burning bay leaves is generally considered safe, it's always a good idea to consult with healthcare professionals if you're pregnant, nursing, or suffering from any medical conditions.
​
Benefits of Bay Leaves
Bay leaves aren't just for cooking; they're packed with nutrients like folic acid, vitamins A and C, and various minerals, making them a health-boosting powerhouse.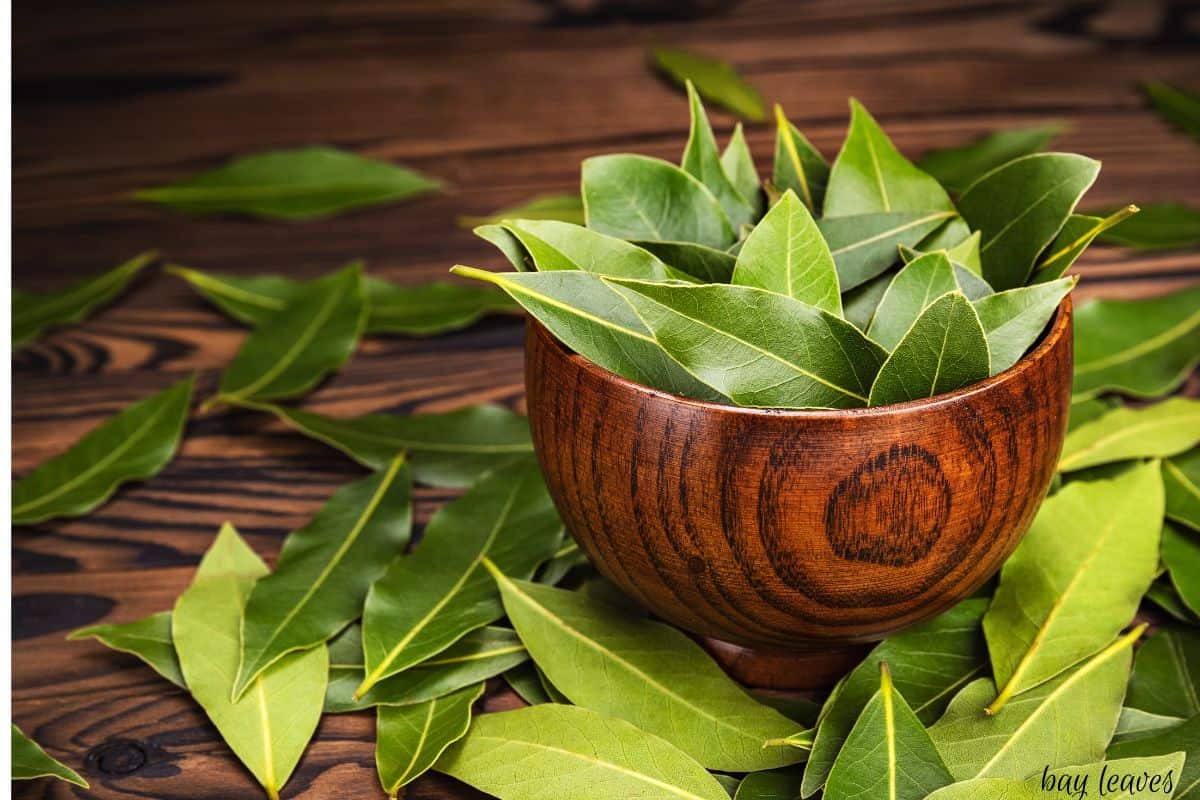 Regulate Blood Sugar Levels
One of the most talked-about health benefits of bay leaves is their potential to help regulate blood sugar levels. Some studies have shown that they can improve insulin function, which is particularly useful for people with diabetes.
Good for Heart Health
These versatile leaves contain compounds that can help lower LDL cholesterol, enhancing heart health. Incorporating them into your diet could be a step toward cardiovascular well-being.
Rich in Antioxidants
Bay leaves are rich in antioxidants, which are crucial for neutralizing free radicals in the body. The essential oils in bay leaves have anti-inflammatory and analgesic properties! This contributes to overall health and can potentially reduce the risk of chronic diseases.
The leaves have anti-inflammatory qualities that can offer relief from conditions like arthritis or muscle pain.
Aid in Digestion
As mentioned earlier, adding a bay leaf to foods like beans and legumes can make them easier to digest. The leaf contains enzymes that help break down proteins and fibers, making nutrients easier to absorb.
Combating Infections
Bay leaves have antimicrobial properties that can help in fighting off various infections. Whether it's a skin infection or a minor respiratory issue, these leaves could be a natural remedy worth trying.
Caution and Dosage
While bay leaves offer numerous health benefits, it's essential to use them in moderation. Too much can be a choking hazard or lead to other health complications. Always consult a healthcare provider for personalized advice.
Eat Well Dried Bay Leaves B...
Shop on Amazon
Alternatives to Bay Leaves in Dishes
Sometimes you're in the middle of a recipe and realize you're out of bay leaves. No worries—there are some excellent substitutes that can save the day.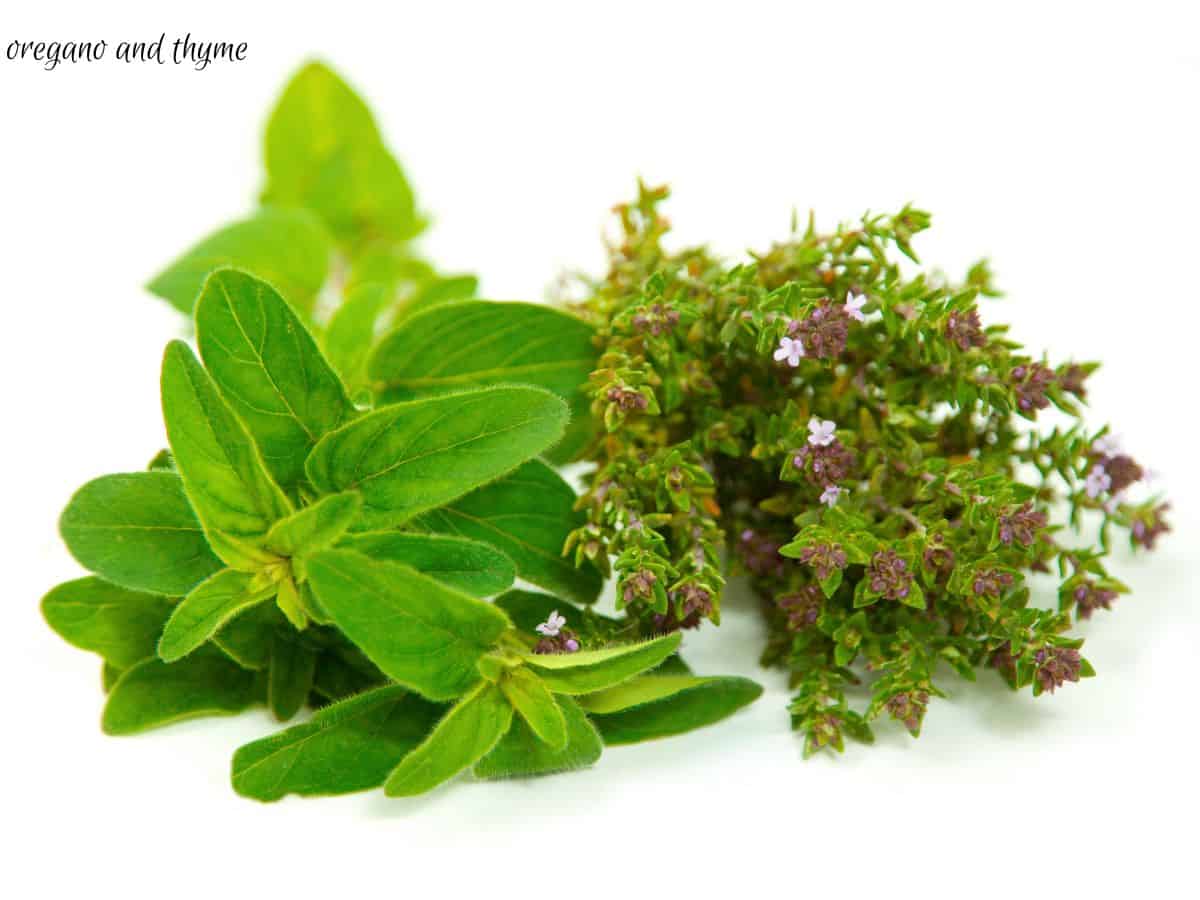 Thyme or Oregano
For a similar depth of flavor, you can use thyme or oregano. These herbs belong to the mint family and offer savory notes that complement various dishes.
Kaffir Lime Leaves or Lemon Zest
For a citrusy twist, consider using kaffir lime leaves or even some lemon zest. They provide a fresh, citrusy taste that works well in lighter dishes and is considered one of the best substitutes for bay leaves.
Cinnamon Sticks
If you're aiming for a slightly different but exciting flavor profile, cinnamon sticks can be a great alternative, especially in spiced or sweet recipes.
Basil Leaves or Fresh Curry Leaves
For dishes that call for a more unique flavor, basil leaves or fresh curry leaves can be your go-to options, particularly in Asian or Indian cuisines.
Note on Quantity
Remember, different herbs have different potencies. Start with a small amount and adjust to taste.
Origins of Curry Leaves
The curry leaf comes from the Murraya koenigii plant, a part of the citrus family. Often mistaken as a mere culinary herb, this plant has deep roots, literally and figuratively, in the world of botany and medicine.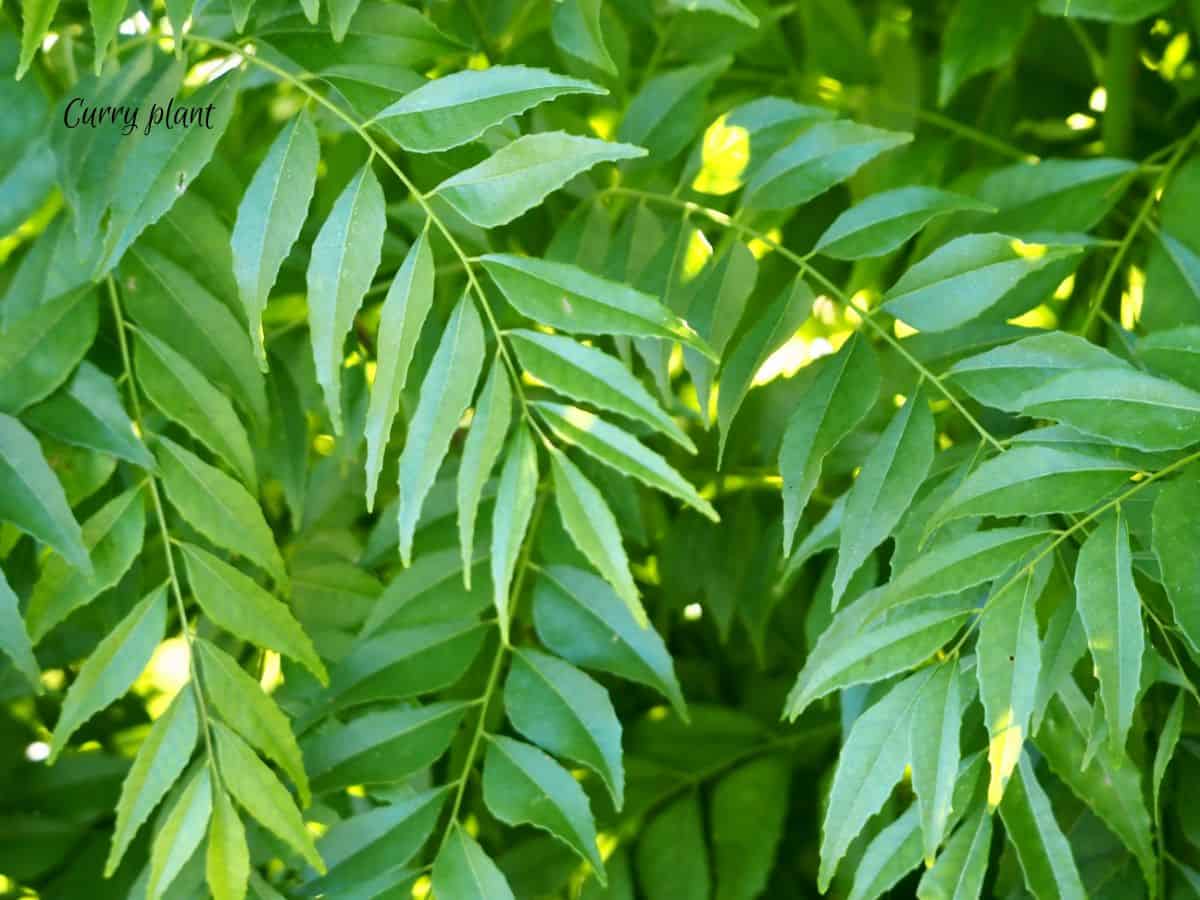 Common Names
Known colloquially as the curry tree or Kadi Patta in some regions, the curry leaf tree is a staple in various cultures. It's not just a plant but a symbol of tradition.
The Geography
Originally native to Southeast Asia, curry leaf plants have spread far and wide. You can now find them at a local Indian grocery store in places as far as the United States.
Interestingly, many people cultivate their own curry leaf plants right in their backyards or even in small pots. This not only makes for fresher leaves but also adds a personal touch to your dishes. If you have the ability, growing your own is best as it leaves no question of the quality of cultivation methods.
A Unique Fact
Here's something you might not find elsewhere: In some cultures, the curry leaf tree is considered a symbol of good fortune. It's not uncommon to find the leaves used in rituals aimed at bringing prosperity and well-being.
Another interesting fact is that curry leaves are restricted items on carry-ons in airports as they have been known to harbor pests.
Culinary Uses for Curry Leaves
Curry leaves are an indispensable ingredient in Indian cuisine, adding a layer of flavor that's both subtle and intense. They're often used in a variety of Indian dishes, from spicy Indian curries to milder, yogurt-based dips.
Beyond Curry Powder
Contrary to popular belief, curry leaves aren't the same as curry powder, though they both play a role in flavoring Indian and Sri Lankan cuisine. Curry powder is actually a blend of spices, and it doesn't usually contain curry leaves.
Sri Lankan Cuisine
But it's not just Indian food that benefits from this aromatic herb. Sri Lankan cuisine and other Asian cooking styles also employ curry leaves to bring a distinctive citrusy flavor to their dishes.
Fresh vs. Dried Curry Leaves
You can use both fresh and dried curry leaves, each offering a slightly different flavor profile. Fresh leaves offer a more intense flavor, while dried curry leaves are more subtle but still impactful.
South Indian Cooking
In South Indian cooking, curry leaves are practically a signature ingredient. They're typically added to hot oil at the beginning of the cooking process to release their robust, slightly peppery notes. They are also used in curry dishes in combination with coconut milk to add a finishing touch to the flavor of curry.
A Symphony of Flavors
Describing the experience of certain types of fragrant herbs is rather challenging and up for interpretation at times. Curry is no exception. Curry leaves impart a complex, citrusy flavor to dishes. They also carry bitter notes that complement the sweet and spicy components of various recipes. Their slightly peppery notes add a kick, enhancing the overall palette.
Versatile in Use
You can find curry leaves enhancing the flavor of anything from simple yogurt-based dips to more elaborate Indian curries. Their intense flavor serves as a counterpoint to creamy, tangy, or spicy ingredients.
Benefits of Curry Leaves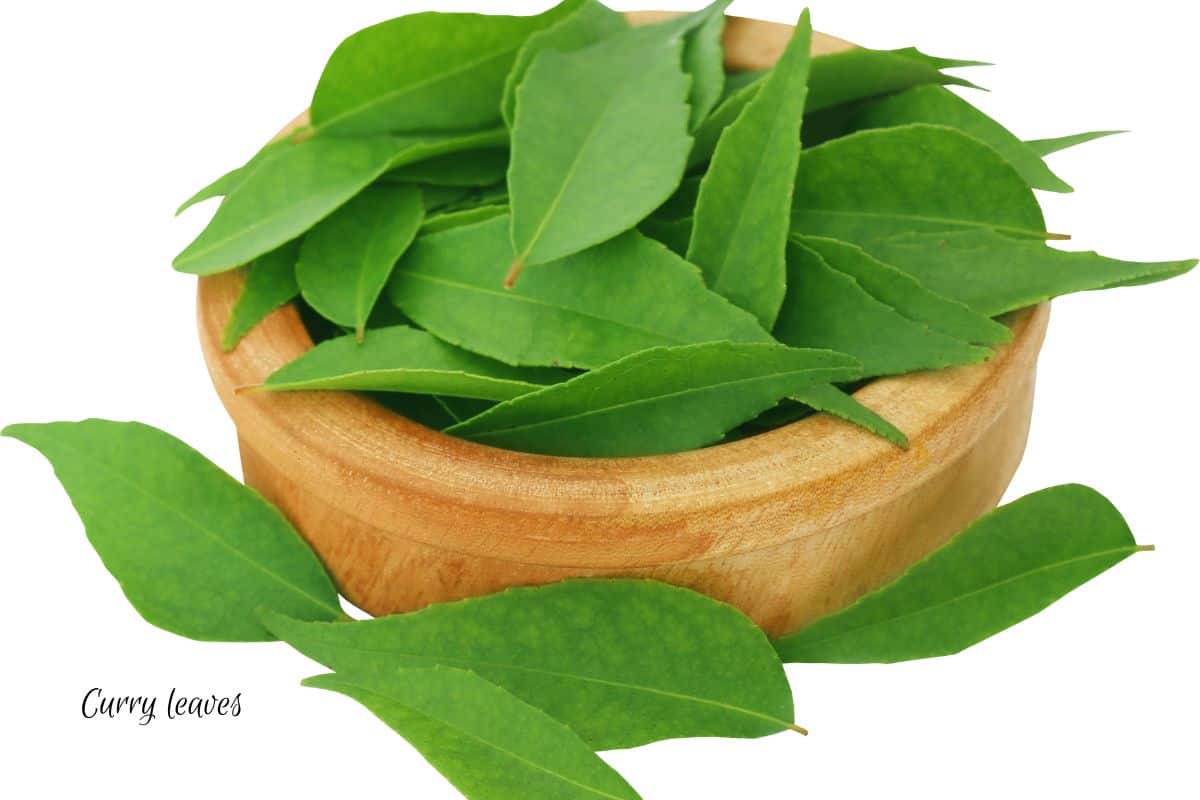 Blood Sugar Regulation
One of the remarkable health benefits of curry leaves is their potential role in regulating blood sugar levels. Studies suggest that these leaves might have properties that act similarly to insulin, helping to control elevated sugar levels.
A Powerhouse of Folic Acid
Curry leaves are rich in folic acid, an essential nutrient that plays a key role in cellular function and tissue growth. This is particularly beneficial for expecting mothers and individuals looking to optimize their overall health.
Manage LDL Cholesterol
Research has shown that curry leaves might also contribute to the reduction of bad LDL cholesterol levels. This can be a significant benefit for those focusing on cardiovascular health.
Antioxidant-Rich
Curry leaves are rich in antioxidants like carotenoids, flavonoids, and tannins. These compounds not only fight oxidative stress but also possess anti-inflammatory and anti-cancer properties, making curry leaves a potent addition to your health regimen.
Digestive Aid
Traditionally, these leaves have been used to remedy minor digestive issues. They are thought to have mild laxative properties, which can aid in the smooth functioning of the digestive system. They have been used in Ayurvedic medicine to stimulate digestive enzymes and help ease digestive distress.
Skin and Hair Care
While less commonly known, curry leaves can also be used externally for skin and hair care routines. Their antimicrobial and antioxidant properties make them an effective natural remedy for minor skin irritations and improving hair health. In fact, some believe it helps prevent hair loss.
Whether you're incorporating them into your favorite recipes or using them for their health benefits, curry leaves offer a multitude of advantages. From managing blood sugar and LDL cholesterol to their rich content of folic acid and antioxidants, curry leaves are more than just a flavorful herb—they're a powerful ally for your well-being.
330+ Curry Leaves, Whole Dr...
Shop on Amazon
Amalth Curry Leaf Extract 5...
Shop on Amazon

Alternatives to Curry Leaves
Finding curry leaves at local Indian markets may not always be possible, but fret not! There are several alternatives that can take the place of curry leaves in a pinch.
Lime Zest
Lime zest is a great substitute that can mimic the citrusy flavor of curry leaves. While the taste is different, the aromatic zest adds a tangy note that complements many dishes.
Lemon Balm Leaves
Lemon balm leaves, from the mint family, offer a unique aromatic quality that can serve as an alternative to curry leaves, especially in Mediterranean dishes.
Makrut Lime Leaves
Makrut lime leaves, often used in Southeast Asian cuisine, provide a similar flavor profile to curry leaves. They're an excellent choice for dishes requiring that unique, citrusy tang.
Lemon Juice
When in a fix, even a small amount of lemon juice can be used to impart a slightly tangy flavor, although it won't capture the same complex notes as curry leaves.
FAQ
Is bay leaf and curry leaf the same?
While they may look similar, they are not the same. They have slightly different flavor profiles and are used in different cuisines.
Can I use bay leaf instead of curry leaf?
Oftentimes it is acceptable to use curry leaves and bay leaves interchangeably in recipes. However, depending on the dish, you may want to consider the flavor you are going for and swap with an alternative option.
What are curry leaves called in English?
Curry leaves (Murraya koenigii) are native to India. In the UK they are often referred to as sweet neem leaves.
Comparing Bay Leaves and Curry Leaves
At first glance, bay leaves and curry leaves might seem interchangeable, but dig a little deeper and you'll find distinct differences that set them apart. Understanding these differences is crucial in maximizing their culinary and potential health benefits.
Origin and Flavor
The main difference between bay leaves and curry leaves comes down to their origins and flavor profiles. While bay leaves hail primarily from the Mediterranean region, curry leaves are native to Southeast Asia.
​
Culinary Uses
Both leaves are key ingredients in a variety of dishes, but the best ways to use them vary significantly. Bay leaves impart a subtle, savory depth of flavor to stews and rice dishes.
Curry leaves, on the other hand, are known for their intense, citrusy taste and are a staple in South Indian cooking.
Health Benefits
Both leaves may assist in regulating blood sugar levels, lowering LDL cholesterol, and have anti-microbial benefits. Each leaf is a powerhouse of unique antioxidants and can aid in digestive health.
Availability and Storage: Fresh vs Dried
While fresh bay leaves and dried bay leaves are commonly available, finding fresh curry leaves might require a trip to a local Indian grocery store. Dried curry leaves are also available but lose some of their pungent aroma and flavor.
Substitutes
In a pinch, lime zest or lemon balm leaves can replace curry leaves, but they offer a different flavor. For bay leaves, some of the best alternatives include laurel leaves or a small amount of thyme.
In summary, while bay leaves and curry leaves have their roles in culinary traditions and healthful living, their distinct differences in origin, flavor, and benefits make each unique. Understanding these differences is crucial for anyone looking to elevate their cooking and well-being.
Do you use bay leaves or curry leaves when cooking? What are your favorite dishes that call for these potent and beneficial leaves? We'd love to hear in the comments below! Don't forget to share this article with your friends and sign up for our newsletter in order to get up-to-date holistic wellness tips and recipes directly to your inbox.
Happy cooking,
Natalie