Yellow vs Red Dragon Fruit Benefits: Have you ever been intrigued by the vibrant colors and unique appearance of dragon fruit? This tropical fruit is not only eye-catching but is also packed with nutrients that offer a range of health benefits. In today's post, we're diving deep into the world of dragon fruit varieties, specifically focusing on yellow and red dragon fruits.
We'll compare their nutritional profiles and explore the distinct health benefits of dragon fruit in each of its beautiful forms. From vitamins to antioxidants, each type of dragon fruit has its own unique set of benefits that cater to a health-conscious lifestyle.
In our family, we love exploring a variety of nutrient-dense fruits and vegetables to gain a diverse spectrum of benefits the earth has to offer in the form of vitamins, minerals, antioxidants, and phytonutrients, and more.
As a holistic nutrition coach, I have spent countless hours exploring and researching a variety of foods and their health benefits, including these intriguing fruits. Accordingly, I am here to share my wealth of experience and knowlege so more people can reap the benefits of a vast array of delicious and nutritious foods for you and your family too!
Check out our other dragon fruit comparison articles: Dragon Fruit vs Starfruit & Prickly Pear vs Dragon Fruit!
Disclaimer: This blog post is intended for informational purposes only and is not a substitute for professional medical advice. Always consult with a healthcare provider for personalized medical advice.
Stay tuned as we uncover the unique fruit that is the dragon fruit, its potent health advantages, and why you might consider adding it to your diet.
Jump to:
​
What is Dragon Fruit?
Dragon fruit is an exotic fruit that hails from various regions across the globe. Native to Central America, Northern South America, this captivating fruit has made its way into the United States and Southeast Asia as well. It is known as Pitaya Roja in Central America and northern South America, and Pitahaya in Southern Mexico.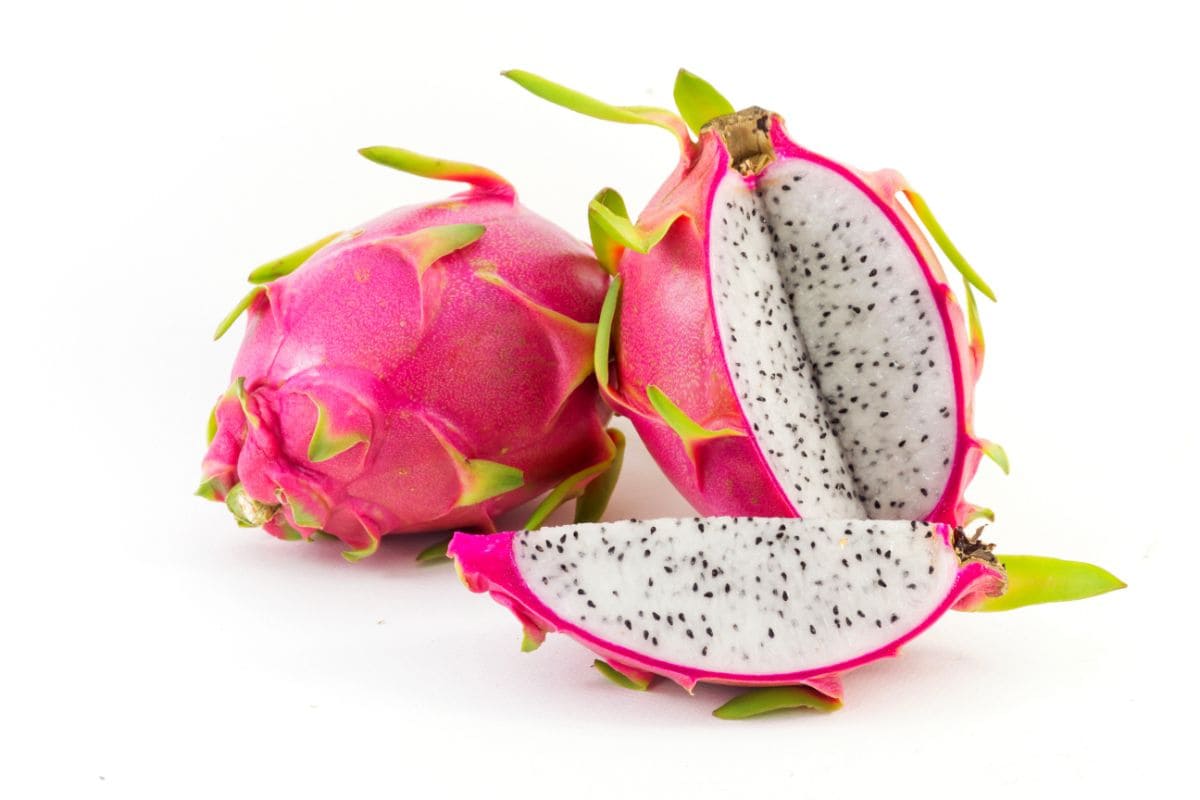 Originating from the dragon fruit plant, (selenicereus megalanthus) which is a member of the cactus family, this unique produce comes in different varieties, each with its own distinct taste and nutritional profile.
Characterized by its vibrant skin with green scales and edible seeds, dragon fruit is not just pleasing to the eye but is also an excellent source of antioxidants.
The fruit itself grows on a cactus plant, further underlining its remarkable adaptability and wide-ranging habitat.
Rich in essential nutrients, dragon fruit has been embraced in various cultures, especially in Southeast Asia, where it's commonly cultivated in Vietnam and consumed widely. In fact, it was introduced to the area in the 1800s by the French and has become a delicacy every since!
​Another interesting fact, is that it take up to 3 years for this cactus plant to produce fruit! This may be one of the reasons that it is typically higher in price than other common fruit varieties.
Whether you're new to this fascinating fruit or a long-time fan, knowing its origins and characteristics can enrich your appreciation and understanding of what makes it such a valuable addition to a healthy diet.
With its varied nutritional offerings and adaptability to different climates, dragon fruit has risen in popularity, not just for its impressive antioxidant activity, but also as a delicious and versatile addition to various dishes.
Stay tuned as we delve deeper into the different varieties of this exotic fruit, its myriad health benefits, and why it deserves a spot in your nutritional repertoire.
Types of Dragon Fruit
When it comes to dragon fruit, diversity is the name of the game. Broadly speaking, there are three main types that you'll commonly encounter: yellow dragon fruit (also known as yellow pitaya or yellow pitahaya), red dragon fruit (also know as pink dragon fruit) with white flesh, and red dragon fruit with red flesh. Each type's flesh is adorned with tiny edible seeds. Also, each hails from a specific cactus species and offers its own set of unique attributes.
Yellow Dragon Fruit
The yellow variety, scientifically known as Hylocereus megalanthus, stands out with its bright yellow skin. Contrary to its vibrant exterior, the inside offers a sweeter taste compared to its pink counterparts, along with small black seeds. The juicy flesh of yellow pitahaya makes it a favorite among those looking for a different take on dragon fruit.
QAUZUY GARDEN Dragon Fruit ...
Shop on Amazon
Red Dragon Fruit with White Flesh
This type is also widely known and is scientifically termed Hylocereus undatus. Characterized by its bright red skin, the inside reveals a contrasting white, juicy flesh peppered with tiny black seeds. Its mildly sweet taste makes it a popular choice for fruit salads, smoothies, and desserts.
Melissas' Fresh Dragon Frui...
Shop on Amazon
Red Dragon Fruit with Red Flesh
The red variety is known scientifically as Hylocereus costaricensis. It doesn't just stop at the skin; its inside is a striking pink flesh that's both sweet and tart. This type of dragon fruit offers a unique palette experience that sets it apart from the yellow and white-fleshed varieties.
Each of these types has its own unique nutritional profile, making dragon fruit a versatile option for those looking to diversify their diet.
Whether you prefer the sweet taste of yellow pitahaya or the tartness of the red-fleshed type, there's a dragon fruit out there for every palate.
Understanding these different varieties not only adds to your culinary vocabulary but also expands your options for incorporating this nutritious and exotic fruit into your diet.
So, whether you're blending it into a smoothie or enjoying it fresh, dragon fruit offers a burst of flavor and a multitude of health benefits that shouldn't be overlooked.
Yellow Dragon Fruit Nutritional Benefits
When it comes to nutrient-packed fruits, yellow dragon fruit is a front-runner, bursting with a plethora of vitamins, antioxidants, and dietary fiber. But what exactly makes this exotic fruit so beneficial for your health? Let's dive into the specifics, exploring studies and insights that shed light on the unique health benefits of yellow dragon fruit.
Rich in Vitamin C
First off, yellow dragon fruit is an excellent source of Vitamin C, a crucial antioxidant known for its immune-boosting properties. Vitamin C is vital in the formation of red blood cells and helps combat cell damage caused by oxidative stress. Studies indicate that a higher intake of vitamin C is associated with reduced risk of chronic diseases, including cardiovascular health issues.
High Dietary Fiber Content
With several grams of fiber per serving, this fruit does wonders for your digestive system. This prebiotic fiber aids in maintaining regular bowel movements and acts as a natural laxative, improving overall gut health. Insoluble fiber in yellow dragon fruit specifically helps to stimulate healthy bacteria in the gut, which plays a role in digestion and absorption.
Regulates Blood Sugar Levels
The presence of dietary fiber also has a positive effect on blood sugar levels, making it a beneficial choice for weight loss and management. Fiber helps to slow down sugar absorption, thus helping to control spikes in blood sugar.
Loaded with Antioxidants
Beyond vitamin C, yellow dragon fruit is a treasure trove of antioxidants and flavonoids, including phenolic acid, gallic acid, and hydroxycinnamates.
Flavonoids offer a range of health benefits, including anti-inflammatory and anti-cancer properties, as well as the ability to improve cardiovascular health by reducing blood pressure and arterial stiffness.
Gallic acid possesses anti-fungal and anti-viral properties, making it beneficial for boosting your immune system.
Hydroxycinnamates neutralize harmful free radicals, offering protection against cell damage and contributing to improved cardiovascular health.
Phenolic acid is particularly effective in fighting free radicals and reducing oxidative stress, thereby lowering the risks of various health problems such as high blood pressure and heart disease.
Fatty Acids for Skin and Cardiovascular Health
Yellow dragon fruit also contains fatty acids (particularly in the seeds) that contribute to cardiovascular health and skin health. These fatty acids assist in reducing inflammation and supporting cell regeneration.
Other Nutrients
The fruit also contains natural sugars that provide a quick energy boost without drastically affecting your blood sugar levels. Additionally, it has trace elements that further contribute to its wide range of benefits.
Yellow dragon fruit is a rich source of essential vitamins like Vitamin C and various B vitamins, along with key minerals such as iron and magnesium. These nutrients contribute to a range of health benefits, from boosting the immune system and energy levels to enhancing muscle function and oxygen transport in the body.
By incorporating fresh yellow dragon fruit into your diet, you're not only indulging in a delicious treat but also fortifying your body with essential nutrients that combat a range of health issues, from cell damage to digestive woes. With its unique blend of antioxidants, fiber, and other phytonutrients, yellow dragon fruit is a standout in both taste and nutritional value.
Red Dragon Fruit Nutritional Benefits
Red dragon fruit, often recognized for its vibrant red skin and strikingly rich red flesh, packs its own unique set of nutrients and antioxidants. Just like its yellow counterpart, red dragon fruit offers an array of health advantages, but with a unique twist in its nutritional profile.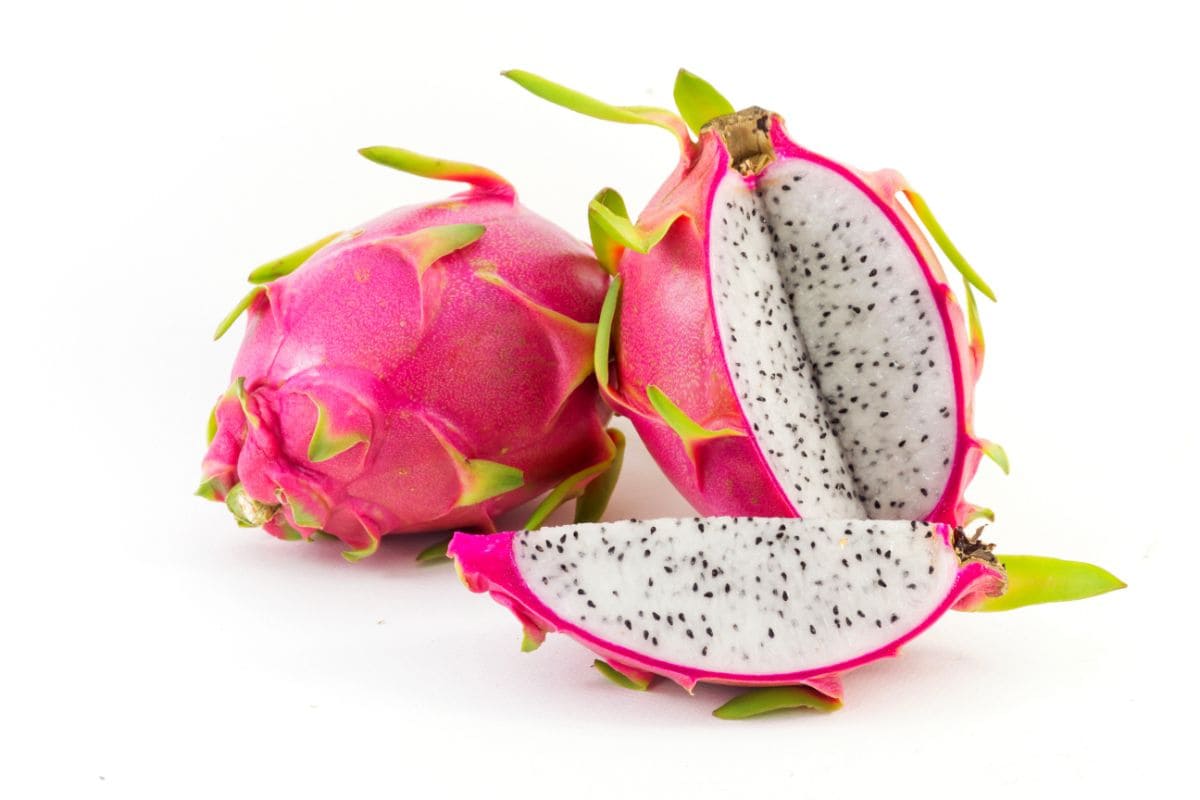 Red Dragon Fruit has most of the same nutrients as Yellow Dragon Fruit but with an added twist, especially the red-fleshed variety due to its potent phytonutrients (hint- these nutrients are associated with the hue, that is why it is important to "eat the rainbow"). Here's what sets red dragon fruit apart:
Packed with Lycopene
One of the unique antioxidants found in red dragon fruit is lycopene, which is known for its potential to reduce the risk of certain types of cancer, particularly prostate cancer. It also contributes to heart health by reducing LDL (bad cholesterol).
Abundant in Betacyanins
Unlike yellow dragon fruit, the red variety is particularly rich in betacyanins, which are powerful antioxidants that combat inflammation and oxidative stress, thereby aiding in the prevention of chronic diseases.
Unique Flavonoids
Red dragon fruit is rich in unique flavonoids like quercetin, which has antihistamine and anti-inflammatory effects. This flavonoid is known for its potential to improve cardiovascular health and reduce blood pressure.
Anthocyanins Galore
Another set of unique antioxidants found in red dragon fruit are anthocyanins, which are associated with improved eye health and cognitive function. They also have anti-inflammatory and anti-cancer properties.
Rich in Vitamin A
The red variety is a good source of Vitamin A, essential for vision, immune system function, and skin health. It is especially beneficial for maintaining eye health and boosting night vision.
Minerals for Health
Much like the yellow variety, red dragon fruit also contains essential minerals like iron and magnesium, contributing to improved oxygen transport and muscle function.
By including red dragon fruit in your dietary choices, you're opting for a distinct blend of vitamins, minerals, and antioxidants that are unique to this specific variety.
Each of these elements not only contributes to general well-being but also offers specific health benefits that are substantiated by scientific research.
Red vs Yellow Dragon Fruit: The Differences
Deciding between red and yellow dragon fruit can be quite a dilemma, especially when both offer a plethora of health benefits. Although they belong to the same cactus family, these two dragon fruit varieties present distinct characteristics in terms of flavor, nutritional profile, and even visual appeal. Here's how they differ:
Color and Appearance
Yellow dragon fruit sports a bright yellow skin and white flesh, whereas red dragon fruit is easily identified by its vibrant red skin and equally red flesh. The difference in color can add a unique touch to various culinary creations.
Flavor Profile
Yellow dragon fruit usually boasts a sweeter, juicier taste and a more tender texture. In contrast, red dragon fruit offers a milder flavor accompanied by a slightly firmer texture.
Antioxidant Content
While red dragon fruit shines with antioxidants like lycopene and anthocyanins, yellow dragon fruit is abundant in unique antioxidants such as phenolic acid and particular flavonoids, each offering its own set of health perks.
Nutritional Density
Interestingly, yellow dragon fruit holds a slight edge in terms of vitamins and minerals—except for Vitamin A, which is more abundant in the red variety. Both fruits are rich in essentials like Vitamin C and iron but diverge when it comes to specific nutrient concentrations.
Fiber Levels
Both types of dragon fruit are excellent sources of dietary fiber, essential for digestive health. However, yellow dragon fruit takes the lead with a slightly higher amount of grams of fiber per serving, making it especially beneficial for gut health and regular bowel movements.
Availability
Red dragon fruit is more commonly found in markets as it's widely cultivated in regions like Southeast Asia and the United States. Yellow dragon fruit, mainly grown in Central America, is a bit rarer in stores.
Understanding these nuanced differences can help you make a tailored choice that suits your nutritional needs and taste preferences. Whether it's the red or the yellow variety, both dragon fruits bring a unique blend of nutrients and flavors to the table.
Nutritional Comparison Chart
​
| Nutrient | Yellow Dragon Fruit (per 100g) | Red Dragon Fruit (per 100g) |
| --- | --- | --- |
| Calories | 60 | 60 |
| Protein | 1.2g | 0.9g |
| Fat | 1.5g | 1.5g |
| Carbohydrates | 9g | 9g |
| Dietary Fiber | 1.8g | 1.5g |
| Vitamin C | 3mg | 2mg |
| Vitamin A | Trace | 40 IU |
| Iron | 1.0mg | 0.65mg |
| Magnesium | 50mg | 40mg |
| Phosphorus | 40mg | 30mg |
| Calcium | 10mg | 9mg |
| Antioxidants | Phenolic Acid, Flavonoids | Lycopene, Anthocyanins |
| Unique Properties | Higher in fiber, more vitamins | Rich in Vitamin A, unique antioxidants |
This chart was developed using AI technology.
Health Benefits of Dragon Fruit
Dragon fruit, regardless of its variety, is more than just an exotic treat for the taste buds. This tropical fruit is packed with a range of nutrients and antioxidants that offer multiple health benefits. Here's why it's worth adding to your diet:
Boosts Immune System
Rich in Vitamin C, dragon fruit supports the immune system by encouraging the production of white blood cells, your body's natural defense against pathogens.
Regulates Blood Sugar
The fiber content in dragon fruit may help stabilize blood sugar levels, making it a good choice for those managing diabetes or insulin sensitivity. However, more studies are needed and ongoing.
Aids Digestive Health
With its high fiber content, dragon fruit aids in keeping the digestive tract flowing, acting as a natural laxative and supporting regular bowel movements.
Supports Weight Loss
The dietary fiber in dragon fruit may also assist in weight loss by promoting satiety.
Enhances Skin Health
Dragon fruit is rich in antioxidants like flavonoids and phenolic acid, which help combat oxidative stress that contributes to premature aging and skin damage.
Promotes Cardiovascular Health
The antioxidants found in dragon fruit, such as betacyanins and hydroxycinnamates, play a role in reducing high blood pressure and improving heart health.
Reduces Oxidative Stress
Dragon fruit is an excellent source of antioxidants that help fight oxidative stress, reducing the risk of chronic diseases and cellular damage.
Encourages Healthy Gut Flora
Prebiotic fibers found in dragon fruit help maintain a balanced gut microbiome, encouraging the growth of healthy bacteria essential for digestive health.
Improves Iron Absorption
Dragon fruit is a good source of iron, which is vital for moving oxygen through the body and giving you energy.
Whether you choose yellow or red, dragon fruit offers a symphony of flavors along with a robust nutritional profile that can support a range of health benefits. It's a versatile addition to any health-conscious diet.
How to Consume Dragon Fruit
Consuming dragon fruit is a simple yet rewarding experience, especially when you know the right way to cut and enjoy this tropical delicacy.
Cutting the Fruit
To cut a dragon fruit, you'll need a sharp knife. Slice the fruit lengthwise to reveal its juicy flesh. Next, you can either scoop it out with a spoon or peel off the skin to cut the flesh into chunks.
Checking for Ripeness
Make sure you choose a ripe dragon fruit for the best experience, as an unripe dragon fruit tends to lack flavor and won't be as pleasing to consume. A ripe dragon fruit will have a vibrant color and give slightly when pressed.
Ways to Enjoy
The sweet flavor of dragon fruit makes it a versatile ingredient. You can enjoy it on its own, add it to fruit salads, or feature it in smoothie bowls for added texture and nutritional benefits.
Interestingly, dragon fruit is also sold in dried fruit varieties as well as freeze-dried powder so that it can be easily added to smoothies or juice as a supplement.
Organic Freeze-Dried Dragon...
Shop on Amazon
Yammy Dried Dragon Fruit Ch...
Shop on Amazon
Storage
For maximum freshness, store the cut dragon fruit in an airtight container in the fridge. If you're keeping a whole dragon fruit, storing it at room temperature is typically fine until it's cut open.
Health Precautions
While dragon fruit is generally considered safe to consume, it's always prudent to be cautious. Some people may experience an allergic reaction to this fruit.
If you're pregnant, nursing, or taking medications, it's advisable to consult your healthcare provider before adding dragon fruit to your diet.
Whether you enjoy it fresh or include it in various dishes, dragon fruit can be a unique and nutritious addition to your meal plan. Just remember to handle it with care and take any necessary health precautions.
FAQ
Which color dragon fruit is healthier?
Both yellow and red dragon fruit are nutrient-dense fruits that have multiple benefits. Yellow dragon fruit is higher in vitamins and minerals, while red dragon fruit is higher in antioxidants, due to its rich red flesh.
Does red and yellow dragon fruit taste the same?
Yellow dragon fruit is sweeter than red and tends to be juicer. Red dragon fruit is mildly sweet and tastes like a cross between a kiwi and pear.
Why is yellow dragon fruit more expensive?
Yellow dragon fruit is harder to find. It typically thrives best in Central and South Americas, Israel, Hawaii, Florida, Columbia, Peru, and Australia. It's peak season is early summer and fall. It takes up to 3 years for a dragon fruit tree to produce fruit, so it is often difficult to come by.
Conclusion
Whether you opt for the exotic allure of yellow dragon fruit or the vibrant richness of the red variety, you're in for a nutritional treat that's both delicious and beneficial for your well-being.
Have you tried different types of dragon fruit? Which do you prefer? We'd love to hear your thoughts.
If you found this guide helpful, don't hesitate to share it with your friends and family. And for more insights into nutritious living, feel free to subscribe to our newsletter for updates on similar topics.
Be well,