Have you ever tasted a date? If not, you're missing out on a delicious, natural treat that has been enjoyed for centuries. Two of the most popular varieties are Medjool dates and Deglet Noor dates. Both are excellent sources of fiber, vitamins, minerals, and healthy carbohydrates.
In this article, we'll compare these two varieties of dates, explore the health benefits and provide ideas for incorporating dates into your daily meals.
So, if you're looking for a sweet and healthy snack or a natural ingredient for a recipe, get ready to discover why dates have become a treat of choice for food lovers everywhere.
Jump to:
What is a Date?
A date is a sweet fruit that is lightly dried. It comes from the date palm trees (Phoenix dactylifera). Dates are classified as stone fruits due to the single seed within each fruit (similar to an avocado, peach, or olive).
Dates originated in the Middle East and are one of the oldest cultivated fruits to date. They date all the way back to ancient cultures of the Middle East and Africa. Dates are most popularly grown in a warm climate. The Middle East, Northern Africa, and the Southwestern United States (Arizona and Southern California) produce the lion's share of the world's date fruits. The ripe dates are typically harvested in late summer.
There are several different varieties of dates, but the most popular type is Noor Deglet dates. They are followed very closely by Medjool dates.
Dry dates are often found in the bulk food section of grocery stores. They are typically sold at room temperature but stored best in the refrigerator in an airtight container to retain moisture which helps the fresh dates last longer.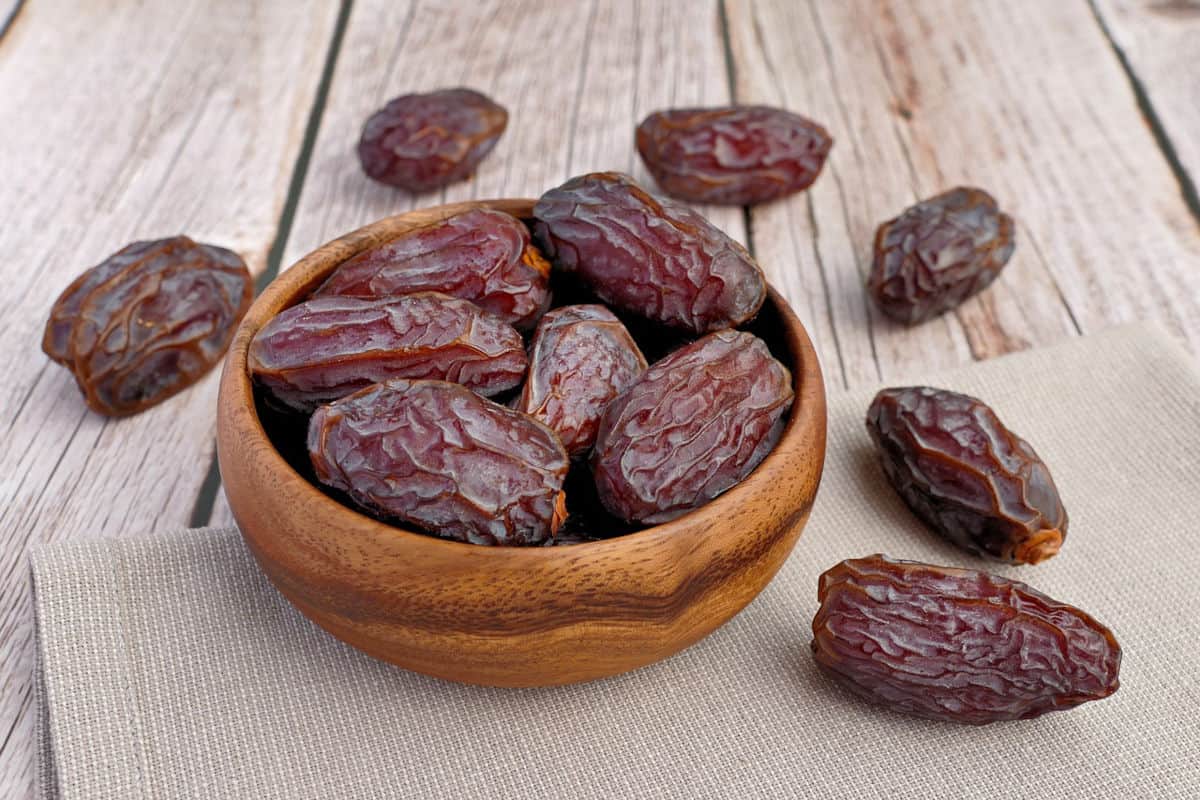 Uses for Dates
Medjool dates are known for their sweet, delicate flavor and caramel-like taste. Deglet Noor dates are slightly less sweet and taste nuttier like cashews. These dried fruits are commonly used as a natural sweetener that is rich in essential nutrients, vitamins, minerals, and fiber.
Many whole-food recipes call for dates as a natural sugar substitute and are often used to make date syrup or date paste. They are washed or soaked and pitted, then blended into a mixture of ingredients in a variety of creative ways for a healthy alternative to many processed sweet foods on the market today.
Dates are often used to make baked goods due to their sticky nature and chewy texture, it binds well to make snack bars, cookies, and even cakes. Different date varieties can be used interchangeably as a natural and healthier sweetener in a recipe similar to raw honey and maple syrup. Try our Chocolate Avocado Pudding with Medjool dates instead of Maple!
You can also break up dates into small bites and add them to trail mix, yogurt, and breakfast cereals, or make them into a spread for toast! The possibilities are endless.
They also make the perfect snack to satisfy a sweet tooth. You can eat dates alone like any other dried fruit, or cut them open and add some nut butter. This makes for a delicious mid-day pick-me-up. Yum!
Health Benefits of Dates
Besides their unique flavor and natural sugars, what is the benefit of choosing dates for a sweetener or snack? Both Medjool and Deglet Noor are good choices for their impressive nutritional value and overall health benefits.
They are an excellent source of energy, fiber, and various essential minerals, vitamins, and nutrients. Dates are an excellent source of potassium, iron, calcium, zinc, selenium, manganese, copper, A, K, and B vitamins, and various free-radical fighting antioxidants.
These vitamins and nutrients assist in many functions within the body, particularly in their ability to support the immune system, protect against anemia, improve bone and teeth health, and so much more!
They have an incredible antioxidant concentration of anthocyanins, antioxidants, and polyphenols. This makes them a phenomenal tool to help prevent neurodegenerative diseases like Alzheimer's. (source)
The high fiber content in these super-fruits also helps to relieve constipation and other gastrointestinal disorders.
Studies have also shown that eating dates (particularly 6 dates per day) in the last month of pregnancy helped women go into labor naturally and reduced the need for medical intervention by labor induction. (source)
Note: Be aware that as dates are a natural source of sugar. It is important to be cautious and use them in moderation, especially if your doctor has suggested that you monitor your blood sugar levels.
Mixing with protein and fat like nut butter helps tremendously to slow the blood sugar spikes. Be sure to talk to your healthcare professional before making any significant changes to your diet and lifestyle.
Recommendations
Differences
As mentioned above, the two most common types of dates are Medjool and Deglet Noor variety. There are many different types of dates across the globe that have varying health benefits. For the most part, different varieties of dates can be used interchangeably in many different recipes. However, you may want to choose one variety over the other for a few specific reasons. The main differences between Medjool and Deglet Noor varieties are the size, color, and texture.
Medjool
Medjool dates are from Morocco and were named the "king of dates". In ancient Moroccan culture, these dates were typically consumed only by royalty. They are slightly larger and sweeter, with a caramel-like flavor. Medjools have a lighter, more auburn color with juicier and thicker flesh than the Delget variety.
The texture is softer and less chewy, which makes it easier to blend than the Deglet counterpart. The texture and flavor make them perfect for caramel-like flavors, syrups, and fillings. There is also a slight variation in nutritional values as Medjool has a higher content of fructose, while Deglet is higher in sucrose.
Medjool dates tend to have a higher antioxidant content as well as a slightly higher calcium content than Deglet. Medjool dates tend to take longer to cultivate, which is often reflected in the price being increased at the market.
Deglet Noor
Deglet Noor dates are originally from Algeria, a small country near Morocco. The name Deglet Noor translates to "Date of Light" in Arabic. They were introduced to southern California in the early 20th century where they are now commonly grown.
When it comes to these dates, Deglet Noor is darker in color and smaller in size. The flesh is chewier and slightly tougher in texture which makes them perfect for chopping up and adding to salads, cereals, and trail mixes.
They also work well in baked goods, depending on your preferences for a more subtle, nuttier sweetness than that of Medjools.
Choosing a Date
The decision to choose Medjool or Deglet Noor dates is entirely up to you. There are many factors including taste, texture, sweetness, size, price, and use. The choice is up to your personal preference and specific needs for the recipe you are intending to make.
When it comes to recipes that require blending, Medjool is probably your best choice. If you are looking for a sweet and delicious additive to cereals, salads, or nut mixes, Deglet Noor is a good choice!
Be sure to let us know in the comments how these delicious dried fruits worked for you!