In the realm of nature's most remarkable offerings, there exists a hidden treasure that has captured the fascination of health enthusiasts and wellness seekers alike. Nestled within the mystical landscapes of the Andes Mountains in Peru, the unassuming maca root emerges as a true superfood, harnessing an array of vibrant colors and an arsenal of potent benefits. Journey with us as we delve into the captivating world of maca's diverse hues - black vs red vs yellow maca- each unveiling its own unique symphony of nutrients and healing properties.
Jump to:
Our voyage takes us to the heart of the Andean highlands, where generations of indigenous cultures have revered the maca root for its ability to harmonize mind, body, and spirit. As we peel back the layers of maca's rich history, we invite you to uncover the captivating tapestry of its benefits - both ancient and modern.
In the following article, we will navigate the subtle nuances that differentiate black, red, and yellow maca, unlocking the secrets they hold within their pigments. Along this voyage, we will illuminate the unique biochemical compositions of each hue, painting a vivid portrait of their potential impact on vitality and well-being.
Stay tuned for our best recommendations for the source of the finest quality maca - a beacon of organic Peruvian authenticity and excellence that ensures your journey is guided by the utmost standards.
Prepare to be captivated by the symphony of color and nourishment that the maca root presents, as we illuminate the distinct attributes of black, red, and yellow varieties of maca.
So, let the exploration begin, and let the vibrant world of maca roots enrich your journey toward vitality and health.
This article is for informational purposes only. It is not intended as medical advice. As a Holistic Nutrition Specialist, my goal is to share information on quality superfoods and natural products and their potential health benefits. However, individual needs vary, and should discuss any dietary changes with a qualified medical professional.
​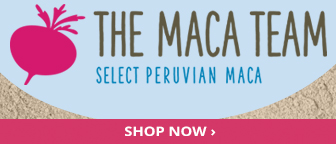 What is Maca?
​
Imagine a land where the rugged Andes Mountains stretch towards the heavens, cradling a resilient root that thrives amidst the extremes of altitude and climate. This remarkable root vegetable, known as Maca (Lepidium meyenii or Lepidium peruvianum), holds within its unassuming exterior a powerhouse of nourishment and vitality that has been cherished by indigenous communities for centuries.
Maca, often referred to as "Peruvian ginseng," is a cruciferous vegetable that belongs to the Brassicaceae family, which also includes well-known plants like broccoli, cauliflower, and kale. Resilient and tenacious, maca's journey begins at high altitudes of over 10,000 feet, where the thin air and harsh conditions encourage its development of adaptogenic properties.
These adaptogens have unique properties which is what lends maca its ability to adapt to the needs of the human body, supporting balance and wellness.
Maca's distinctive nutty flavor adds a delightful and enriching dimension to both sweet and savory dishes, infusing them with a touch of natural earthiness that tantalizes the taste buds.
For generations, maca has been an integral part of traditional Andean cuisine and holistic medicinal use.
Its versatility and exceptional nutritional profile have earned it a reputation as a revered superfood. Bursting with essential vitamins, minerals, and antioxidants, maca holds the potential to invigorate and nurture the body from within.
A Nutritional Marvel
​
Delve beneath the surface, and you'll uncover a treasure trove of nutrients concealed within the unassuming maca root. Loaded with vitamin C, B vitamins, and minerals like iron, copper, and potassium, maca offers a natural arsenal that can fortify your immune system, enhance energy levels, and promote overall vitality. The minerals in certain maca colors also have a higher concentration of minerals that have a positive effect on bone health!
Yet, the magic of maca extends far beyond its basic nutritional content. This intriguing root is also a potent source of plant compounds, including alkaloids and glucosinolates, which contribute to its unique adaptogenic effects. These compounds work in harmony to bolster the body's resilience to stress, both physical and mental, offering a shield against the demands of modern life.
Hormonal Balance and Vitality
​
Central to maca's allure is its capacity to support hormone balance and reproductive health.
In particular, maca has been celebrated for its potential to enhance libido and fertility, making it a cherished ally for individuals seeking to improve sexual function and nurture their intimate well-being.
Certain types of maca supplements have also been used in alternative medicine to improve sperm count, combat sexual dysfunction, improve prostate function, reduce menopausal symptoms, and more.
But the story doesn't end there. Maca's influence extends to cognitive function, mood regulation, and endurance. Its adaptogenic prowess assists in navigating the ebbs and flows of daily life, helping you maintain equilibrium even in the face of challenges.
Maca is often used to improve athletic performance, heal adrenal fatigue, improve mental health, reduce brain fog, balance mood swings and other psychological symptoms, and so much more.
As we continue our exploration of the mesmerizing maca root, we'll unlock the secrets held within its distinct colors - black, red, and yellow - each offering a unique spectrum of benefits.
From igniting vitality to harmonizing body and mind, maca reveals itself as a true wonder of nature, ready to bestow its bountiful blessings upon those who seek wellness from the inside out. Let's delve into the different maca colors and help you discover what medicinal purposes are best served by each color of maca.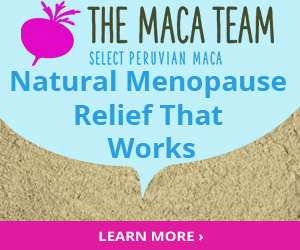 Black Maca Root Benefits
​
Nestled high in the majestic Andes, amidst a kaleidoscope of vibrant maca root colors, the elusive black maca root stands as the rarest form of maca, an emblem of vitality for well-being. This remarkable root, steeped in centuries of tradition and fortified by modern research, unveils a holistic spectrum of attributes that work harmoniously with the essence of masculine vitality.
Male Sexual Health: Within the realm of male sexual health, black maca emerges as a potent guardian, addressing concerns that resonate deeply with men.
Clinical studies have illuminated its capacity to enhance erectile function, casting a hopeful light upon the shadows of erectile dysfunction.
This profound botanical ally fans the flames of sex drive, igniting a fervor for intimacy that resonates with masculine energy. Along the same lines, black maca boosts male fertility, improving semen quality and sperm motility, and prostate health.
Fostering Wellness: Beyond the realms of intimacy, black maca's influence extends to a symphony of wellness notes. It fortifies the foundations of bone health, an essential pillar that sustains an active and dynamic life.
Simultaneously, it lends its support to the pursuit of muscle building, improving physical performance, and arming men and women with the nutrients necessary to sculpt and strengthen their bodies.
Energy and Mental Focus: As dawn breaks, black maca unveils its gift of invigorating energy, improved brain function, and sharpened mental focus. It becomes an unwavering companion in the pursuit of physical endurance, empowering men and women to conquer challenges and reach new heights of performance.
Simultaneously, its influence on mental clarity fosters cognitive prowess, guiding men toward a harmonious balance of body and mind.
Weight Management: The journey towards healthy weight management finds a steadfast partner in black maca. Its unique composition provides a potential avenue for weight loss endeavors, supporting metabolic processes and nurturing a balanced body composition.
Elevating Mood: In the realm of emotions, black maca emerges as a gentle yet powerful mood booster, infusing a sense of well-being and serenity into each day's journey. Its impact resonates with a positive outlook, anchoring men and women to a buoyant spirit that navigates life's twists and turns.
Antioxidant-Rich: Among its illustrious accolades, black maca stands tall as a guardian of antioxidant potency, outshining its counterparts (both red and yellow maca) with higher levels of these protective molecules.
This formidable defense shields the body against the wear and tear of oxidative stress, enhancing resilience and fortifying the immune system.
In the grand tapestry of wellness, black maca root emerges as a rare and invaluable thread, weaving a narrative of male sexual health, prostate well-being, bone strength, muscle building, energy, mental focus, weight management, mood elevation, and antioxidant supremacy.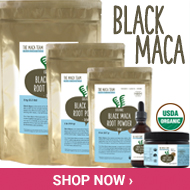 Red Maca Root Benefits
​The radiant red maca root emerges as a potent symbol of feminine vitality.
Amidst the ancient wisdom of the high-altitude regions, red maca shines as a beacon of hope, offering a diverse spectrum of benefits that resonate profoundly with the unique journey of postmenopausal women and all seeking to nurture their feminine energy.
A Respite from Hormonal Imbalance: For postmenopausal women navigating the complex labyrinth of hormonal changes, red maca offers relief.
Clinical studies have begun to unravel its potential in alleviating symptoms that often accompany this phase, including hot flashes and hormonal imbalance.
Red maca's botanical magic soothes the body's transitions, allowing women to embrace the fullness of life with grace and comfort.
Additionally, Black and Red Maca both have a positive effect on the adrenal glands and help improve healthy and clean energy.
Hormonal Harmony: A cornerstone of red maca's allure lies in its ability to gently support estrogen levels. This intricate dance with the body's hormonal orchestra can kindle the fires of sexual desire, rekindling intimacy and enhancing the feminine spirit.
Bone Health and Structure: Just as the Andes cradle the earth, red maca nurtures the body's foundation. It serves as a steadfast companion in the journey toward maintaining strong bone density and supporting bone structure.
Elevating Mood, Energy, and Mental Clarity: Red Maca's embrace extends beyond the physical realm, enveloping emotional well-being in its radiant glow.
It's potential to uplift mood, amplify energy, and enhance mental clarity offers a holistic sanctuary for the intricate interplay between body and mind. It stands as a shield against the looming clouds of depression, balancing the nervous system and empowering women to bask in the brilliance of vitality.
Skin Health: As time weaves its tapestry, skin health takes center stage. Red maca steps onto this grand theater, offering higher nutrient levels that promote skin vibrancy and resilience.
It becomes a steadfast companion in the quest for healthy, radiant skin, addressing concerns ranging from hormonal acne to wound healing.
Alleviating Painful Periods: For those bearing the weight of painful periods, red maca's nurturing touch offers a potential reprieve.
Its natural embrace of the body's rhythms can contribute to a smoother, more comfortable cycle, allowing women to move through life with grace and ease.
Red maca root emerges as a radiant ally, guiding women towards a life enriched by balance, strength, beauty, and unwavering feminine energy.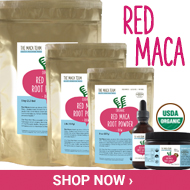 Yellow Maca Root Benefits
​As nature's golden gift, the yellow maca unveils a spectrum of attributes that transcend gender and age, bestowing a holistic radiance upon the journey toward vitality. It is the most common color of maca and has a more general use of all three types of maca roots.
Hormonal Harmony: Yellow maca root, often referred to as the "all-around" maca, possesses a unique capacity to restore equilibrium within the body's intricate hormonal symphony.
Its adaptogenic prowess gently guides hormonal pathways toward balance, providing a harmonious environment for both men and women. This delicate dance supports mood stability, energy levels, and overall vitality, offering a natural sanctuary amidst life's fluctuations. Like red maca, it helps reduce menopause symptoms as well
Energy and Mental Clarity: One of yellow maca's most celebrated facets lies in its ability to invigorate energy levels and amplify mental focus. Like a sunrise, its touch awakens the senses and ignites a surge of stamina, empowering individuals to tackle challenges with renewed vigor.
Enhanced mental clarity adds an extra dimension to its influence, fostering a sharpness of mind that navigates daily tasks with heightened acuity.
Physical Resilience: Beyond its embrace of hormonal and mental well-being, yellow maca's treasure trove of nutrients extends to the realm of physical resilience. It stands as an ally in fortifying the body's immune response, enhancing wound healing, and contributing to overall vitality. Its holistic influence is a testament to the interconnected nature of wellness.
Skin Health: The benefits of yellow maca encompass the realms of physical beauty, as its nutrients contribute to vibrant skin health.
This radiant glow emerges from within, nourishing the skin with the essential elements needed for a luminous complexion.
Moreover, yellow maca's potential to address concerns such as hormonal acne adds a nurturing touch to holistic beauty routines.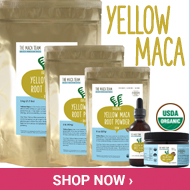 Choosing the Right Maca Type
​
As you embark on the transformative journey towards harnessing the vibrant benefits of maca root, the task of choosing the right maca type may seem akin to navigating a labyrinth of possibilities.
Allow us to introduce you to The Maca Team's Quick Finder, a helpful tool designed to simplify the process and help you uncover the perfect maca root variety tailored to your unique needs.
Imagine having a knowledgeable guide by your side, assisting you in uncovering the maca root that resonates most profoundly with your well-being goals.
The Maca Team's Quick Finder does just that, offering a seamless and intuitive pathway to choosing the Maca variant that aligns harmoniously with your aspirations.
By addressing specific criteria such as gender, age, digestion, and wellness objectives, this tool becomes your compass in the realm of maca exploration.
Raw vs. Gelatinized Maca
​Within the world of maca, you'll encounter two main preparations: raw and gelatinized. Raw maca is exactly as its name suggests - unprocessed and closer to its natural state. For some, raw maca may have adverse effects on sensitive digestive systems and may not be as bioavailable as the gelatinized counterparts.
Gelatinized maca undergoes a gentle heating and cooling process, breaking down starches and making the maca easier to digest. Your personal preference and digestive sensitivities can guide your choice between these two forms, allowing you to embark on your maca journey with confidence.
Blending Colors for Optimal Synergy
​
While each color of maca root offers a unique symphony of benefits, there's no need to limit yourself to a single note. The Maca Team and many other Maca producers offer a tri-color product that blends all three colors of maca, creating a harmonious fusion that encapsulates the attributes of black, red, and yellow maca.
This holistic blend embodies the spirit of balance and synergy, allowing you to experience the comprehensive spectrum of maca's potential in a single, convenient package.
Whether you choose raw or gelatinized, single colors or a tri-color blend, the path you tread should be one infused with vitality, balance, and the radiant essence of maca root. So, embark on your voyage with confidence, armed with the wisdom to choose the maca that resonates most powerfully with your unique path to well-being.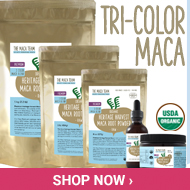 Using Maca
No matter what type of maca you use, it is important to realize that maca is a food. Maca powder is generally used in coffee, shakes, smoothies, or overnight oats.
Maca extract can be used as a tincture. Either way, to reap the benefits of maca, it is important to incorporate your maca into daily use for at least 30 days. This gives it a chance to work and synchronize with your body. This way you will have a chance to experience the full benefits of this illustrious superfood.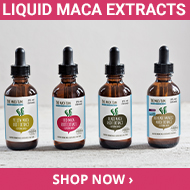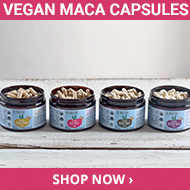 Check out our web story here!
Conclusion
​
As we conclude this exploration of the kaleidoscopic world of maca root, we invite you to embark on a transformative journey that transcends color, gender, and age. Just as the Andean landscape weaves a vibrant tapestry, so too does maca offer a symphony of wellness that resonates with your unique path.
Have you experienced the invigorating embrace of black maca, igniting masculine vitality and fortitude? Or perhaps red maca has illuminated your journey, nurturing feminine energy and radiance. Maybe it's the universal harmony of yellow maca that has drawn you towards balance and holistic well-being.
We would love to hear from you. Share your maca story with us – the color you've tried and the benefits you've discovered. Let your voice join the chorus of wellness seekers who have harnessed maca's potent power.
Stay connected with us on social media for a constant stream of up-to-date health and wellness insights. Dive deeper into the realm of clean eating, holistic nutrition, and superfoods, and let us be your guides in this transformative journey toward vitality. Don't forget to subscribe to our newsletter, where we curate a treasure trove of knowledge that nourishes your mind, body, and spirit.
As you traverse the path of wellness, remember that maca is more than a root – it's a symphony of potential, a harmonious blend of colors and benefits that empower you to embrace life's radiance. Let Maca be your steadfast companion as you continue to weave the tapestry of your vibrant well-being.
Be well,
Natalie