Diving into the festive debate of Custard vs Eggnog, this guide offers a closer look at these beloved holiday treats. As we gear up for the holiday season, understanding the nuances between these two creamy delights becomes a topic of interest at many holiday gatherings. Renowned for their beautiful rich taste, both custard and eggnog are more than just desserts and drinks; they embody the essence of traditional holiday celebrations.
Old-fashioned custard, known for its rich flavor of vanilla and silky texture, is a creamy dessert and holiday season classic, often featured in Mexican recipes and favored at holiday parties.
Eggnog, on the other hand, stands out as a traditional holiday drink with a more exotic flavor profile, frequently enhanced with spices and spirits, solidifying its status as a Christmas-time favorite.
This guide is dedicated to showcasing how to prepare both holiday custard and traditional eggnog using the healthiest ingredients possible.
We'll explore the main differences between these treats and provide insights on creating versions that are not only delicious but also align with clean eating principles.
Jump to:
Adapting to Clean Eating
When I began to live a clean eating lifestyle, I sought out ways to adapt some of my favorite meals, drinks, and treats in a way that would align with this way of life.
When searching for clean recipes, I found so many different things that were very foreign to me. At first, that was very overwhelming.
Then, I realized that I did not have to completely change everything that I love and adapt to completely new foods, I simply needed to modify my favorites with healthier options! I've spent years finding ways to make healthy swaps and I'm here to share my discoveries and creations with you all!
Do not despair, custard and eggnog are two of my holiday favorites. Read on, and I will share the best ways to enjoy these delicious festive treats!
Prepare to discover how to make these sweet treats in a way that delivers their distinct flavor profiles while keeping health and nutrition at the forefront.
Whether you're hosting a festive celebration or enjoying a quiet, cozy night in, this guide will ensure your custard and eggnog experiences are as nutritious as they are indulgent.
Let's celebrate the holiday season with these delightful and healthier spins on classic recipes!
​
Custard and Eggnog Origins
Custard and Eggnog, each a delightful dessert drink in its own right, have rich histories that have evolved into the sweet treats savored during Christmas time and beyond.
Custard
Custard's journey begins as a simple, yet versatile dessert. While often regarded as a southern thing, its roots are global. In fact, custard's origins trace back to the Middle Ages and Ancient Rome.
This delicious dessert started as a homemade recipe, used in many dessert dishes as a filling for pie crusts, creme brulee (my personal favorite), or as a base for homemade vanilla ice cream (think frozen custard!).
Over time, custard has been adapted into various forms, including the luxurious crème anglaise and the classic drinking custard. The original recipe, known for its simplicity, typically combines eggs, milk, sugar, and, of course, the rich flavor of vanilla. This creamy beverage has graced tables worldwide, each region adding its unique twist, whether it's a pinch of coffee or a dash of spice.
Eggnog
Eggnog is a classic creamy beverage that has become synonymous with holiday cheer. Its origins are a blend of tradition and folklore, with some theories suggesting it evolved from medieval European beverages. In medical times egg nog was called posset, and was used as a home remedy for cold and flu symptoms.
Classic eggnog, typically made with milk, cream, sugar, whipped eggs, and spices like nutmeg, has been a festive staple for centuries.
Over the years, the original recipe has been adapted into countless homemade recipes, each delivering a unique experience. From a simple sweet treat to a sophisticated alcoholic beverage with a splash of bourbon or other alcoholic spirits, eggnog's versatility is limitless.
Its association with Christmas time adds to its charm, making it a must-have at holiday gatherings.
Both custard and eggnog have traveled through time, evolving from their humble beginnings to become the quintessential holiday desserts. Whether you prefer the smooth, rich flavor of a classic custard or the spiced, frothy delight of traditional eggnog, these beverages continue to bring joy and sweetness to our lives.
Their ability to adapt and evolve keeps them timeless, ensuring that these beloved recipes will continue to be reinvented for generations to come.
In the next section of our guide, we'll delve into the nutritional aspects of these festive favorites. We will highlight how to enjoy these delicious desserts in a way that aligns with clean and healthy eating practices. Stay tuned for more insightful tips on creating custard and eggnog that not only tantalize your taste buds but also nourish your body.
​
Nutritional Comparison
In the festive debate between custard and eggnog, understanding their nutritional content is crucial for those mindful of their holiday indulgences. Both desserts share similar base ingredients but differ in their nutritional impact.
Egg Composition: Yolks and Whites
​Both custard and eggnog traditionally use a combination of egg yolks and egg whites but in different ways. In custard, egg yolks are often gently cooked with a sugar mixture over a double boiler, resulting in a creamy texture.
For eggnog, the egg yolks and whites are usually separated.
The raw egg yolks are beaten with sugar and then combined with milk and cream, while the whites are often whipped and folded to add lightness. This separation and combination technique is the reason eggnog has a frothy texture.
Dairy Content: Milk and Cream
​The main difference in their dairy content lies in the proportions of milk and cream. Traditional custard typically relies on hot milk, sometimes flavored with vanilla extract, offering a lighter consistency. Eggnog, known for its rich and creamy texture, often includes a higher proportion of heavy cream. This contributes to its higher fat content.
Sweetness and Flavoring
​Both desserts are sweetened, usually with a sugar mixture. The level of sweetness can vary, and using natural sweeteners or reducing sugar quantity can make these treats healthier.
The flavor of custard is often enhanced with vanilla extract, giving it a delicate taste. Eggnog, a true eggnog in the traditional sense, is spiced with nutmeg or cinnamon, adding to its unique flavor profile.
Nutritional Considerations
​When comparing the two, custard generally has a lower calorie count due to its higher milk and lower cream content. Eggnog, with its combination of heavy cream and whole milk, tends to be richer in calories and fat. However, both can be sources of protein and calcium.
While both custard and eggnog can be enjoyed as delicious desserts during the holiday season, their nutritional profiles are distinct. By understanding these differences and adjusting recipes to suit health preferences, you can indulge in holiday classics in a more health-conscious manner. Choices like using pasteurized eggs and moderating sugar and cream quantities are key to this approach.
​
Main Differences
When exploring the culinary delights of custard and eggnog, understanding their key differences is essential. This is especially so when it comes to preparation methods and nutritional details.
Egg Preparation: Boiled vs Raw
One of the biggest differences lies in how the eggs are treated. In a traditional custard recipe, eggs are typically boiled, often with a milk mixture, to achieve a thick consistency. This method not only imparts a smooth texture but also eliminates the risk of salmonella.
Eggnog, conversely, traditionally uses raw eggs and cold water. To mitigate health risks, modern eggnog recipes often recommend boiling the mixture or using pasteurized eggs, especially when serving to vulnerable groups.
Texture and Consistency
​Custard is known for its thicker texture, achieved by cooking the egg and milk mixture to the right thickness. This dairy-based beverage or pudding gently thickens as it's heated. It is often heated in a double boiler or over low to medium heat with constant stirring.
Eggnog, although creamy, has a slightly lighter texture compared to boiled custard. The frothiness in eggnog is primarily due to the whipped egg whites that are folded into the milk and cream base.
​
Flavor Profiles
​Vanilla flavoring is a key ingredient in most custard recipes, contributing to its signature taste. The custard's flavor is often rich and deep, enhanced by the caramelization of sugars and the infusion of vanilla.
Eggnog tastes differently, marked by tones of nutmeg or cinnamon, and often, the addition of alcohol. The alcohol content in eggnog not only adds a tang of heat, flavor, and spice but also serves as a preservative.
Nutritional Content
​From a nutritional standpoint, the daily values of calories and fats in custard and eggnog can vary significantly.
Custard, with its base of egg, milk, and simple ingredients, generally has a lower fat content.
Eggnog's rich blend of cream, milk, and eggs, especially when alcohol is added, results in a higher calorie count.
Versatility and Use
​Custard is often used as a dessert base or as an accompaniment to other desserts, like pie or pudding. This is due to its thick consistency and rich vanilla flavoring.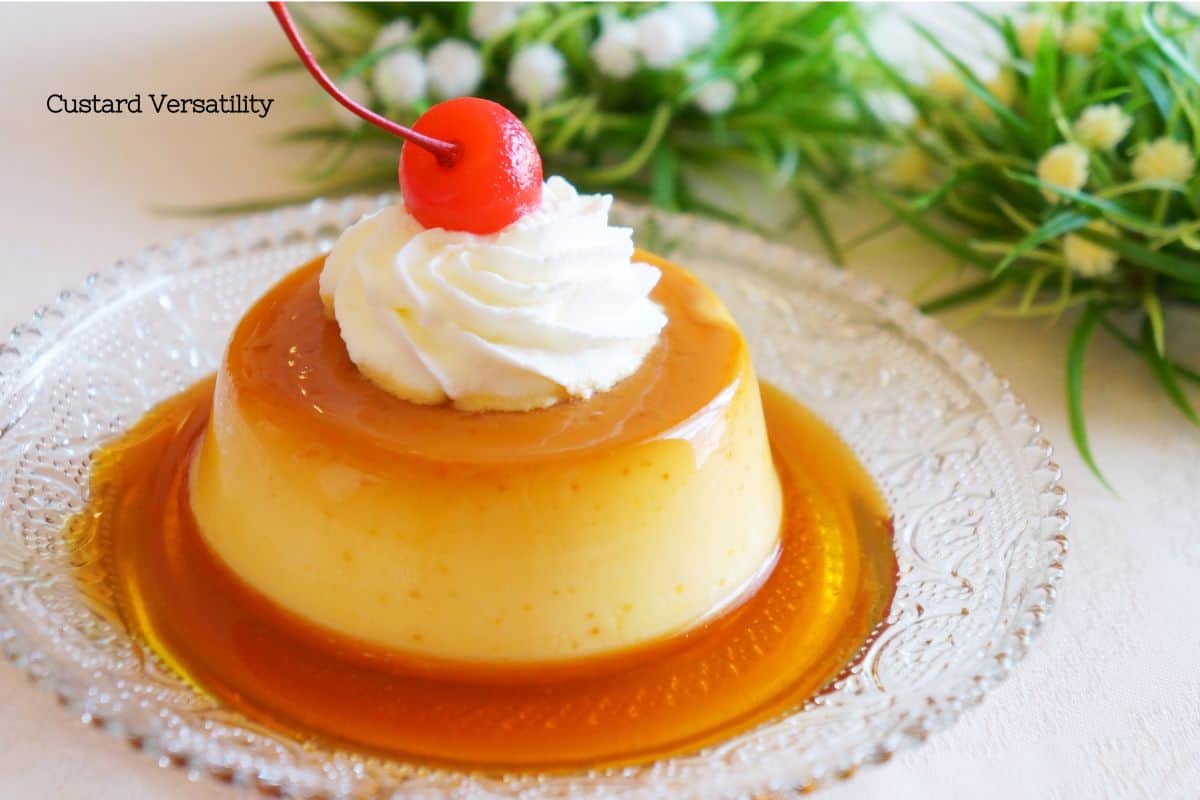 Eggnog, typically consumed as a standalone creamy drink during the holiday season, can also be used in various recipes, adding a unique flavor to cakes or other baked goods.
In summary, the key differences between custard and eggnog revolve around their preparation methods, texture, flavor, and nutritional content. While both are creamy and delicious, their unique characteristics cater to different tastes and occasions. Whether you prefer the rich, vanilla-infused thickness of custard or the spiced, frothy lightness of eggnog, each offers a distinct culinary experience.
​
Clean Eating Adaptations
Embracing clean eating during the holidays doesn't mean you have to forgo delicious eggnog or vanilla custard. With a few adaptations, you can enjoy these festive treats while maintaining your health goals. If you are looking for a way to make organic eggnog, you've come to the right place!
Choosing High-Quality Ingredients
​The key to a healthier, homemade eggnog or custard begins with the quality of ingredients.
Opt for organic, pasture-raised eggs, known for their superior nutritional profile.
For sweeteners, bypass refined sugars and choose natural alternatives like coconut sugar, maple syrup, or date syrup. These not only add sweetness but also bring their own unique flavor and nutrients. For sugar-free, consider monk fruit, stevia, or allulose.
Dairy Alternatives
In traditional recipes, heavy cream and whole milk are staple ingredients. For a whole-food version, consider using raw milk, which retains more nutrients and enzymes.
As a non-dairy, clean alternative to heavy cream, coconut milk and coconut cream is an excellent choice, offering a rich, creamy texture to your chilled drink. Be sure to check the ingredients and choose canned coconut milk that is organic and the can is BPA-free.
It's also worth exploring almond milk, cashew milk, or oat milk for their unique flavors and nutritional benefits.
Flavoring with Natural Extracts and Spices
​Pure vanilla extract is essential for authentic vanilla custard, adding depth and aroma without artificial additives.
Native Vanilla - Extracts M...
Shop on Amazon
When it comes to spicing up your eggnog recipe, choose organic spices for their purity and robust flavor. Specifically, opt for Ceylon cinnamon over cassia cinnamon, as it's considered truer to the original spice and has a more refined taste.
FGO Organic Ceylon Cinnamon...
Shop on Amazon
Creating Your Own
​Creating your own egg custard puddings or homemade eggnog allows you to control the ingredients and their quality. For eggnog, use a blend of your chosen milk, natural sweeteners, and spices. Gently heat the mixture to ensure safety, especially if using raw eggs.
Non-Alcoholic Alternatives
​
​For those seeking a non-alcoholic alternative, the big difference in your eggnog recipe will be the omission of alcohol. This doesn't detract from the deliciousness of the eggnog; it simply makes it more inclusive, especially for children or those avoiding alcohol.
Organic A2 Homegrown Eggnog...
Shop on Amazon
Considering Alcohol in Clean Eating
​While alcohol isn't typically associated with clean eating if you choose to include it in your eggnog recipe, seek organic or naturally-produced options. These types of alcohol are often made with fewer additives and are produced through more sustainable methods. I have found that an organic rum or organic whisky works perfectly for a traditionally spiked holiday eggnog. This means the alcohol was created using no GMO ingredients and no synthetic pesticides. Definitely worth the time to find the right quality products, including alcohol, if you so choose.
Final Touches for a Clean Eating Experience
​Remember, the essence of clean eating is not just about choosing healthier ingredients but also about being mindful of where these ingredients come from. Opt for locally sourced, organic products whenever possible. This not only supports sustainable practices but also ensures that you're consuming products that are free from unnecessary chemicals and additives.
By making these clean eating adaptations, you can enjoy your holiday favorites like vanilla custard and eggnog without compromising on taste or health. These small changes make a big difference in the quality of your festive treats, aligning them with your clean-eating lifestyle.
FAQ
​
Is eggnog basically custard?
Custard and eggnog are very similar when it comes down to ingredients. However, custard is boiled and thicker while eggnog is raw and chilled with a froth. Traditionally, eggnog is served with an alcohol like rum, brandy, or whisky.
What is the difference between custard and creme anglaise?
The difference between custard and crème anglaise is primarily in thickness: custard is typically thickened with eggs and baked until firm, while crème anglaise is a thinner, pourable sauce made with similar ingredients but cooked on the stove.
What is the old name for eggnog?
The old name for eggnog is "egg milk punch," which was historically used to describe a rich, dairy-based drink made with eggs, milk, sugar, and often spirits.
Is eggnog basically melted ice cream?
Eggnog is not basically melted ice cream; while it contains eggs, milk, and sugar like ice cream, eggnog is typically served as a chilled, creamy beverage, not frozen, and often includes spices and alcohol.
Final Thoughts
As we wrap up our journey through the delightful worlds of custard and eggnog, I'd love to hear from you. What are your favorite holiday recipes? Do you have a special twist on these classic treats? Please share your thoughts and recipes in the comments below – I'm always eager to learn and try new variations!
If you found this article enlightening and enjoyable, I encourage you to share it with friends and family. Spreading knowledge about clean eating and healthy living is a gift that keeps giving.
And, if you haven't already, consider subscribing to our newsletter for more insights and tips on living a wholesome life.
Remember, while clean eating is crucial for our health, the essence of the holiday season is about being present with our loved ones. It's about finding that sweet spot where nutritious eating meets joyous celebrations. Taking simple steps to align our festive indulgences with our health goals is not just possible, it's invaluable.
I hope this guide helps you navigate your holiday feasts in a way that honors both your body and your traditions. May this season bring you joy, health, and an abundance of delicious moments.
Have a happy holiday season,
Natalie