Ready for the buzz? Yerba Mate and Matcha have been claiming the spotlight lately as the new 'it' drinks among health-savvy individuals. But are these beverages really that different?
Both yerba mate and matcha are full of antioxidants, however, they come from different parts of the world and offer varied health benefits that you should consider before making a commitment.
In my experience, and the experience of many of my nutrition clients, both yerba mate and matcha give a unique and refreshing energy boost. Each have a different flavor and experience, depending on the person and quality.
In this article, we'll take a closer look at the differences and benefits of yerba mate vs matcha, including a breakdown of the unique nutrients offered by each, plus ideas on how to incorporate them into your diet. Let's jump right in and get up to speed on the brewing debate.
Jump to:
Similarities
Both Yerba Mate and Matcha are healthy drink options known for their positive effects. Both types of tea provide energy, nutrition, antioxidants, and more. Yerba Mate Tea and Matcha are natural coffee alternatives due to their high caffeine content.
In fact, you may have noticed yerba mate and matcha added to the names of energy drinks, supplements, and infusions due to their superfood reputations and known beneficial effects.
Many health-conscious consumers turn to these herbal tea options for the added benefits they provide along with the promise of sustained energy levels. Some opt for one of these special teas as a coffee alternative in order to avoid the jitters or a crash that can happen with coffee.
Another thing that Mate and Matcha have in common is they are both not actually tea, in the traditional sense of the word.
You may be familiar with black tea, green tea, yellow tea, white tea, and even oolong tea. The leaves are dried and used as loose leaf preparations or placed into tea bags, steeped in hot water, and made into an aromatic true tea drink.
The main differences begin here, where Yerba Mate is considered an infusion of dried leaves and twigs, steeped in water. Most regions prefer to use warm water but some parts of Paraguay use cold water to mix the infusion. Whatever the water temperature, the benefits are the same.
Matcha is considered a green tea but is made from green tea leaves ground into a powder and mixed with warm water or milk instead of steeped in a tea bag like traditional tea. Each of these drinks has a unique tradition and background from separate parts of the world. Let's dive into each one.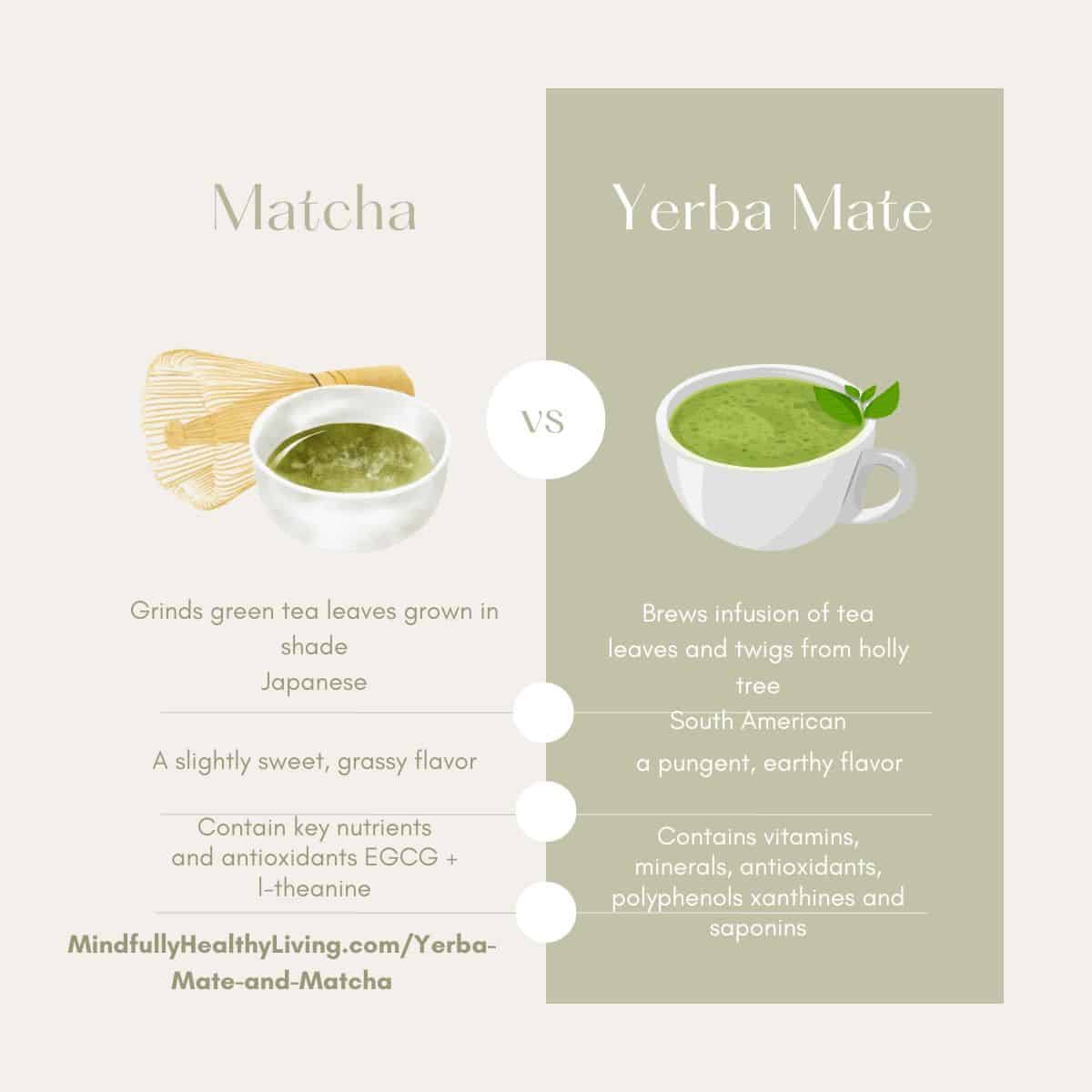 Yerba Mate's History
Yerba Mate originates from the South American rainforest from a holly tree called Ilex paraguariensis. Cultivators of Yerba Mate are called yerbateros and grow the holly trees on small farms in Argentina, Brazil, and Paraguay. The leaves and twigs are collected and dried over a wood fire.
The dried leaves and twigs are then brewed over hot water and made into an infusion. Traditional Yerba Mate is sipped from a dried gourd called a termos (thermos) with a metal straw called a bombilla straw.
Yerba mate is the drink of the Guarani people, an indigenous group from South America. Ancient Guarani tribes are the earliest known people to consume and cultivate and consume Yerba Mate.
The tribe believed the tea to have mystical as well as medicinal properties. It is considered the "drink of the gods". Many rituals have been performed among the Guarani as well as several neighboring tribes with different species of similar Ilex plants.
Since its origin, Yerba Mate traditions that stem from this tribe continue well into today. Yerba Mate is the most popular drink in South America. Despite its humble origins, Yerba Mate is gaining increasing popularity across the globe.
Known for its high caffeine content, many believe it boosts metabolism and boosts athletic endurance as well.
Mate can be prepared in a french press or create your own tea bags.
Yerba Mate Health Benefits
Yerba mate is known for its high antioxidant content which helps fight free radicals that seek to damage the body at the cellular level. The primary antioxidant in Yerba Mate is chlorogenic acid.
Scientific studies show that the high concentration of chlorogenic acid in Yerba Mate not only helps to reduce oxidative stress but research has also shown that it helps reduce blood sugar levels, inhibits the growth of cancer cells, and aids in weight loss. More antioxidants included in this powerful drink are polyphenols and saponins which promote anti-inflammatory and anti-oxidant activity.
Xanthines are another potent antioxidant that creates a stimulating effect increasing mental alertness and cognitive function without the negative side effects of some other sources of caffeine.
Taste of Yerba Mate
Yerba Mate is known for its earthy and slightly vegetal flavor. It is an herbal infusion derived from twigs and leaves of a tree, so it makes sense that it has a more bitter and pungent flavor. Some may say its unsweetened version is an acquired taste.
Over the years, Mate has acquired many different traditional preparations involving the addition of spices, sweeteners, dried fruits, and even milk to add flavor to the initially very bitter tea.
Many sweeteners you can use are traditional raw cane sugar, raw honey, molasses, or maple. Dried citrus peels are also often used in tea infusions as well as spices like cinnamon or clove.
We would like to add our favorite low-calorie and low-glycemic natural sweeteners are organic monk fruit or organic stevia extract.
Plant-based milks are also preferable to maintain the anti-inflammatory benefits. Oat milk, coconut milk, hemp milk, cashew milk, and almond milk are all wonderful options. (Be sure to check the ingredients, making your own milk is always the best option).
Caffeine in Yerba Mate
The amount of caffeine in Yerba Mate is comparable to that of a cup of coffee, sometimes even slightly higher. Caffeine levels tend to vary depending on the preparation. A cup typically contains about 85mg of caffeine.
Yerba Mate Recommendations
2.2 LB Organic Yerba Mate T...
Shop on Amazon
Kiss Me Organics Yerba Mate...
Shop on Amazon
Yerba Mate Tea 1LB (16Oz) H...
Shop on Amazon
Matcha's History
Over 900 years ago in the Tang Dynasty, Chinese Buddhist Monks began the tradition of preparing matcha green tea by grinding green tea leaves into a fine powder. Their process originated using a meditative ritual to prepare the Matcha. Traditional Matcha Tea is prepared using a ceramic matcha bowl, or chawan, and a bamboo whisk, or chasen.
The chasen has several spikes coming down from a handle that helps to separate and whisk the fine powder before the water is added and afterward. Several hundred years later in the 11th century, during traditional trade, the tea and its rituals were passed on to the Japanese. Matcha became a staple in Japanese tradition from that point on.
Japan is now known as the best source of matcha. There are five regions in Japan where matcha tea is grown and cultivated Kagoshima, Mishio, Shizuoka, Fukuora, and Uji(Kyoto). Uji and Kagoshima are the most popular places to obtain matcha tea. The traditional/conventional matcha comes from Uji and the Kagoshima primarily provides organically grown matcha.
Matcha's Unique Cultivation Process
Matcha is made from the same plant as all tea, the Camellia Sinensis plant. Matcha is the green tea variety, which means that the leaves are picked early and steamed to prevent oxidation. This process helps to preserve its deep green color.
Matcha's quality is a direct result of the art of cultivation and the many factors that play into the process: soil, climate, timing, weather, and environment. The process begins in mid-spring and farmers create a shade away from direct sunlight while the tea plants sprout for around a month.
The shade from the sun helps the tea plants to increase the amino acids, including l-theanine, which matcha is famous for its calming effects.
The leaves are carefully picked and filtered, de-stemmed, steamed, and ground into a fine powder form. The quality is highly dependent on the delicate process. Matcha comes in different grades that are directly related to this cultivation process.
Benefits of Matcha
Matcha is rich in nutrients, antioxidants, and amino acids just like Yerba Mate. However, Matcha has a unique profile of nutrients that are widely known and sought after. You may already know the health benefits of green tea are many, including its signature EGCG content. Matcha green tea has three times higher antioxidant activity and 137 times the EGCG content than traditionally brewed green teas.
EGCG (epigallocatechin gallate) is a polyphenol and antioxidant known for its anti-aging, anti-inflammatory, and anti-cancer effects. EGCG is also known to boost metabolism and aid in weight management by controlling the hormone that helps in the breakdown of fat.
Matcha is liver protective, helps prevent high blood pressure, and increases mental clarity. As mentioned before, Matcha contains the amino acid, L-theanine, which, unlike coffee, provides a calming effect and helps to maintain steady energy and focus throughout the day.
Matcha Grades and Flavor
The grades of matcha powder are culinary grade and ceremonial grade matcha. High-quality matcha (ceremonial grade) has a signature bright green powder and a slightly sweeter and cleaner taste. It also has a slightly more potent amount of nutrients, especially l-theanine (which gives it a sweeter taste).
Culinary grade is still rich in nutrients, just on a different level than the ceremonial grade, and has a more bitter taste. The culinary grade is best used to make matcha lattes which involve steaming milk and sugar.
The milk and sweetener mask the bitter grassy flavor of the culinary-grade matcha.
As with Yerba Mate, we recommend using organic or homemade plant milk. Some varieties are cashew, oat, hemp, almond, or coconut milk if you are making a latte. Raw honey, Coconut sugar, organic monk fruit, and organic stevia are the healthiest sweeteners to use.
Tip: if you do not have a traditional bamboo whisk, an immersion blender or milk frother works nicely!
Caffeine in Matcha
Matcha is prepared in small, two-ounce preparations, compared to a 6-8 oz cup of tea or coffee. A ½-1 teaspoon (2-4 grams) of matcha powder is typically used per serving and contains 38-176 mg of caffeine. In comparison, an 8 oz cup of coffee typically contains 96 mg of caffeine. It is fair to say that both yerba mate and matcha are higher in caffeine than coffee. However, consumers tend to express a different experience with these tea drinks compared to the rapid caffeine spike and later crash that coffee produces.
Matcha Recommendations
Naoki Matcha Organic Ceremo...
Shop on Amazon
Akira Matcha 30g - Organic ...
Shop on Amazon
FKRO Organic Ceremonial Gra...
Shop on Amazon
Tealyra - Matcha Kit - Conn...
Shop on Amazon
Summary
We've come to the end of our exploration of yerba mate and matcha. From the different flavors and health benefits to the history and cultural rituals surrounding both drinks, we've broken down the differences and similarities between these two popular powerhouses of energy and nutrition.
Both stand out for their unique tradition and taste and are increasingly becoming favorites of health-conscious individuals, depending on your personal preference of taste and benefit.
Whether you are looking for a way to kick-start the day with a unique ritual or to enjoy your caffeine intake with added health benefits, these two drinks offer something special to the modern consumer.
And so, we close this discussion by quoting French anthropologist Claude Lévi-Strauss, who said, "The science of the concrete is always an invitation to reflection". This is surely a fitting way to think about these two remarkable beverages.
Have you tried Yerba Mate or Matcha? Let us know how you liked it and the benefits you've experienced in the comments below!