Welcome, friends, to a dish that has captured our hearts: the Clean Keto Turkey Broccoli Casserole, an Italian Bake that'll redefine your dinner menu. Imagine a low-carb, cheesy haven that tantalizingly mirrors baked ziti and lasagna, minus the carb-heavy pasta.
A little backstory here; we've been experimenting with low-carb casseroles lately. We've truly enjoyed creating Keto casseroles from Green Chile Chicken Casserole and Chicken Enchilada Casserole to Buffalo Chicken Broccoli and BBQ Chicken Casserole, we're no strangers to transforming favorite flavors into keto casserole delights.
 But it's this keto broccoli casserole that's become the whole family's favorite. What sets it apart? Being able to indulge in the decadent flavors of Italian favorites without having a carb-heavy meal. The roasted cauliflower mimics the texture of noodles so perfectly, you won't miss the pasta. Seriously!
Crafted with simple ingredients like ground turkey, broccoli, cauliflower, and a luscious trio of ricotta, mozzarella, and fresh parmesan, this keto turkey casserole is a dream come true for busy weeknights. Fresh basil and crushed tomatoes impart Italian flavors that make this a great dish for any occasion. And let's not forget—it's an entire meal packed into one tasty casserole.
Being a holistic nutrition specialist and a mom, I prioritize clean meals like this healthy casserole that fit into a low-carb, nutrient-dense lifestyle. Whether you're well-versed in keto diet intricacies or just starting your journey with low-carb recipes, this healthy, low-carb turkey casserole is a culinary triumph you'll want to share.
Before getting started, we recommend taking a few moments to set healthy intentions. Why? Setting intentions aligns your energy and focus, making the cooking process more mindful and enjoyable. Want to know more about setting intentions? Check out our free guide to setting intentions and using affirmations.
Get ready to fall in love with this low-carb Italian masterpiece; your taste buds are in for a treat!
Jump to:
Ingredients
Italian Seasoning: Opt for organic Italian seasoning to infuse your low-carb casserole with authentic herbs. A simple label indicates higher quality.
Red Pepper Flakes: A pinch elevates the dish with a subtle kick. Choose organic to ensure you're getting the purest form of heat.
Black Pepper: Organic black pepper not only adds depth to the dish but also supports digestion.
Fresh Basil: Adding freshly chopped organic basil gives a burst of flavor and an aromatic experience.
Avocado Oil: We prefer avocado oil for its high smoke point, making it ideal for cooking. Olive oil can also be a worthy substitute at lower temperatures.
Leeks: Organic leeks offer a mild, onion-like flavor and are rich in antioxidants.
Garlic Cloves: Minced organic garlic adds a robust flavor and is known for its health benefits like immune support.
Ground Turkey: Choose organic, lean ground turkey for a high-quality addition to this keto casserole.
Tomato Paste: Organic tomato paste enhances the flavor while adding a rich texture. Make sure the can is also organic to avoid any hidden preservatives.
Crushed Tomatoes: A can of organic crushed tomatoes provides the base for our Italian-inspired broccoli bake.
Cauliflower: Use a medium organic head of cauliflower, roasted to perfection, as a low-carb substitute for pasta.
Broccoli: Pick an organic small head of broccoli that not only add texture but also packs a nutritional punch.
Ricotta Cheese: Fresh, part-skim organic ricotta brings creaminess without overwhelming the dish.
Mozzarella Cheese: Opt for a block of your favorite cheese to shred yourself if you're watching carbs; pre-shredded cheese often contains hidden starches.
Parmesan Cheese: Freshly grated organic Parmesan adds a salty, nutty finish that elevates the entire meal.
When choosing your ingredients, aim for organic produce and products with simple labels. This ensures you're making a keto turkey casserole that aligns with clean eating and nutrient-dense lifestyles.
See the recipe card for quantities.
Instructions
Before diving into the main cooking steps, let's quickly touch on how to prepare your cauliflower and fresh broccoli florets for this low-carb broccoli turkey casserole. Cut them into florets, and toss with avocado oil, garlic powder, onion powder, salt, and pepper. Roast them on a baking sheet at 400F for about 20 minutes to achieve the best flavor and texture.
In a large skillet over medium-high heat, cook the ground turkey. Stir occasionally until it turns golden brown. Once cooked, set it aside.
2. Preheat your oven to 375F. In a separate saucepan on medium heat, warm up the oil. Add the leeks and sauté for 5 minutes. Add garlic and red pepper flakes, sautéing for an additional minute.
3. Add the cooked ground turkey to the pan. Mix in the tomato paste and Italian seasoning, and cook for another 2 minutes.
4. Stir in the crushed tomatoes and simmer for 10 minutes.
5. In a large bowl combine the roasted cauliflower and broccoli with meat sauce.
6. In a casserole dish, layer half of the cauliflower and meat mixture. Top this with half portions of ricotta, mozzarella, Parmesan, and basil.
7. Add the remaining sauce mixture as the next layer in the baking dish. Sprinkle the rest of the cheeses and basil on top evenly.
8. Bake for 25 min, or until the cheese turns melted and golden brown. Remove from the oven and allow it to cool. Garnish with basil.
Hint: If you're looking to make meal prep easier, roast the cauliflower and broccoli florets a day in advance and store them in the fridge. This pre-roasting ensures that they're ready to go when you're assembling the casserole, saving you valuable time.
Substitutions and Variations
Cream Cheese: If ricotta isn't your thing, cream cheese offers a rich alternative that can blend seamlessly into this low-carb casserole.
Cheddar Cheese: Want a different flavor profile? Swap mozzarella with cheddar cheese for a sharper taste that still complements the other ingredients.
Heavy Cream: For a more indulgent dish, you can add a splash of heavy cream to the tomato sauce. This creates a creamy sauce that many find irresistible.
Rotisserie Chicken: If turkey isn't readily available, pre-cooked rotisserie chicken can be a quick and easy substitute. Just shred and mix it into the sauce.
Cauliflower Rice: For a finer texture, cauliflower rice can replace the florets. This also speeds up the baking time and makes for a lighter casserole.
Ground Chicken: To keep the poultry theme but switch it up a bit, ground chicken can stand in for ground turkey without compromising the integrity of the dish. Similarly, you can use leftover turkey breast shredded in the recipe, also!
Broccoli Cheese Casserole: To focus solely on the veggies, you can omit the meat altogether for a vegetarian option. Simply double up on broccoli florets to make a satisfying meat-free version of this low-carb casserole.
Steam Broccoli and Cauliflower: For a more tender broccoli and cauliflower outcome, consider steaming instead of roasting.
Green Onions: If leeks aren't available, green onions provide a milder flavor but still add a satisfying crunch.
Cayenne Pepper: If you enjoy a little extra kick, a sprinkle of cayenne pepper can heat things up without overwhelming the dish.
Exploring these substitutions and variations can add a fresh twist to your low-carb casserole, making each rendition a unique experience. Adapt according to your dietary needs or the ingredients you have at hand to keep this dish exciting and versatile.
Equipment
Measuring cups
TILUCK Stainless Steel Meas...
Shop on Amazon
Casserole dish
STAUB Ceramics Rectangular ...
Shop on Amazon
Large skillet
Caraway Nonstick Ceramic Mi...
Shop on Amazon
Large saucepan
Caraway Nonstick Ceramic Sa...
Shop on Amazon
Large mixing bowl
Wildone Mixing Bowls with A...
Shop on Amazon
Cooking spoon
DI ORO Silicone Spoons for ...
Shop on Amazon
Storage
Proper storage is key to enjoying your low-carb casserole for days to come. Here's how to keep it fresh and tasty:
Refrigerator: Store any leftover keto casserole in an airtight container and place it in the fridge. It should stay good for up to 4 days.
Freezer: If you're looking to make this dish part of your meal prep, it's freezer-friendly. Divide into portion-sized servings and store in airtight containers or freezer bags. It can last up to 3 months.
Reheating: The best way to reheat your casserole is to thaw it in the fridge overnight if it's coming from the freezer. Then, warm it in a preheated oven at 350F until hot and bubbly.
Microwave: For quicker reheating, you can use the microwave. Just be sure to reheat in short intervals to avoid drying out the casserole.
Remember, the quality of your stored dish will depend on how well it's been sealed. Proper storage can help you extend the life of your healthy casserole, making it a convenient option for busy weeknights or last-minute meals.
Top tip
If you're looking to make meal prep easier, roast the cauliflower and broccoli florets a day in advance and store them in the fridge. This pre-roasting ensures that they're ready to go when you're assembling the casserole, saving you valuable time.
FAQ
What goes with broccoli casserole?
You can use this low-carb broccoli dish for a complete meal or omit the meat and use it for a side dish-even for Thanksgiving dinner! Broccoli casserole with ground meat is the perfect meal that is well complimented with a side of green salad, green beans, asparagus, or Brussels sprouts. The possibilities are endless!
Does broccoli casserole have carbs?
Casseroles do contain small amounts of carbs per serving, but in moderation, it should not throw you out of ketosis. Maintaining 40-50g of carbs per day is the ideal amount to maintain ketosis.
What protein goes well with broccoli?
The most complementary meat with broccoli is typically chicken, turkey, or beef.
Do carbs from broccoli count on keto?
Technically, yes. However, the amount of carbs is negligible, especially due to its high fiber content, which takes away from the total carb count, leaving you with less net carbs.
Related
Looking for other recipes like this? Try these:
Pairing
As mentioned before, this low carb casserole is a complete meal! However, if you like a side dish, asparagus, green beans, or Brussels sprouts pair really well with this!
Recipe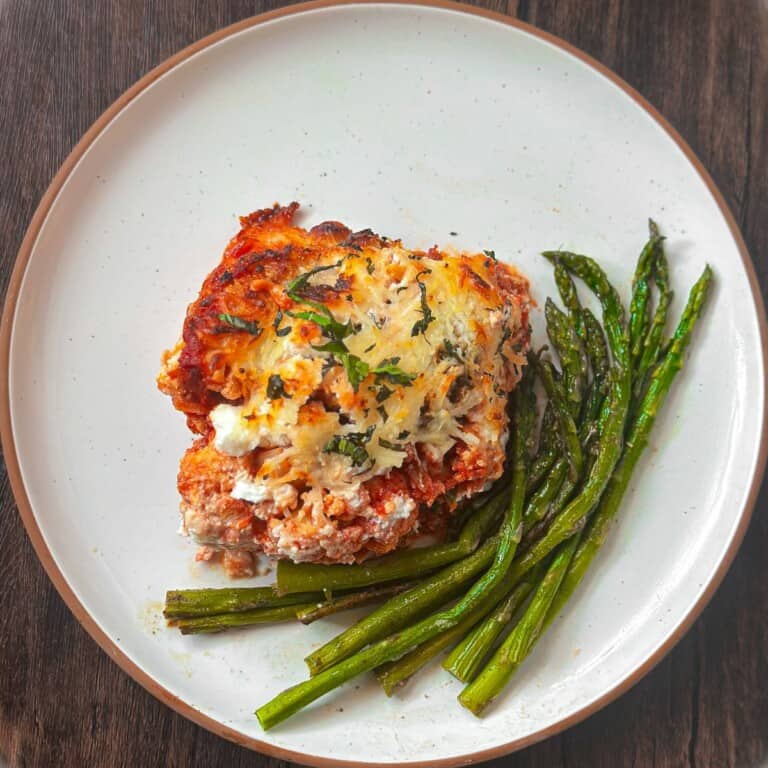 Clean Keto Turkey Broccoli Casserole (Italian Bake)
Dive into this Clean Keto Turkey Broccoli Casserole—an Italian-inspired bake brimming with creamy cheeses, tender roasted veggies, and flavorful ground turkey. It's a comforting, low-carb feast that's perfect for busy weeknights and loved by the whole family. Enjoy layers of cheesy goodness without the carbs!
Instructions
Cook ground turkey in a large saucepan on medium heat, stirring occasionally until golden brown, set aside.

Preheat oven to 375F. Heat oil in a separate saucepan on medium. Add chopped leeks and sauté for 5 min. Add garlic and red pepper flakes for 1 min.

Add meat, tomato paste, and Italian seasoning and cook stirring for 2 more minutes.

Add crushed tomatoes, reduce heat, and let simmer for 10 minutes. Remove from heat.

Add roasted cauliflower and broccoli to a large bowl. Pour meat sauce on top and mix together until well combined.

Pour half of the cauliflower meat sauce mixture into a casserole dish and cover with half of the ricotta, half of the mozzarella, half of the Parmesan, and half of the basil.

Pour the rest of the sauce mix into an even layer, followed by the rest of the cheeses and basil evenly on top.

Bake at 375 for 25 minutes or until cheese is melted and golden brown. Remove from oven and let cool. Add additional basil for garnish. Enjoy!
Notes
To roast the broccoli and cauliflower, cut them into florets, and toss with avocado oil, garlic powder, onion powder, salt, and pepper. Roast them on a baking sheet at 400F for about 20 minutes to achieve the best flavor and texture.
Nutrition
Calories:
393
kcal
Carbohydrates:
15
g
Protein:
41
g
Fat:
20
g
Saturated Fat:
10
g
Polyunsaturated Fat:
1
g
Monounsaturated Fat:
7
g
Trans Fat:
0.01
g
Cholesterol:
98
mg
Sodium:
623
mg
Potassium:
1060
mg
Fiber:
5
g
Sugar:
5
g
Vitamin A:
1501
IU
Vitamin C:
140
mg
Calcium:
519
mg
Iron:
3
mg
Food safety
Cook meat to a minimum temperature of 165 °F (74 °C)
Do not use the same utensils on cooked food, that previously touched raw meat
Wash hands after touching raw meat
Don't leave food sitting out at room temperature for extended periods
Never leave cooking food unattended
Use oils with a high smoking point to avoid harmful compounds
See more guidelines at USDA.gov.
If you love this recipe as much as we do, let us know! And don't forget to share it with your friends and family! Subscribe to our newsletter for exclusive updates on healthy recipes and holistic nutrition tips!
Have a healthy day,
Natalie